HUD Dating App Review: Pros, Cons, and Best Dating App Alternatives
Casual dating? The HUD dating app is for you. As one of the most popular dating apps, the HUD dating app outperformed many top-tier apps because of how you can flirt and search for friends while being at home. Since its recent popup in 2018, the HUD dating app has been a must-to-have tool to have hookups. Suppose you are still doubting this app; this post will give you the HUD dating app review for a more clarified description. Let's dive in!
Part 1: The Overall Introductions to HUD Dating App: Is It Best for Dating?
1. A Brief Introduction to HUD Dating App
The HUD dating app was first launched in 2015, and by 2016, it was one of the top 20 lifestyle apps. It holds higher quality options that help you find matches with endless swiping. But still, the HUD dating app is more remarkable when you avail of the premium version. While you are into it, you can learn more about this fantastic app with the following facts.
1. The HUD dating app has over nine million registered users.
2. Get 4.1 star rating on both Google Play and App Store.
3. Easier signup process by providing a phone number and other basic credentials.
4. No sign of scam activity can be seen when utilizing the dating app.
2. Main Features about HUD Dating App
Although the dating app is almost perfect for finding love mates and people with the same mind, the HUD dating app is not free. You must make purchases if you want to experience its other unique features. However, the free version will allow you to look around as you might consider availing of the paid membership. Let's examine the difference between the free and premium versions below:
Free Version:
◆ Allow users to access the Hookup Blog.
◆ Filter sorting of age, location, and gender.
◆ It has 7-day free premium access.
Premium Version:
◆ The Bedroom function lets users specify likes and dislikes for particular matching.
◆ SAFELY badge to identify users that take sexual health seriously.
◆ Spams and scammers are all limited since most app's feature is paid.
3. Reviews on HUD Dating App: Pros and Cons
The quality provided by the HUD dating app is the best if you don't want to risk getting spammed or scammed. Moreover, you can only think of getting a match after purchasing the paid membership. Unfortunately, as dating apps have different preferences, the HUD dating app has its own positive and negative features.
Pros

Clean and straightforward interface.
Inclusive concept.
Endless scrolling.
Cons

Less female users.
Expensive one-month paid membership.
Low-quality profile pictures.
Bonus Tips for Recording on the HUD Dating App
Suppose you are having a good time using the HUD dating app, and you want to record the conversation with your new friends. It is recommended to use AnyRec Screen Recorder to capture onscreen activities. It is an advanced tool with solutions for recording needs like game recording, phone recording, audio recording, webcam recording, etc. Also, you can get high video quality by tweaking the preferences to your liking.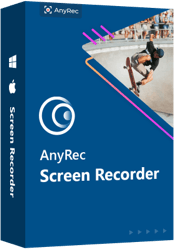 AnyRec Screen Recorder
Record the HUD dating app's video chat without time limitations.
Customizable screen size to full-screen, desired region, and custom window.
Export recordings to MP4, MOV, AVI, MKV, GIF, and other popular formats.
No lags and buffering with the customized resolution, quality, and frame rate.
Part 2: 3 Alternatives to HUD Dating App for Meeting Your Love
The HUD dating app's free version is not feasting enough, especially for people who are into the free casual dating app. Still, you can get alternatives by reading the top-recommended HUD alternatives to continue finding friends and lovers!
1. Tinder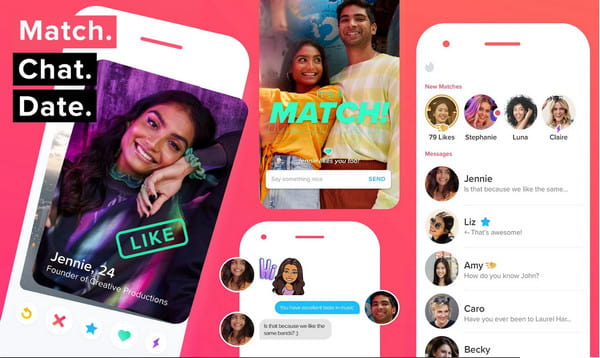 First launched in 2012, Tinder was the first app introducing the left and right swiping that changed casual apps forever. As one of the top apps, Tinder is a good HUD dating app alternative as you can use almost all its features with the desired bios for boys and girls. It is used by millions of singles where you can find diverse people, even people on the other side of the globe.
Pros

Beginner-friendly as it is easy to navigate.
Excellent tech support.
Support LGBT+ dating preferences.
Cons

Privacy issues.
Possible swindling and scam encounter.
2. HER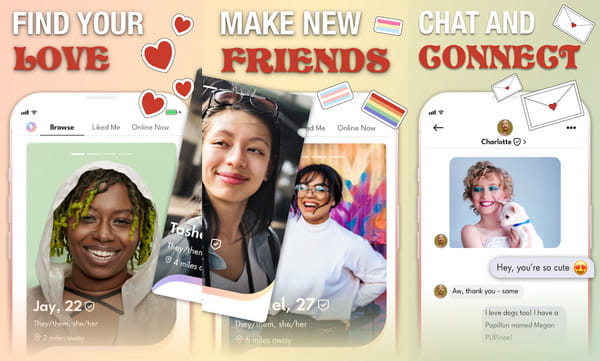 The LGBT+ community has organized dating apps mainly to support people with other gender preferences. The HUD dating app alternative is created purposely for women who search for same-sex people. It is a safe space for women as it provides news and local events. What's more, the HUD dating app alternative is accessible to many countries so that you can meet new friends from other nations.
Pros

Effective search engine and filters.
Incognito features to enable.
Free to use to view online friends in real-time.
Cons

Limited swipe counts.
Frequent technical problems.
3. Bumble
The last recommendation for HUD dating app alternative is Bumble. It is a unique app that emphasizes 24-hour response from men when women message them first. The app is founded on equality, inclusion, and respect so that every user can be a respectable communicator to anyone. Meet new people, and you might find the right one for you in Bumble.
Pros

Advocate healthy relationships through dynamic methods of dating.
Effectively connect to many people simultaneously.
Location-based to meet people in nearby places.
Cons

The majority of men do not list information about themselves.
Limited time to use an opener; you need to check the app more.
Besides, there are also many sugar momma dating apps for different groups.
Part 3: FAQs about HUD Dating App
Does HUD have a PC version?

No, the HUD dating app does not have a PC version and is only available on mobile devices. Some articles post that there are emulators that enable you to access your account online. However, these emulators are not made by the same company as the HUD app, which might give you malware and viruses if you use one of them.

How do I cancel my HUD membership?

Since signing up is made through Apple or Google account, you can cancel your subscription in HUD the same way. Follow the instructions below to cancel HUD membership on iOS and Android: For iOS: Open the settings of your phone. Then, tap your name, which is at the top part. Once you are there, locate the Subscriptions option. Tap the HUD dating app, then tap the Cancel Subscription button. For Android: For Android users to cancel HUD membership, go to the Google Play Store. Tap your profile picture at the top right corner, then select the Payments and Subscriptions option. Locate the Subscriptions option, then choose the HUD app to cancel your membership.

How much is the HUD dating app paid membership?

The HUD Premium only has one purchase level; however, it offers a lower price the longer you use it. Suppose you want to avail yourself; here are the updated pricing options for HUD Premium: $24.99 for one month, $16.66 for three months ($49.99), $11.67 for six months ($69.99), and $16.67 for 12 months ($199.99).
Conclusion
The HUD dating app is purposely made for people who want to find friends and flirt within restrictive interactions. It showcases excellence in a brief description and works out to be open to diversity. With that being said, the HUD dating app is not for everyone. Fortunately, you can still enjoy free conversations from the alternatives given by this post which also do not limit recording video chat through AnyRec Screen Recorder. Save all the best memories with strangers with this tool, and you can try the accessible version of it today.
Related Articles