Take 35 Funny, Flirty, and Creative Tinder Bios to Match More Guys and Girls | 2022
Do you feel alone? Why don't you try to use Tinder? Tinder is a dating app tool where you can find someone to talk to and have fun while exchanging messages.
Once you have already created your Tinder account, an appealing picture is not enough, and you must also add the best Tinder bios to make you more interested in the Tinder users that might match you. Remember that writing a Tinder bio is not as easy as it shows; you have to think critically about what you love to do, think about the things that will present your personality. A good Tinder bio will make you stand out to everyone!
Since your purpose in using the Tinder dating app is to have someone to talk to and want them to become attracted to you in just a few seconds, it is your job to get their interest. Highlight yourself! But how can you do that? We got your back! For we've compiled the 35 best and most funny Tinder bio ideas that will surely make everyone swipe right.
Part 1: 20 Humorous Tinder Bios for Everyone
1. Chris, 29
Recently broke up with my girlfriend because she didn't like how I take my coffee.
I like my coffee the same way I like my women.
Without other people's dick in it.
This is a funny Tinder bio idea, but it is exciting and catchy enough to make you feel butterflies in your stomach. This one sounds funny, though straightforward for what he wants to say.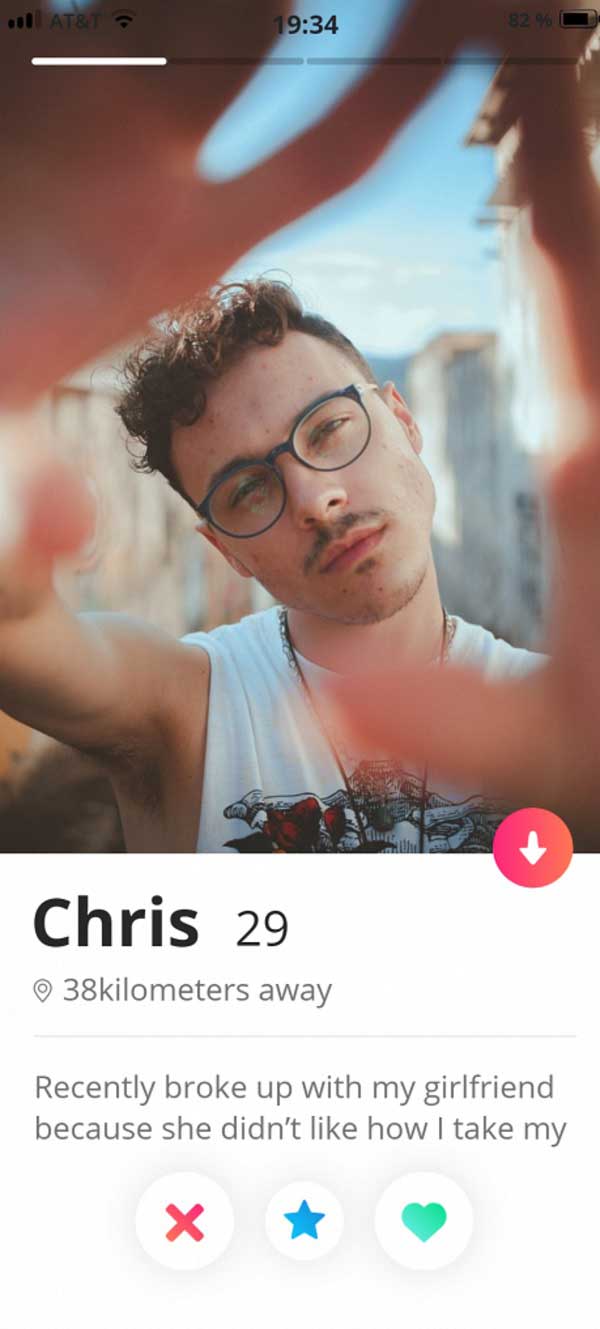 2. James, 25
Funny, handsome, and stupid.
If you wish to get a long relationship from Tinder, you better be honest. This kind of Tinder bio idea seems short, but it is lovely for telling what he is.

3. Charlotte, 25
I'm pretty great but don't listen to me, read my reviews: 'Amy is a hard-working, conscientious student.' - my 10th grade English teacher
'I'd highly recommend her for any position,' - my first boss
'I laughed until I cried.' - my ex-boyfriend Dan (sorry Dan)
If you want to find the one that matches your personality, you can try to use this kind of Tinder bio idea. It is written in a quick-witted manner; guys may find it cute and eye-catching.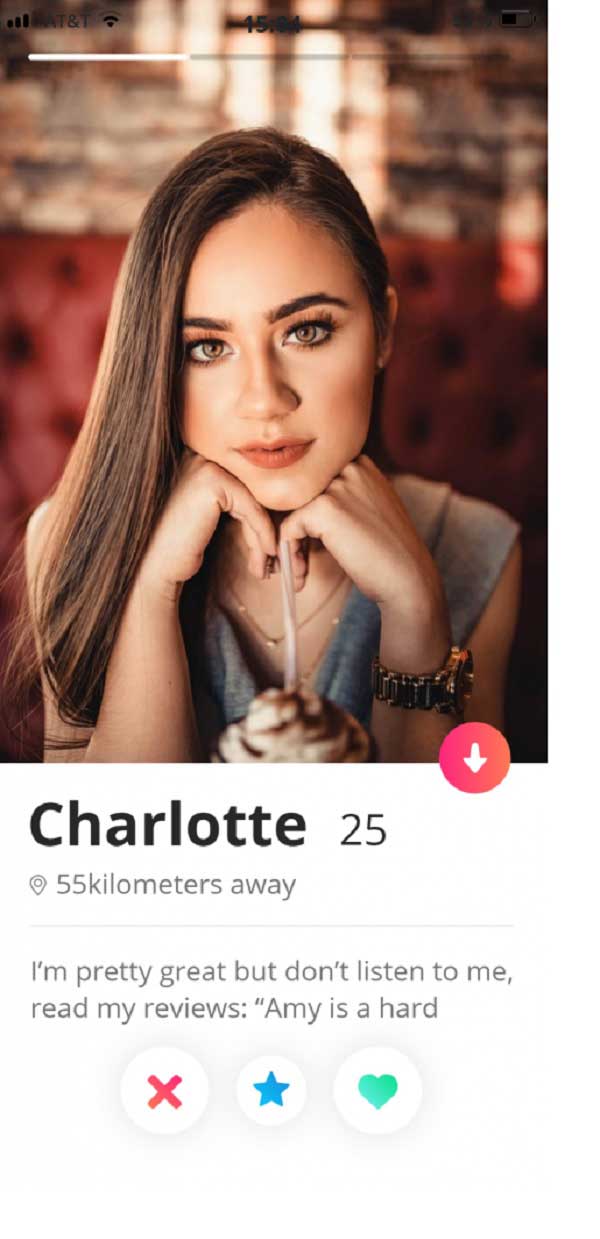 4. Saud, 25
Well, I wear a suit on a first date.. why?
Cuz I'll be serving my princess
while am Staring at her eyes with a wide smile
If you guys want to attract the girls out there, this one is ideal on Tinder bio for men. No doubt that you will captivate the girls' attention and will surely leave a smile on their faces.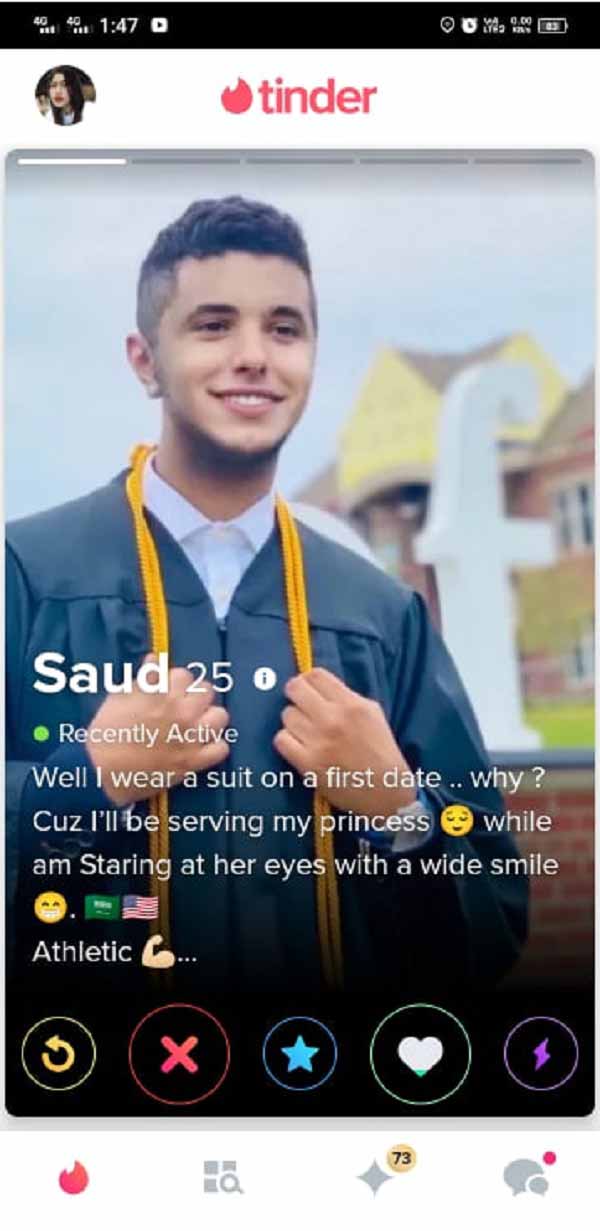 5. Robby, 42
I am wealthy, educated, fun-loving European businessman looking for that special someone:
-CEO of London technology company
-Mixed, Chinese, Vietnamese, and French
Sometimes, we need to be proud of what we have achieved, not to brag but to get attraction from people. Who will decline you if you are already stable in life? No one will decline you. So, this is the best technique and best Tinder bio for men, practically.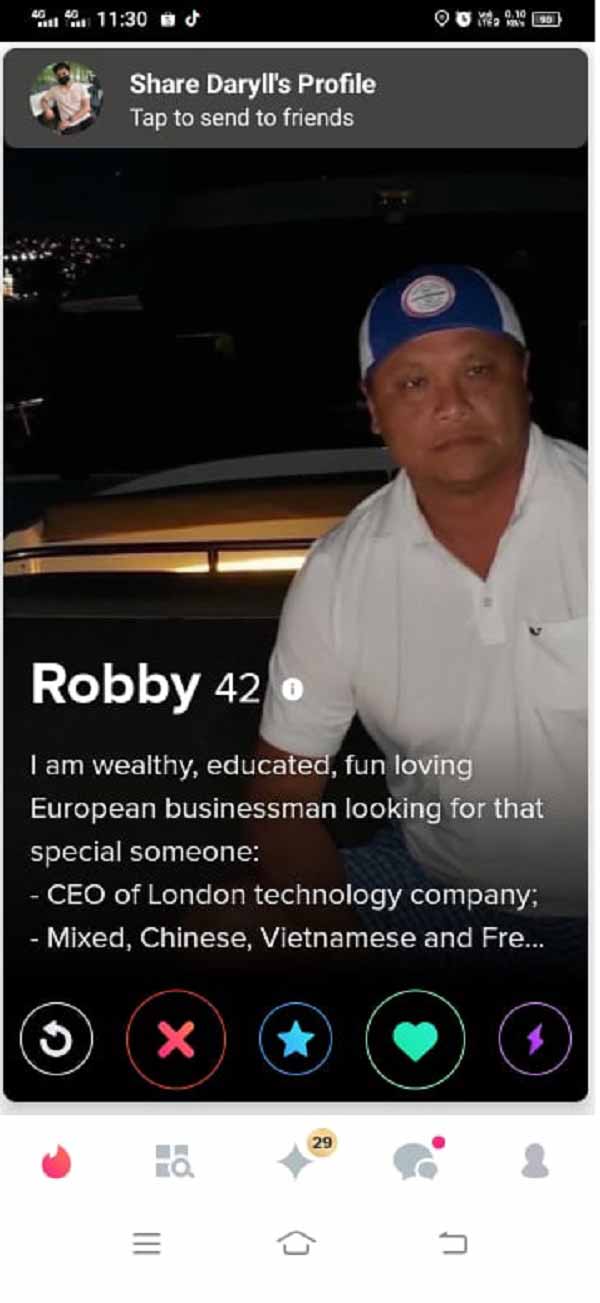 6. Lemuel Mark, 32
Looking for a relationship.. dating would do.
Isn't it as short to be your bio? No, Tinder bio does not supposedly last long. As long as you are fine with how your bio presents you, it's more than enough. This one looks good, for it shows how sincere the man is—such a good Tinder bio idea for men.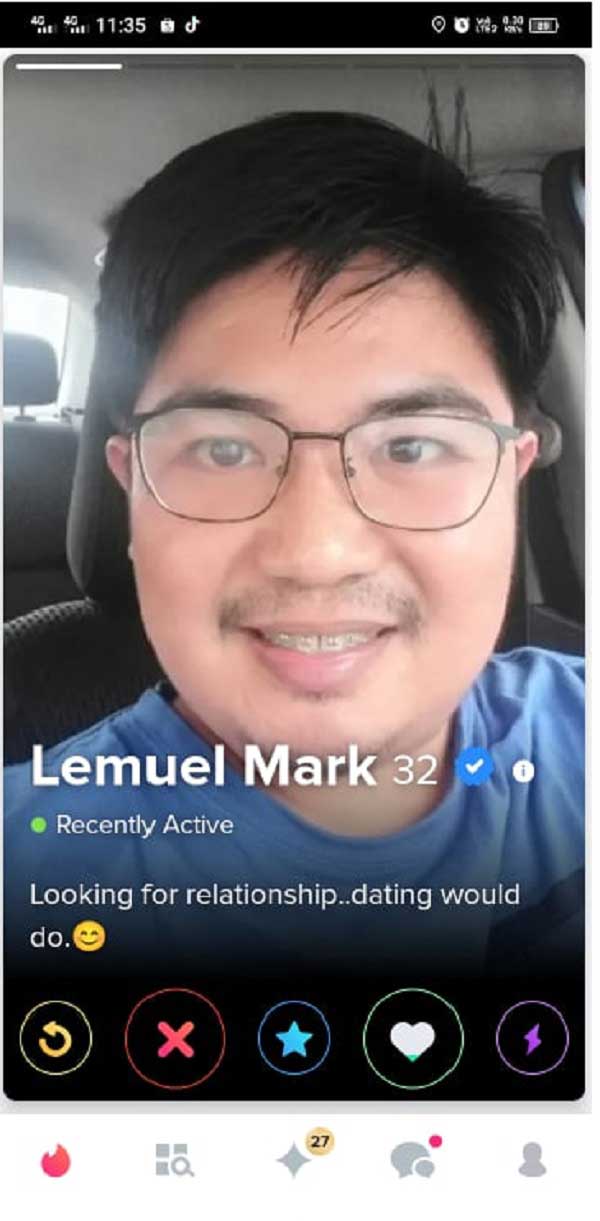 7. Karen, 21
Ain't straight
Tg: keranakino
On Tinder, everyone is welcome to meet their matches, even if you are a bi-sexual, lesbian, straight girl, straight boy, oldies, etc. You can widely surf for the one who is meant for you.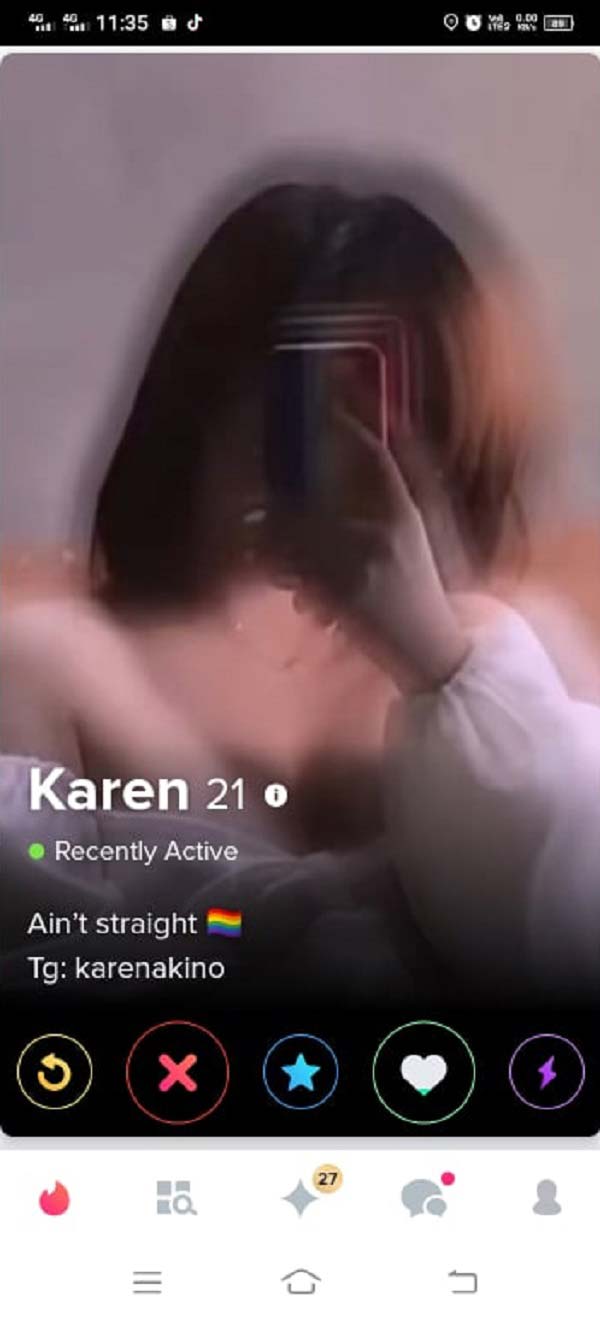 8. Alexx, 24
pro: not afraid of spiders con: afraid of moths
pro: can cook con: will try to get you to do the dishes
pro: can probably out-drink you con: probably actually can't bul will try anyways
This kind of Tinder bio idea is kinda funny but still an informative one as it shows your doings in life. Remember to be honest with the pros. You better try this. This is one of a kind!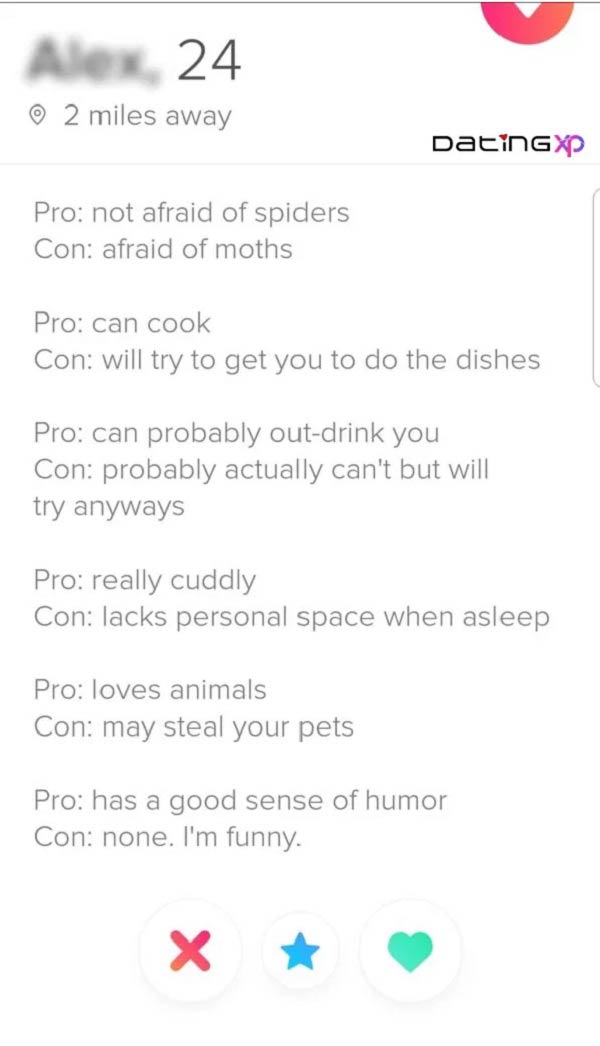 9. Mari, 25
Looking for a 6'2 English Lord to impress my grandmother
If you want to be specific with what you are looking for, do it in a humorous way. Just like what the girl above did, instead of making her tagline cliche, she put some funny spin on it. This one is the best Tinder bio idea!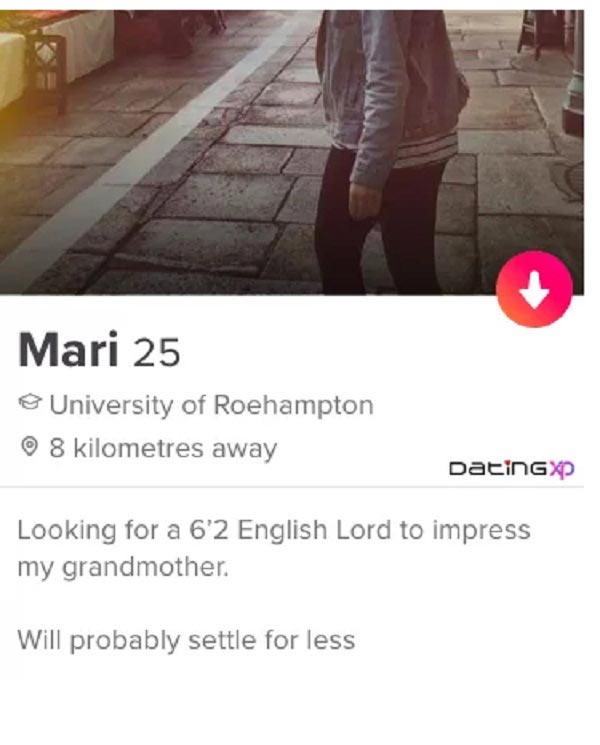 10. Alex, 28
I believe in kindness, empathy, holding open doors,
putting your phone away at dinner. Looking for someone who is
in love with life and open to exploring all its possibilities. 5'7
If there is one thing that dating apps are lacking nowadays, it's etiquette. People have forgotten the real meaning of kindness, and empathy for most people are into Netflix, pizza, and otherworldly things. What the girl from the picture above did will surely attract everyone with her kindness. If you are looking for a serious relationship on Tinder, this kind of Tinder bio idea is perfect to use.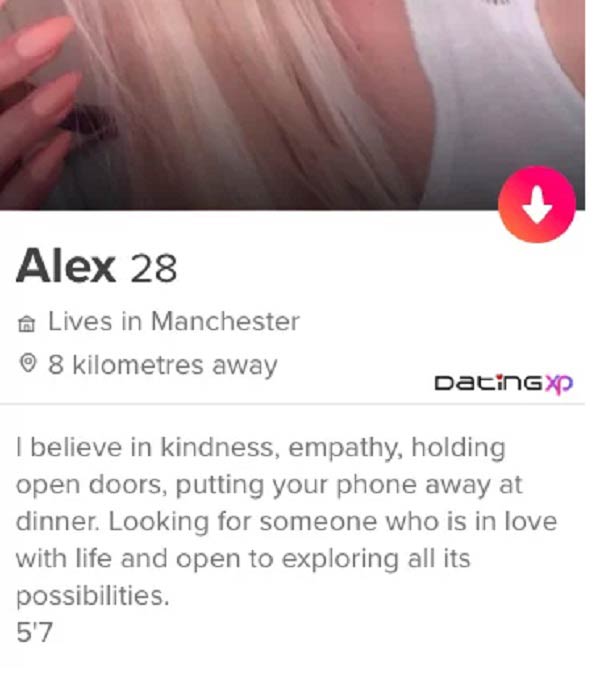 11. Jasmine, 25
About Me: Likes poop jokes, can stay out late on a school night, and isn't afraid to talk politics on a first date.
About You: Tolerates my poop jokes, doesn't take himself too seriously, and likes a healthy debate.
Telling what you really want in a relationship by writing it on your Tinder bio would be a great way to find your match. In this way, you will save time as you clearly showcase your wants. If you don't have any ideas for your Tinder bio, try this one.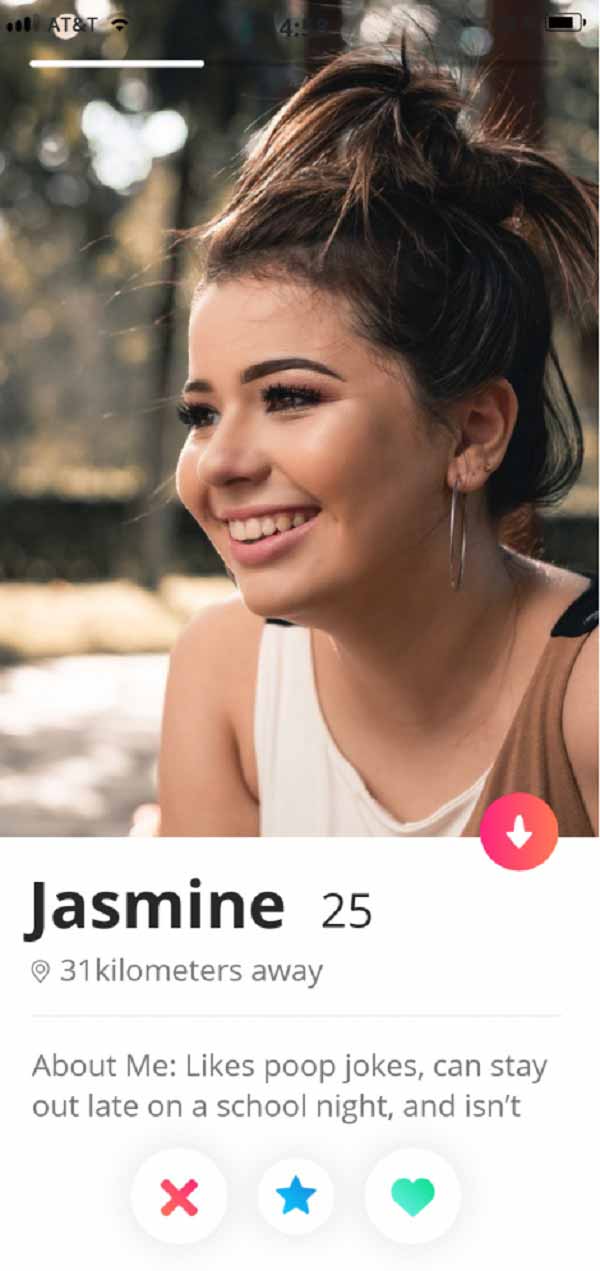 12. Jared, 20
My mom thinks I'm pretty cool, I'm sure you'll too
Do you think being ironic is more attractive? Yes, it is! Just like Jared did, He bragged about himself and looked arrogant, but people still find it funny. This ironic, funny Tinder bio idea looks so interesting.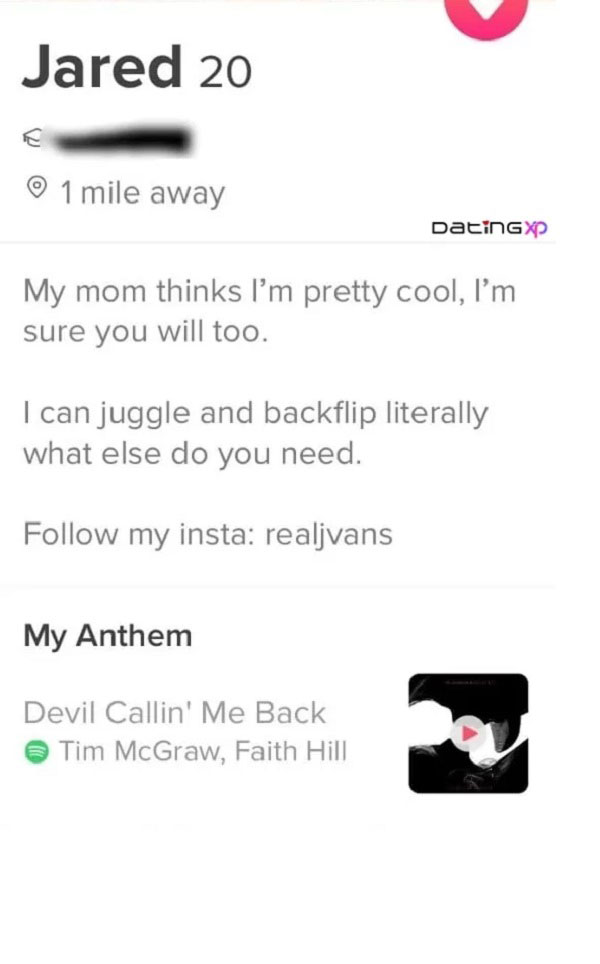 13. Kirsty, 29
Unashamedly talk to my dogs in an annoying baby voice.
Sometimes I snort when I laugh, and I have the
audacity to laugh at literally everything.
Kirsty is so captivating with her bio as she knows how to accept her flaws. She unashamedly embraces her flaws and proudly showcases these to everyone. Denoting who you really are is the best Tinder bio idea.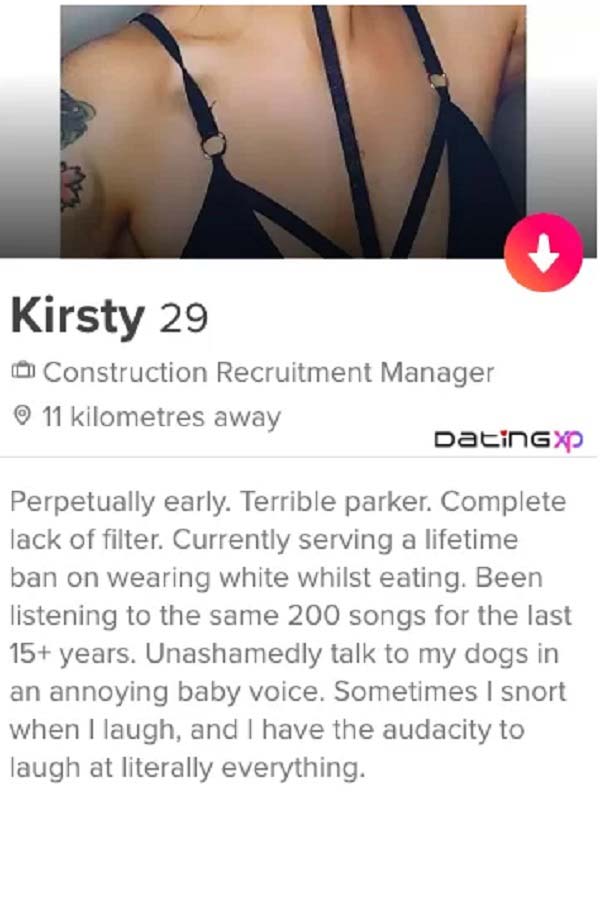 14. Jennifer, 27
The last guy who swiped left on me aged so quickly he shriveled up into an old man skeleton thing
before he turned into dust and dies a swift yet horrifying death.
He chose poorly.
Jennifer is so witty for making her Tinder bio look like this, so funny and catchy. Now she can assure that everyone will swipe right. This one is exquisite as a good Tinder bio idea for girls.
15. Claire, 25
All you need to lure me into your car is wine and pizza.
This one looks sexy, as she mentioned in her bio what she wants on a date, informing the Tinder users on how to get her. Very straightforward yet truthful.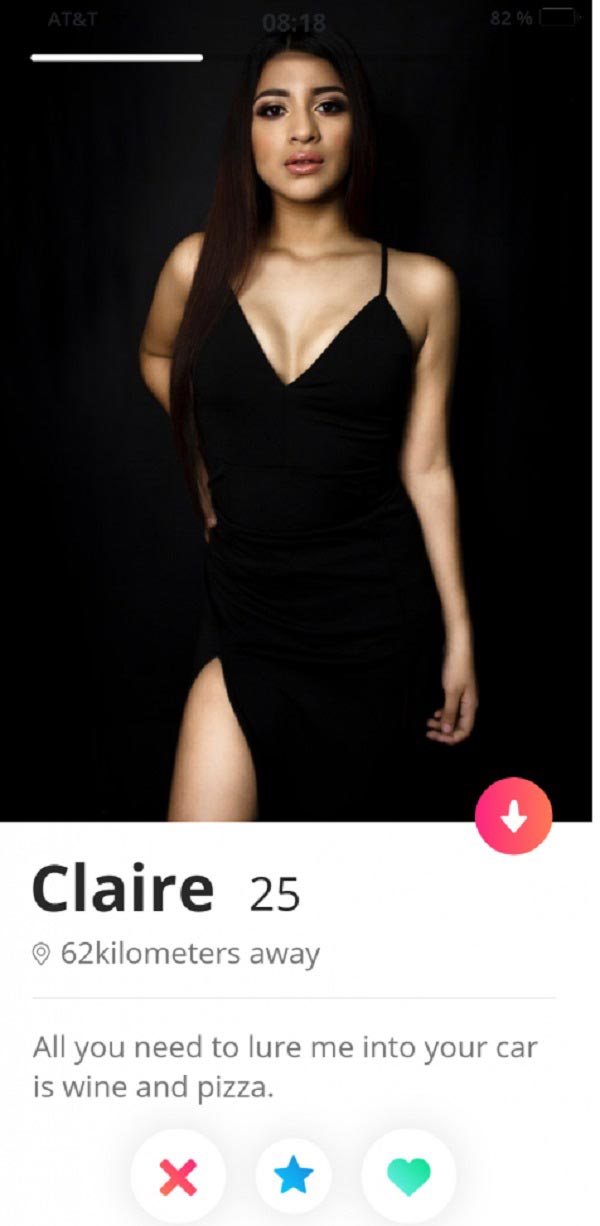 16. Jim, 28
9th-grade history teacher by day. Semi-pretentious craft beer aficionado by night.
Jim is very balanced with his Tinder bio; he showed his profession and also presented his hobby. Always keep in mind that you don't have to confess everything about yourself, but don't forget to bring out the best in yourself. It seems to be a nice Tinder bio idea for men.
17. Martin, 25
I love roller coasters but the pirate ship ride completely terrifies me.
I once backpacked around Lake Tahoe in 13 days.
When I was 14, I got a concussion swing dancing. What about you?
For all the adventure lovers, surely you will swipe right for Martin. This is a nice bio for someone who wants to do the same thing as the man above. Same vibe, same tribe, isn't it a good Tinder bio idea?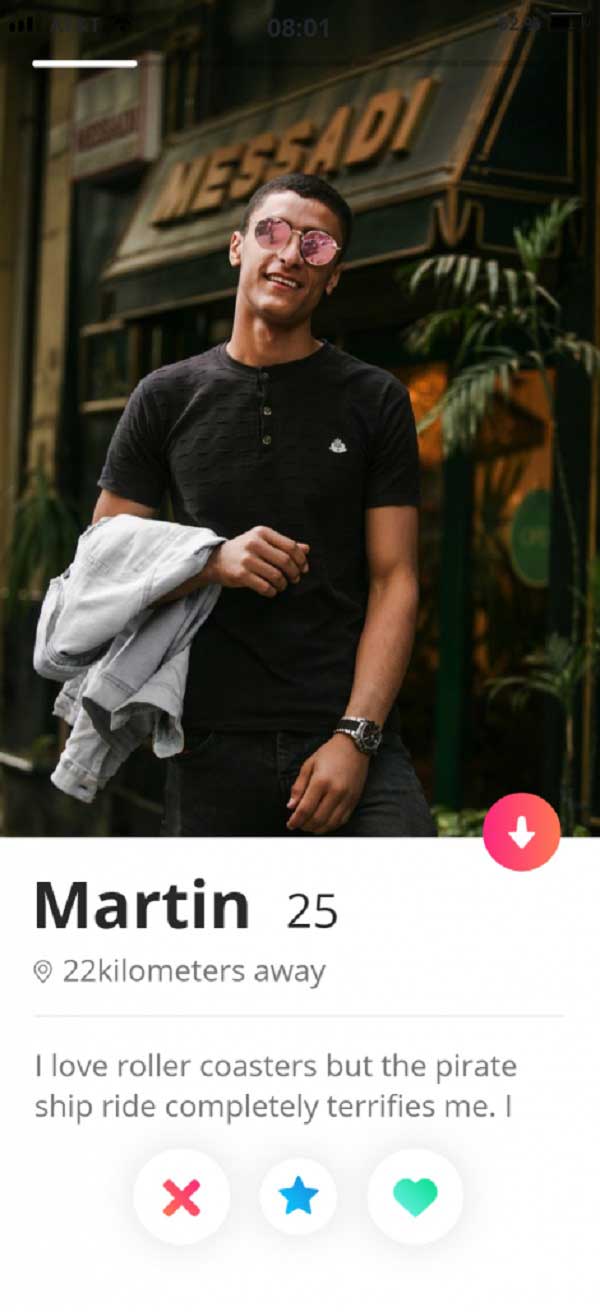 18. Emma, 28
Dogs
Carbs Adventures
5'10 Manchester
Maybe you are wondering how it became a funny Tinder bio idea. Yes, it is a common bio for everyone, the everyday interests of most of us. The seize here is the use of the emojis that highlighted her bio.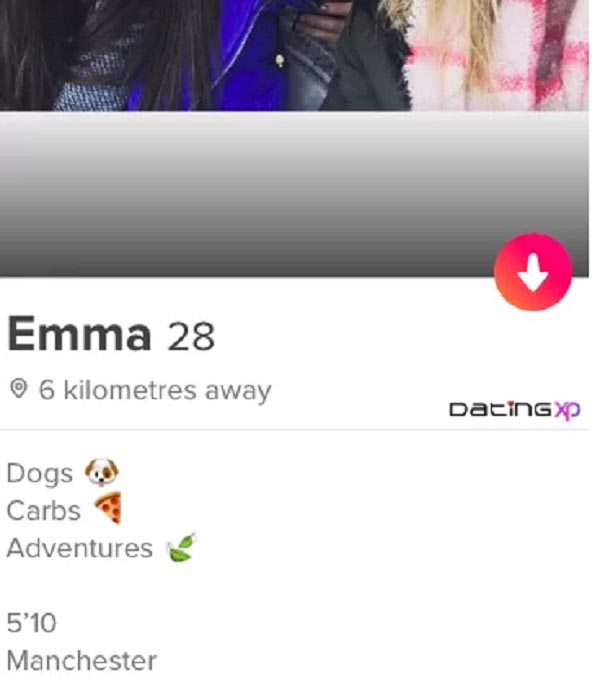 19. Katy, 28
Help me come up with something witty to put here…
How playful the mind of this girl is for doing her Tinder bio like this. She is not looking for someone that will help her fix the sink or paint the wall; she just simply needs a man to help her put something on her bio.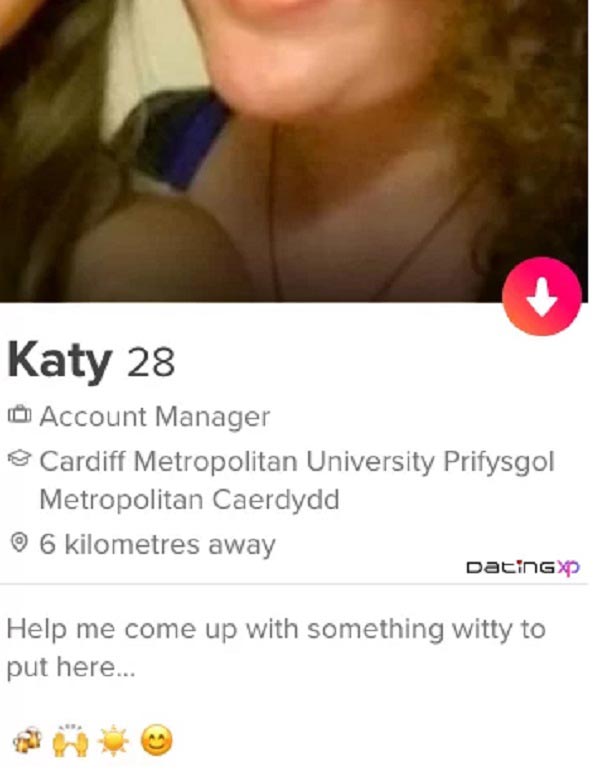 20. Erin, 25
just someone who wouldn't mind coming to Disneyland with me tbh…
It's not bad to put how dreamer you are in your bio. This is a good Tinder bio idea for it makes the other people realize and picture something happening with you.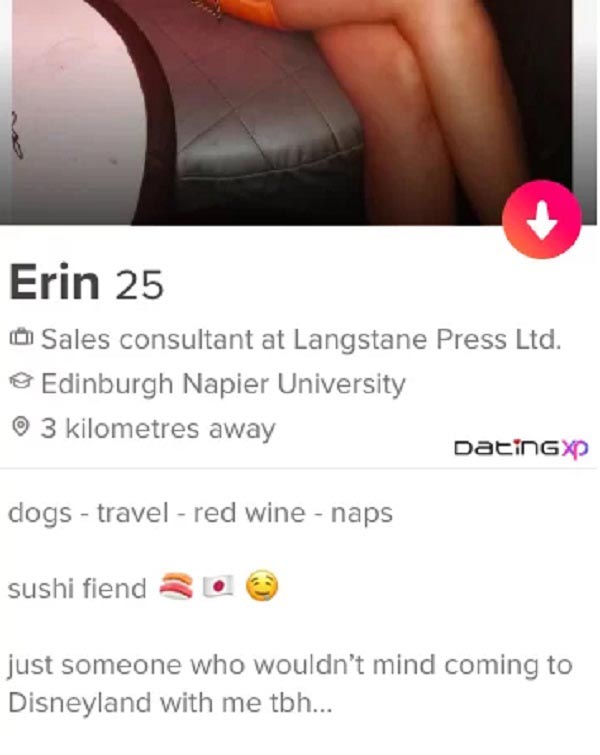 Part 2: 8 Flirty Tinder Bios for Guys to Hook Girls In (Or Reversely)
As you know, Tinder is mainly used to date and hookup online. There is no need to go outside. You can swipe left or right to find mutually interested people. To attract someone, especially the type of girls you like, you can try the following flirtatious bios.
Feel free to add me to your to-do list.
If you were a vegetable, you'd be a cute-cumber.
Guess what my clothes are made of? Oh, cotton mostly.
Looking for a bad boy? Looks like you've come to the right place.
Your dog will love me, but your neighbors won't.
Since I am wearing a bikini in most of my pictures. you know what I am looking for … a serious relationship.
If you have mommy issues, swipe right.
I never did yoga, but it doesn't mean I am not flexible.
Part 3: 7 Creative Tinder Bios for Girls and Guys to Stand Out
People always want to see something new and different. So if you are looking for incredible Tinder bios, there are your top choices. Let's say, will you match this boy or girl if you see these bios?
Let's be miserable together.
If all men are pigs then I'm in the mood for bacon.
I'm dying to meet you. Where can ICU?
I am kind of hoping that your standards are lower than mine.
Looking for my future ex-husband.

A lover of libraries, coffee shops, and perhaps you.
You don't have to pick me flowers. You just have to pick me!
Part 4: Tips and Tricks to Write Your Best Tinder Bio
Keep your bio short, simple, and sweet.
There is no need to put everything into your Tinder Bio. Just focus on the key point you want to tell others. For example, you can show your sense of humor, favorite TV shows, pet, cooking, job, location, and more to attract people with the same interests. Also, don't write a too long to read Tinder Bio.
Be creative, confident, and humorous.
Of course, you can use the above Tinder bio ideas to get more matches. But what if other Tinder users have seen those bios before? So it is suggested get inspired and write a unique Tinder bio.
Part 5: FAQs about Tinder Bio Ideas
Why should I put a Tinder bio?

To find someone that you are matched with, you have to get their attraction with your bio, a funny Tinder bio. Moreover, you can also have some gay video chats or related activites offline accordingly.

What are Tinder tips for guys from girls?

Use a good photo of your face.Share more about yourself, not you cars, trucks, or motorcycles. Also, be positive and courteous.

What Tinder tips for girls from guys?

No pout selfies. A picture that shows the way you are in real life would be better. Moreover, your creative, colorful, and amazing soul is a new sexy.
Conclusion
And that's it! We hope that we've helped you pick your bio by presenting you with 35 funny, flirty, and catchy Tinder bio ideas. We hope you find the love of your life!
Related Articles