Get Verified on Tinder to Receive a Tinder Blue Checkmark
"Do I need to get verified on Tinder?" Photo verification is a security feature that allows users to introduce who they are in their accounts since fake profiles are widespread nowadays to get a match with someone who thinks they are lovely. For this reason, getting verified on Tinder will prove that you're you. You probably don't know how to get a blue checkmark. That's why you're here. So, without further ado, keep reading into the following parts to learn how to get verified on Tinder and a tip you can use for your profile photo.
Part 1: How to Get Verified on Tinder (Get a Blue Checkmark)
As you all know, Tinder is an online dating application that has been proven to be very effective in finding matches through the app. It enables users to locate other singles that are near their geographic area. Aside from that, you can add people, see their profiles, and start conversing with them. And sometimes, it is not impossible to encounter fake accounts that act like others, pretending to be excellent.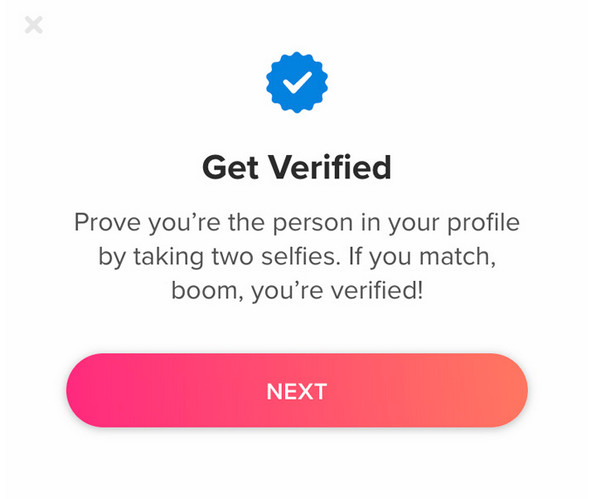 So, to avoid this, like other social media platforms, Tinder has a verification process to know if the profile is genuine and not fake. Tinder wants everyone to stop falling prey to fake profiles with its Photo Verification feature. This new release of Tinder verification means a profile with a blue checkmark is an accurate profile on Tinder, allowing users to protect themselves from potentially fake accounts. Here's how to get the Tinder blue checkmark.
Step 1.Open the Tinder app, then log in to your account. Head to your profile by tapping in the top-left corner of your screen.
Step 2.A gray checkmark is next to your name; tap on it. Then tap Next.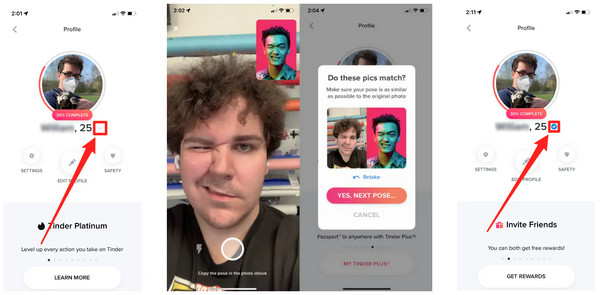 Step 3.There will be examples of models making expressions that need to be followed by you by taking pictures of yourself with your phone's camera.
Step 4.Afterward, Tinder will notify you that the verification process is Under Review. Once done, the gray checkmark next to your name will be turned into a Tinder blue checkmark.
Part 2: How Should I Notice for Tinder Verification
As you did in the above part, you will submit photos that Tinder will compare to your profile to get the Tinder blue checkmark. The application supports facial recognition technology so Tinder can verify your submitted photos. And it should only take minutes to get your verification approved. In the meantime, you can also use some excellent Tinder bios for guys and girls to attract more likes. However, some users complain that their verification was rejected. And here are some of the possible causes:
The face isn't featured correctly in the frame.
The face is blocked or not positioned in the middle.
Lack of facial expressions.
The video wasn't clear.
The person did not match the profile picture.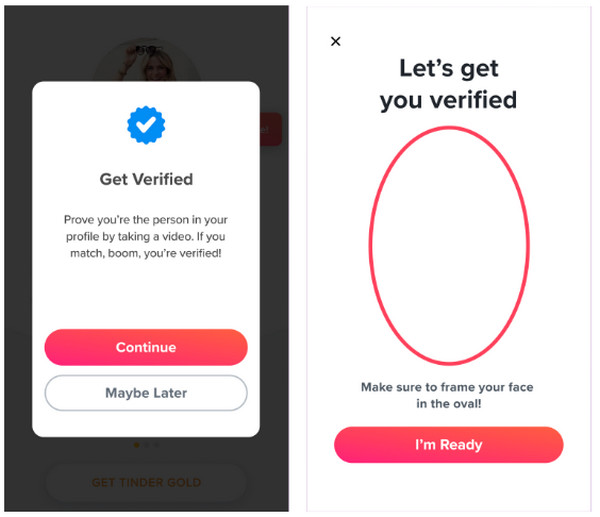 Whatever the reason, getting the Tinder blue checkmark is essential. Otherwise, your Tinder account may get under review. To verify your profile, you will avoid those said causes. Ensure to frame your face in the oval provided by Tinder, follow the expressions of models given, and take an explicit video of your face. Once the verification request is approved, a Tinder blue checkmark will immediately be added to your profile.
Part 3: Use AnyRec to Upscale your Tinder Profile Photo for Verification
Before you verify your Tinder account, you must ensure that the profile photo you used is clear and high-quality. If not, you must upscale it quickly to get that Tinder blue checkmark. A free-only Image Upscaler is there to help, named AnyRec AI Image Upscaler. This online tool can upscale photos by up to 800% without affecting the quality. It can detect all blurred space without deleting any details from your photos. With this online upscaler, you won't have any trouble as it provides an enjoyable and convenient experience.
Make the image larger by 200%, 400%, 600%, and 800%.
Support popular image formats, like JPG, PNG, TIFF, and more.
No watermark. No signup required for image enlargement.
Safe to use. Delete all uploaded images automatically from the server.
Step 1.Start by heading to the leading site of AnyRec AI Image Upscaler. And then, upload your Tinder photo by clicking the Upload Photo button.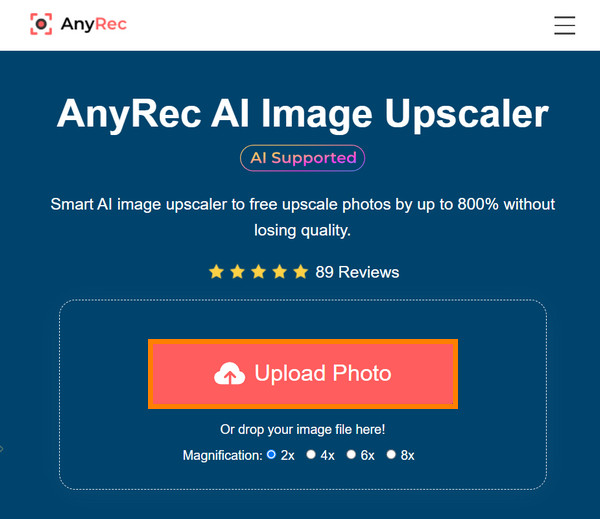 Step 2.AnyRec AI Image Upscaler will instantly start the upscaling process after choosing magnification. After that, you can monitor all details with a magnifier in the preview window.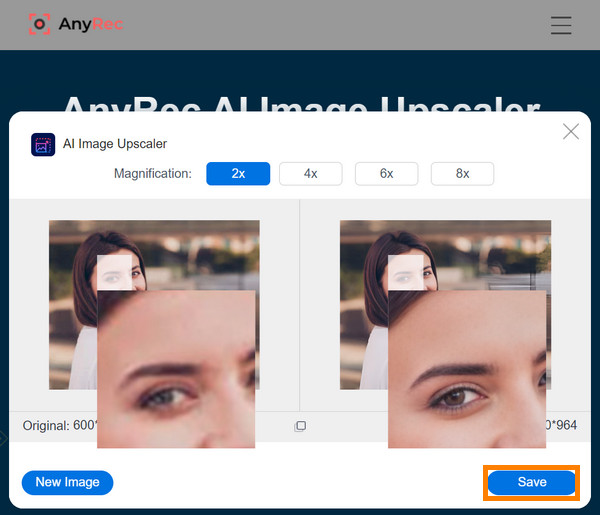 Step 3.Once satisfied, click the Save button to get your upscaled Tinder profile photo. And now, you can start getting that Tinder blue checkmark.
Part 4: FAQs about Tinder Verification
What will happen if you don't get a Tinder verification?

Nothing will happen if you don't want to get verified on Tinder. However, getting the verification comes with advantages like getting many more potential matches, and other accounts will know that you're not a fake account pretending to be another person.

How long will Tinder verify you?

Getting verified on Tinder may only take a few minutes. After you submit all the selfies you took, the process will immediately take place, and once it is done, a Tinder blue checkmark will appear next to your name.

Does Tinder require you to get verified?

No, Tinder doesn't require you to get verified. But getting verified on Tinder means you're using a real account; you're not a bot or a catfisher. Plus, there's an age requirement to verify on Tinder; you must be at least 18 to verify.

Are all unverified Tinder accounts fake?

No. Some people use fake accounts. But not all unverified Tinder users are fake. Some people prefer to avoid getting verified on Tinder since it is okay.
Conclusion
So, that's it! You can get your Tinder blue checkmark now with the help of this post. But before that, you should consider what profile photo you'll use for Tinder verification. It is essential to use a high-quality photo to quickly get recognition of your face that will compare to the video selfie you submit. Your go-to upscaler is the AnyRec AI Image Upscaler. You can quickly access it as this online tool guarantees a safer and more effective improving image quality. Try it out now and get your Tinder account verified.
Related Articles: