6 FREE Ways to Unblur Tinder Matches and See Who Liked You
If you don't have a Tinder Gold subscription, you can't see who has liked your profile before swiping. The legal and highly suggested way to unblur Tinder is by purchasing its gold version. However, if you want to unblur Tinder images only, and you don't need other premium features, you can unblur Tinder likes and see people who likes you with the following 6 solutions. Yes, you can see Tinder likes without gold here. Let's read together to see how it works.
Part 1: 6 Ways to Unblur Tinder Photos and See Who Liked You without Gold
These are 6 tested ways of Tinder unblur hack. Both beginners and experts can get rid of the Tinder Gold limit to get an unblurred picture successfully. Some Tinder unblurring workaround is difficult. Don't worry about that. You can copy and paste the related code to solve the problem. Or you can use other tools to make Tinder photos less blurry effectively.
1. Minimize the Tinder Blur Pixel to Blur(0px)
Easy to use: 2/5
Unblurry: 2.5/5
Platform: Desktop
Price: Free
Verdict: If you have basic code knowledge, you can minimize the blurred pixel of the Tinder thumbnail picture. The unblurred picture may not look as clear as other pictures. But you can guess who liked you, at least.
Step 1.Open the Tinder website on Chrome (Safari or more.). Sign in with your Tinder account.
Step 2.Go to the Who Likes You section. Right-click on the blurred image you want to see. Then click Inspect to see the Tinder unblur code.
Step 3.Scroll down and find the highlighted area in the webpage elements inspection section.
Step 4.Search for the a--s Blur(12px) code. Change 12 to 0 to deblur a Tinder picture.

2. Check the preview.goTinder.com Folder
Easy to use: 2.5/5
Unblurry: 2.5/5
Platform: Desktop
Price: Free
Verdict: It is true that you can open the URL of that blurred Tinder picture with a new tab. But the default image resolution is 84✖️106 pixels. It is still too small to get a clear Tinder profile picture. It will be tough if you have hundreds of thousands of matches to guess. But it is still a worth-to-try way to unblur Tinder likes without paying.
Step 1.Right-click on the blurred Tinder image on your browser. Click Inspect and get the thumbnail URL.
Step 2.Switch from Elements to the Source tab. Scroll down and find the folder labeled preview.gotinder.com with the cloud icon.
Step 3.Now you can see who swiped for you on Tinder without gold.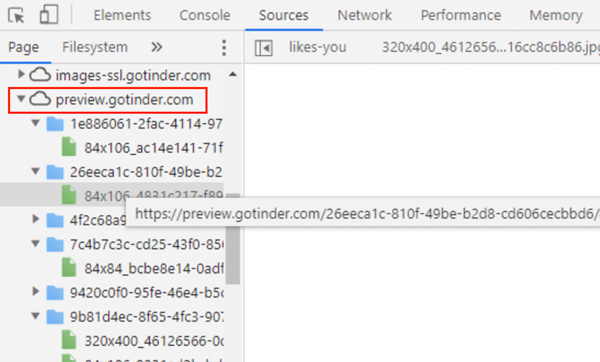 3. Run Tinder Unblur Command to Get a Clear Picture
Easy to use: 3/5
Unblurry: 3/5
Platform: Desktop
Price: Free
Verdict: You can run the Tinder unblur command if you have multiple Tinder thumbnails to unblur. Just copy and paste the following command to make Tinder photos clearer than before. Later, you can make the un-pixelated picture larger to see if he or she is an excellent match.
Step 1.In the Tinder Who Likes You page, click Inspect from the right-click menu of this thumbnail.
Step 2.Go to the Console tab from Elements. It's okay to see errors in red and notifications in yellow.
Step 3.Copy and paste the following Tinder unblur command into the Chrome DevTools Console tab.
document.body.innerHTML = document.body.innerHTML.replace(/(12px)/g,"(0px)")
Step 4.Press the Enter key on your keyboard. The Tinder likes you will update and display clear Tinder photos in bulk.

4. Try Tinder Unblur Script
Easy to use: 3/5
Unblurry: 3.5/5
Platform: Desktop/Android
Price: Free
Verdict: You can also try the Tinder deblur script provided by Github. Tajnymag shares and updates this userscript for free. Bu doing so, you can use the official Tinder API and get clean Tinder photos of people who liked you. Hope this Tinder Github deblur script is available all the time.
Step 1.Install a userscript manager on your device, such as Violentmonkey, Greasemonkey, etc.
Step 2.Download and install with tinder.user.js. You can download it from the following URL. You can also check related Tinder unblur js from the following screenshot.
https://raw.githubusercontent.com/tajnymag/tinder-deblur/main/tinder.user.js
Step 3.Open the Tinder website. Refresh the profile and see all unblurred Tinder profiles.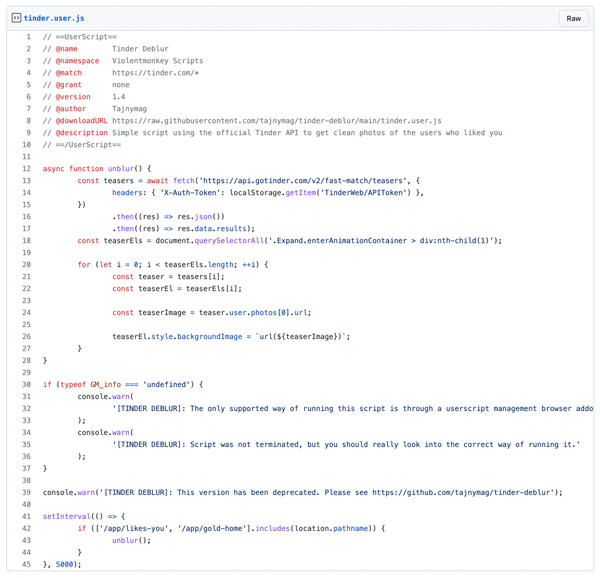 5. Install Tinder Unblur Extension
Easy to use: 4/5
Unblurry: 2/5
Platform: Chrome
Price: Free
Verdict: This method may only work some of the time. But it is still worth trying. You can reverse image search via the Tinder unblur Chrome extension. Compared with other tools, you can also get the uploaded date of this profile. So you can guess your potential match easily.
Step 1.Visit the LighterFuel For Tinder website on your Chrome browser.
Step 2.Click Add to Chrome to install it.
Step 3.Open your Tinder website and check the image uploaded date of your Tinder profile. lighterfuel-for-tinder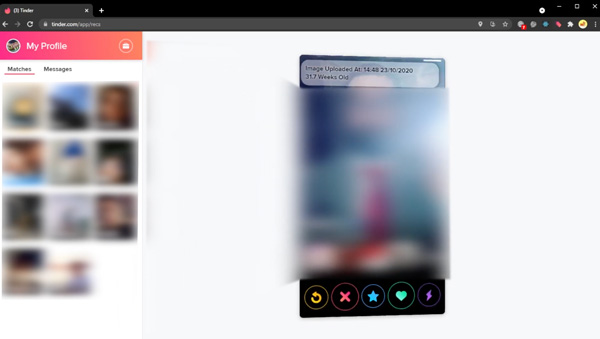 6. Unblur Tinder with Image Photo Enhancers
Easy to use: 2.5/5
Unblurry: 2.5/5
Platform: Desktop
Price: Free
Verdict: You can increase image resolution with quality enhancers to bypass the Tinder Gold limit. Moreover, you can also upscale and make Tinder images clear after trying the above method. You can unblur Tinder images with professional software if you also want to fix old and damaged photos. If not, an online image upscaler and quality enhancer would be a good choice.
Step 1.Open AnyRec AI image Upscaler on your browser.
Step 2.Set the magnification of the image upscaling with 2x, 4x, 6x, and 8x. Just make sure your upscaled image is smaller than 3000*3000px.
Step 3.Click Upload Photo and add your blurry pictures. Browse and add your Tinder photos. You can download or screenshot it on Tinder before uploading.
Step 4.Click Save after upscaling. Later, you can get a clearer picture to see who liked you on Tinder for free.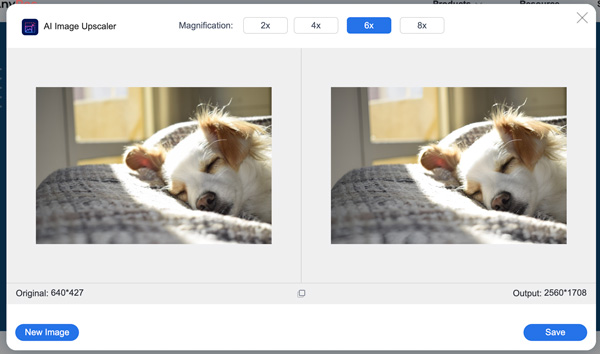 Part 2: FAQs of Tinder Unblur
Can I use the same profile picture after being unbanned from Tinder?

Yes. After getting your Tinder account back, you can use the same or a new photo as your profile. Just make sure the photo complies the Tinder's guidelines and policies.

How to do Tinder unblur hack on Android and iPhone?

To deblur Tinder on mobile, you can open the browser and try the online image quality enhancers. Or you can transfer the blurry Tinder profile pictures to your computer for further editing.

How can I make my profile picture stand out on Tinder?

To get more Tinder likes, you can use a high-quality, unique, or eye-catching photo that showcases your personality and interests. It is not suggested to use group photos as your profile picture on Tinder. Because the potential matches may take time to identify you.
Conclusion
That's how you see who liked you on Tinder without paying. Make the profile picture clearer and guess the potential match easier than before. Do the above solutions to unblur Tinder matches on your computer or mobile phone. If those Tinder loopholes are unavailable, maybe you can consider upgrading to Tinder Gold.
Related Articles