True Screencastify Review After Using it and the Best Alternative
Nowadays, many people will need a screen recorder to capture activities on their computers. And Screencastify seems like a popular extension on Google Chrome. So, for your need, this post will give you the Screencastify review about the true reaction after using this extension. What's more, there would be a best alternative for you if you are seeking the best screen recorder on the computer.
Part 1: Review of Screencastify
Screencastify is an excellent choice for a screen recorder. For one, it is an online tool, so you don't need to install software to capture onscreen activities. It is also an excellent tool for creating a video from scratch because it is well-provided with features for editing and enhancing your media. The famous screen recorder also offers a free version, in which you can customize the screen region to capture, share output to Google Drive, and export videos as MP4 or a GIF. Other than these, here are the key features of Screencastify to look forward to when you avail it:
1. Key features
Screencastify consists of three main components that will help you with various tasks. Other than recording, you can use the editor and submit features for elaborative video making. Let's look deeper into how these features are worth trying for screen recording.
Recorder
The recorder is the core of Screencastify. It allows you to capture the whole screen or adjust the grid to only include a portion of the screen. The screen recorder also supports recording through a webcam, so you can also capture yourself in the online meeting. Another great feature you can use to record is the annotation tools to draw. If you are creating a tutorial, the Mouse Spotlight and Click Highlight options will give your viewers a clear way to locate the cursor on the screen.
Editor
Screencastify's built-in video editor is a convenient way to directly crop, trim, merge, and rearrange recorded footage. It has the basic necessity for video editing and gives you advanced features such as zoom in/out, blurs effect, and text overlay. Screencastify allows you to export videos from Google Drive and edit them with its video editor. Editing video files from this screen recorder is accessible as it is developed with a user-friendly UI. written
Submit
If you are an instructor or teacher and want your students to submit their homework through screen recording, the screen recorder enables you to send a magic link that the receiver can click and record themselves. The best part of the magic link is the receiver doesn't need to install a launcher or pay anything. The submitted videos can be viewed on the sender's screen and saved to Google Drive. Moreover, all submitted videos are secure from students unless you share them.
2. Pros and Cons
The screen recorder has all the advantages of recording video from your screen. It is one of the best solutions for screen recording as it doesn't require you to install software. Of course, Screencastify is not everyone's go-to for a screen recorder. Most probably, it is because it lacks certain features. Despite this dilemma, here are the advantages and disadvantages of Screencastify to see its two sides.
Pros

Reasonable pricing for the premium version; even the free version is worth using.
Integrate with Google Classroom and support exporting videos to YouTube.
Produce high-quality videos and offer add-ons to make recording easier.
Robust screen recorder site and extension with helpful customer service.
Cons

It may take some time for a recorded video to be downloaded.
Not compatible with other devices like mobile phones and tablets.
The screen recorder doesn't support older models of computers.
Only support MP4 and GIF as export formats.
Part 2: How to Use Screencastify?
If you are new to Screencastify, this part will show you how to record using the screen recorder. Follow the guide below to see how to start capturing onscreen activities.
Step 1.Go to your browser and search for Screencastify. Click the very first result on the webpage. Once you are on the site, click the Add To Chrome button to download the Chrome extension. Click the Sign in to with Google button and answer the following questions.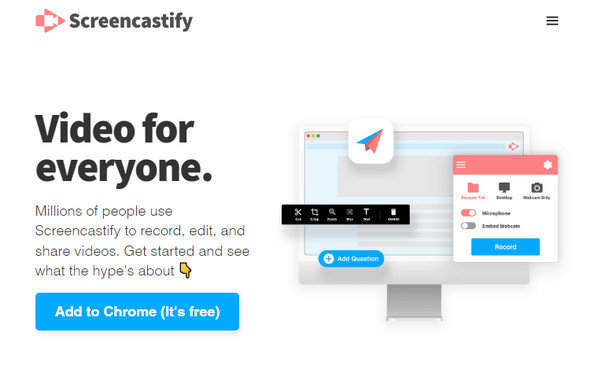 Step 2.Click the Extensions button and choose Screencastify. Select if you want to record a desktop, browser tab, or webcam. You can toggle the Microphone option to record your voice during recording. Afterward, prepare the site you want to capture, then click the Record button.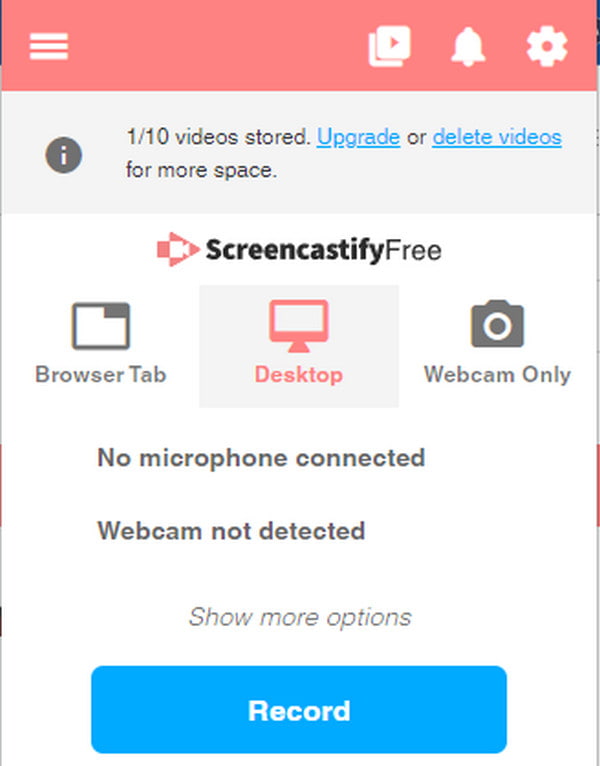 Step 3.A small widget menu will appear on your screen. You can use the pen, rectangle, and sticker features for annotation. The Mouse option will allow your cursor to change in a circle when you hold right-click your mouse. Click the Stop button to stop the recorder.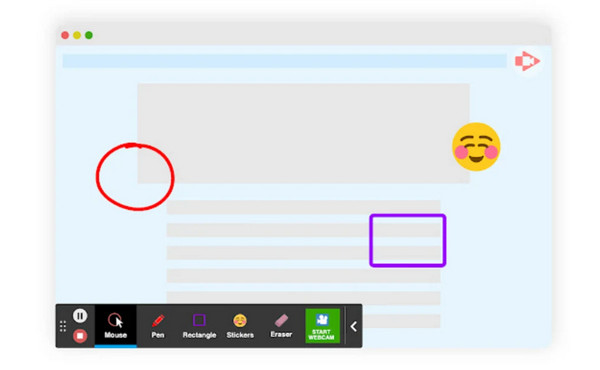 Step 4.Another tab will open from your browser. You can trim the footage there, or go straight to the editor by clicking the Open in Editor button. Use other features to edit the video, such as cut, crop, zoom, and blur. After editing, click the Export button to save the video to your Google Drive.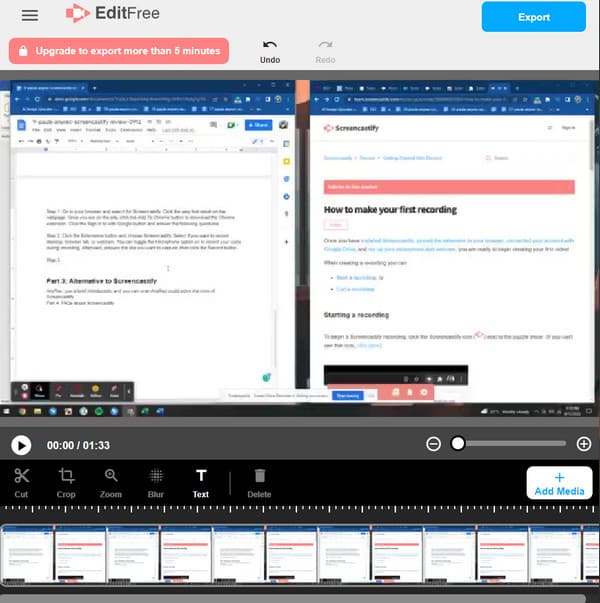 Part 3: Alternative to Screencastify
As mentioned, the Screencasitfy extension is not yet the perfect tool for screen recording. The best alternative to try out is AnyRec Screen Recorder for Windows and macOS. Unlike Screencastify, this screen recorder is easier to navigate with a fast-loading process. You can unlimitedly record videos online, gameplay, webinar, and even on your mobile device. Moreover, AnyRec Screen Recorder supports many export formats, including MOV, WMV, MP4, etc. Free download the software now from its official site.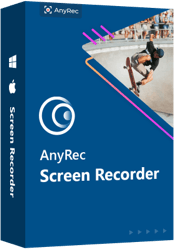 AnyRec Screen Recorder
Capture different onscreen activities through Video, Audio, Webcam, and Phone recorders.
Customizable settings to change the video encoder, format, quality, resolution, and audio settings.
User-friendly interface with present widget menu for drawing effects, screenshot, and recording schedule feature.
Provide soundcheck for microphone and sound system with noise cancellation and audio enhancement.
Step 1.Download AnyRec Screen Recorder from the official website. Once installed, launch the software on your device to start recording. Click the Video Recorder button from the main menu. You can also try other recorders for different onscreen activities.

Step 2.Set up the screen recorder to own preference. You can customize the recorder to fullscreen or select a particular region of your screen. Ensure that the System Sound and Microphone options are toggled on. Click the REC button to begin capturing the screen.

Step 3.During screen recording, you can use the options from the widget menu. For example, if you are giving a tutorial, you can use drawing effects to point, highlight, and annotate important topics or words. You can also pause the recording if needed.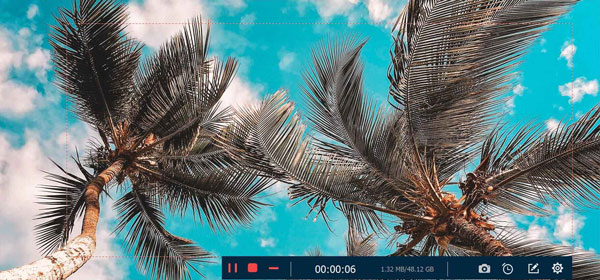 Step 4.After recording, you can trim the recorded footage on the next window. You can set the desired time for the beginning and ending parts; the software will automatically cut the video for you. Browse for the designated folder path where you want to save the file. Click the Save button to wrap up everything.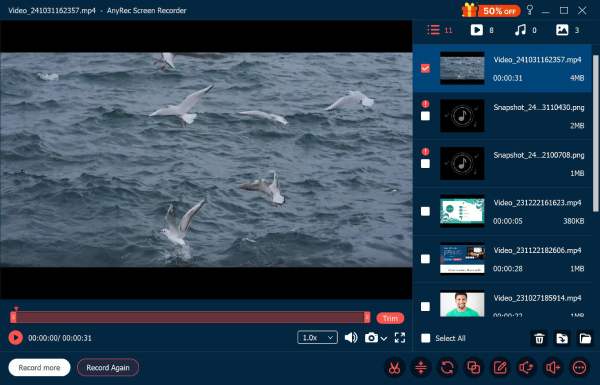 Part 4: FAQs about Screencastify
How long can I record using the Screencastify extension?

If you are only using the free version of Screencastify, you can maximize the recording time by up to 5 minutes. Even if you have availed a plan for the screen recorder allowing you to record unlimitedly, your storage space on Google Drive will be the only hindrance.

Can I share my recorded videos from Screencastify with others?

Yes. Since the outputs are saved to your Google Drive, you can share the Screencastify folder. Choose the people you want to share the folder with; they can view all the recordings, even future footage unless you change the settings.

Do students have access to Screencastify's drawing tools?

The students can't access Screencastify features through Submit. They would need to download the extension to use the screen recorder completely.
Conclusion
After reading this Screencastify review, you can find it is an excellent screen recorder extension. It has an intuitive interface to capture your screen content with good quality. However, you are limited to export format, watermarked videos, and clear audio recordings. The best alternative to use is AnyRec Screen Recorder for Windows and macOS. Free download the software and try its powerful features!
Related Articles