AnyRec Screen Recorder
Record screen, audio, webcam, gameplay, online meetings, as well as iPhone/Android screen on your computer.
What is the Best OBS Studio Setting for Recording on Windows and Mac?
OBS Studio gives the best features for recording. But while it provides professional grade capturing, you still need to change some settings to adjust to your device and internet connection. Then you can get the best video quality. With this post, you will learn about the best recording settings for OBS with detailed steps on how to find the settings for video, audio, and output. And there also will be an alternative to OBS.
Part 1: The Best OBS Recording Settings
The recording settings of the OBS pack with all the options to tweak, and whether you like it or not, you may need to configure them to get the best in screen recording. Moreover, you must discover where to find the proper context all over OBS's general, output, video, and audio recording settings.
1. The OBS General Recording Settings
The General menu on the OBS recording settings has all the options that will affect your recording experience. It holds the basic settings for OBS, such as Language and Theme for the interface.
2. The OBS Output Recording Settings
The Output settings show various tabs for streaming, recording, audio, and replay buffer. You can edit the recording path, format, rescale output, and more. Here are other settings under the Output Recording Settings and their primary uses: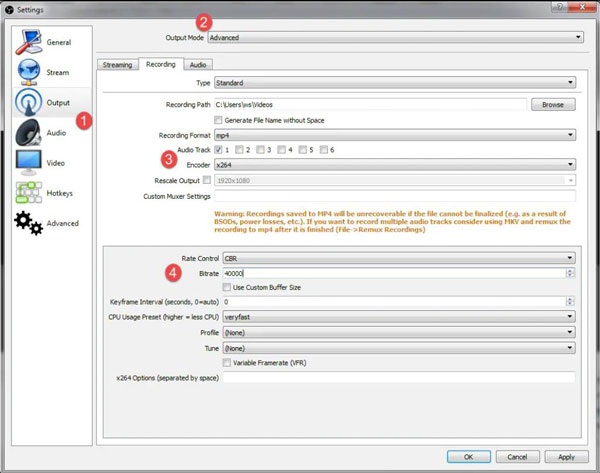 Encoder
The Encoder allows you to encode information used for video creation, including an x264 encoder for a high-quality video. However, choosing one encoder for all video recordings is not recommended because x264 can exhaust your computer and affect the game's performance. If you have a new NVIDIA graphics card, you can use NVENC H. 264 for encoding. You can mainly use NVENC as it is dedicated to recording gameplay without impacting the game performance.
Rate Control
This setting helps you to allocate the bitrate you use on OBS. Rate Control enables you to produce the best quality in the entire recording time consistently.
CBR
CBR is another help for constant bitrate as it will ensure that bitrate is steady and frames are receiving an equal amount of effort. It is also an excellent feature to avoid too much stress on your device. Moreover, CBR allows you to record with lossless rate control for perfect image quality.
3. The OBS Video Recording Settings
Of course, the video recording settings of OBS Studio have the option to change the video output. Here, you can try various things to get a high-quality video. For example, you can downscale the resolution to 1280x720 if 1080p is not giving you a high resolution. This is because you might need to match the OBS recording settings to your device or internet connection.
4. The OBS Audio Recording Settings
Audio recording settings have the feature to add global audio devices for every scene you create. It follows up with two desktop audio and four/auxiliary options, allowing you to add external audio sources like a mixer and microphone.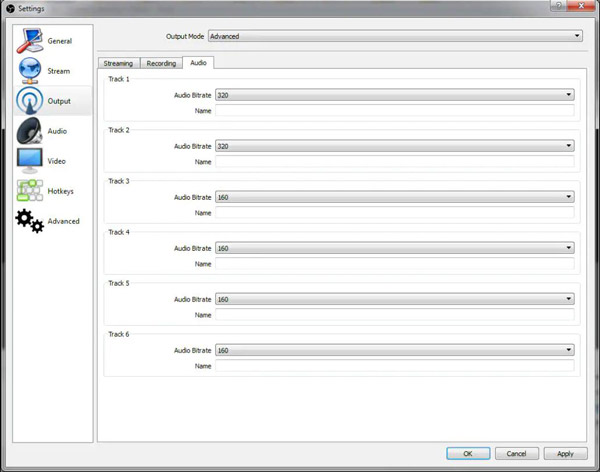 Part 2: The Best Alternative for OBS to Record
While the OBS recording settings allow you to configure various settings, it will be challenging to tweak them now and then. The best alternative to have a more straightforward screen recorder is AnyRec Screen Recorder. The software has all-in-one video, audio, gameplay, and webcam recorders. Its Preference menu is much better to configure than the OBS recording settings, allowing you to change the video codec, resolution, frame rate, bitrate, and audio settings without a complicated setup. AnyRec Screen Recorder is best to download on Windows and macOS.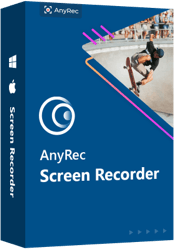 AnyRec Screen Recorder
Record videos on a computer with high output quality which can be saved as an MP4, MOV, WebM, etc.
Provide simple recording settings to configure hotkeys, resolution, keyframe interval, and audio formats.
Support noise cancellation and customizable screen recording for fullscreen or screen area selection.
Unlimited time recording can be configured by setting up a Recording Schedule to stop recording automatically.
How to use the best alternative for OBS recording settings:
Step 1Install AnyRec Screen Recorder on your computer from the official website. After that, launch the software to get to the screen record. Unlike the OBS recording settings, it is easier to set up AnyRec. Click the Triple Lines button from the main interface and choose the Preferences option from the sub-menu. You will find the Output, Sound, Camera, Mouse, and Hotkeys tabs.
Step 2The Output menu holds the designated folder, screenshot, video, and audio settings. You can configure them by clicking the drop-down lists. On the Sound settings, use the soundcheck to check your computer audio and microphone. Also, you can go to the Hotkeys menu to change the key elements on various commands. Click the OK button to save the changes.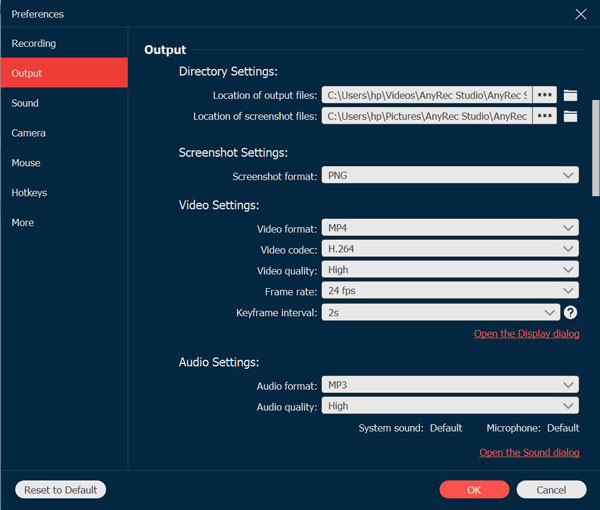 Step 3Once on the main menu, click the Video Recorder and select the screen region you want to capture by clicking the Fullscreen or Custom button. Don't forget to toggle on the Microphone and System Sound options to capture audio. Click the REC button to start recording.

Step 4The Widget Menu provides you options to draw, set up a recording schedule, and take a screenshot. Click the Stop button and trim the clip on the pop-up window. Choose the designated folder to save the output, but if you have already set it up on the settings, click the Next button. You can rename the file and click the Save button to wrap up.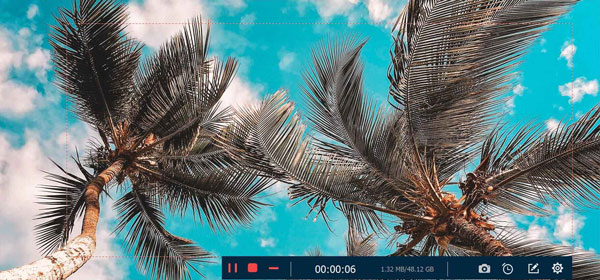 Part 3: FAQs about OBS Recording Settings
What are the best OBS recording settings for gameplay?

Many players and streamers have a standard setup on OBS. Aside from NVIDIA NVENC as your encoder, set your resolution to 1920 x 1080, 60FPS, Simple as your type, the format should be MP4, keyframe interval at 2, and bitrate from 10 000 to 20 000. Of course, it still varies to different setups. But this is the standard for gameplay recording, and the game audio recorded by OBS could get a better effect too.

Can I record unlimitedly on OBS?

Definitely, yes. OBS is free, and it has no recording limitations. However, ensure you have all the storage space you need. Because after reviewing OBS personally, it is found that OBS may consume too much, especially if you set the settings to higher resolution and quality.

What is the recommended bitrate for audio settings on OBS?

If you are setting up multiple tracks on audio recording, the recommended bitrate is from 160 to 320 for higher audio quality. You can find these options by going to the Audio Output Settings.
Conclusion
The OBS recording settings are great to tweak for better results. It helps you fix the output settings according to the strength of your device and internet connection. However, since not everyone is not keened on a professional platform such as OBD Studio, it is recommended to use AnyRec Screen Recorder as an alternative. The software's power is as great as the first platform, but it is much easier to set up for video, gameplay, audio, and webcam recording. You do not have to set the troublesome settings anymore. Try it now by clicking the Free Download button!
Related Articles