Img.Upscaler Review: Pros, Cons, Features, and Alternatives
Digital photos can be edited with tools like Img.Upscaler. It helps to enhance the quality, increase the resolution, and remove unnecessary parts. Photo editing is crucial for content creators to achieve the best quality before sharing the images on social media. If you are looking for a way to edit pictures with Img.Upscaler, here are the things you must learn about the photo editor and the best Img.Upscaler alternatives.
Part 1: What is Img.Upscaler
It is an online tool that upscales images through deep learning algorithms. It enhances the resolution while maintaining the essential photo features and details. It is renowned as the best tool for graphic designers, marketers, and photographers because of its practical enhancements, which are far more advanced than traditional image upscaling methods. The best part of using Img.Upscaler, you only have to wait a few seconds, and the image enhancer will give the best result. But how to use the online tool?
Step 1.Open a tab on your browser and search for Img.Upscaler. From the main menu, click the Upload button and browse for the picture you want to enhance. The image will be instantly uploaded to the website.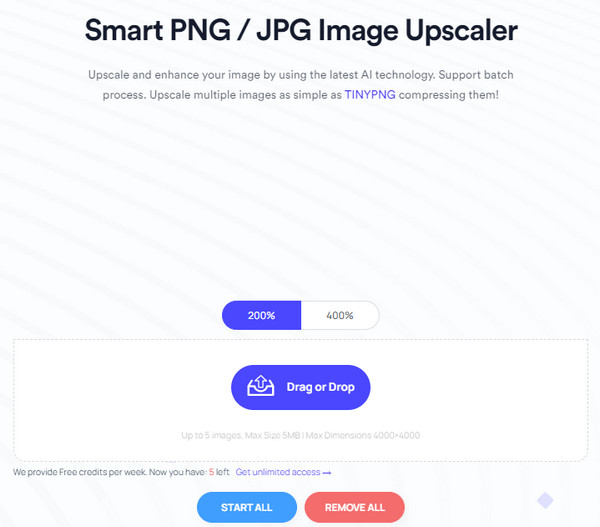 Step 2.Click the Start button to process the picture. In a few seconds, you will see the result. Click the Download button to save the enhanced picture to your computer. Upload another image from your folder.
Part 2: Top 5 Alternatives of Img.Upscaler
In case you see Img.Upscaler is unavailable because of under-maintenance or some error; you must consider other alternatives to edit pictures. See the five recommended Img.Upscaler alternatives with free services.
1. AnyRec AI Image Upscaler Online
AnyRec AI Image Upscaler Online is an excellent alternative for Img.Upscaler. It is an online tool with the latest AI technology to enhance uploaded pictures automatically. Its user-friendly interface lets you quickly enhance images without limiting the file size or quality. Besides enhancing the picture, it also recovers important details by fixing blurry and distorted parts. Furthermore, the Ai system helps to make your pictures bigger by 2x, 4x, 6x, and 8x. Visit AnyRec AI Image Upscaler Online to improve the photo quality.
Features:
Upscale images in any format, such as JPG, PNG, BMP, TIFF, etc.
Provide a real-time preview of the original file and output with enhanced information.
Quickly edit images with just a one-click process without additional extensions.
100% free without requiring registration; no watermark included in the output images.
Pros

Effective for image enhancements.
Users can zoom in and out to check the details.
Cons

Sometimes, the uploading process can take some time.
2. Topaz Gigapixel AI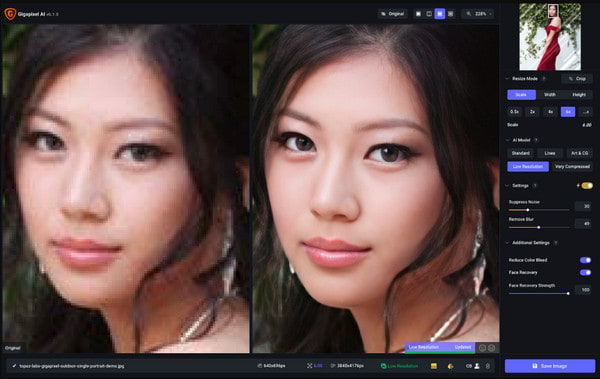 Topaz promotes the Gigapixel AI as enhancing resolution most naturally. In most upscaling tools, filling in the missing pixels is hard to do, and the photo might end up in low quality. But gigapixel AI has neural networks that solve the problem by continuously editing a wide range of photos, enabling photorealistic detail to look instantly. However, this tool comes with a price, which you can purchase at $74.99 as a one-time payment. All in all, Topaz might surpass Img.Upscaler when it comes to the final result.
Pros

Support more platforms and files like documentation and videos.
Suitable for portraits, landscapes, wildlife, and so on.
Cons

Expensive pro version with a minimal free trial version.
3. AI Image Enlarger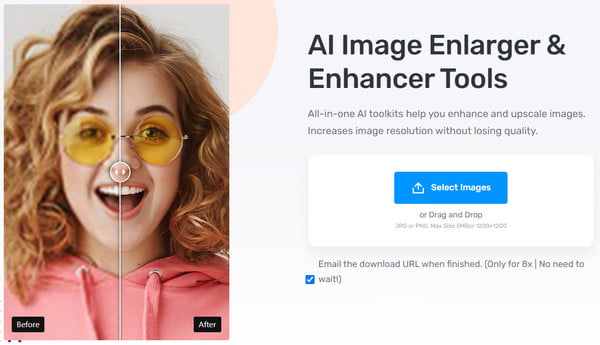 This Img.Upscaler alternative provides six AI functions that help to enhance colors, sharpen blurry parts, retouch, remove background, denoise, and overall upscale the picture. Its simplicity makes the process easier, as you only need to upload a picture from your folder and choose a function to enhance it. AI Image Enlarger is an excellent solution for personal and business needs.
Pros

Save time by processing the photo with enhancement immediately.
Convert pictures to cartoon style without adding a plugin.
Cons

Users must have a free account before using the online tool.
4. ClipDrop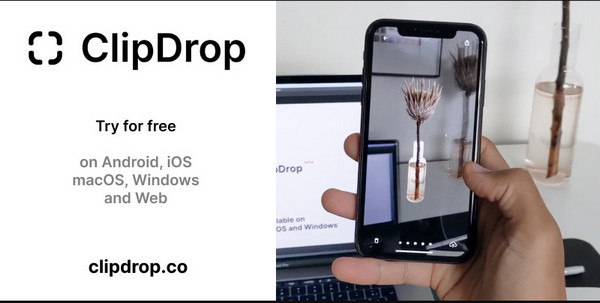 Aside from enhancing pictures like the Img.Upscaler alternative, ClipDrop enables the removal of parts from the photo, including objects, people, and text. It has artificial intelligence that helps to stretch images by 2x and 4x in a few seconds. It also captures the most enchanting profile of the faces by adding beautiful lights and other effects. ClipDrop is also more affordable than other online tools, as it offers its service for only $5 per month.
Pros

Clean object removal without defecting the overall details of the pictures.
Enable removing the background with accuracy.
Cons

No options to tweak the upscaling process.
5. UpscalePics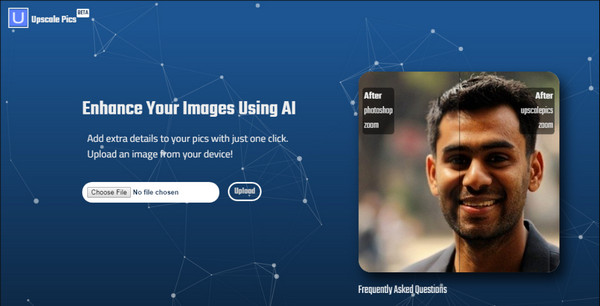 The last recommended alternative for Img.Upscaler uses state-of-the-art neural networks to make photos HD. After analyzing JPEG's noise and artifacts, the tool uses AI to remove all problems without distorting the characters and other content. Compressing and downloading the images in full HD at any file size is also possible. Moreover, the free version is available, or you can choose to pay $3 per month to unlock other features.
Pros

Support popular image types like JPNG, PNG, and GIF.
Enable to enhance multiple images at once.
Cons

The free version is too limited for features.
Part 3: FAQs about Img.Upscaler
Can I use Img.Upscaler on a mobile device?

Yes, you can access Img.Upscaler on any device and platform. But the great news is that a mobile version of the tool for iOS and Android is available for free. The service is almost the same as the online tool, with the upscaling process from 200% to 800%.

What happens after upscaling my pictures with Img.Upscaler?

The tool's algorithm will stretch the image from its original resolution and will follow the output resolution you choose to apply. By then, you are adding pixels per square inch, and the more pixels you have, the better it will look. Still, upscaling the resolution will not improve the quality since these two are very different.

Does Img.Upscaler support 4K resolution?

Definitely yes. The online tool supports 4K resolution, especially for anime images. Since many people love anime, downloading low-quality images can be disappointing. So, Img.Upscaler offers enhancement for any picture with a 4K option to the pro version.
Conclusion
To conclude, as the review of Img.Upscaler says this is a great online tool that allows you to upscale images to the best resolution. This article also included some facts about the tool, such as the best way to enhance pictures and a short demonstration of how to use the tool. Moreover, you also found out the best five alternatives to edit photos in case Img.Upscaler is unavailable. Use AnyRec AI Image Upscaler Online without registration and a watermark for a better solution to upscale images to 4K.
Related Articles