How to Make Photo HD to Have Clearer and Sharper Images without Blurry
Capturing high-quality photos is an essential aspect of photography. However, only some know how to make photos HD and professional. The good news is that anyone can make their photos look HD with simple tips and tricks. This post will provide practical advice on making your photos look sharper, more precise, and more vibrant. So you can make a low quality photo HD that stand out when you share photos with others.
Part 1: 2 Ways to Increase Photo Quality to HD on Website [Online]
1. AnyRec AI Image Upscaler
AnyRec AI Image Upscaler is a free online tool that does not require the register to make photos HD. This tool could help you upscale images by up to 800%. You can make photo HD and 4K with the help of AnyRec. And the preview feature allows you to compare before and after upscaling statues simultaneously.
Features:
Have AI technology to increase the image resolution.
Increase picture quality with four different options.
Support various image formats to upscale resolution.
Have a preview window to compare the upscaled photo.
Step 1.When you open the AnyRec website, you have two options to upload your images. You can either click the Upload Photo button or drag and drop the images into the designated frame.

Step 2.Upscaling images have four magnification levels: 2X, 4X, 6X, and 8X. However, it's important to note that the recognition may need to be corrected if you choose the 6X or 8X option for an image that cannot be upscaled.
Step 3.Once you've selected magnification, the image will be upscaled. You can move your mouse over the image to compare it to the original. When satisfied with the results, click the Save button to download your HD photo.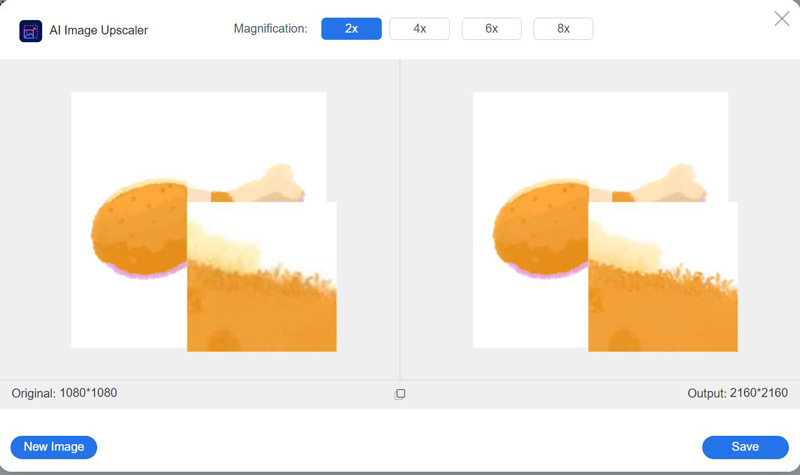 2. Canva
Canva is a popular online graphic design tool that allows users to take HD photos. It offers an intuitive, user-friendly interface with a vast library of templates, graphics, images, and fonts, making photo editing easy and fun. But there are some features requiring a membership subscription.
Step 1.Upload the photo you want to enhance by clicking the Uploads button in the left-hand panel and selecting the photo from your computer. Once the photo is uploaded, drag and drop it onto the design canvas.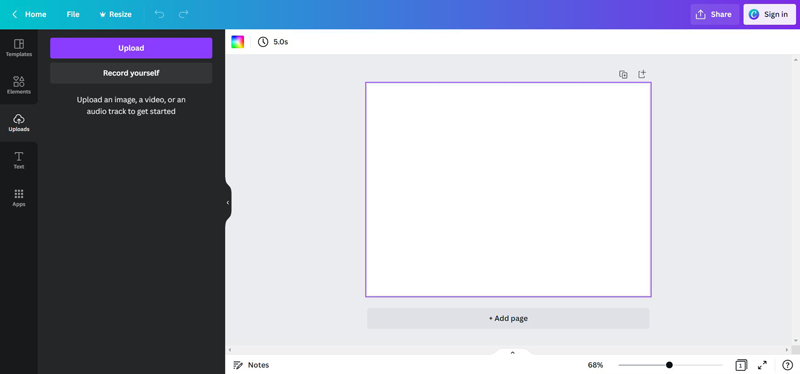 Step 2.Click on the photo to select it, then click the Edit image button in the top toolbar. You will see a range of filters to apply to the photo. Then you can click the Auto Enhance button.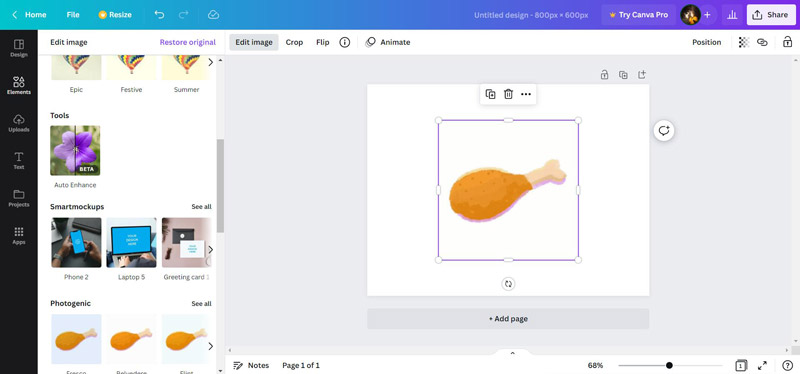 Step 3.There is a slider after applying the filter; you can use it to change the strength of the filter. Once you're happy with the changes, click the Download button from the File at the top to save the photo.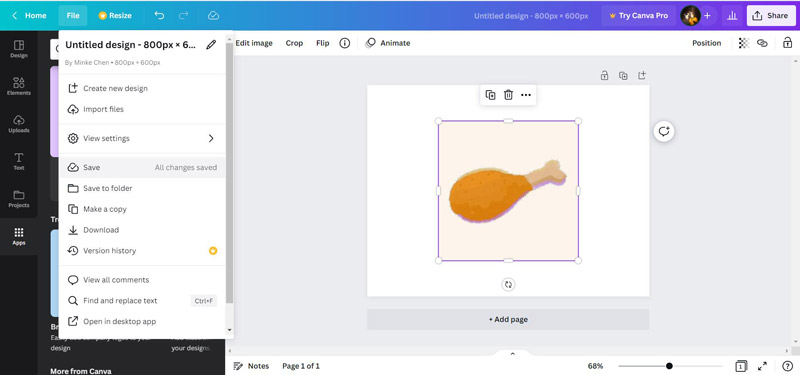 Part 2: Improve Image Resolution to HD with Photoshop [Windows/Mac]
Photoshop is a powerful software program developed by Adobe and widely used for graphic design, image editing, and digital art. It allows you to create and manipulate images using various tools and features. So, it is simple to use this image enhancer to make photos more HD.
Step 1.Open the photo in Photoshop: Launch Photoshop, and open the photo you want to make HD. And then, you can click the Filter button on the top of the main screen.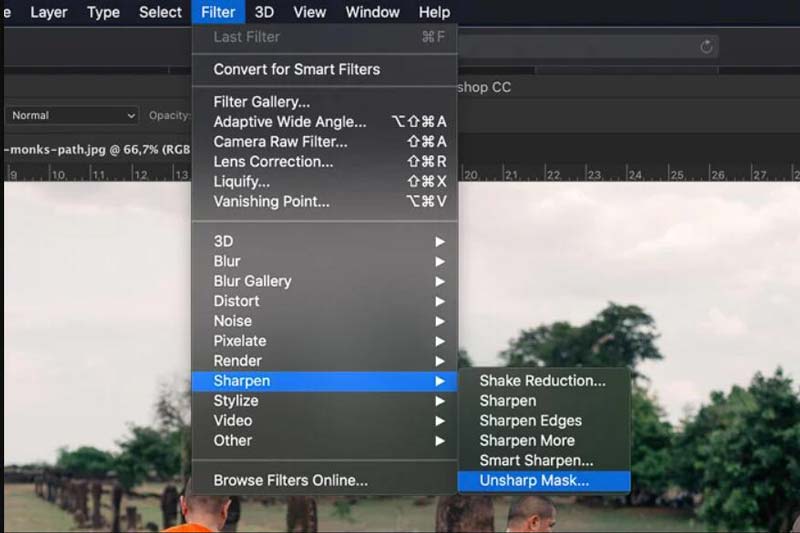 Step 2.In the filter drop-down list, click the Sharpen button. You can use Smart Sharpen and Unsharp Mask filters to make HD photos. Then you can adjust the Amount, Radius, and Threshold.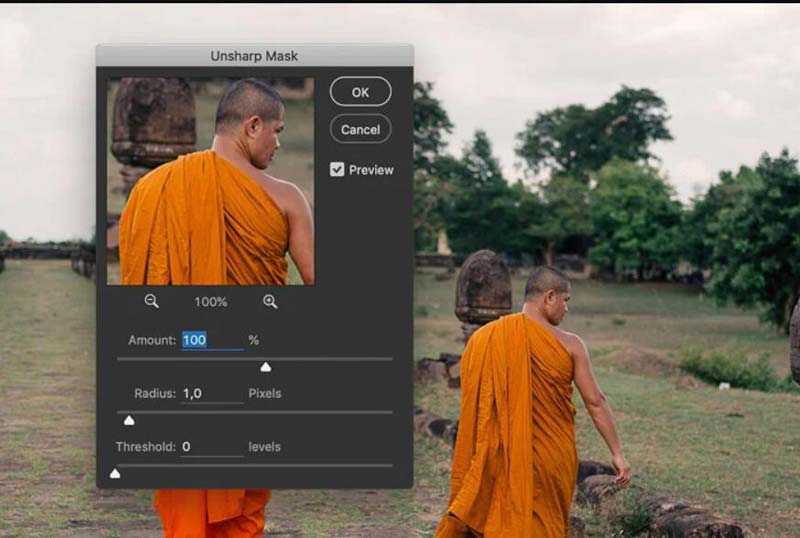 Step 3.After adjusting the settings, click the OK button. Then you can click the Save button from the Save button on the top of the screen. You can save the photo with the different dimensions with higher resolution.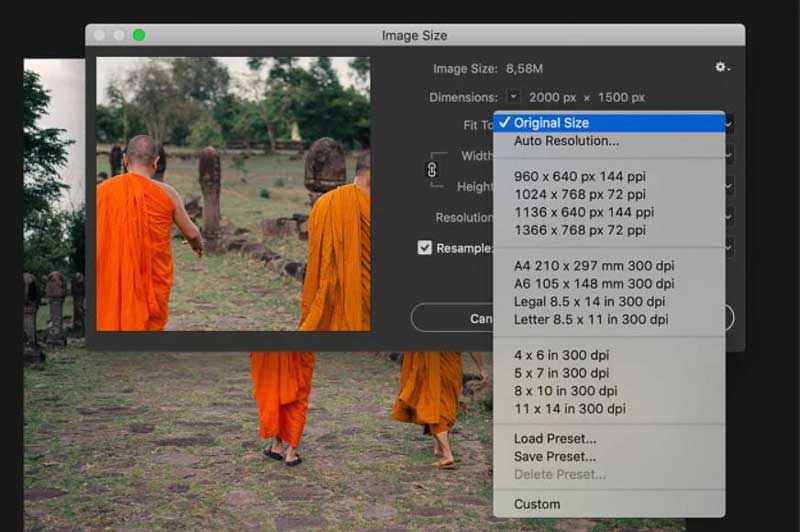 Part 3: How to Make HD Photos on Mobile Phones [Android/iOS]
1. iOS Device
If you use an iOS device, you can change the Camera settings directly. Before taking a photo, ensure your camera settings are optimized for high quality. High Efficiency is the higher resolution for photo taking. But sometimes, you may need to convert HEIC to JPG to open or share it.
2. Android/iOS
If you want to increase the resolution on your Android and iPhone, you can use some third-party software to make HD photos. Some applications like Snapseed or PicsArt could help you sharpen and clear photos.
Part 4: FAQs about Making Photo HD
Can I make a low-resolution photo into an HD photo?

No. Unfortunately, you cannot increase the resolution of a low-resolution photo to make it truly HD. While there are software programs and techniques that can improve the appearance of a low-resolution photo, they cannot add detail that was not present in the original image.

What is the best file format for HD photos?

The best file format for HD photos is usually JPEG, a widely supported format that balances file size and image quality. However, RAW or TIFF formats may be preferred for professional use as they offer higher image quality and more editing flexibility.

Can I convert a raw photo to an HD photo?

Processing raw photos with specialized software, such as AnyRec Video Converter, Adobe Photoshop, or Lightroom, can be converted to HD. The resulting image will have a high resolution and quality but will also be more extensive in file size than the original raw file.
Conclusion
You have learned how to make HD photos on different platforms and devices. You can use professional software like Photoshop to upscale your images. But if you do not want to download the software without residual features, the best way is to use AnyRec AI Image Upscaler Online. You can directly increase photo resolution online for free on any website.
Related Articles