Review of IDPhoto4You for Generating ID Photos for Passport/Visa/Etc.
Renewing your ID means taking a new photo. Someone must see some IDPhoto4You reviews and want to try this site. That's because not everyone can afford a professional studio to capture high-quality images, especially if it's much needed for a passport. However, IDPhoto4You can help to take excellent pictures. It provides outstanding results for passport photos. This IDPhoto4You review will teach you more about the online photo tool and its features, advantages, and disadvantages. So you can learn how to use it to take a better ID photo.
Part 1: What is IDPhoto4You
IDPhoto4You was initially introduced as a desktop program but lately became an online app. The online platform allows the user to import images and resize them according to the required size for a passport. Even without editing skills, IDPhoto4You will enhance the picture in a few clicks. The web-based tool implements protocols like HTTPS connection to encrypt the uploaded photos until the user downloads the final results. With safety in mind, this is the perfect online editor for passport photos.
Part 2: Complete Review of IDPhoto4You
The question is, what can you do with IDPhoto4You? It is a free platform, and all its features are convenient for editing your pictures. It also follows about 73 countries and their requirements, so you can choose your country to see the needed dimensions for your photo. To elaborate, let's see the following features, pros, and cons.
Overview of IDPhoto4You:
1. The interface is user-friendly, which makes the process more effortless. It is a little old-looking website, but the functions still need to be improved.
2. Provide an accurate manual from the home page for users who need help using IDPhoto4You. It also includes a general guide for taking ID, visa, and passport to avoid wasting time.
3. Support JPG file format with a maximum file size of 10 MB. The resolution also maximizes up to 10000x10000 pixels.
4. The web-based editor offers its service for free, but the paid version is 30% cheaper than standard methods for taking a picture. The premium version will get your ID photo accepted by authorities.
5. Enable to crop pictures (Check to see how to remove people from photos if needed.) according to the required size, adjust brightness or contrast, and change format.
Advantages of IDPhoto4You:
You can access popular browsers like Chrome, Microsoft Edge, Firefox, and Safari. Moreover, this site provides excellent articles about the requirements of standard ID photos for countries like India, the U.S., Canada, etc.
Disadvantages of IDPhoto4You:
The site is not available for smartphones. It is not supported by Artificial Intelligence and will allow any upload. And there is no editing tool to remove the background. So the user must prepare a photo with a white layer if you want to change the photo background.
Part 3: How to Use IDPhoto4You
Even with some disadvantages, IDPhoto4You is still an excellent solution for free image editing. Instead of paying for an expensive photoshoot, this online tool will help you get the picture you need for your passport and visa. After reading the IDPhoto4You review, if you are ready to try it, follow the instructions below:
Step 1.Go to IDPhoto4You.com, and you will see the specifications for some requirements. You must specify the country, print size, and passport size. Read the terms of service and tick the checkboxes for the provided options. Upload the image by clicking the Choose File button.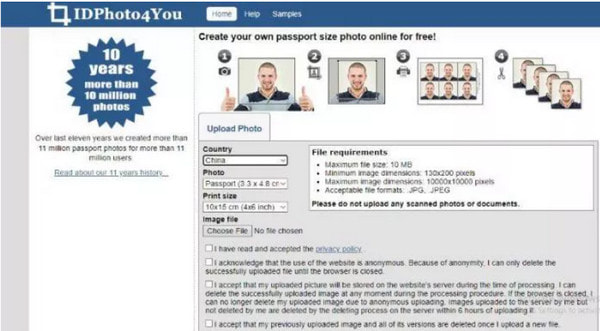 Step 2.The following page can adjust the brightness and contrast of the picture. Move the slide bars to edit the hue. Click the Reset button to undo the changes in the image. Proceed by clicking the Next button.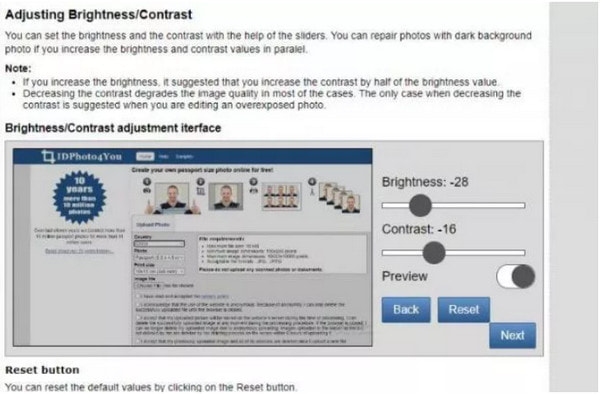 Step 3.Controls and other navigation options will help you align the box correctly to the photo. When you feel the picture is ready, click the Take Photo button to process. Once the final result appears, click the Download button to save the picture.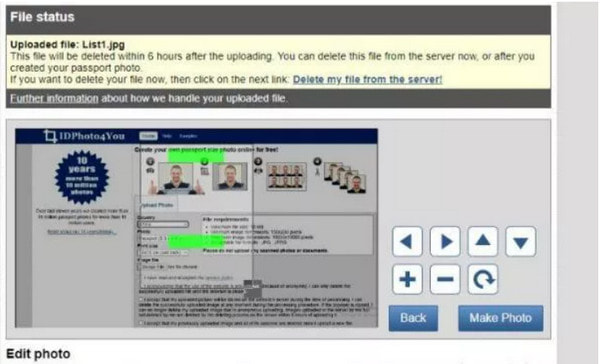 Bonus Tips: Convert ID Photo to a Fit Format
IDPhoto4You only support JPEG for file type, and you can't meet the requirements if you have other image files. But the simplest way to convert pictures is to use AnyRec Free Image Converter Online. The online-based converter has an intuitive interface for effortless navigation. It also supports most file types, including BMP, TIFF, SVG, and so on, and changes the file extension to JPG. AnyRec Free Image Converter Online is your one-stop for converting batches of files without delay.
Features:
Convert images to standard file format to meet requirements on IDPhoto4You.
Support multiple pictures up to 40 files and 5MB with continual conversion.
Fast-speed performance because of no advertisements on the webpage.
Free online without registration or applied watermark to the converted files.
Part 4: FAQs about IDPhoto4You
1. How to validate my ID photo before uploading it to IDPhoto4you?

To check the ID validation before using an ID photo generator, use Passport Photo Online. Its automatic verification system will help to avoid errors and increase the chance of being approved by the authorities. Then, use IDPhoto4You to edit the ID photo.

2. Is IDPhoto4You safe to use?

Yes. The online ID generator is perfectly safe to use. Since it is a free online photo editor, there is no need to input your card credentials. Also, all uploaded images will be deleted after or within six hours. Most users review it as a legit platform and free of scams.

3. What are the best alternatives for IDPhoto4You?

If the online platform is under maintenance and inaccessible, you can use other websites to generate IDs for passports and visas. Try PersoFoto, Visafoto, Make Passport Photo, Passport-Photo Online, and Cutout.Pro, and 123Passport Photo.
Conclusion
After reading this IDPhoto4You review, you must know it is an excellent way to generate high-quality ID photos for government documents. Even with an outdated interface, the online photo editor will edit the imported picture with its essential functions. When using it, ensure the file format is already set as JPEG. If you need a converter for TIFF to JPG, BMP to JPG, or other formats to JPG, you can visit AnyRec Free Image Converter Online. This site is for a fast-speed process with no watermark and no registration.
Related Articles