How to Upscale Image to 4K with Real High-Quality Output
When printing a post for activities or business promotion, high-quality images always bring better results than awful-looking ones. At least your customers would feel better when seeing a 4K image. However, some images might look pixelated after enlargement. To address such an issue, you need real image upscalers to help you upscale the image to 4K to gain a high-quality output. This post has collected the five best online 4K upscalers to help you increase your image resolution and fix the blur issues. Read and find out their distinctive features.
Part 1: What Is 4K Picture Quality
Before learning about the 4K upscalers, you should know about the 4K resolution and its benefits to your images. 4K or Ultra HD 4K is no longer a new concept in your daily life. You can see it when buying a TV or streaming Netflix. Some might even relate it to 1080P. However, they are not the same. The typical 4K resolution has 3840×2160 pixels, four times the total HD pixels. And 4K has also become the new standard for high quality. So, if you want your image looks sharp and clear, 4K resolution is the right choice.

Part 2: 5 Best 4K Upscalers: Increase Image Resolution in Seconds
Upscaling is easy, especially when there are lots of AI upscalers on the market. You do not even have to download any software. With the five best online 4K upscalers below, you can easily increase your image resolution to 4K and get a clearer picture for printing, sharing, etc.
1. AnyRec AI Image Upscaler
AnyRec AI Image Upscaler is an intelligent 4K image upscaler that costs not a penny. You will get a true improvement in your image quality without any fee. Besides, it uses AI technology to help fix issues like blurry pictures, pixelated photos, and old photo refinement. This upscaler is handy, especially when you want to make a poster with the image. You can use the upscaler to enlarge and upscale the image simultaneously. All these features are free, and no watermark will be on your output picture. Enlarge your picture to 2×, 4×, 6×, and 8×.
Enlarge your picture to 2×, 4×, 6×, and 8×.
Preview image upscaling before downloading.
Upscale images to 4K for several formats: JPG, JPEG, PNG, BMP, etc.
Delete uploaded images from the server to protect your privacy.
Step 1.On the official site of AnyRec AI Image Upscaler, choose a Magnification option: 2×, 4×, 6×, or 8×. If your image's original horizontal pixels are 540, you must choose 4× to upscale it to 4K. Click the Upload Photo button to upload your image for upscaling.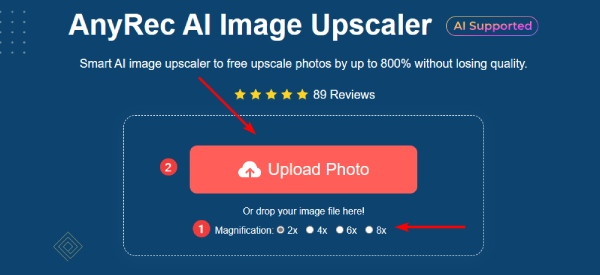 Step 2.When loading the picture, the upscaler processes and upscales the image for you. You can see the output resolution in the right corner. Next, click the Save button to download the 4K image to your device.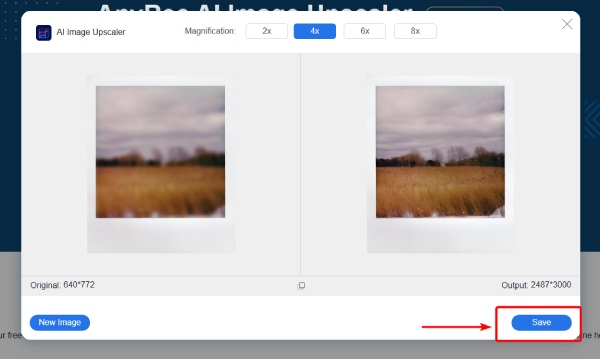 2. Media.io: Image Upscaler
The AI Image Upscaler from Media.io helps upscale images to 4K and takes care of picture details to deliver high-quality output. You can get an enhanced picture instantly after uploading. This picture enhancer has three photo enlargement options: 2×, 4×, and 8×. But you must create an account to download images in this online enhancer. Meanwhile, a free account has watermarks on the image.
Take 5 to 10 seconds to upscale or enlarge photos.
Offer both normal and AI upscaling methods.
Improve picture quality for selfies, product images, landscapes, etc.
Support JPG, JPEG, PNG, and BMP.
Step 1.Go to the official website of Media.io and find the Image Upscaler tool. Then, click the SIGN UP FOR FREE button to create an account.
Step 2.Click the Upload Image button to upload an image. Drag your image and drop it to the page for upscaling. Then, choose an upscaling option for 4K.
Step 3.After that, click the Download button to save the upscaled image.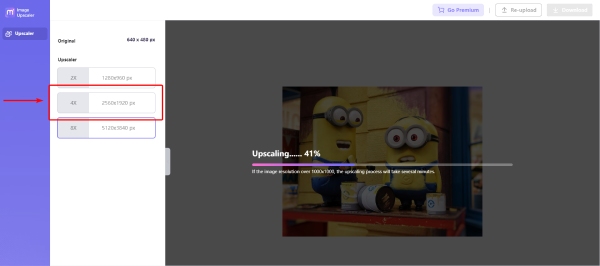 3. Pixelcut
Pixelcut is another AI image enhancer that can upscale your image to 4K effortlessly. You can access this upscaler from browsers on any device. Meanwhile, you can also download the photo enlarger app on iOS and Android phones. You must log in to the website to download the HD output picture. Otherwise, you can only save the picture preview. The downside of this image upscaler is that you can't see the resolution of your enhanced images.
Provide two upscaling options: 2× and 4×.
Refine your picture with the built-in editor after upscaling.
Achieve image enhancement quickly for free.
Step 1.You can find Image Upscaler from the Tools dropdown menu on Pixelcut. Then, sign up and click the Upload your image button to continue uploading.
Step 2.On the next page, click the Upload a photo button to select and upload an image.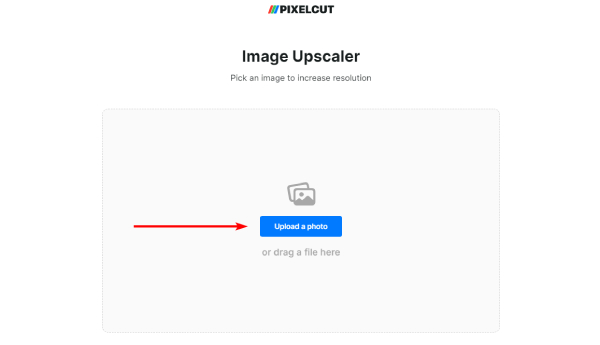 Step 3.Choose an upscale size on the right, and the upscale will process immediately. Click the Download HD button to save the high-quality image.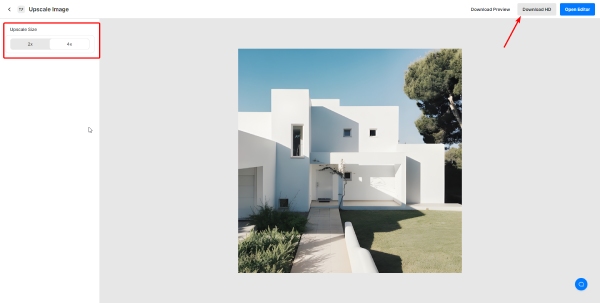 4. UpscalePics
UpscalePics, another online 4K image upscaler, improves your JPG, PNG, and BMP images up to 4500×4500 pixels without distortion. You can drag and drop the image to upload or paste the image from your clipboard for uploading. But, at UpscalePics, you need an account before accessing any service. Meanwhile, the upscaled image will have a watermark if you use a free account. The UpscalePics, however, has reasonable pricing, asking for only $3 per month if you purchase the annual plan.
Upload pictures in several formats: JPG, PNG, and WEBP.
Increase image resolution up to 4500×4500.
Upscale and enlarge the image with convolutional neural networks.
Remove artifacts and noise in JPEG format to make it clear.
Step 1.Enter the official site of UpscalePics and click the Select Images button to select an image from your device.

Step 2.Increase your image resolution by scrolling the slider. You can increase it up to 8×. The output resolution will show on your picture.

Step 3.Enable Remove JPEG Artifacts to make your image clearer. You can change the image format from the dropdown option as well. Then, choose a Compress Output quality. Then click the Start Processing button to upscale.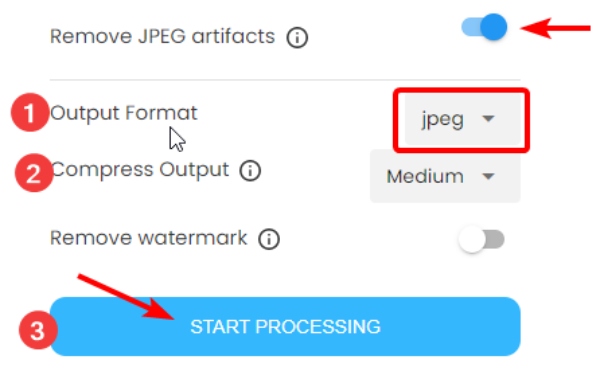 Step 4.It would take a while to finish upscaling. After it ends, you can click the down arrow icon to save the image to your device.
5. VanceAI: Image Upscaler
VanceAI provides online and offline versions of the 4K image upscaler. You can use the free online version to enhance images and the Windows software for batch enhancement. VanceAI helps fix the details and artifacts in your images and produce a much clearer picture for printing, wallpaper, and other uses. There are four AI models for picture upscaling: Standard, Anime, Art & CG, Text, and Low Resolution & Compressed. You can also suppress noise and remove blur in VanceAI. Moreover, there will be a watermark on your output image. One image costs one credit, and you can get 100 credits at $4.95.
Compare original and output image resolution.
Process and preview your upscaled image instantly.
Step 1.On the VanceAI website, log in before upscaling. Then, click the Upload Image button to select and upload a photo.
Step 2.Choose an AI Model for upscaling and an enlargement option. There are four options: 1×, 2×, 4×, and 8×. Then, adjust the parameters for Suppress Noise and Remove Blur. Click the Start Processing button to upscale the image.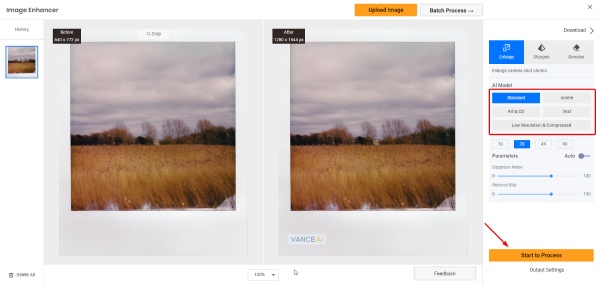 Step 3.Click Download above to move on. Next, click the Download Image button to save the upscaled image, which will cost 1 credit.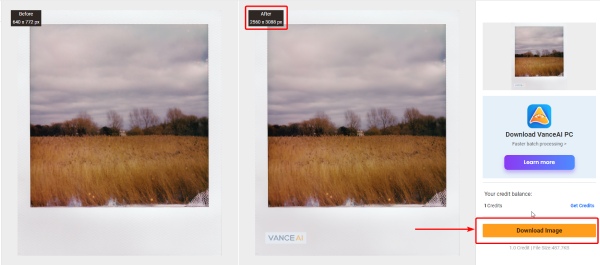 Part 3: FAQs about Upscaling Image to 4K
What size image is 4K?

The 4K resolution's horizontal pixels are around 4000. Hence, a 4K image must be 3840×2160 pixels.

What DPI resolution is 4K?

This depends on the scenarios you are in when scanning the photos. For example, if you want the scanned photos to fit your 4K TV, use at least DPI 600, and you will surely get a 4K photo. But you can get even better results when using DPI 900.

What aspect ratio is 4K?

The Ultra HD 4K, with a resolution of 3840×2160, has a 16:9 aspect ratio. DCI 4K (4096×2160) usually appears in the movie industry and has an aspect ratio of 1.90:1.
Conclusion
The five 4K upscalers above can all increase your image resolution to 4K and make images look better. Most offer free upscaling services if your picture does not exceed the size limit. Meanwhile, if you prefer a real free upscaler online without downloading any extra apps, in that case, you can try AnyRec AI Image Upscaler, which allows you to upscale images to 4K and even higher for free without any watermark.
Related Articles