Easy Ways to Stop Recording on GTA 5 on Windows, PS4, and Xbox in 2022
Whether you want to record the fantastic story plot or roam gameplay on GTA 5, you can use the built-in screen recorder. It can record your gameplay simply. So it is a good choice to share some great highlights with your friends over social media. Some people may don't know how to stop recording GTA 5 on different devices. If you have the same question, just continue reading to get all detailed solutions.
Part 1: How to Stop Recording GTA 5 on PC/Xbox/PS4 with Gamepad
As mentioned, GTA 5 is compatible with different devices. You can download the game to a PC, Xbox, or PS4. As these devices function in various ways, so are the game's features. So in this part, you are about to know the details steps on how to stop recording GTA 5 on designated devices.
How to stop recording GTA 5 on PC:
If you are a PC user, recording on GTA 5 will be easier with Rockstar Editor. And there is also a simple trick on how to stop the recording on GTA 5 PC. Here are the steps:
Step 1.Launch GTA 5 on your device, then click the Settings button. Press the Alt key on your keyboard for a default character switch.
Step 2.Press the F1 key to start recording the GTA 5 gameplay. Once you want to stop and save the recorded gameplay, press the F2 key to stop the recording. You can also change the keys and elements of the game by going to Key Bindings from the Settings button.
Steps to stop recording GTA 5 on PS4/Xbox:
While the PC version is simple enough to start and stop the recording in GTA 5, the next one will be the PS4 and Xbox.
Step 1.To bring the character switch menu to your consoles, press the button on your D-Pad. Press the Square key to start or stop recording GTA 5.
Step 2.Once you are done recording, you can edit it using Rockstar Editor, which you can access from the Pause Menu. Simply press the Pause button and scroll over on the right side to find the Editor. Select Clip Management from the menu to edit the recording file within the game.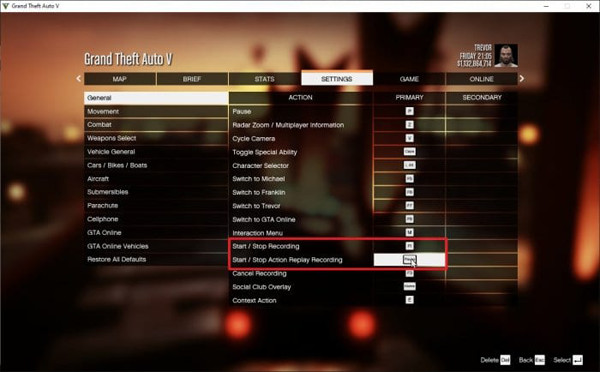 Pro Tips to Stop Recording GTA 5 Automatically:
The recording feature of GTA 5 will be default activated whenever you start playing. Some players find it annoying. If you want to disable the feature temporarily, this tip will gladly help you how to stop the recording on GTA 5.
Step 1.Go to the Settings button, and click Key Bindings. Make a change on the Start or Stop Action Replay Recording. You can also change keys to unoccupied ones. Save the changes, then exit the game.
Step 2.Go to your file folder and input C;UsersYOUR_P_NAMEDocumentsDocumentsRockstarGamesGTA VProfilesRANDOMcontrol. Right-click the user.xml, then click the Open with Notepad button.
Step 3.Locate the KEY_KEYNAME which is between and . This will make the recording feature on GTA 5 to be disabled. Save the changes by pressing Ctrl + S keys.
Part 2: Your Easiest Way to Start/Stop Recording GTA5 on Windows/PS4
If you find the recording feature of GTA 5 not helpful and you only need to record a few highlights of the game, you can stop recording on GTA 5 with the default recorder and turn to a fantastic tool. Many gamers prefer using AnyRec Screen Recorder, which provides a designed game recorder to capture high-quality recordings. The hotkeys are all simple, and you can also stop recording on GTA 5 easily at any time.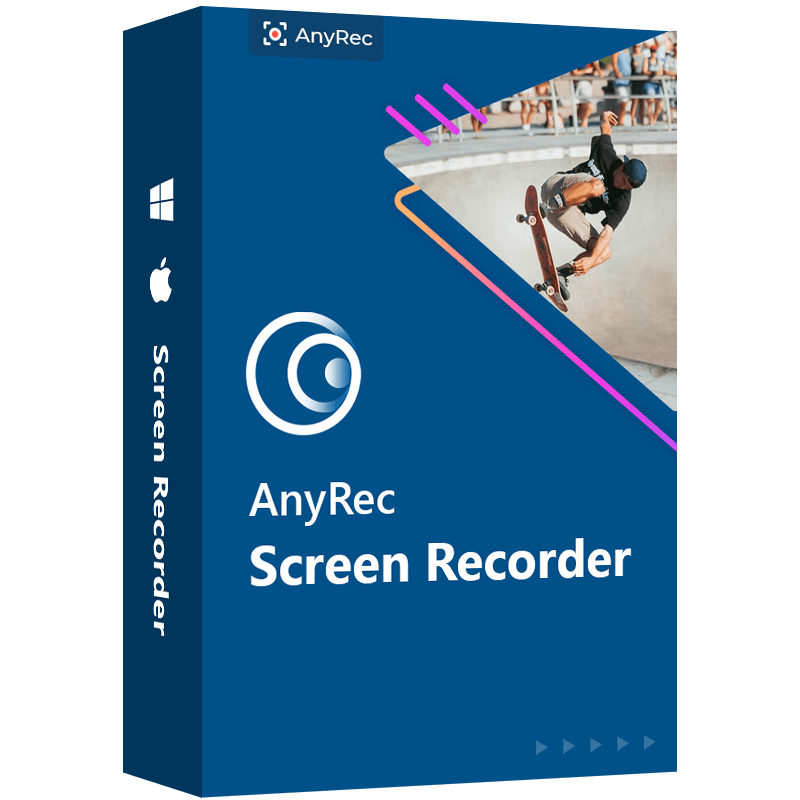 AnyRec Screen Recorder
Professionally record onscreen GTA 5 gameplay and save to MP4, MOV, AVI, TS, etc.
Quickly start and stop recording GTA 5 with customizable hotkeys for easier access.
Provide other functions, including various recording methods and screenshots.
Advanced settings change the video codec, quality frame rate, and audio settings.
How to stop recording on GTA 5 using AnyRec Screen Recorder:
Step 1.Download, install, and launch the Screen Recorder to start and stop recording on GTA 5. Before proceeding, ensure that the GTA 5 app is also open and ready to be recorded.

Step 2.On the main menu of AnyRec Screen Recorder, click the Game Recorder button. Click the Dropdown menu to select the GTA 5 window. Make sure that the System Sound and Microphone are toggled on to record the game's audio and your voice.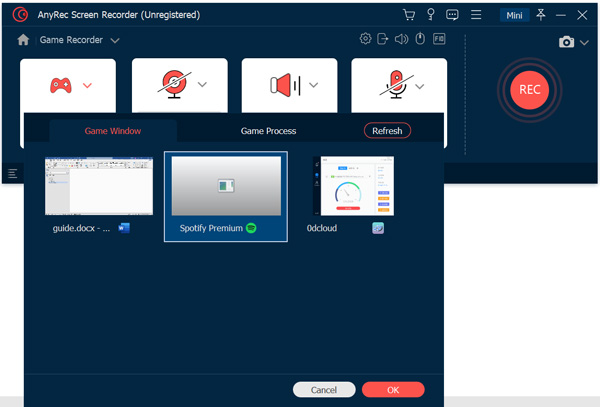 Step 3.Once you set up the recording settings, click the REC button to begin recording. You will see a widget menu on your screen. It will allow you to pause, draw, take a screenshot and stop the recording on GTA 5. Trim the video clip once you finish recording, and click the Save button.

Part 3: Tips on Recording GTA5 Gameplay with High-Quality
Do you want to boost your GTA 5 recording and game performance? Everyone does. So since you already learned how to stop recording on GTA 5, a perfect tip to boost game performance is a must to brew the best quality of your video clips. To do it, all you need to do is:
Choosing between Graphics and FPS will lead to some sacrifices. A great example is if you want high-quality graphics, it means you need to lower the FPS. While optimizing the game with FPS will most likely downgrade some graphics. In experimenting with these essential parameters, you will learn to balance the gaming expectations with your device's functions. AnyRec Screen Recorder provides the maximum of 60 fps recording settings.
Improve performance on GTA 5 by upgrading graphic drivers, disabling unnecessary background activities, and adjusting in-game effects through shades, texture quality, saturations, and reflection MSAA.
If you want to get better GTA 5 recording experience, it is highly suggested to free download AnyRec Screen Recorder. You can record every highlight without slowing down your computer. Just click the free download button below and have a try right now!
Part 4: FAQs about How to Stop Recording GTA5
1. How to easily delete recorded clips from Rockstar Replay Editor?

Once you stop recording on GTA 5, you can pause the game, right-scroll to the last tab, and press the Rockstar Editor button. Press the Clip Management button. If you are using a PC, you can press the Delete key from your keyboard. On a PS4 controller, press the Triangle button to confirm the deletion.

2. How long can I record GTA 5 gameplay through PS4?

The most extended hour you can record your GTA 5 gameplay is up to an hour. As it will automatically record, once it stops after an hour, it will continue recording as the second clip.

3. Where does GTA 5 save the recordings by default?

After you stop recording GTA 5 on your computer, you can find them on C: UsersYour NameAppDataLocalRockstar GamesGTA Videosendered. Make sure that you can see hidden folders.
Conclusion
Learning how to stop recording on GTA 5 is necessary when you only want to record some highlights. Also, you can disable the recording feature with a little tweak on the settings. If you find the recording feature of GTA 5 annoying, you can use AnyRec Screen Recorder for a more flexible action. Try the free trial version and see its greatness.
More Related Articles