How to Convert WebM to Animated GIFs without Watermark
How to convert WebM animation to GIF for everyone loving shorter content to view on social media. GIFs are usually used in every comment section and even for advertisements. On the other hand, WebM is a type of audiovisual format that include video and audio data. Not all operating systems can support this format, and it is frustrating to know that your WebM files are some kind of waste. The good thing here is you can convert WebM to GIF, and this guide has the best solutions for conversion.
How to Convert WebM to GIF on Windows/Mac [Fast & Powerful]
AnyRec Video Converter is one of the fastest ways to convert WebM to GIF. It provides a reliable conversion for any video type, supporting bulk files to process simultaneously. One thing you can look forward to is the GIF Maker that creates GIFs out of videos or images. Of course, it helps to edit the source with a built-in trimmer, filters, and effects. What's more, you can see the frame rate for up to 24fps for smoother GIF sequences. Conversion has never been easier with AnyRec Video Converter.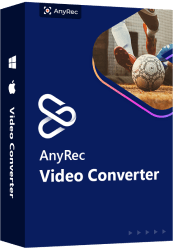 AnyRec Video Converter
Convert WebM to GIF instantly with amazing quality, like 320 pixels and 24 fps.
Built-in video editor to change video's effects, filters, settings, etc.
Configurable aspect ratio, frame rate, resolution, and loop animation.
Batch conversion for a fast process without delay.
Step 1.Download AnyRec Video Converter and launch it. Go to the "Toolbox" menu and select "GIF Maker." Add the WebM file by clicking the "Video to GIF" button. After browsing for the file, click the "Open" button to convert WebM to GIF.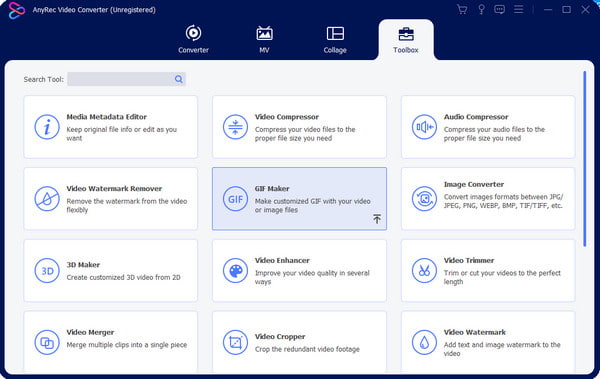 Step 2.Edit the uploaded file from the "Edit" and "Cut" menu. From there, change the resolution, filters, and other elements. When you return to the main menu, change the aspect ratio and frame rate.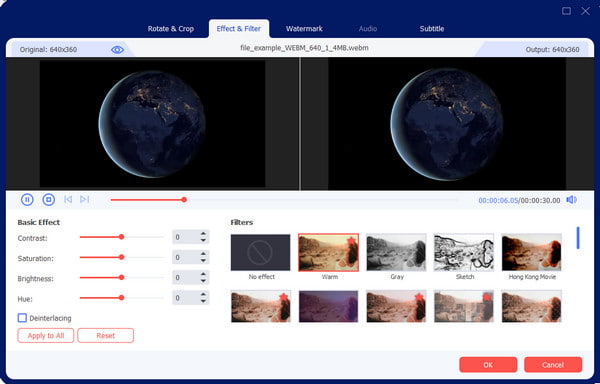 Step 3.Click the "Preview" button to see the first 10 seconds of the clip. Choose the designation folder from the "Save To" menu, then click the "Generate GIF" button to process and export the converted GIF.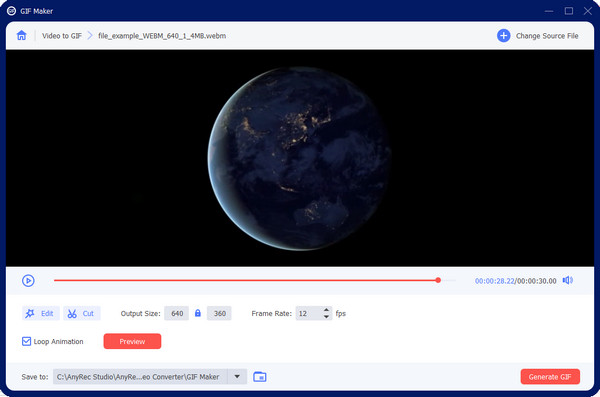 4 Ways to Free Convert WebM to GIF Online [Slow & Limited]
Online tools are also convenient ways to convert WebM to GIF. Aside from being free, the converter has a versatile interface where users can easily upload, edit, and convert files. Here are 4 easy-to-use online converters with detailed steps.
1. Cloudconvert
Cloudconvert is a free but powerful WebM to GIF converter online. It provides many optional settings to edit the video resolution, codec, aspect ratio, and fit before changing the file extension. However, the uploaded video size is limited and the exporting quality is compromised.
Step 1.Navigate to Cloudconvert on your browser and click the "Select File" button. You can also choose WebM videos from another source like Google Drive, Dropbox, etc. Uploading will take a few seconds, then you can proceed to convert WebM to animated GIF.

Step 2.From the "Convert To" option, navigate to the "Image" tab and select "GIF" as the output format. The additional settings will appear, where you can edit the video and add other elements like a watermark. Click the "Okay" button to save all the changes.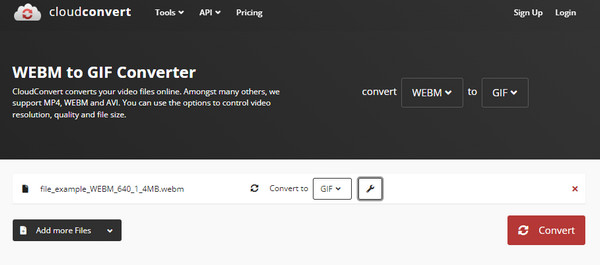 Step 3.Finally, hit the Convert button to process the conversion. Once done, click the "Download" button to save the converted files to your computer.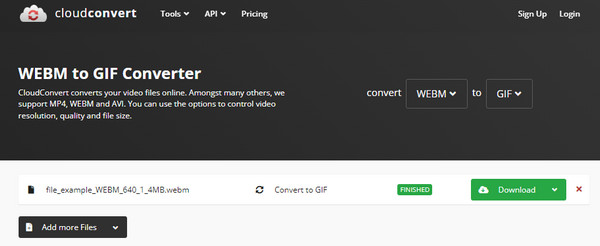 2. EZGIF
For EZGIF, this online tool can convert WebM to GIF with a number of various features for video and image editing. Its GIF Maker enables you to make a GIF from video files, like WebM, MP4, and other video types. It also has the basic needs for editing, such as a rotate video, resize, reverse, etc. EZGIF is accessible to anyone, but its conversion can be slower, depending on the internet connection.
Step 1.From the main webpage, click the "Video to GIF" button and click "Choose File" button to upload the WebM file.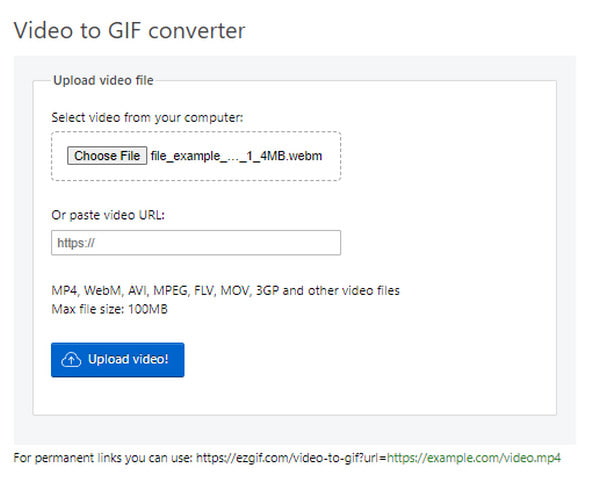 Step 2.Once you are on the Video to GIF Converter window, use the features to reverse, resize, or cut the footage. You can also set the output size, frame rate, and more. Preview the final result and click the "Convert to GIF" button.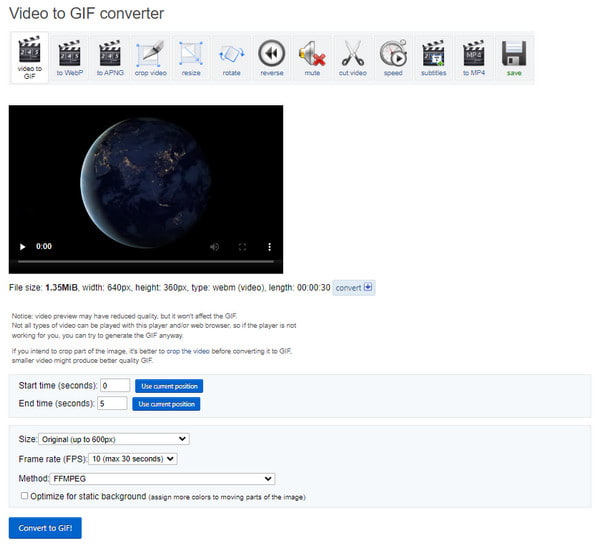 3. Online-Convert
This online tool has all the best free converters you need. Its WebM to GIF converter is equipped with an intuitive interface with powerful settings to compress, change size, apply color filters, and do other optional configurations. Since it supports more than 130 formats, it is almost possible to convert all formats to GIFs in just a few clicks. The only drawback with Online-Convert is it does not provide a preview option, so it only means blindly editing the video and no means to see a glimpse of the final result.
Step 1.To convert WebM to GIF with Online-Convert, visit the website and click the "Choose File" button. Other sources like Google Drive and URLs are in the drop-down list.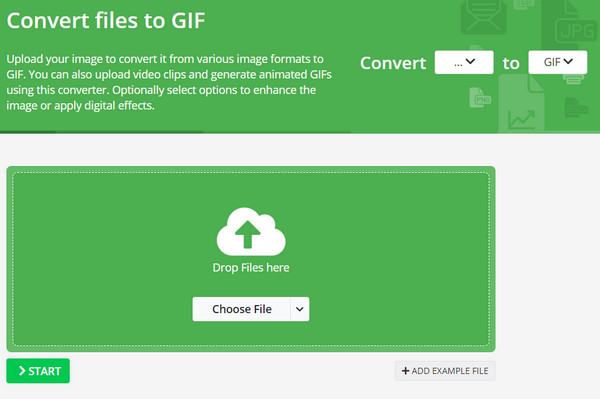 Step 2.After uploading the file, the tool will start the initial conversion process. Then, click the "Start" button to start the second and final process. Download the converted file or use the "Cloud Upload" option to export it to another source.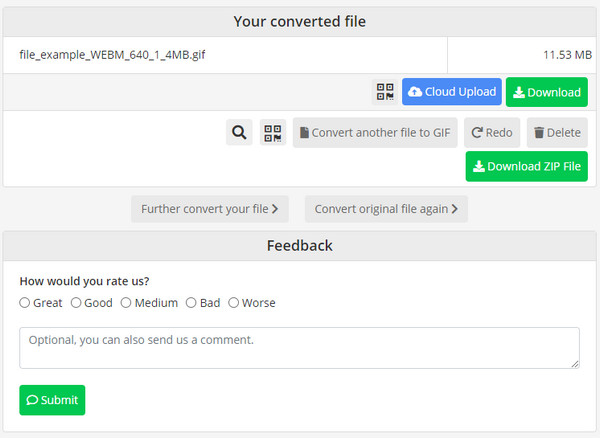 4. Zamzar
Zamzar's history revolves around millions of successful conversions over the years. It is trusted by many users as conversions are smoothly done in seconds. While converting WebM to GIF is easy with this online tool, Zamzar offers more features to convert videos, audio, documents, images, and other files. You can also download the app to fully integrate it into your device.
Step 1.Upload the file by clicking the "Choose Files" button or choose another source, like Box, URL, OneDrive, etc. Select GIF as the output format for the second step on the webpage.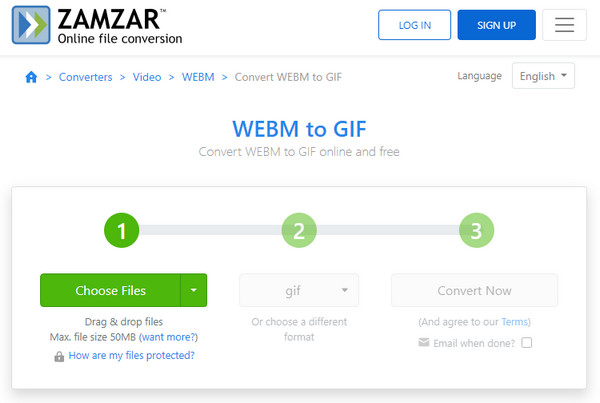 Step 2.Since Zamzar does not offer any optional settings to enhance GIF, you can directly click the "Convert Now" button to start the WebM to GIF process. The tool lets you enter an email provider to send the converted file to your email, and you can also download the output after the conversion.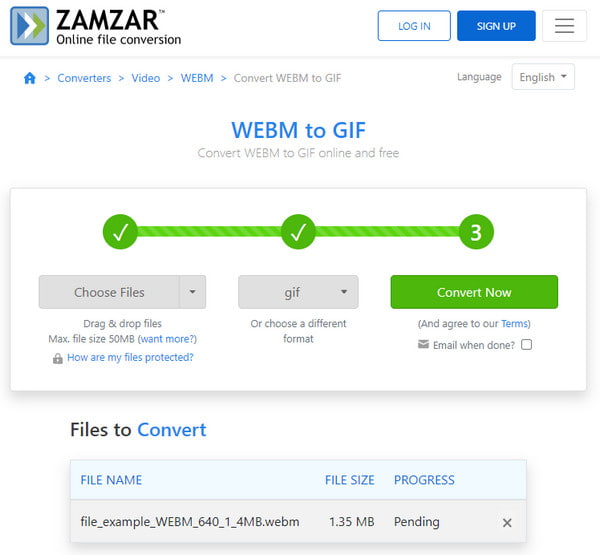 FAQs about WebM to GIF
1. What is the difference between WebM to GIF?

WebM can store imagery animation with higher quality and smaller file sizes. It also has the advantage of GIF as it supports more than 256 colors than the latter format. But GIF is more dominant when it comes to universal support since WebM is just recently developed.

2. Can I convert GIF to WebM?

Yes. Most of the recommended tools in this article support conversion from GIF to WebM. Remember that this method can only make the file size smaller while the visual quality is the same as the original GIF file.

3. Where to post GIFs after converting them from WebM files?

Most social media platforms support uploading GIFs. But if you want other users to access the GIFs you created, it is best to import them on GIPHY, Tenor, Reddit, Gfycat, and more. Discord also allows GIF uploads, but you must have Nitro to include the GIFs as emoji.

4. How to convert WebM to GIF on my smartphone?

App Store and Google Play have third-party apps to help you convert files, like GIF Maker, GIPHY, ImgPlay, etc. And you can also access online converters for a quick way to change the file extension.

5. What is the best resolution when converting WebM to GIF?

It is best to keep GIFs to lower resolutions as 720p and 480p. Since most posted GIFs will only appear in smaller sizes or aspect ratios, you don't need to make them in high quality.
Conclusion
What is the best way to convert WebM to GIF? The article focused on the best converting tools, giving the ideal solution for high-quality GIFs. On the other hand, AnyRec Video Converter automatically converts video and images to any format without distorting the quality. Try the professional converter on Windows and macOS.
Related Articles: