6 Ways to Convert GIF to APNG with a Clean Sequence and Transparency
GIF is a format that supports 8 bits per pixel and has 256 indexed colors while APNG supports 24-bit color and transparency. So, many people choose to convert GIF to APNG for pictures can have a smoother loop animation. Fortunately, this post will teach you 5 online tools and one software to help you to convert GIF to APNG. You can read all of them and see which one you like to use.
Part 1: How to Convert GIF to APNG Online
In this part, there are some online tools to convert GIF to APNG. Mainly, you can convert photos for free, and the sites are easy to navigate. To have APNG files, learn the best sites to convert GIF to APNG below.
AnyRec Free Image Converter Online
As you may know, GIF is a popular format to create an image sequence, but you can convert this format to a still image. AnyRec Free Image Converter Online is a free website to convert your GIFs to popular image formats. It allows you to import images like JPG, BMP, TIFF, PNG, and 30 more formats. With its user-friendly interface, you can have a more effortless and unlimited image conversion. AnyRec Free Image Converter Online is available on Windows and Mac.
Features:
◆ Enable to convert GIFs and other image formats to JPG or PNG with high image quality.
◆ Allow users to import up to 40 image files with a maximum of 5MB file size each.
◆ The free website doesn't require installing a launcher or signing up to use it.
◆ Fast and reliable conversion speed with no watermark to converted image files.
How to convert GIF with AnyRec Free Image Converter Online:
Step 1.Visit AnyRec Free Image Converter Online on any browser. Click the Add Images button to upload the image file you want to convert. Click the Open button to confirm file uploading. You can add more photos by clicking the same button.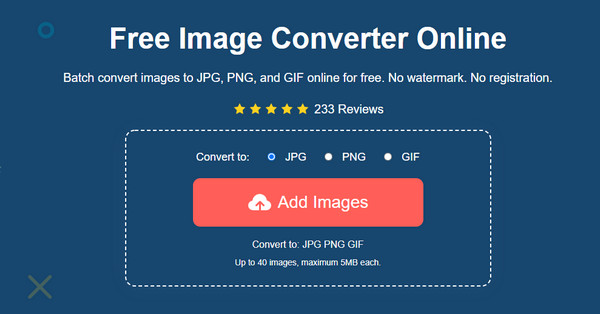 Step 2.Once the files are successfully uploaded, the online tool will automatically do its job. The process parameter lets you see and track the conversion process for every GIF file.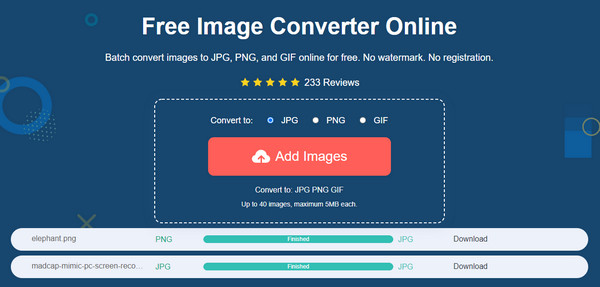 Step 3.Once the word Finished appears from the parameter, click the Download button to save the converted files. If you have multiple converted images, click the Download All button for a quicker saving process.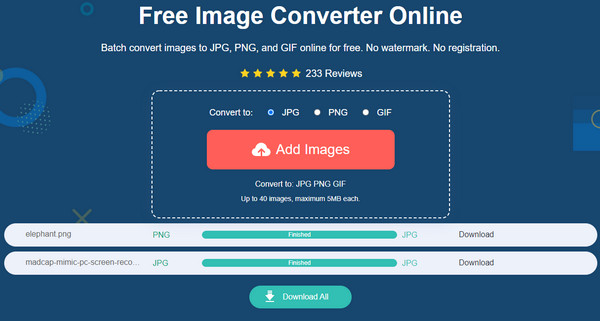 2. Ezgif
Ezgif is a multifunctional site that provides various editing features for videos and images. One of its free features is the GIF to APNG converter. It supports 50MB file size for image files and no restriction for more image conversion. Ezgif will not simply convert files but also gives you the editing features like crop, rotate, optimize, etc. Unfortunately, the online tool is very slow for the uploading and converting processes. It also doesn't guarantee an improvement to your file's quality; even convert it to APNG.
How to convert GIF to APNG using Ezgif:
Step 1.Go to your browser and search for Ezgif. From the top menu, click the APNG button, then select the GIF to APNG option from the sub-menu. Once on the site, click the Choose File button to upload the GIF file from your device. You will see the file name beside the button, then click the Upload button.
Step 2.After that, you can edit GIF before converting it. Features include reverse, effects, speed, censor, and more. You can also apply elements like text, overlay, or split the image. Once you are done editing, click the Convert To APNG button.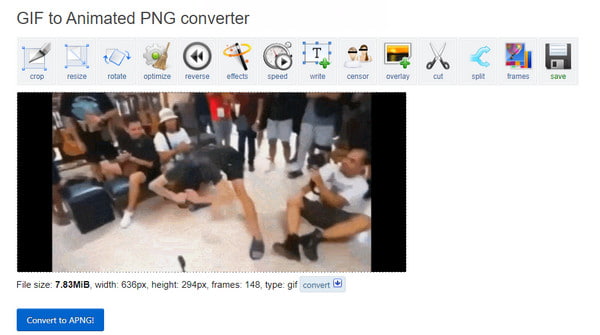 Step 3.A preview of the output image will show just below the editing features. You can see the file is reduced in size and all the elements applied. You can still make some adjustments by using the tools. Suppose you are satisfied with the output; click the Save button to download the APNG file.
3. FreeConvert
This online GIF to APNG converter is also a win for users that seek good APNG quality. It promises to preserve the animation quality while reducing the file size. The interface is easy to use, while the program assures users that the files are protected with 256 SSL encryption and are deleted after two hours. The abundance of FreeConvert also extends to a maximum file size of 1GB, so even with a bigger GIF file, you can convert it without limited file capacity. However, unlike Ezgif, FreeConvert doesn't offer much and is simply a converter for image files.
How to convert GIF to APNG using FreeConvert:
Step 1.Visit the FreeConvert website from any browser. Choose the GIF to APNG option among its other tools. Then, click the Choose Files button to import the file you want to convert. Click the Down button to pull up the list of supported sources where you can get a GIF file.
Step 2.If you have more GIF files to convert, click the Add More Files button to upload them from your device. Now that you have multiple uploaded GIFs click the Convert To APNG button to proceed.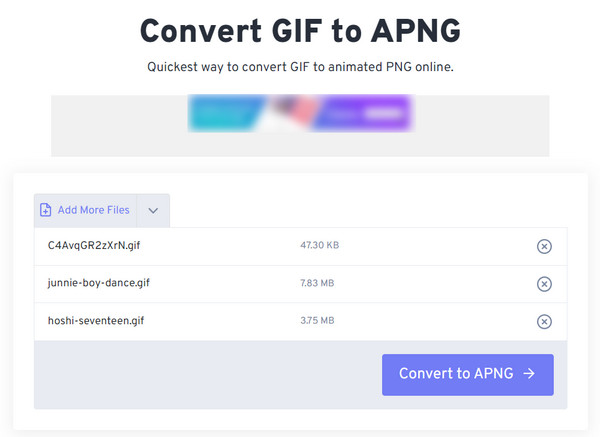 Step 3.After the converting process, you can click the Download PNG button to save the output file. Click the Down button to see more options to download the file, like QR code, Google Drive, and Dropbox.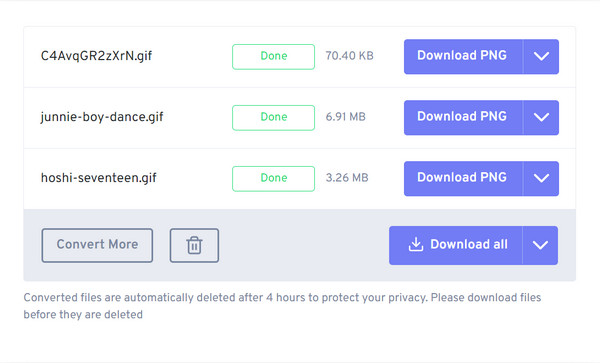 4. AConvert
While the AConvert program offers a bundle of tools for various tasks, its GIF to APNG converter is an excellent one to convert images. Aside from the two formats, the online converter supports image formats like JPG, SVG, WEBP, DDS, and 20 more. You can also access other tools from the site crop, merge, rotate, edit, and compress. The only downside of AConvert is its separate tools and how they can't spontaneously edit one file.
How to convert GIF to APNG using AConvert:
Step 1.Go to the AConvert site and click the File button to pull up the sources menu. You can import GIFs from Google Drive, Dropbox, Online File, or your local folder. The file name will appear beside the Choose Files button.
Step 2.From the Target Format list, look for the APNG option. You can specify the image quality or resize the image. Moreover, you can edit the image through its width, height, aspect ratio, and more. Once done, click the Convert Now button.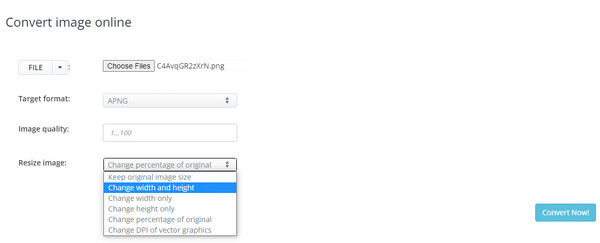 Step 3.Scroll down a little bit, and you will see the output from the Conversion Results list. Click the Picture button to view the result or click the Download button. You have two hours to save the file on Dropbox or Google Drive or copy the URL. QR code is also available in this part.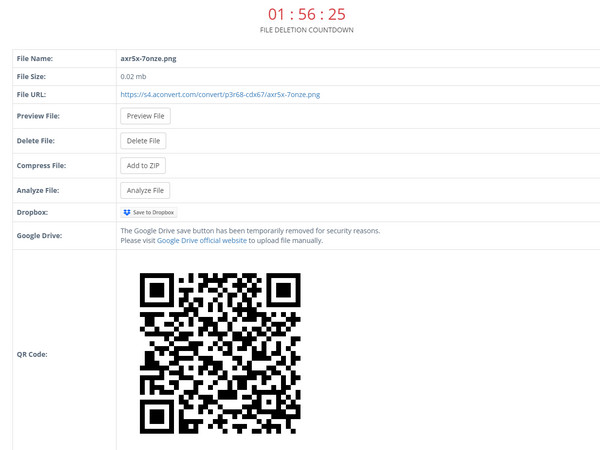 5. Aspose
The last recommended online tool to convert GIF to APNG is Aspose. Aspose's interface looks challenging to navigate at first look, but that is not the case. You are not required to sign in with Google or create an account to use the features. You can also access Aspose to modern browsers like Chrome, Safari, Opera, etc. However, the website doesn't show the output result, which may result in distorted image files.
How to use Aspose to convert GIF to APNG:
Step 1.Go to the Aspose website. Drop a file from your device folder to the site's main interface. Other source options include Google and Dropbox.
Step 2.Once the file is uploaded, choose the APNG format from the Save As menu. Then, proceed to click the Convert button to direct to another webpage.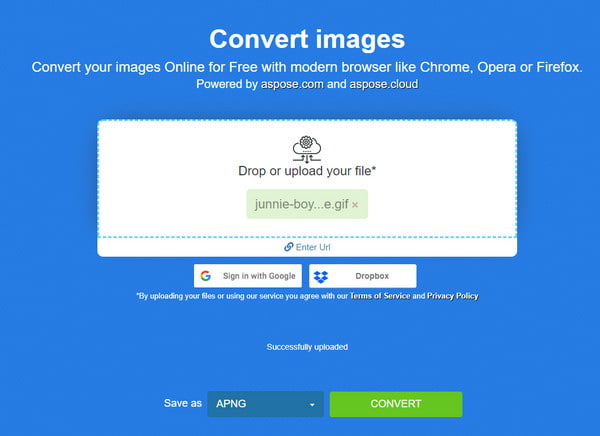 Step 3.Click the Download Now button to save the output to your device. Tool options are also present below if you wish to edit the photo, like resizing, removing the background, object detection, and more.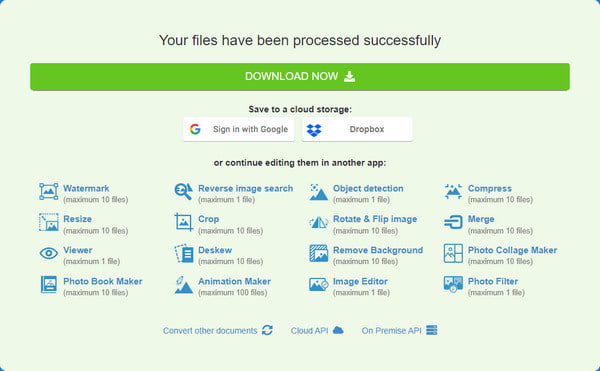 Part 2: How to Convert GIF with Good Quality on Windows/Mac
The recommended desktop tool to convert GIF to APNG is RealWorld Paint. This software offers its service for free while you can convert image files to APNG, PNG, JPG, Animated WEBP, and GIF. Its interface contains features to edit the GIF, such as enhancing images, crop GIFs, adjusting speed, duplicating frames, and more. Of course, it doesn't lack basic tools like red eye remover, brush, line, layers, filters, and effects. Moreover, the desktop tool allows you to edit frame by frame before converting GIF to APNG. You can improve your project as RealWorld Paint supports photo editors like GIMP and Photoshop.
Features:
◆ Excellent functions to reverse, cut animation, and add a new frame before converting GIFs to Animated PNGs.
◆ Provide helpful tools to zoom in or out, grid options for accurate cutting, and shapeshifter to correct position.
◆ Flood Fill features multi-point to select image regions and remove backgrounds with various design options.
How to convert GIF to APNG using RealWorld Paint:
Step 1.Download the software from a reliable source. Once it is installed, click the Open button to browse your device. Choose the GIF file you want to convert to APNG. You can also download a sample online by clicking the Online button. Ensure that you select the Open as Animated Image option.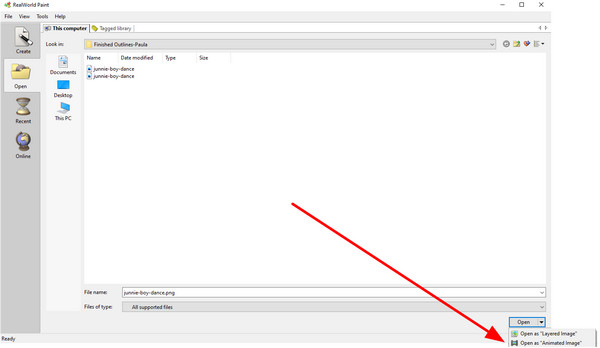 Step 2.On the next page, you can edit the image file of your own accord. Use the Retouch tool to soften or sharpen the parts of a frame. Insert a text with different fonts, sizes, colors, and angles. Moreover, If you want to relocate a part, use the Transformation tool.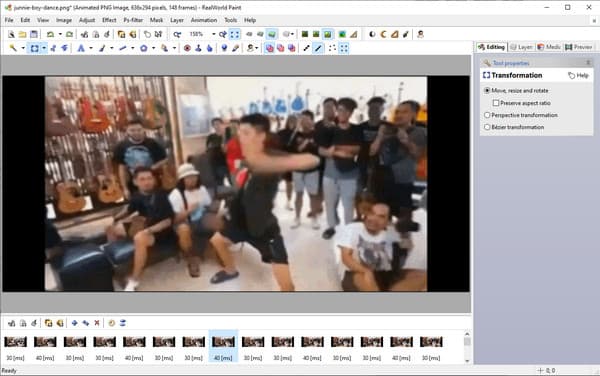 Step 3.To view the output, click the Preview button from the right part of the interface. You can enlarge the preview window by moving the window to the right. You have a side-by-side screen to edit more with the GIF file.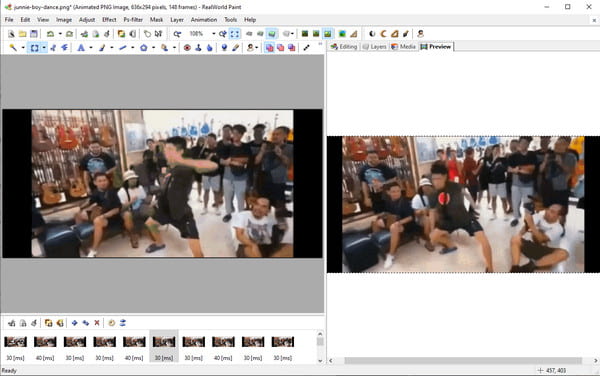 Step 4.Once satisfied with the output, it is time to convert the GIF to APNG. Click the File button and select the Save As option. Rename the file, then click the Files of Type drop-down list. Choose the Animated PNG Files option and proceed to click the OK button.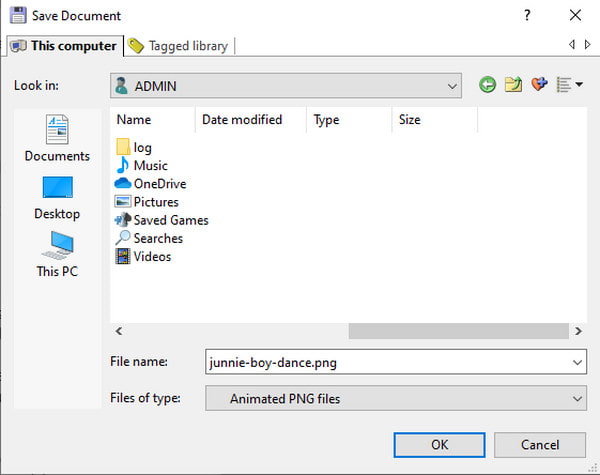 Part 3: FAQs about Converting GIF to APNG
How to open APNG files on my computer?

Although portal devices rarely support the APNG format, you can only be able to open it through browsers like Chrome, Opera, and Mozilla Firefox. You can also download the Google Chrome APNG extension or use File Viewer Plus from Microsoft.

Can I send an APNG file via email?

Yes. Luckily, APNG files are fully supported by the following email clients: Apple Mail, Samsung Mail, AOL, Yahoo, and Outlook (website and app). Popular email clients like Gmail only show the first frame of the file.

How to make GIFs transparent?

Several online tools can help you to make a transparent GIF file. You can try Ezgif, Video Converter Factory, LunaPic, and GIF Maker. At least with the online programs, you don't need to convert GIF to an APNG file and have a problem with how to open it later.
Conclusion
Even though GIF is more popular and is supported by most websites and browsers, APNG has more potential to store color with clean transparency. Many people want to try converting GIF to an APNG. If you want to experience the convivence of converting, AnyRec Free Image Converter Online is always available for you. With free and reliable converting speed, this incredible online converter got your back!
Related Articles