How to Post Animated GIFs on Instagram via My Story, Feed, and Reels
Instagram is a platform where you can post pictures and videos and gain likes from your followers. Once before, people could not post an Instagram GIF. But there is another update that allows you to share GIFs. Many people still need to learn how to post GIFs on Instagram now. Luckily, this post will teach you how to do it. Whether you download a GIF or create your own, here is the easy step to post an Instagram GIF with additional music and effects.
Part 1: How to Post GIF Pictures on Instagram
Posting GIFs on Instagram directly is impossible since they will only become a still image on your feed. So, you will need to use GIPHY on your phone or computer. Here are two ways to use GIPHY to share Instagram GIFs.
GIPHY app:
Step 1.Download and install the app on your phone. Use a Facebook account or an email to sign up or log in. Search for the GIF you want to share or create one from scratch.
Step 2.Tap Save GIF to save the result. Choose the Instagram logo to share the GIF on your account. Don't forget to select the share type like Feed, Stories, etc.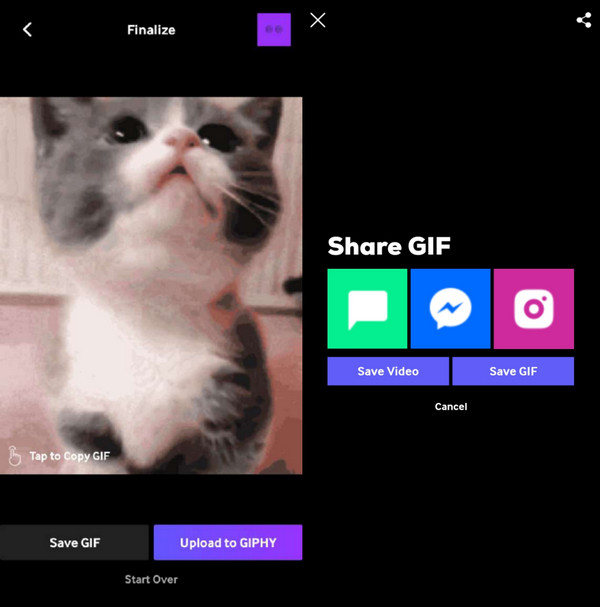 GIPHY website:
Step 1.Log in or sign up on the GIPHY website. You can browse for a GIF you want to post on social media. Open the GIF to open the toolbar.
Step 2.Click the Share button beside the GIF and select the Instagram logo. Add a caption or other elements once the GIF is in the IG's editing section. Click the Post button to finalize.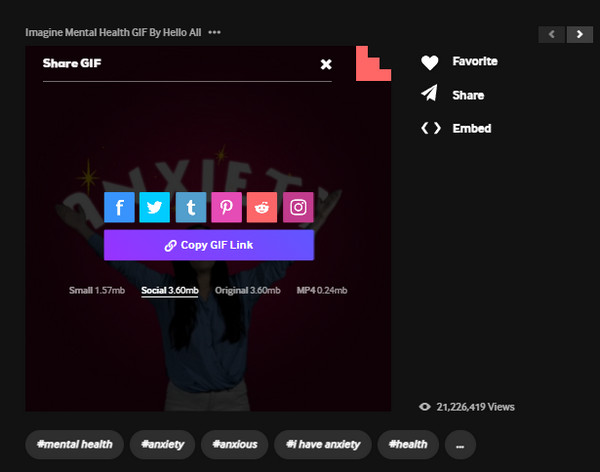 Part 2: How to Share GIFs on Instagram Posts with Video
GIFs are a very flexible type of image, and it is not difficult to merge with a video clip. To edit a video with a GIF, see the following solutions with detailed instructions.
1. AnyRec Video Converter [Windows/Mac]
Instagram does not support directly sharing GIFs, but you can convert them to other supported formats with AnyRec Video Converter. The desktop is a multifunctional program that provides all editing purposes, such as converting, merging, and compressing. With a simple upload of the GIF, you can change the file extension to MP4, MOV, and other IG-supported formats. If the GIF is of low quality, the video converter allows you to configure the settings for video codec, resolution, bitrate, and frame rate without lowering the original quality. With this professional software, you can quickly post animated GIFs on Instagram.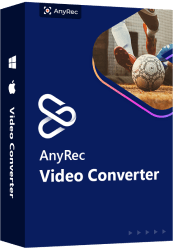 AnyRec Video Converter
A robust video editor with multiple tools to convert GIFs, videos, and images.
Directly share converted GIFs to social media like Instagram, YouTube, etc.
Create GIFs with video and images with configurable frame rates up to 60FPS.
Provide features to upscale resolution, boost volume, and add a watermark.
Step 1.Install the Video Converter from the official website of AnyRec. Run the application to convert GIFs. Click the Add button to open your local folder. Click the Open button to upload.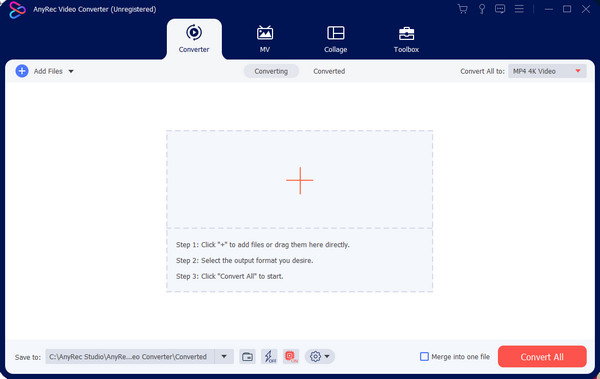 Step 2.When the file appears on the interface, click the Format button beside it. Go to the Video tab and choose the output. You can also use the Custom Profile to configure the settings.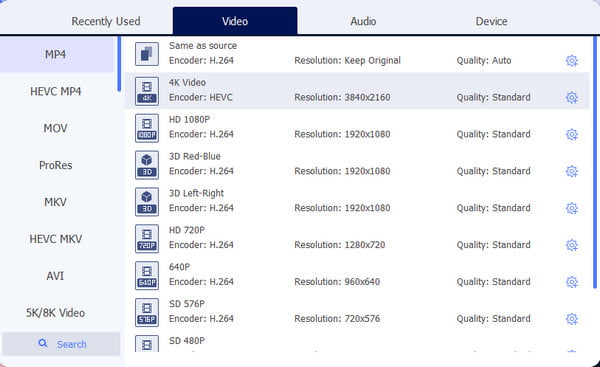 Step 3.When you convert GIF to a video, you can repeat the procedure to create a batch. Finally, click the Convert All button to start the process.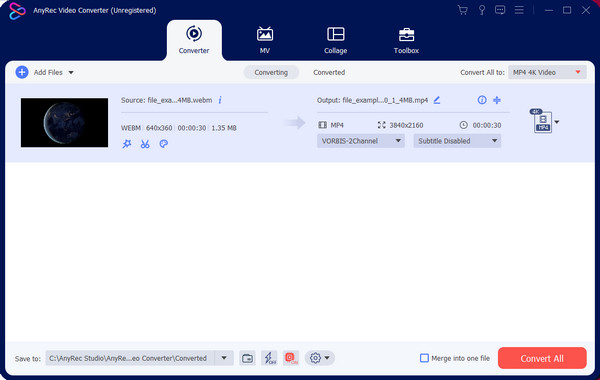 Step 4.Additionally, you can directly share the file on social media. Once the video is exported, go to the Converted section, click the Share button, and choose Instagram to post GIFs.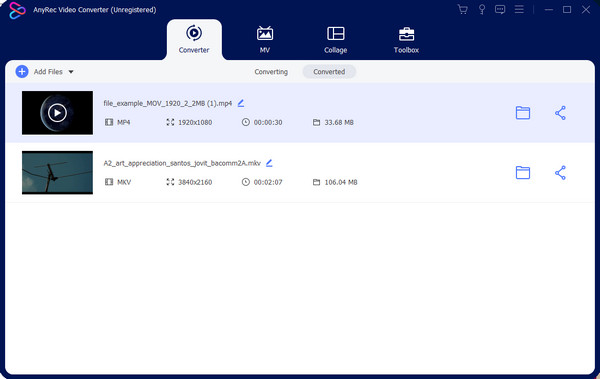 2. Ezgif
Ezgif is a website that provides special functions for creating and enhancing GIFs. Of course, it can change the file extension to allow it to be uploaded anywhere. With its GIF Maker, you only have to import images or videos and edit them however you like. Ezgif is an essential tool, but it cannot be enjoyable with its slow progress.
Step 1.Go to Ezgif and select the GIF to MP4 option from the top menu. Click the Choose Files button to upload a file on the website. Continue by pressing the Upload button.
Step 2.Use the tools in the next window to crop, remove frames, or reverse. After that, click the Convert GIF to MP4 button. Download and share the video to your Instagram account.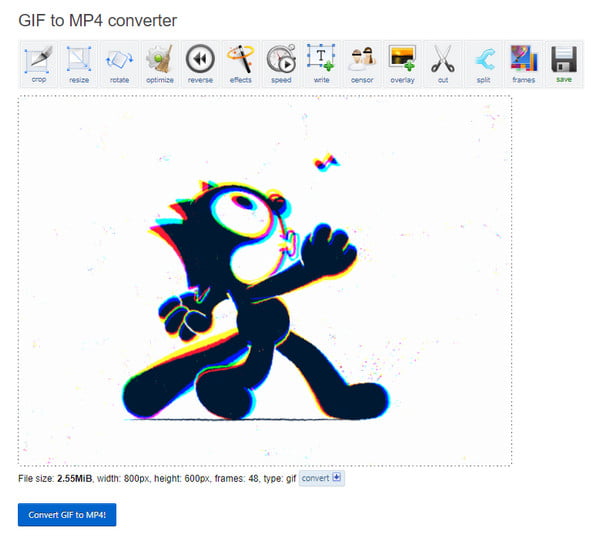 Part 3: Latest Trends in Instagram GIFs and How to Create
GIFs are everywhere on Instagram, but did you know where you can find funny GIFs to post? GIPHY is one of the primary sources of GIFs, whether you are commenting on a post or uploading to your speed. You can also edit, trim, and crop GIFs online with the help of GIPHY. You can search the website and share funny images via the website. Another good GIF provider is Tenor, built-in into your keyboard to access your favorite images, trending and recommended ones. Aside from GIFs, GIPHY and Tenor offer adorable stickers to add to still pictures. Just open your keyboard, then navigate to the Emoji section, and you will find the GIF icon, which will provide animated photos.
Part 4: FAQs about Instagram GIFs
1. How to post GIFs on Instagram in the comment section?

Choose the post you want to comment on and tap the GIF button in the type box. Type the keyword to search for the desired GIF to post. If you want to edit the comment, long-press your comment and tap Delete.

2. How to add GIFs to a video?

If you want to add an animated GIF to a video as an overlay, using AnyRec Video Converter is a good choice. Upload your video. Click the Edit button. Go to the Watermark section. Now you can upload your GIF into the video to any position in any size.

3. How to loop Instagram GIFs when posted?

The first thing to do is save multiple GIF versions in your phone's gallery. Open one of the GIFs, tap the Share button, and choose the Instagram icon. Tap the Next button to add the same GIF to lengthen the video. Tap the Post button after finishing.
Conclusion
Now you can post Instagram GIFs with your pictures via recommended tools. If you want to add a GIF to your post, you can use one from GIPHY or Tenor. Moreover, you can also use AnyRec Video Converter to convert or create GIFs with videos and images. Download the software to see more fantastic functions.
Related Articles: