Discover the 4 Effective Ways to Play WebM Files on Windows/Mac
Since WebM files were designed exclusively for the web, playing WebM files on traditional players and devices may cause issues. And for you to be able to play these files, you must either convert them to a compatible format or download a WebM player application. Continue reading the given information below to learn how to open and play WebM files on Windows/Mac with ease.
Part 1: What is WebM Format? Why Can't I Play WebM Files?
What is WebM Format?
WebM files are video files with the .webm file extension. WebM format is a video and audio container format for multimedia content. This format serves as a royalty-free alternative to the trademarked H.264 and H.265 standards. It is designed to be used with HTML5 video and audio elements, thus WebM files are mainly used for online video sharing. Moreover, WebM files use OGG Vorbis compression techniques for audio and VP8 technologies for video compression. These files are web-based and can be embedded in web pages.
Why Can't I Play WebM Files?
Suppose you are wondering why your WebM files cannot play. In that case, it is because WebM files are just compatible with limited devices and operating systems. Normally, it can only be played on an HTML5-enabled web browser on your computer. To play WebM files on media players, you need to convert WebM videos to other compatible formats or choose those players with a WebM codec.
Part 2: The Best Way to Play WebM Files on Any Media Players by Converting
Incompatible file formats are not a problem when you have AnyRec Video Converter with you. This app is one of the most famous and reliable video converters that can help you play your WebM files without hassle. Moreover, it is the most recommended converter by many users because of its excellent and great features. It allows you to convert from over 1000+ popular video and audio formats. What are you waiting for? Have it downloaded on your device now, and be amazed at the result of your WebM conversion.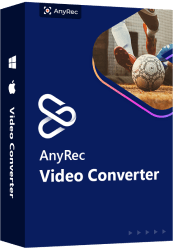 Remarkable Features of the Most Recommended WebM Converter:
Convert WebM to any formats to play WebM files easily and smoothly.
Ensures that the quality of your original WebM video is preserved during the conversion.
It enables you to customize your converted WebM videos with its great editing tools.
Allows you to batch convert video and audio files 50 times faster than other apps.
Steps to Follow:
Step 1.Have the tool downloaded and run on your device. Then, you can start uploading your WebM files on the software by clicking the Add Files button. If you want to, you can also drag your files directly on the app's interface.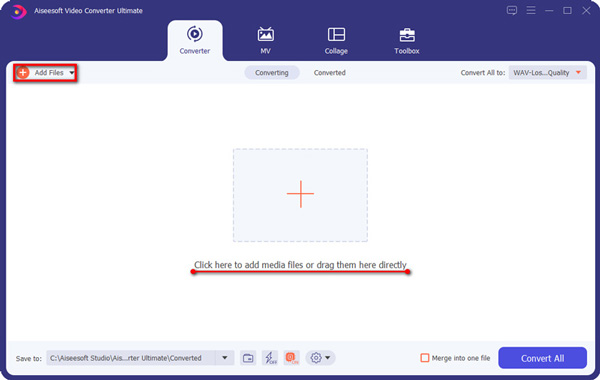 Step 2.After uploading your WebM files on the software, you can now convert your WebM to MP4. On the right side of the app's interface, just click the Format icon then a list of file formats will appear on your screen. Among the list, choose the compatible formats according to your need. To play WebM files on Windows/Mac/Android/iPhone and any devices, you'd better choose the MP4 format. Or you can select the pre-made profile to get WebM playback as well.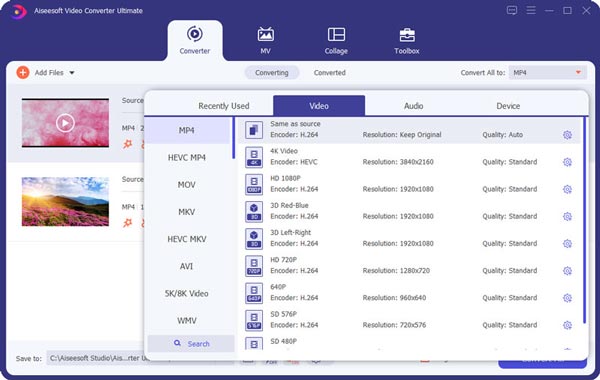 Step 3.Once you select the MP4 format, you can customize the profiles settings by clicking the Gear icon on the right side of the format you have chosen. You can adjust the quality, encoder, resolution, frame rate, and bitrate to keep high quality of the converted WebM file.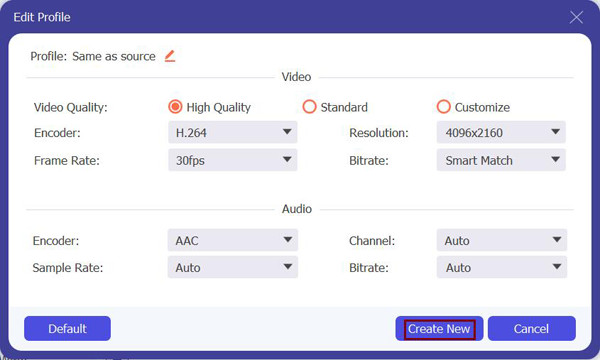 Step 4.Finally, select the file location of your converted WebM to MP4 files by clicking the Save To button on the bottom left side of the app. After that, you can now click the Convert All button to start the conversion process.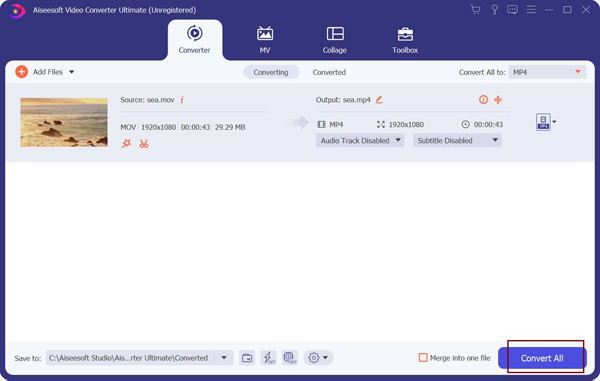 In this way, you can play any video files, including WebM, VOB, ASF, and FLV files on Windows/Mac smoothly without any problem.
Part 3: Top 3 Best WebM Players to Play WebM Videos on Windows/Mac Easily
This post also provided you with some WebM payers for you to play WebM files on your device. You can have a look at these three WebM players available for Windows and Mac that will play your WebM files without converting them.
1. VLC Media Player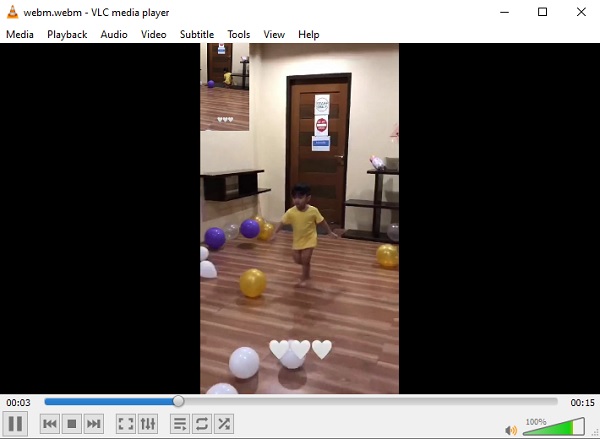 VLC Media Player is a free cross-platform media player with a lot of features. It runs smoothly on all platforms, such as Windows, Mac OS X, Linux, Android, and iOS. Subtitles are supported for a seamless viewing experience. It supports all major file types, including playing WebM files. VLC allows you to change the audio and video settings.
Pros

VLC allows you to watch many videos at the same time.
Support playing WebM files and a variety of formats.
Cons

In comparison to other media players, you might find that altering information is a bit sloppy.
The user interface of the program cannot be changed.
2. File Viewer Lite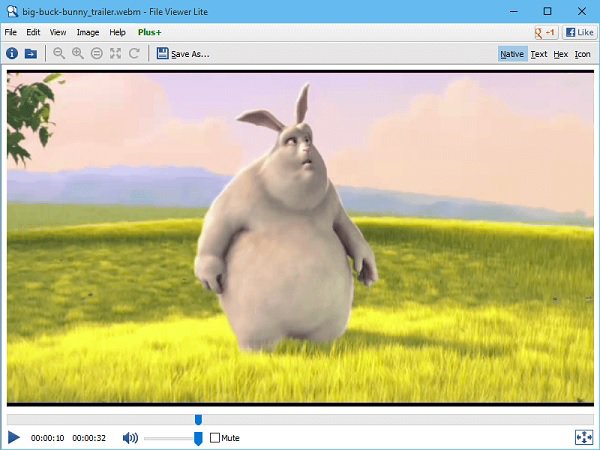 File Viewer Lite is compatible with Windows and Mac systems. The program works as a universal file opener that supports playing WebM videos and opening more than 150 file formats. The process is quick and straightforward, where you need to drag and drop the files to the interface. It also supports opening documents, PDFs, spreadsheets, and other file types.
Pros

A wide range of formats and file types are supported.
Its interface is simple and easy to use.
Cons

Additional functionalities are lacking.
Customization of the user interface is not possible.
3. 5K Player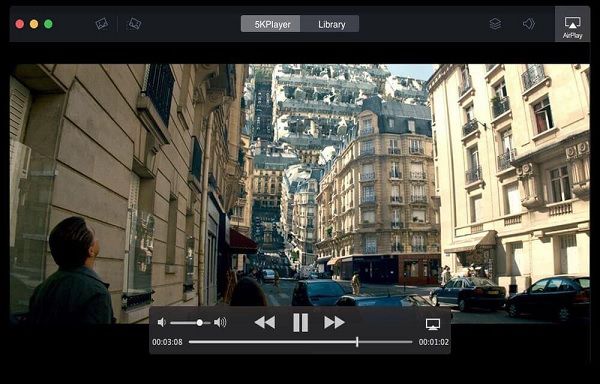 5K Player is the next best media player for playing WebM files. All major audio and video file types, including 8K and 360-degree videos, are supported by this popular media player. You may use this clever technique to keep track of your whole movie library. It also allows you to save all of your computer's video collection in order to fast access files within the app. As a result, you can watch WebM content quickly and effortlessly.
Pros

It is compatible with the most recent Windows and Mac operating systems.
Allows you to watch videos from YouTube, Facebook, and other sites.
Cons

The free version contains potentially irritating advertisements.
Part 4: FAQs of How to Play WebM Files
1. What's the distinction between WebM and MP4?

The video codecs utilized in these two formats are the most significant distinction between them. WebM is based on VP8 or VP9, whereas MP4 is based on H.264. 264. In terms of file size, both formats offer equivalent compression, therefore the difference between the sizes of the same MP4 and WebM files isn't that significant.

2. Can I play WebM on QuickTime?

QuickTime does not handle WebM videos, and no component can help. On the Apple media player–QuickTime, you can only play videos in MOV, MP4, M4V. Thus, you can use AnyRec Video Converter to transfer the file format to play WebM files on QuickTime.

3. How to play WebM videos on Android/iPhone?

As mentioned before, you can use VLC Media Player or other players with WebM codec to play WebM videos on your phone. If you don't want to download third-party media players, you can also convert WebM files to MP4 format, which is compatible with mobiles.
Conclusion
To sum it up, this post has provided four easy ways on how to play a WebM file on your Windows and Mac devices. Above all the given tools, the easiest way is using AnyRec Video Converter to convert your WebM files, because it allows you to have your converted WebM files at hand and able to play WebM files on any device. Feel free to contact us and ask your questions.
Related Article