Do it Yourself: 50+ Funny Ugly Sweater Ideas for Christmas Parties
It's only a few weeks till Christmas, so get in the festive spirit now! It is a great idea to throw an ugly Christmas sweater party this year. And to help you get the party started, this article put up some do-it-yourself ugly Christmas sweater ideas. Finding the ideal ugly Christmas sweater might take some time and effort. Sure, you can get an ugly sweater from almost any department store these days, but if you want to take it to the next level, you have come to the perfect place! You will find creative and humorous creations below that can be done even in your home. For sure, everyone will enjoy it!
Part 1: 5 Creative Tips and Ideas for Making Ugly Christmas Sweaters
You can buy an ugly Christmas sweater already made in every department store. However, if you want to make it personalized and cheap, you can rely on the following ideas of ugly Christmas sweaters. You will see how to make creative ugly Christmas sweaters on the tips below.
1. Get ready and organize everything that you need.
Before you do anything, try on your sweater. This will help you stretch it out before you adorn it so that it doesn't distort your designs when you ultimately put it on after you have decorated it.
Before you begin stitching or gluing, choose your subject. It's a good idea to lay everything out on ugly Christmas sweater first and see how it looks before making any permanent changes.
Place a barrier inside your sweater to prevent the adhesive from gluing the two sides together. It will suffice if you use foil.
2. Cut the Felt according to your pattern using stencils.
If you bought a whole ugly Christmas sweater kit, it likely came with some small stencils that you may use to cut out various forms.
More stencils can be found online, and you can even trace them directly from your computer screen.
You can also cut out letters from the felt and use them to spell out whatever you like.
3. Collect leftover Christmas decors and add them to your design.
You can scribble phrases on ribbons or make cheesy embellishments with them.
Bows of any size and form can be glued or tacked onto your ugly Christmas sweater; the tackier and larger the bow, the better!
4. Add even more awful elements to the mix.
Most kits will let you embellish your sweater with any (preferably lightweight) seasonal item.
For example, Santa hats, wreaths, and stockings may have a great impression on your sweater with very little work.
5. Decorate
By adorning the ugly Christmas sweater as the focal point, you may take it a step further and make it a little cheesier and tackier.
Scarves, hats, silly glasses, mittens, and weird socks are just a few ideas for accessorizing an unattractive sweater.
Part 2: 45+ Ugly Christmas Sweater Ideas to Make Everyone Laugh
Aside from the ugly Christmas sweaters above, you can also consider making these hilarious sweaters below.
1. Ugly Reindeer Sweater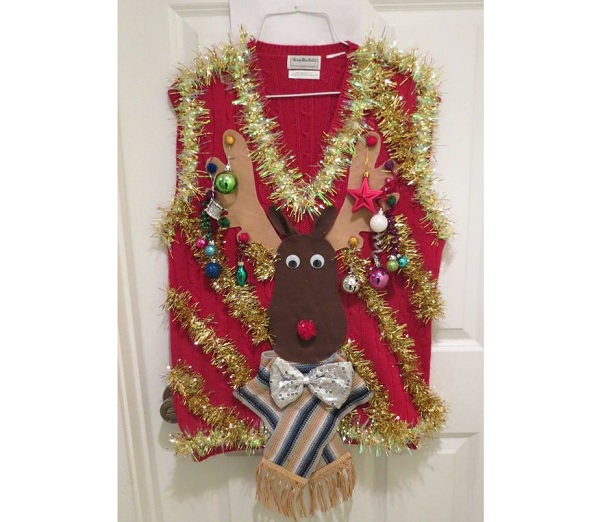 An ugly reindeer sweater is one of the great choices you can make. Surely it will add fun to your Christmas party. Moreover, this ugly Christmas sweater just easy to do. All you will need is the garland, a reindeer picture, and any other tacky Christmas décor you can locate should be added.
2. DIY Christmas Tree Sweater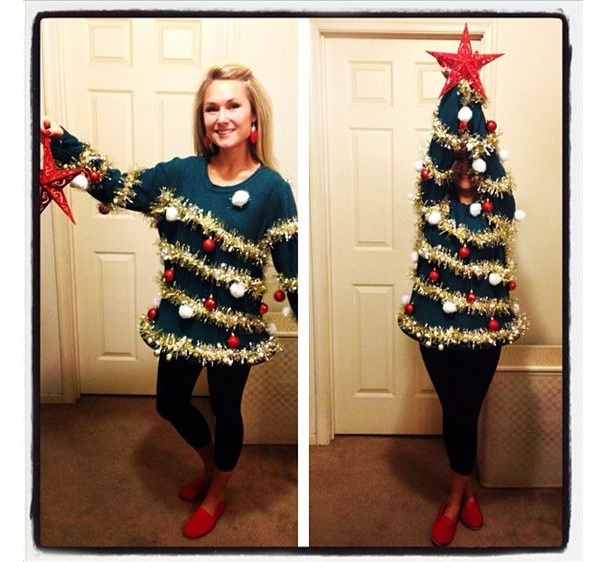 This is a fantastic design. Another ugly Christmas sweater type that makes you want to strike a pose. Look for a dark green sweater that you can personalize. Begin attaching and pinning a gold garland ribbon around the tree. Ornaments, bells, and other decorations can be added. It would be helpful to have a pocket-sized star!
3. Unused Gift Wrap Sweater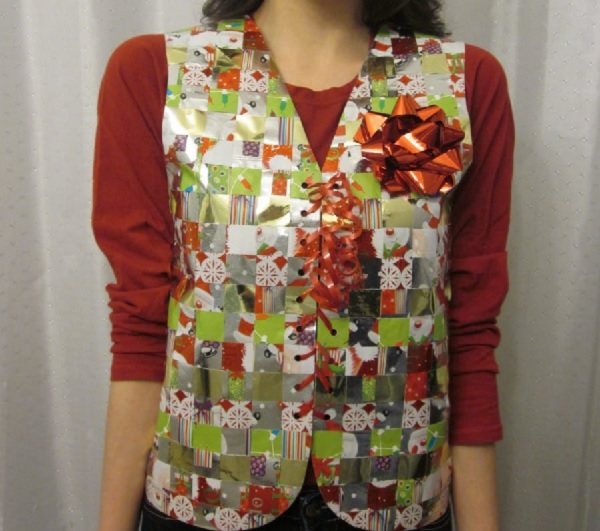 This clever idea is to make your own ugly Christmas sweater out of leftover Christmas present wrap paper. You will need multiple pieces of gift wrapping paper (try not to tear the wrap when you open your gifts). Then cut the paper into 1-inch broad strips, stack them, and weave them horizontally. The complete instructions can be found at the link above.
4. Leftover Christmas Decors Sweater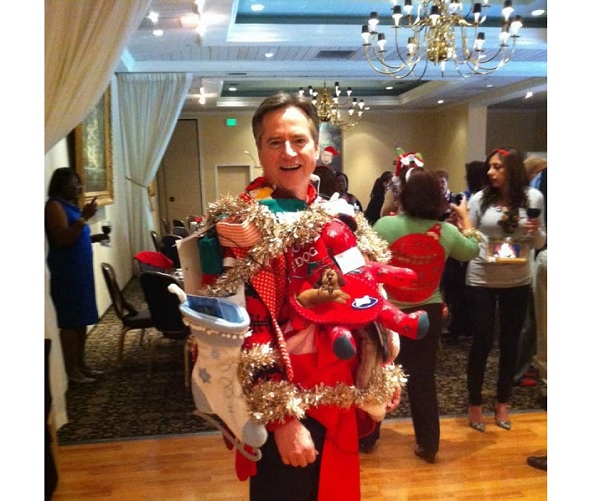 Do you have any leftover Christmas decors from the last holiday season? You can recycle them and make an ugly Christmas sweater for your party. Only a glue gun (or needle and thread if you know how to sew), a sweater (ideally a large one for your size), and old Christmas decorations to glue to the cloth are required in doing this sweater.
5. Reindeer Couple Sweater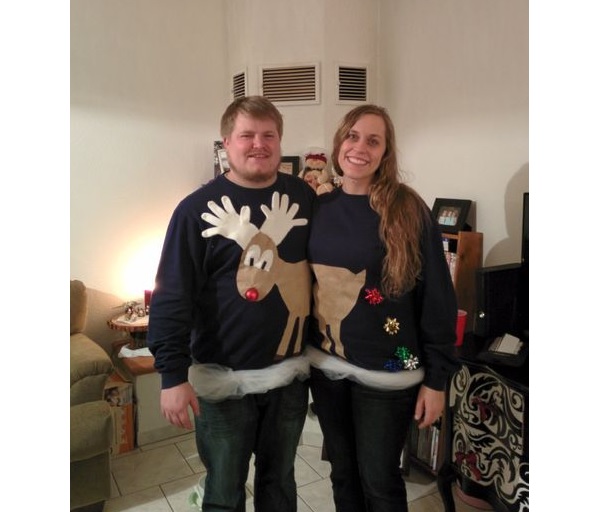 This would be a wonderful ugly Christmas sweater idea to do with your partner. It would be up to one of you to choose the leader. The rear of the reindeer would then be assigned to the other. When you stand together, though, you form a complete picture. All you need is a sweater and a reindeer picture, then sew it together.
6-11. DIY Fireplace Mantel Christmas Sweater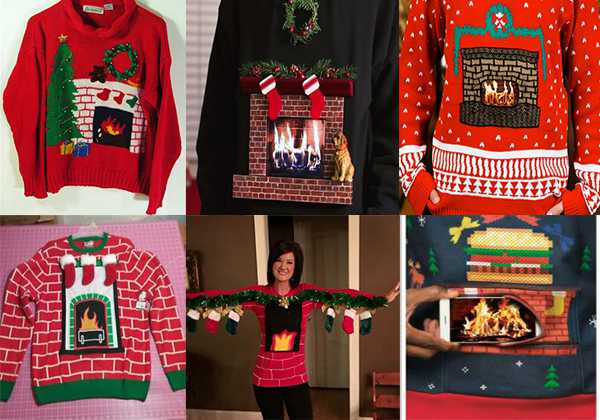 This DIY ugly Christmas sweater is a perfect costume this Christmas. All you will need to make something similar are white craft glue, red sweater, fabric glue, safety pins, shiny green Christmas garland, and mini-Christmas stockings (to hold it all together).
12-15. Old Stuff Toy Christmas Sweater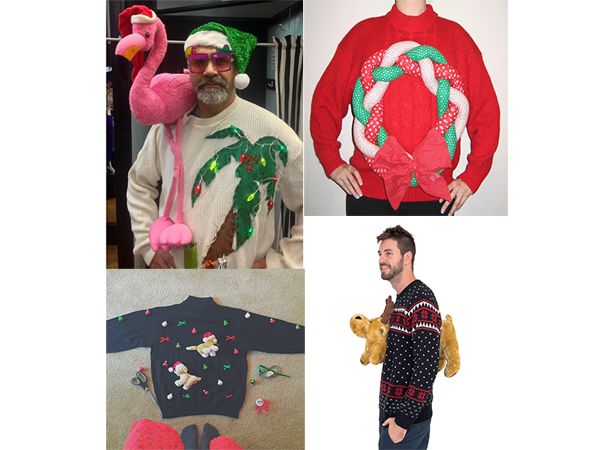 You would get significant points for creativity with this design! You could utilize any old toys, sweaters, battery-operated LED Christmas lights and made them creative. This flamingo/tropical Christmas sweater, on the other hand, is perfect!
16-21. Ugly Christmas Story Sweater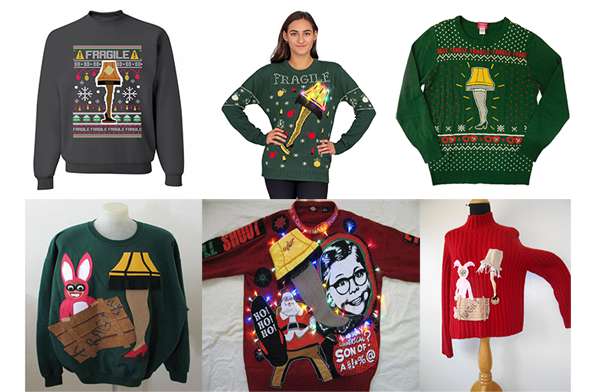 This ugly Christmas sweater idea is based on one of the famous Christmas movies, 'A Christmas Story.' Ralphie's bunny rabbit outfit, the exquisite leg lamp that Ralphie's father was so proud of, and the fragile box that his father struggled to pronounce right are among them.
22-23. Family Edition Christmas Sweater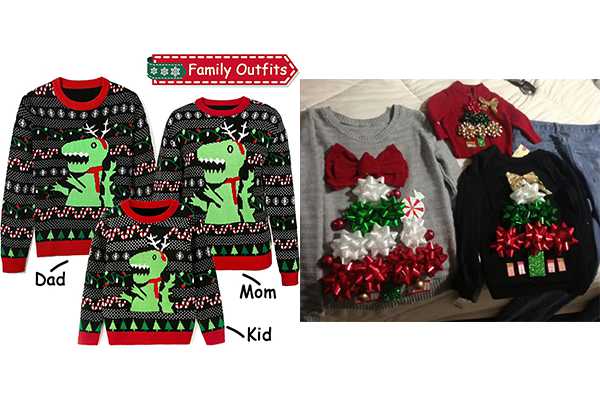 How about this family outfit of DIY ugly Christmas jumpers to keep the bow tradition alive? For this project, all you will need is a sweater for all your family members and ribbons. This is the ideal solution when you're limited on time and supplies!
24-29.Ugly Poncho Light Up Christmas Sweater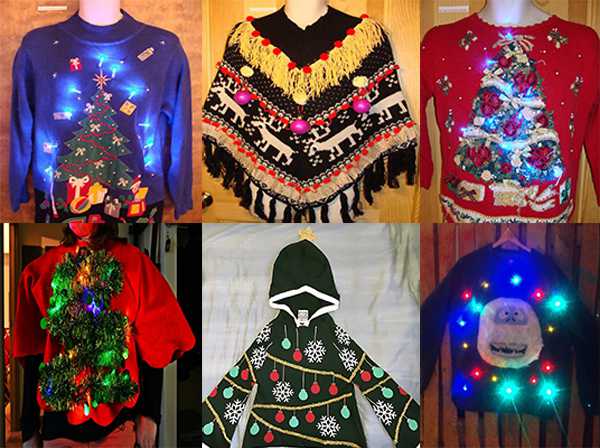 This is an ugly Christmas sweater with a Christmas tree that lights up. If you don't have a spare sweater to 'sacrifice' for a party, this is an excellent design to try.
30-31. Snowflakes Ugly Sweater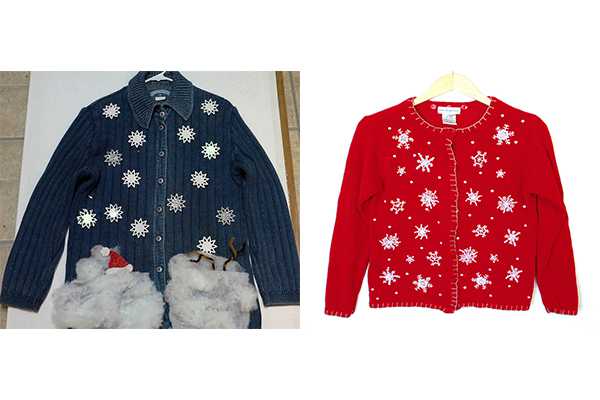 This one is also a good choice. Make an ugly snowflake sweater consisting of foam sheets, paper, pipe cleaners, and fiberfill. This is a really simple design that you can easily construct.
32-35. Ugly Mirror Sweater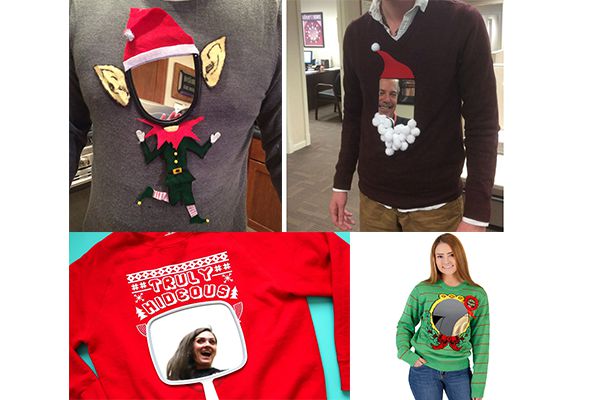 Another quite amusing one is this hideous sweater. You decorate your sweater with a Santa face, as is customary. You, on the other hand, leave Santa's face out. Instead, you place a mirror on the wall and allow the mirror to reflect the 'ugly' aspect. The majority of people would laugh at this ugly Christmas sweater.
36-39. Snow Globe Ugly Christmas Sweater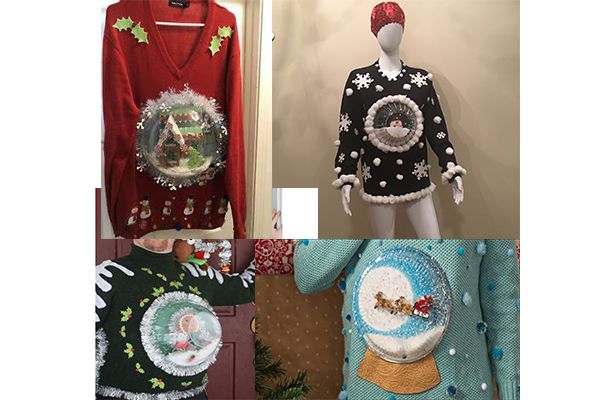 If you have some spare time and are up for a DIY project, you may be the life of the party in this outfit. All you will need are your spare Christmas decors and a plastic bowl.
40-43. Grinch Ugly Sweater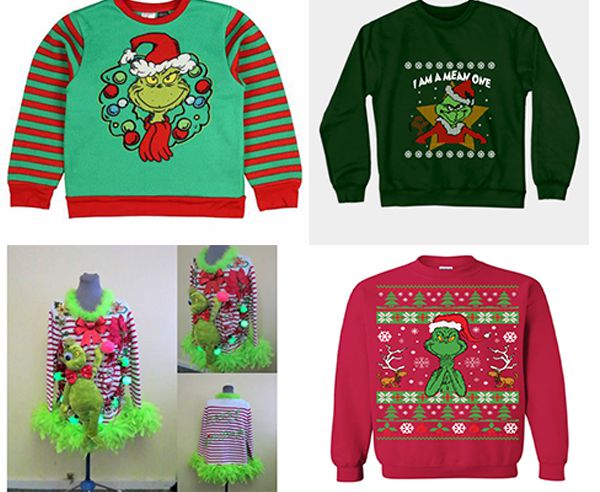 Although it appears somewhat complex, some folks could undoubtedly make their version. If you like The Grinch, you might want to consider this design for your ugly Christmas sweater. It's hairy and green. You will certainly stand out.
44-47. Nauseous Reindeer Sweater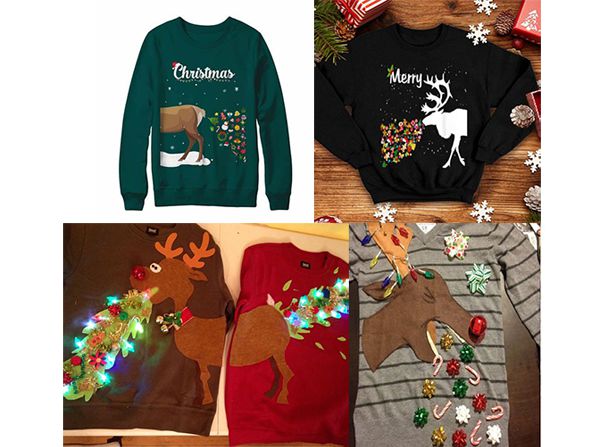 It's also a good ugly Christmas sweater idea. You can make this too if you get crafty with an old sweater. You will have to collect mini bows, candy canes, strings lights, fabric glue, and a red ball as the reindeer's nose.
Part 3: How to Add Christmas Effects to Videos of Ugly Christmas Sweater Party
Sure thing you have taken some videos during your ugly Christmas sweater party. Make them more fun and fabulous by adding themes or effects using AnyRec Video Converter. It can add Christmas effects to your videos and apply GIF effects on your videos. It has powerful editing features that make your videos more pleasing to the eyes. So hurry up! Download this powerful tool now on your Windows/Mac.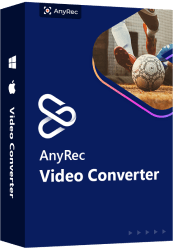 Part 4: FAQs about Ugly Christmas Sweater Ideas
Can I make an ugly sweater out of pajamas?

Of course! You can use your old pajamas and make them an ugly Christmas sweater costume during your Christmas party. All you have to do is cut the cross point and put some decors you desire.

Is it possible to sew without using a machine in doing ugly Christmas sweaters?

Absolutely yes. The above sweater ideas are easy to do, and they do not need much effort but have a great result. You have to follow the given procedures above.

Is an ugly Christmas sweater a good theme at Christmas parties?

Yes! An ugly Christmas sweater is a good theme at Christmas parties because you can have fun and at the same time feel the vibes of Christmas.
Conclusion
There you have it! This article consists of fantastic ideas on making an ugly Christmas sweater. If you want to make your own, follow the procedures above. For sure, you will have a jolly Christmas season with your friends and family. If you have new ugly Christmas sweater ideas, you can contact us now!
Related Articles