Music Video Ideas – How to Make a Music Video for Beginner
Sometimes, music gets boring without a music video. The song of Luis Fonsi ft. Daddy Yankee entitled 'Despacito' gained more than 7B views because people loved its musical beat and music video. Imagine earning a lot of money because you did a perfect music video. That is why people nowadays are getting more practical every day. Some plan to make a cool music video, upload it to different social media platforms, and earn money.
Occasionally, if you need a music video for your event, why not do it independently rather than ask someone to do it with payments in return? If you are a beginner and wondering how to make a music video, you've come to the right place! In this piece, we will teach you how to make a music video so that beginners will not have a hard time copying the procedures.
Part 1: What Should You Prepare for a Music Video
Nevertheless, even if you wish to make your own first music video just for fun or professionally for your events, or you are going to pay somebody to create the music video for you, you should not miss knowing what are the important things to do in order to create a cool music video.
Equipment You Should Prepare in Making a Music Video:
CAMCORDER
A camcorder is needed to make an excellent music video without asking anyone. The camcorder will capture all the shots you will be doing for your music video. You can get a camcorder based on your budget. If you don't have too much budget, you can buy the cheap HD camcorders or purchase the pricier (though it has better quality) full HD camcorder.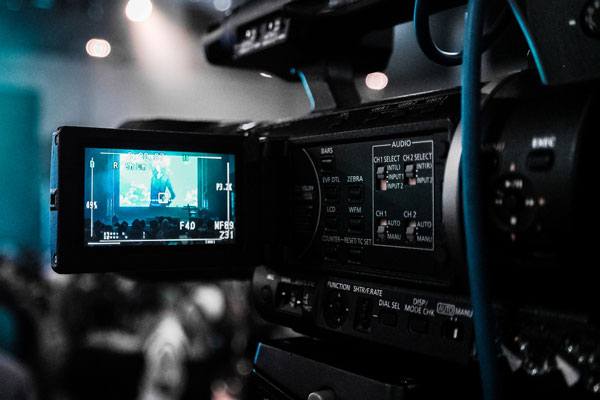 Extra Things You Will Need:
◆ Tripod
◆ Extra storage memory
◆ Extra batteries for your camcorder
◆ External microphone
VIDEO LIGHTING
To record a decent-looking music video, you will need good lighting. Regardless of whether you are using a high-quality camcorder that shoots fine footage, you will still need a good light level to get a high-grade result.
Well, you are shooting your cool music videos outdoors; there is no need to add any extra light because the sunlight is enough to make things look good. And if you are going to record in a dim location, you better use some video lighting kit like key light, fill light, and backlight.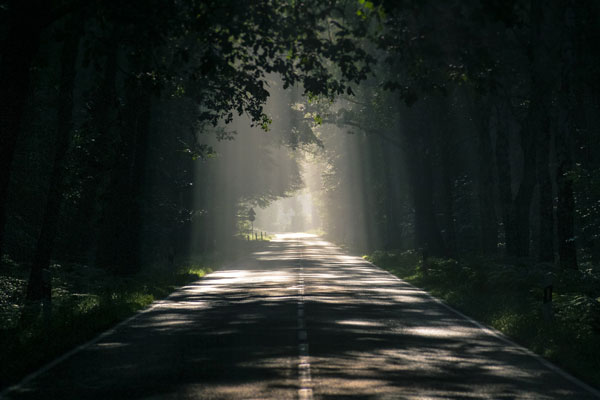 TRANSPORT
If you want to learn how to make a music video ideally, transport is one of the factors to consider. Keep in mind that you will always travel carrying your equipment in recording from place to place, that is why transport is very relevant. It would be more practical if you had your vehicle to utilize because taking public transportation could be a bit of a nuisance. You should also consider the vehicle's size.
For example, a multiple-band, two filmmakers, recording equipment, and instruments will not fit into a small car.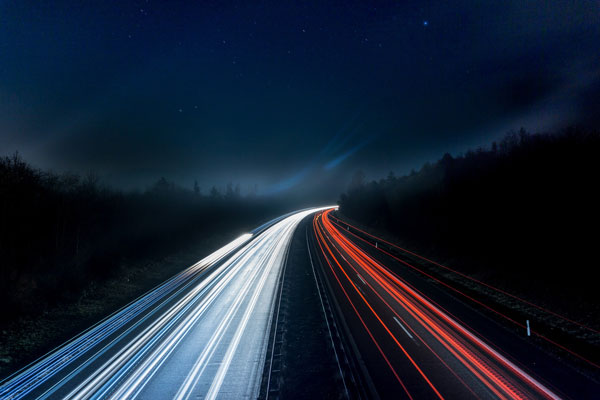 SHOOT LOCATION
Doing the recording for your music video inside your house is absolutely the wrong location. Your music video won't be presentable if your setting isn't vast enough. Thus, you have an excellent concept for a music video idea, and you can't do it unless you have the perfect place and props to go to it.
First and foremost, you should pay a bit more attention to scouting potential locations. Think about where you could film in your community and come up with some ideas. You could also consider who you know. Do you know anyone who operates a shop, a restaurant, a bar, or a clubhouse? If not, do you have any thoughts on how you might be able to acquire access to venues like that for a fee?
In the case of filming in parks and urban areas, check local legislation to see if you may shoot without the need for a permit. The location of your shoot is crucial in creating a cool music video, and it will be determined by your video concept. However, you must be pragmatic and adaptable with your plan, especially when working on a tight budget. Don't strive for perfection; instead, concentrate on doing the best you can with what you have.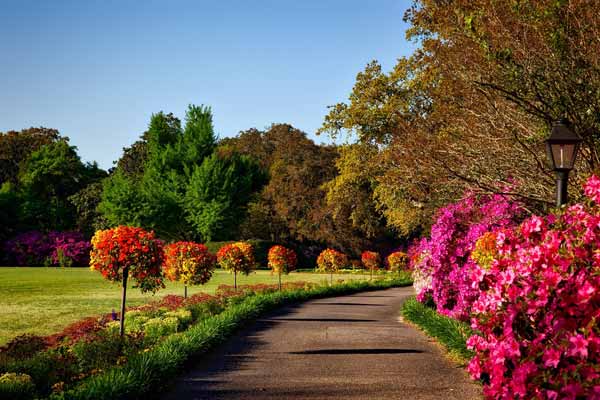 Part 2: How to Make a Music Video for Beginner
Now, this is the prickly part of your work: choosing the best editing tool to help you reach your cool music video dream. AnyRec Video Converter is the perfect tool for everyone doing their music videos! It is not just a video converter tool. And this is also a powerful tool that will turn your video footage into a perfect music video.
You don't have to be afraid of using this, because it will guide you easily. Combining and editing audio and video clips as an excellent music video, especially for beginners.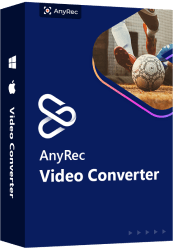 AnyRec Video Converter
Polish the audio files and videos to make the music video beforehand.
Cut out the desired part and merge different clips to get the desired file.
Custom themes, titles, background audio files, watermarks, and more.
Enhance the music audio, boost the audio volume, and sync audio with video.
Step 1.Once you have reached the main screen, click the MV button and the Add button with a Plus icon to import your footage to create a cool music video. You can also left-click the mouse to drag and drop the videos simply.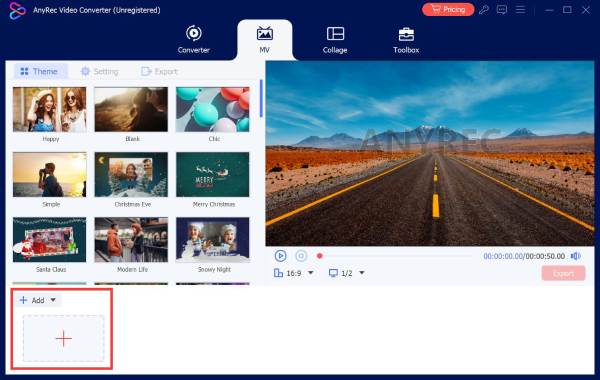 Step 2.When the videos are already imported, click the Edit button. A new window will pop up then; in here, you can rotate, add filters, add watermark, crop, adjust effects, add subtitles, and edit audio tracks.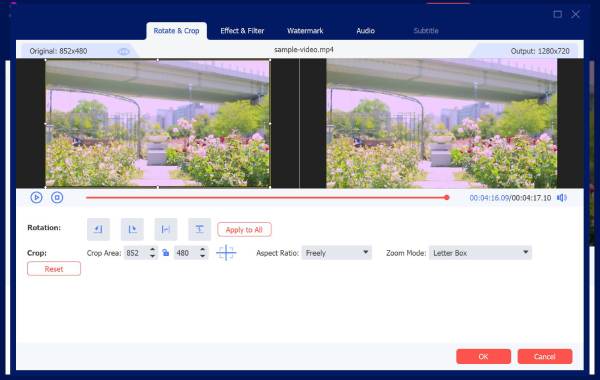 Step 3.To make your cool music video more livelier, you can click the Theme button to download your desired theme quickly. Here, you can choose from various themes such as Snowy Night, Happy, Simple, Merry Christmas, Christmas Eve, and many more. On the Preview window, you can monitor the theme you are applying.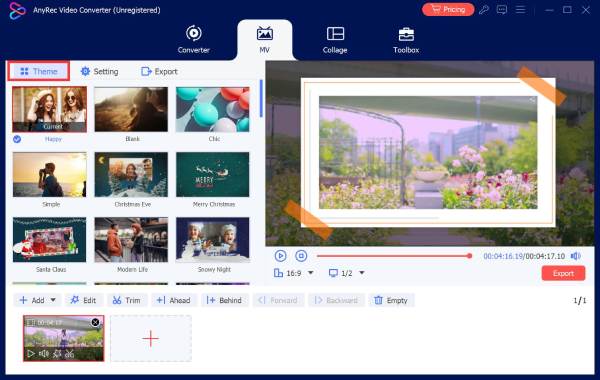 Step 4.To customize your start and end title, click the Settings button. You can now add your desired music background for your cool music video, keep the original video track, and apply different kinds of effects that only AnyRec Video Converter can offer.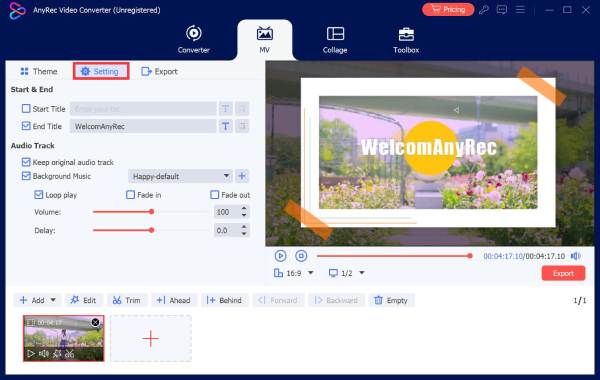 Step 5.After finishing editing, you can export the file by clicking the Export button at the top. Meanwhile, you can click the Save To dropdown button to choose a destination folder for the file. Finally, you may click the Start Export button.
Another way to export your edited file is by simply clicking the Start Export under the Preview button.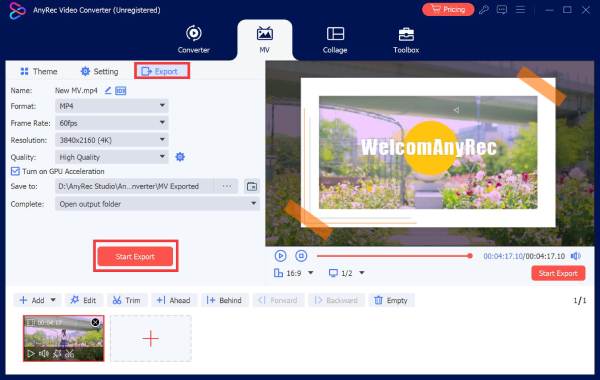 Part 3: FAQs about Music Video Ideas
Who comes up with the concept for a music video?

A good music video director is very relevant in making realistic music video ideas. A wise screenwriter will also be needed in making a cool music video. But, if you make your first music video, you can ask your colleagues and sufficiently plan the work.

What are the various kinds of music videos?

There are different music videos, like narrative, concept, performance, animation, and lyrics. Moreover, you can also make some funny videos with different themes.

What is a music video's purpose?

A music video director is involved in every production process, assisting and directing others. Screenwriters are in charge of formulating a notion that fits inside the production budget. They'll then construct a script outlining everything that will happen in the video.
Conclusion
You have already got the ideas on how to make a music video, follow all the ideas listed above, and create a cool music video. Now, this is the time to use and experience the powerful features of AnyRec Video Converter! Hope we've helped you somehow!
Related Articles