How to Record Second Life Game and Save Your Best Moments
The Second Life game is a virtual world in which you live a virtual life. You will design your avatar and interact with other individuals living there. So it's fun to record the Second Life game in a virtual setting, such as shopping, making friends, socializing, and other activities you do in real life. You can then save it and share it with others on social media. More things are happening in the Second Life world that you can discover as you become familiar with the game. Fortunately, this post will help you learn more about the game and the three ways to record it.
Brief Introduction to Second Life Game
Second Life is a role-playing game wherein you can explore an unknown virtual world, meet other residents, and participate in group activities. Note that you can only play the Second Life game if you are above 16.
It was introduced in 2003 by Linden Lab and soon became popular and continues to rise. Besides creating your avatar as your character role in the game, you will always have places to visit and people to meet. There are virtual clubs, communities, cinemas, malls, and more. In addition, there's a marketplace where you will discover items like home decorations, clothes, and more to design your creations.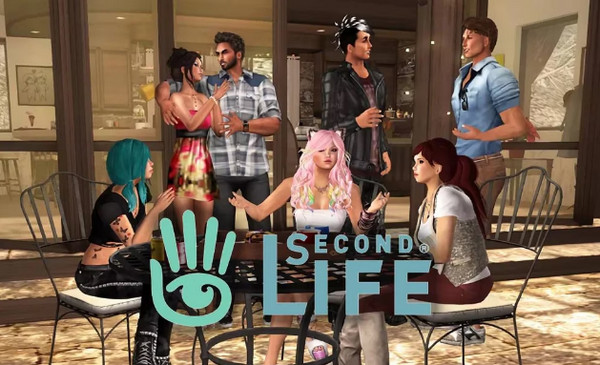 Aside from that, it has its currency, the Linden dollar, which users can use to exchange or buy items in the virtual world. It can also be exchanged for real-world money. With Second Life gameplay, you can experience a second world where you can freely explore and have many options. After you've created an account, you're ready to discover your new world in the Second Life game.
Best Way to Record Second Life Game with AnyRec Screen Recorder
Now, we're down to the last and ultimate way to record the Second Life game. A program that is lightweight and best for recording meetings, calls, webinars, gameplay, and more on your computer is named AnyRec Screen Recorder. It comes with a built-in Game Recorder, allowing users to easily record all games without lag. It is equipped with hardware acceleration which is best for recording HD gameplay smoothly.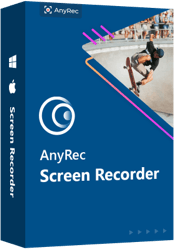 AnyRec Screen Recorder
Take less CPU usage to record Second Life without lagging.
Guarantees a no watermark when exporting the recordings.
Cut and edit the Second Life game video after recording.
Have hotkeys for easy starting, stopping, pausing, resuming, etc.
Step 1.Once you have launched the program AnyRec Screen Recorder, you can see many recording modes. Then start by clicking the Game Recorder button.

Step 2.Locate the Second Life window in the list from the Select the Game button. You can then adjust the Settings with a Gear icon to get your desired quality.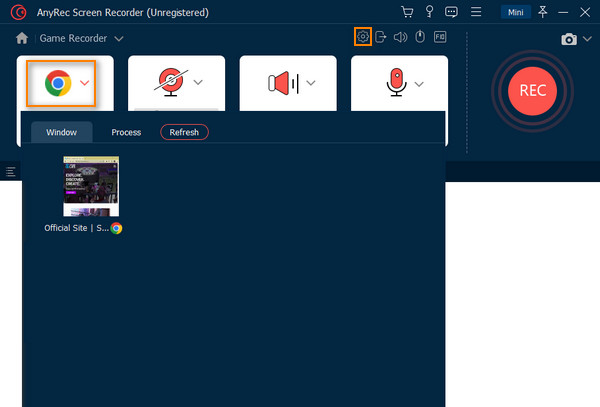 Step 3.Depending on what you need, you can click the Webcam, System Sound, and Microphone buttons to record face, music, and voice.

Step 4.Anytime when you're ready, click the REC button. During the Second Life game recording, you can use the below tools to annotate, capture, etc.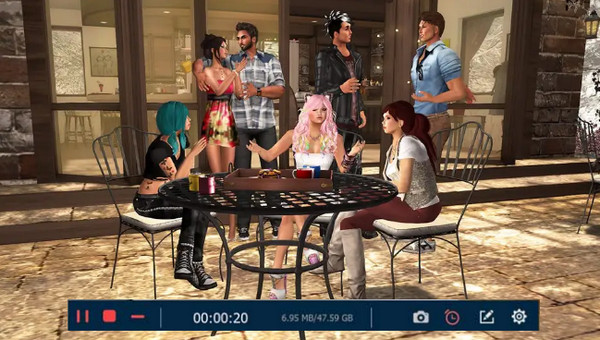 Step 5.Click the Stop button to finish recording. In the preview window, you can trim and check for anything to be deleted before you click the Save button.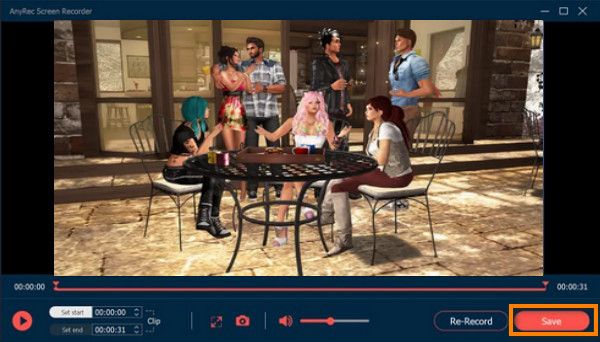 How to Record Second Life Game in Bandicam
After knowing what you can do with the Second Life game, here's the first way to record it, use Bandicam as your recorder. This screen recorder helps you record the game with ultra-high resolution. It simultaneously ensures high speed and quality, so there is no need to worry. However, you should be ready to face watermarks when you export your recordings. You can remove those watermarks once you purchase the pro version. If ready, here's how to record the Second Life game with Bandicam.
Step 1.Run Bandicam on your desktop, then click the Game Recording button. Click the Yes button in the pop-up window.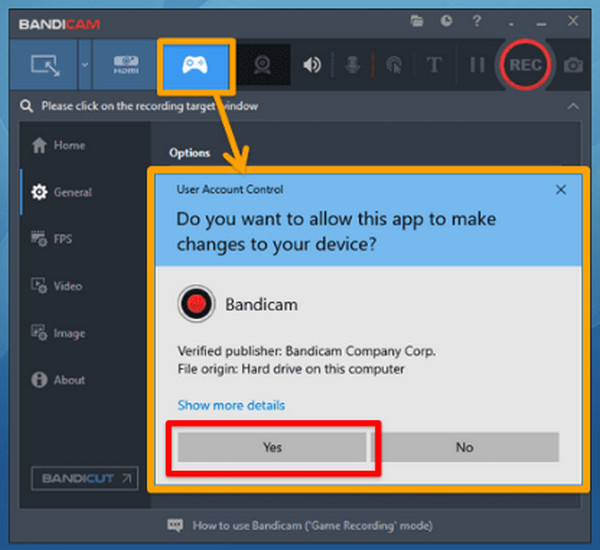 Step 2.Select the Second Life game, then a green-colored number will be in the left-side corner.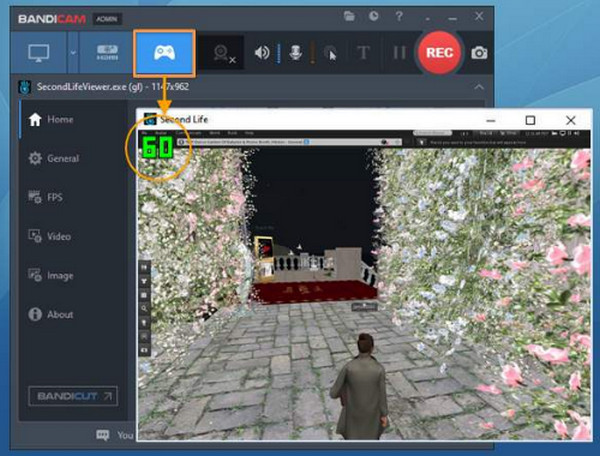 Step 3.Once ready, click the Rec button or press the F12 key to Start. Then the green number will turn into red. Use anything between the two to Stop the recording.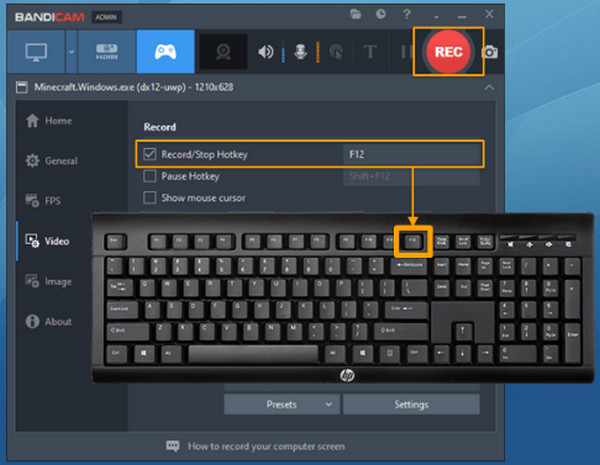 How to Record Second Life Game in OBS Studio
The second program that will assist you in recording the Second Life game is the OBS Studio. It would be a big help to record high-quality Second Life games with the best OBS recording settings to record fast-paced simulation games. But, the drawback is that it has high CPU utilization, which might lead to slow performance of the Second Life game and other programs on your computer. If your PC is doing great, you can install OBS, then follow the steps below to record the Second Life game.
Step 1.After launching the OBS Studio, click the Plus button under Sources, then select the Game Capture option.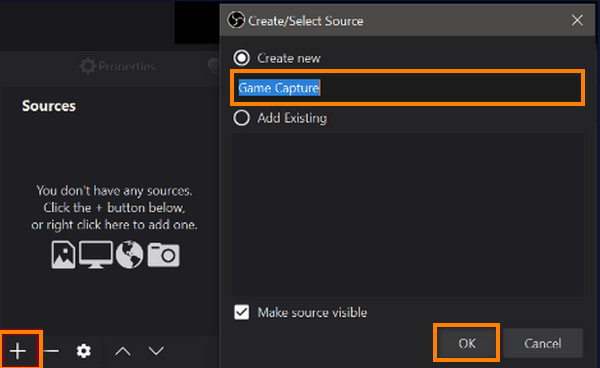 Step 2.Leave it as it is, then click the OK button. There will be three modes appearing. You have to click the first mode to Capture any full-screen application.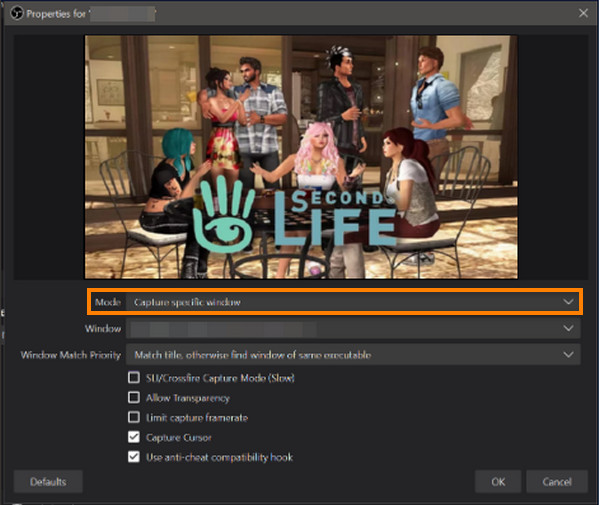 Step 3.Go to the Second Life game window, where OBS automatically recognizes it. Click the Start Recording button.
FAQs About Second Life Game
Can I play the game Second Life for free?

Yes. You can play Second Life for free, creating your avatar and exploring the virtual world. But, if you want more, like having a home and everything, upgrading to the premium version is recommended.

Is the Second Life game performed like Sims?

No. The game Second Life has some resemblance to Sims. Since users of both will design, create a character, and participate in day-to-day activities, there are no villains or monsters to defeat. Both can give relaxation, keeping you away for an hour from the real world.

What devices does the Second Life app support?

Fortunately, there are multiple platforms the said gameplay supports, including iOS devices such as iPhones and iPad, Android devices and tablets, etc.
Conclusion
That's all you need to know about recording the Second Life game. Hopefully, you enjoy playing in the virtual world to relax your mind, away from the schedule in the real world. You can now keep your memories by recording the Second Life game using the ways provided in the post. To avoid such drawbacks offered by other screen recorders, go to AnyRec Screen Recorder. This program offers everything and provides convenience and an enjoyable experience in recording and sharing your adventure.
Related Articles