How to Record Witcher 3 Gameplay Moments and Highlights
The Witcher 3: Wild Hunt, which CD Projekt developed, is an open-world, action role-playing game. Many players want to record Witcher 3 gameplay. Because this game has excellent visuals, characters, stories, etc., which became a subject to be recorded and shared on various social media platforms. If you find this game exciting and want to record your future gameplay but don't know how, fortunately, you found this page! This post features guides about this game and how to record Witcher 3 gameplay! Explore them now!
Part 1: How to Record Witcher 3 Gameplay Walkthrough with AnyRec
The best recommendation to record your Witcher 3 gameplay this post could provide you is using the professional AnyRec Screen Recorder tool! This lightweight tool has a Game Recorder feature built to support gameplay recording without lag issues and with high quality. Moreover, despite being an advanced game recorder, it is made easy to use, which makes it suitable to use by beginners and also with pro players. Thanks to its well-composed toolbox, you can quickly initiate various gameplay recording processes.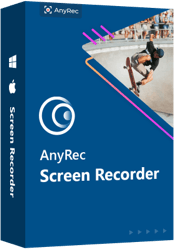 AnyRec Screen Recorder
Integrated with Hardware Acceleration which records your The Witcher gameplay in HD.
Offer options to record your Witcher gameplay with your Webcam and Microphone.
Equipped with a Screenshot tool that you can use to capture images of your gameplay.
Infused with customizable Output Tweaking options such as Format, Codec, Quality, etc.
Step 1.Download and install the AnyRec Screen Recorder on your computer. After that, launch the tool and click the Game Recorder button. Don't forget to open the Witcher 3 game.

Step 2.Then, click the Select the Game dropdown menu button to access the sources, and from the options, choose the Witcher 3 game.

Step 3.Next, click the Record Settings and Output buttons to ensure high-quality output. Set the Quality to High and the Frame Rate to 60 fps. Then, click the OK button.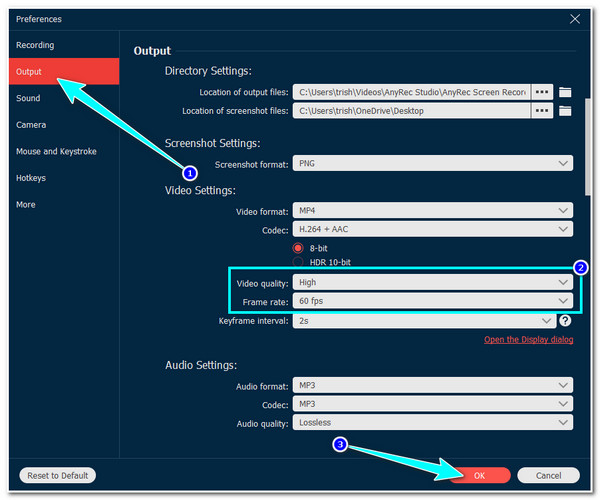 Step 4.After that, enable your Webcam to capture your reaction while recording your Witcher 3 gameplay. You can also turn on System Sound and Microphone to capture sounds.

Step 5.Once you are done recording your gameplay, click the Stop button. After that, the tool will bring you to its preview section. Here, you can edit your recorded gameplay.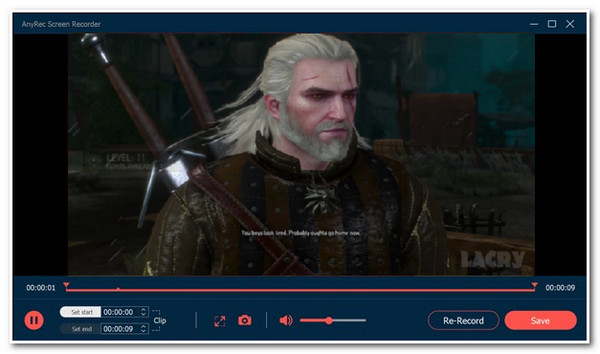 Part 2: What You Need to Know about Witcher 3 Walkthrough for Beginners
Now that you have discovered the best game screen recorder you can use to record The Witcher gameplay, you are set to capture every hype moment with this game. If you are a new player of this game and still learning how to play it, read the walkthrough guides below to understand how it works.
This game is a sequel to The Witcher 2, which also focuses on Geralt of Rivia's story. His journey begins after receiving a puzzling letter from his late lover, Yennefer of Vengerberg. After receiving the letter, he decided to find her, which made him explore various continents and reunite with his long-lost adopted daughter, Ciri.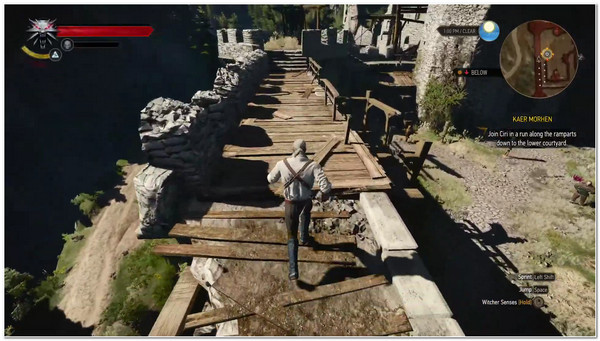 Basic Character Activities
With that brief story overview, you'll see that this game is an open-world exploration that requires you to follow Geralt's journey. The same goes for other PC games; this game also supports various activities and many things you need to do to achieve a specific purpose. The primary thing you need to understand is the Character's ability, Skill or Gear upgrades, Craft Creations for battles, and gaining Alchemy for other combat weapons such as potions, bombs, oils, etc. These things focus on your character's (Geralt) abilities and weapons necessary for combat or fight you will encounter on your journey. These things are upgradable and customizable, only possible if you obtain the requirements.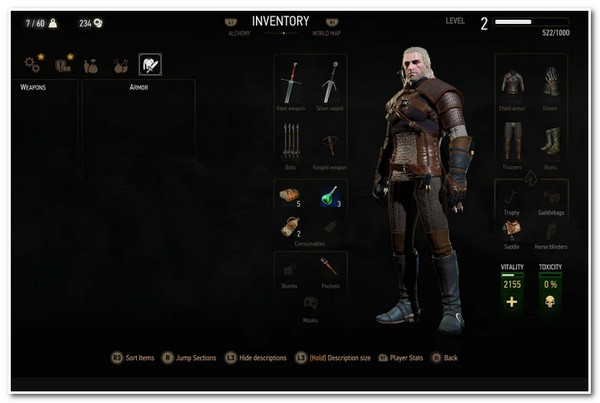 Character Ability - Geralt has different Character Abilities which you can be customized and improved through spending ability points (this point is attainable during the journey)
Gear Upgrades - Geralt can use different armor and weapon, which can be upgradeable through Gear Upgrades from merchants or in special chests.
Crafting - Geralt can create weapons and armor out of various components.
Alchemy - The same goes with Crafting; Alchemy is a process where you can convert substances to various additional weapons.
The Game's Activities
Other than those things, aside from the primary purpose which you need to accomplish, there are also side quests that you'll encounter during the adventure. These include the Main Quest, Side Quest, Monster Hunts, Horse Races, and Gwent Card Game. Achieving these missions provides you with various rewards.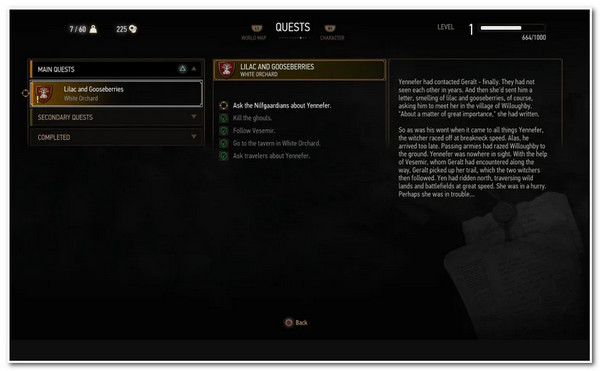 Side Quest - Most activities included under Side Quest are fulfilling contracts, treasure hunts, hunting monsters, etc. But these Side Quests are only available under specific levels and conditions; some are linked with other quests.
Monster Hunts - You'll need to deal with different contracts, usually focusing on hunting monsters. You will encounter these contracts on notice boards.
Horse Races - Doing Horse Races is beneficial in making your character Geralt improve his craft. Doing this activity, you'll earn saddlebags, producing items for inventory. On the other hand, saddlebags could also boost your horse's stamina and gain blinders.
Gwent Card Game - During the adventure, you'll meet people who know and are willing to play the Gwent game.
These are just the scope and overview of what you should expect playing The Witcher 3. You can download the game on your PC and try it firsthand to explore and learn more about it little by little. If you can master the game's algorithm, you can now record the Witcher 3 gameplay and publicize it on social media platforms.
Part 3: FAQs about Witcher 3 Gameplay
1. What would be the best format and frame rate to set recorded Witcher 3 gameplay?

The best format to export recorded gameplay is MP4 because almost all social media and video-sharing platforms support this format. Set your recordings to 60 fps and above if we discuss FPS. You can use the AnyRec Screen Recorder tool to support this suggested format and fps.

2. Does The Witcher 3 requires me to pay before I can play it?

No, this game will not require you to pay before playing it. You can download it on your PC for free, and you don't need to bother yourself with the first two released games, for they are not available on this present-day consoles. In that case, you can skip them and enjoy playing The Witcher 3.

3. What are the required PC specs I need to consider before downloading The Witcher 3?

The required PC specification for this game, The Witcher 3, is that your PC should have a 64-bit and runs Windows 7 or 8 (8.1) OS. It should also have 50 GB available space, 6 GB RAM, and Nvidia GPU GeForce GTX 660 or AMD GPU Radeon HD 7870 graphics card.
Conclusion
There you have it! That's the Witcher 3: Wild Hunt overview and the best to record your Witcher 3 gameplay. Those brief overviews are the basics you need to know as a new player of this game, for they are the ones you will usually encounter and the things you need to work with. Suppose you can get along already with this game's processes, activities, algorithms, etc. In that case, it's time for you to use the AnyRec Screen Recorder to record Witcher 3 gameplay. With this tool's advanced Game Recorder feature, you can capture every moment of your gameplay with high quality! Feel free to visit this tool's official website to explore its other advanced features!
Related Articles: