MP3 vs. MP4 - Differences and Comparisons You May Want to Know
Are you a movie buff who enjoys viewing movie trailers and listening to music? Then you should be familiar with the terms MP3 and MP4. Maybe you just know that MP4 is a video format and MP3 format is designed to save audio files. But do you know more about their relationship and detailed differences? This article will make an overall comparison of MP3 vs. MP4. Please continue reading to have a thorough grasp of them.
Part 1: MP3 VS. MP4 Comparison: What are they and Which is Better
What is an MP3?
What is an MP4?
MP4, or MPEG-4 Part 14, is a container format as well as a video file format. It can save video, music, images, text, and subtitles all in one file. MP4 can contain a variety of audio codecs, including AAC, ALAC, and others. Most digital gadgets, game consoles, DVD players, websites, and social media platforms now support MP4. Just like MP3, MP4 file format is highly compressed, resulting in smaller file size. Furthermore, smaller file sizes do not always imply lesser quality; the format maintains roughly the same quality as the original while substantially shrinking the file size, making it the ideal choice for compressing anything quickly.
Overall Information about MP3
Pros

It is easier to stream because the file size is much smaller than that of a CD.
Because of the small file size, hundreds to thousands of songs can be stored on an internal or removable storage.
Uses a "lossy compression" technique that removes bits of elements in sounds that are unlikely to be noticeable by human ears.
Cons

Converting digital audio to a variety of compressed formats will degrade the quality even more.
It encourages both virtual and physical piracy, which harms copyright.
Analysis of MP4
Pros

Provide full compatibility with a wide range of operating systems, making the format incredibly dependable and easy to disseminate, which is rare in the field of video and audio formats.
The MP4 file format is highly compressed, resulting in lower files.
Can include metadata and the Extensible MetaData Platform, as well as subtitles, images in the JPEG or PNG formats, and PDF.
Cons

Due to difficulties with codecs or codec-player compatibility, audio can sometimes drift out of sync with the visual.
The popularity of the MP4 format, along with its portability, has allowed for the unlawful distribution of copyrighted audio-video files.
Differences Between MP3 and MP4
| | | |
| --- | --- | --- |
| | MP3 | MP4 |
| File Extension | .mp3 | .mp4 |
| Store Content | Audio | Audio, video, text, images, etc. |
| Codec | MP3 | Video: H.264, H.265/HEVC, MPEG-4Audio: AAC, MP3, AC3 |
| Output File Size | Smaller than of MP4 | In the same situation, MP4 is larger than MP3. |
| Output Quality | The standard of quality is relatively poor. | Because MP4 uses the AAC or ALAC audio codec, the quality is superior over MP3. |
| Compatibility | Almost all media players and devices. | Supported by the majority of digital devices, game consoles, DVD players, websites, and social networking platforms. |
| Usages | Store audio with small file size. | Store video, audio, subtitles, images, etc. |
Which One Is Better?
Both MP3 and MP4 have their strengths and weaknesses depending upon the situation. For a long time, MP3 has been the standard for audio files and has become one of the most widely utilized audio formats. Because MP3 is the default standard for digital audio compression for both transmission and playback, most digital music players use it. So, if you want to save a lot of music on your device, MP3 is suitable for you.
On the other hand, the MP4 format can be used to save audio and video data. Audio and video in MP4 format can be streamed over the internet. Furthermore, less-compression MP4 files take up a lot more space, but if you have the capacity on your hard disk, they are well worth it.
Part 2: MP3 VS. MP4: How to Convert between MP3 and MP4 Formats
When you want your music to have a smaller file size due to the insufficiency of your storage, you need to convert the audio to MP3. On the other hand, if you want to watch audio with subtitles and high quality, you can convert your files to MP4. As a result, it is possible that you will need to convert between MP3 and MP4. The best option to do the task is to use AnyRec Video Converter. This MP3 MP4 converter software will help you in converting your files into different file formats such as MP3 and MP4. Follow the given steps below and enjoy listening to your favorite music!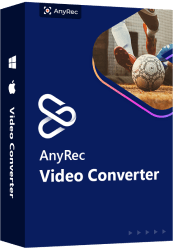 Best Features of the Ultimate Video Converter:
Convert any video or audio to the file formats as you like, including MP3 and MP4.
Equipped with a built-in video editor helps in creating and editing your videos.
Able to adjust the video and audio quality to keep a high quality to export.
CPU acceleration enables you to convert a batch of files quickly.
Step 1.On your device, download and install the Video Converter. To begin adding your files, click the Add File button after you have completed the installation process. If you like, you may also drag and drop all of your video files into the software.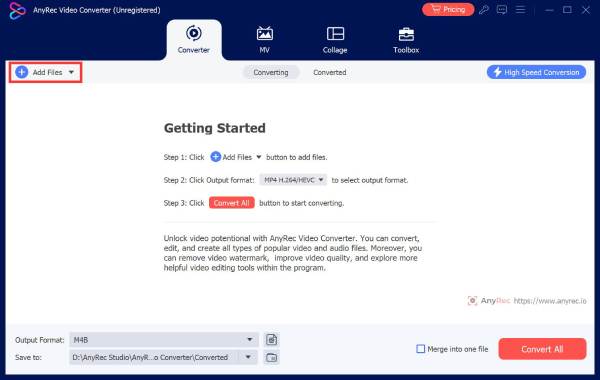 Step 2.After the files have been loaded and presented on the software interface, select the desired format. Click the Convert all files to button on the top right-hand side. A new pop-up window will appear on the screen. Select MP3 or MP4 from the list of formats under the Video tab.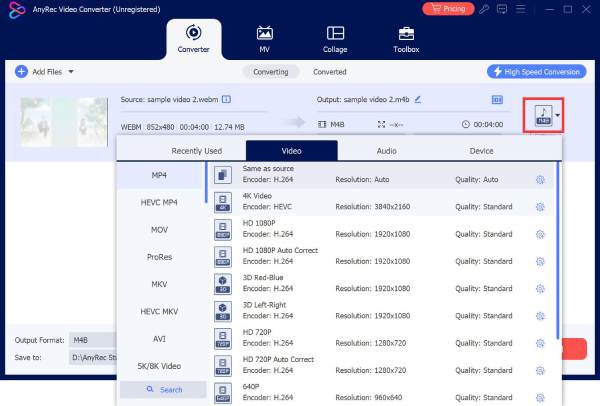 Step 3.Lastly, on the bottom area of the app, you may click the Save To button to choose your file's location. Then, you may now proceed in converting your files by clicking the Convert All button.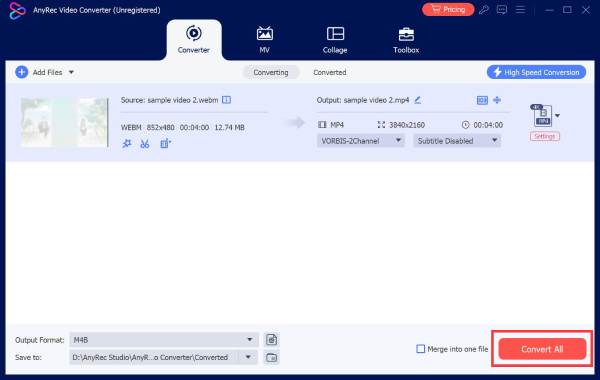 Part 3: FAQs of MP3 and MP4 Formats
1.Is MP3 better than MP4?

As mentioned above, both have their strengths and weaknesses. However, if you want to listen to your favorite music, MP3 is appropriate for you. While MP4 is best for movie viewing.

2.Is it possible to save audio files in MP4 format?

Yes, audio files can be saved in MP4 format. Although the audio quality will be better, the download size will be larger than MP3. Audio files should be saved in MP3 files to conserve space.

3.Is MP4 similar to M4V?

Yes. MP4 and M4V are both a container formats as well as video file formats which contains video, audio, images and texts. But they are used on different devices. M4V is better for iOS devices.
Conclusion
To sum up, the facts, advantages, disadvantages, and differences of MP3 and MP4 are discussed above. You should now be able to distinguish between MP3 and MP4. MP3 has a smaller size, while MP4 includes more file types in higher quality. Additionally, we have given the most outstanding tool to help you in converting between MP3 and MP4. You can convert RAR and other formats to MP4 as well. If you have some questions in mind, feel free to message us.
Related Articles