10 Best Methods to Crop GIFs Online to the Desired Size on Windows/Mac
With all the trending ways to interact over the internet, it is way more fun to have GIF files to respond to your internet friends. You'd better crop animated GIF online before sharing it with your friends to express your thoughts over social media. That's because most GIFs are too large to come through, and the best way to make a smaller GIF is to crop GIF online. You can find the best ten online GIF cropper in this post. Let's dive in!
Part 1: Top 10 Websites to Crop GIF Online for Free
Online GIF cropping tools are more efficient for your GIFs. Mostly, you don't have to pay or register to crop GIFs online, so the features are free to use for editing files. With that said, here are the top ten websites to crop GIF online.
1. Ezgif
This online GIF cropper is a popular platform for video and image editing. It has features that can help you crop GIFs online with ease. Its straightforward interface allows you to upload and edit the file right away. After that, you can download the finished product, and it is ready to share on social media. The best part of Ezgif is you can create GIFs out of a movie or video.
Features:
◆ Show a preview of the final output before downloading.
◆ Offer other tools such as video to optimizer and effects.
◆ Enable users to upload files through links.
◆ Process cropping GIFs at a reliable speed.
2. ILoveIMG
This online GIF cropping program provides a whole new experience for GIF editing. With its diverse interface, you edit and crop multiple GIFs online at once, which can be downloaded from various social platforms and sources, including Google Drive and File Explorer. It also supports a multilingual system, where you can change the language settings.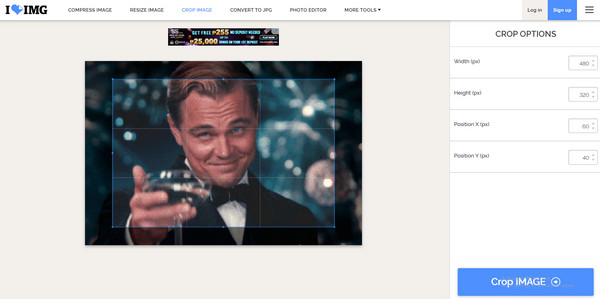 Features:
◆ Enable to crop GIF, JPG, and PNG online.
◆ Offer other tools for image compressor, resize, and meme generator.
◆ Custom GIF cropper to crop GIF in any size.
3. OnlineConvertFree
This website is another good tool to crop GIFs online, in which you can upload any supported file formats ranging from PNG, JPG, and more. Its simple function starts by uploading a GIF, proceeding to select options for cropping, then downloading the file immediately. OnlineConvertFree is also known for converting documents, eBooks, and video files.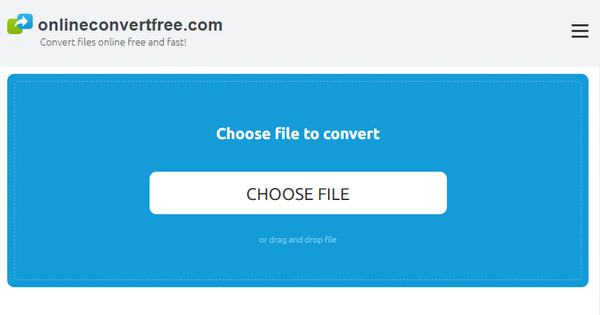 Features:
◆ Allow users to import files within 100MB.
◆ Support about 200 file formats to export.
◆ No registration or sign-up is required.
4. Giphy
Everyone knows about Giphy because it is one of the most reliable sources for funny memes and GIFs. And luckily, it now allows everybody to create their GIFs. Its features involve cropping GIF online, adding colorful elements, and directly sharing results to any social media platform. It is fun to create GIFs and memes with Giphy!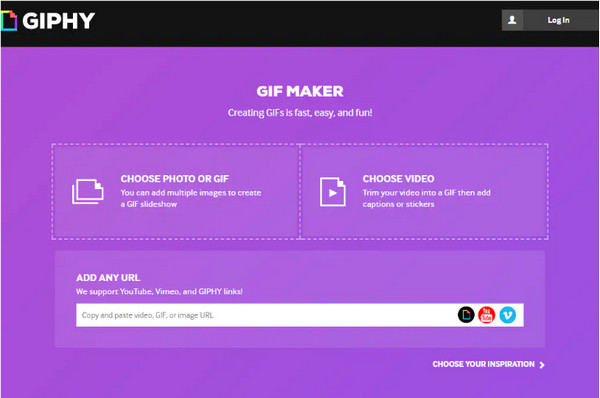 Features:
◆ Suitable to create GIFs with images and videos.
◆ Free registration to keep unfinished projects.
◆ Share cropped GIFs to YouTube, Vimeo, etc.
◆ Provide add-ons like stickers, captions, and filters.
5. Kapwing
Aside from its online GIF cropper, Kapwing is integrated with various video and image editing functions. You can easily handle cropping GIFs, while you can also create new GIFs out of media files. The downside of this online GIF cropper is it might take you a while to learn how to navigate it because of its complex interface.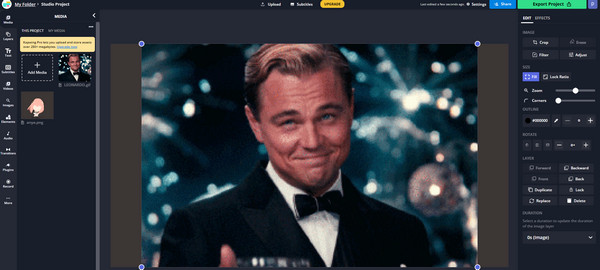 Features:
◆ Professional GIF maker.
◆ Offer templates to do a project.
◆ Necessary tools like trimmer, filter, and adjuster.
◆ Safe zone feature for specific social media uploads.
6. GIFGIFS
You can crop GIFs online with GIFGIFS' efficient cropping features. It shows you the ability to settle the GIFs size while you can quickly navigate the platform to your preference. Unfortunately, working with GIFGIFs is also experiencing useless advertisements and sometimes distorting your file.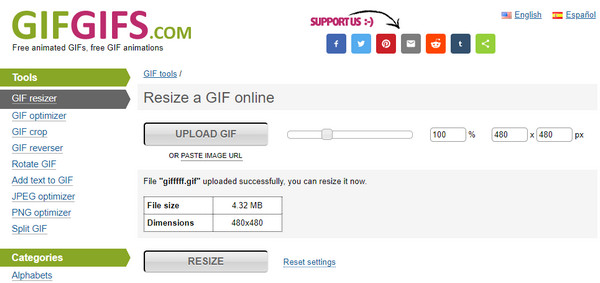 Features:
◆ Featured categories for inspiration.
◆ Tools included are GIF reverse, rotator, etc.
◆ Enable to optimize GIFs with high quality.
7. GIFGIT
This website is an excellent way to crop GIFs online. If you like a quicker way to crop GIFs, GIFGIT can help you with that. Of course, if you want to take your time editing your GIF files, you can add text, colors, and tones to beautify your work.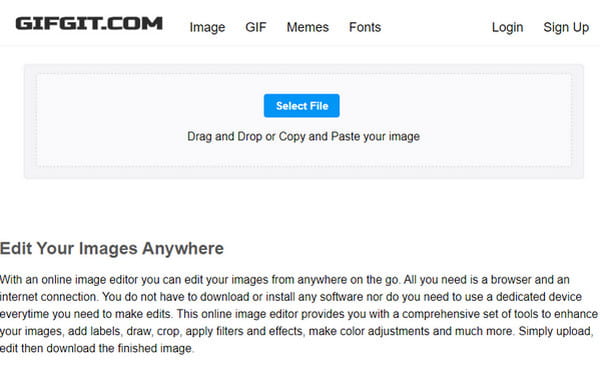 Features:
◆ Suitable for making memes.
◆ Provide essential editing tools to rotate, add effects, etc.
◆ Quick and smooth finishing process.
8. GIFMake
If you want to compile all the funny images you have collected, GIFMake is the best one for you. It also offers you to crop GIFs online while you can change the size and transition speed of your photos.
Features:
◆ Edit animated GIFs with preview.
◆ Animation speed can be up to 10000ms.
◆ Provide plain background for GIFs.
9. MakeaGIF
Whether you want to crop GIFs online or create one from scratch, you can do both with MakeaGIF. The website has options for uploading images from YouTube, Facebook, and other sources.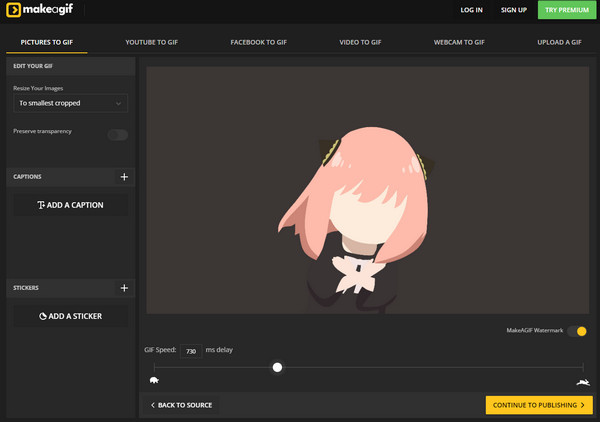 Features:
◆ High-quality output GIFs.
◆ Enable to keep projects in one account.
◆ Include stickers, caption, and resize.
◆ GIF speed can be slow or fast.
10. ImgFlip
Make the best GIFs from photos and videos and crop GIF online with ImgFlip. It also supports MP4 and OGG files, which you can get from your computer or paste a URL. Upload a compilation of images and edit the height, width, and quality to create a great GIF.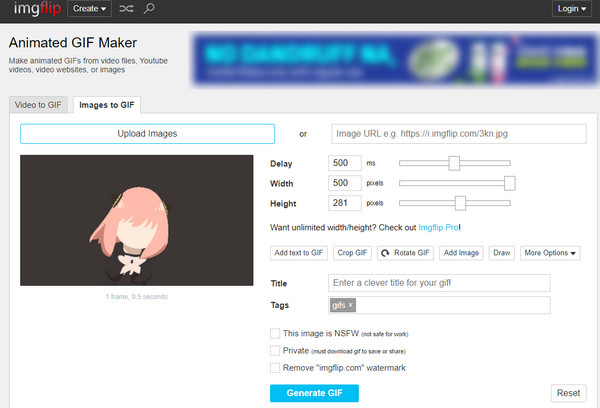 Features:
◆ Provide a preview function while cropping GIF online.
◆ Enable to upscale photo quality and generate good results.
◆ Free and easy to use with the intuitive interface.
Bonus Tips: No Enough Feature to Crop GIF Online? The Ultimate GIF Maker
If you are unsatisfied with the websites where you can crop GIFs online, AnyRec Video Converter is an excellent alternative to edit GIF files. It is a desktop tool that provides many editing functions like trimmer, cropper, rotator, reverser, and more. Creating GIFs with this software ranges from compiled images to a video. Just upload the file you want to turn to GIF, and AnyRec Video Converter will automatically do the rest and crop GIFs.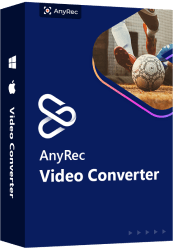 AnyRec Video Converter
Good GIF maker with many functions to create high-quality GIFs from videos and images.
Provide many editing features, such as cropping GIF with the desired apsect ratio, add filters, etc.
Able to adjust the GIF settings, including the frame rate and resolution to keep the high quality of the output.
Additional tools like converter, compressor, merger, speed controller, reverser, quality enhancer, and more.
Part 3: FAQs about Cropping GIF Online
Which website can crop GIFs online without getting a watermark?

The best tool you can use to create and crop GIFs online is Ezgif. It is free and naturally creates GIFs out of compiled photos. But if you want to make your watermark, AnyRec Video Converter is the best solution.

Why are GIFs of low quality?

The GIF format only supports about 256 colors, so even if you have a high-quality photo or video as a source, the GIF will turn low resolution or slightly blurry after cropping. Don't worry; everyone still enjoys good memes out of GIFs, even if it's low in quality. Thus, you can convert MOV to GIF whenever you find interesting things.

Which are the best apps to make and crop GIFs on my phone?

Giphy has an app version you can download on Android and iOS. You can try ImgPlay, GIF Maker, and GIF Me for other recommendations!
Conclusion
Now you can crop GIFs online with the best websites. You can also try AnyRec Video Converter for an endless creation of funny GIFs. You can also find more features of this software. Try the free trial version and experience its powerful tools for converting, enhancing, and modifying media files!
Related Articles