How to Resize Videos for Instagram to Fit the Required Aspect Ratio
Posting on social media is relatively easy when you have a device to capture good-quality video. Especially on Instagram, where you can be an instant creator, you just need to post videos fitted with the social network's aspect ratio after resizing videos for Instagram. Instagram has established a file size limitation that might be a minor problem if you produce videos with large file sizes. To avoid this situation, this article provides 5 easy ways to help you resize videos for Instagram and upload content with good quality.
Part 1: The Required Aspect Ratio for Instagram Story, Feed, and IGTV
If you are an Instagram lover, you would know that the app has different places to post content inside of it. And these places to post videos on Instagram have different allowed duration, aspect ratios, and sizes. So to give heads up, let's discuss the four types of video posting on Instagram and their specification, which will help you resize videos for Instagram.
1. Feed
The first and foremost type of posting on Instagram is the Feed, where most people post their pictures and video for their friends to see. You can use between 9:16 and 4:5 for portrait or landscape videos. Pixels of videos should be from 600 × 1067p to maximum 1080 × 1080p. The videos should be 3 to several seconds long.
2. Story
The second is the Story part of Instagram. People mostly use this if they want the post to disappear after 24 hours. The only allowed aspect ratio of the video is 9:16, with the maximum pixels of 1080 × 1920p. The video can be 15 seconds long; however, it will automatically split it if it exceeds the fixed duration.
3. IGTV
IGTV is one of the recent new features of Instagram. It allows a 10-minute video and offers two aspect ratios: Vertical is 9:16, Horizontal is 16:9. It is the same 1080 × 1920p as the first-mentioned. So you can resize videos for Instagram to these two sizes.
4. Reels
The Instagram Reels is just like the TikTok app. You can scroll down and watch nonstop funny videos. The aspect ratio is 9:16, with the recommended size of 1080 × 1920p. You can post a 60-second video here.
Part 2: The Best Way to Resize Videos for Instagram on Windows/Mac
If you use a laptop or computer to edit Instagram, this part is for you. It is recommended to use a professional tool to resize videos for Instagram. Like AnyRec Video Converter, a video resizer with powerful tools to resize, edit, and improve videos for Instagram. This software enables you to control the size you want for your video and instantly finishes the job. With AnyRec Video Converter, your friends on Instagram will see your creativity through the videos you post.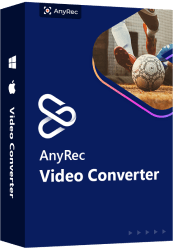 The Best Software to Resize Videos for Instagram:
Resize video files in any format for Instagram and keep high quality.
Powered by AI technology to enhance video resolution.
Offer editing tools like applying effects, trimming, cutting, and more,
50x faster speed on resizing video files for Instagram posting.
How to resize the Instagram video with AnyRec Video Converter:
Step 1.Download the software from the official website and launch it on your device. Click the Plus button in the middle part of the pane and choose the video you want to resize for Instagram.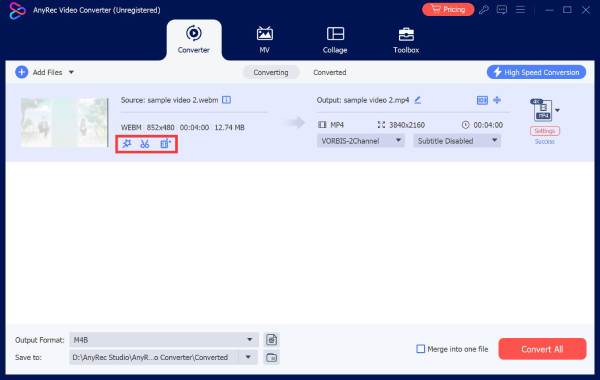 Step 2.If you want to improve the video file, click the Star Wand, Scissors, and Palette icons, and you will be able to cut and trim. Choose the desired aspect ratio, and then you can also drag the borderlines to adjust the size further. After that, click the OK button to save the changes.

Step 3.Go back to the main interface and choose a folder, and them you are ready to click the Convert All button to start the resizing process. For a 1 minute long video, it will be done in seconds. The chosen folder will appear with the newly resized video for Instagram.
Part 3: How to Resize Video for Instagram through the Default Function
Unless you capture the video through the Instagram app, it is automatically set in the default size and follows other settings of Instagram. You don't need to use other apps to resize videos for Instagram. However, if you shoot a video from a DSLR or not inside Instagram, you might need to resize your video so the app can allow you to post on your account. Other tips for you to easily resize and edit video on Instagram:
◆ Keep your video short, especially for Instagram Story and Feed. It will keep the video quality good if you jump right into the primary key content.
◆ Post a video with the possible resolution to avoid a very low quality. It will help your video be representable even if Instagram lowers its quality.
◆ Apply filters that are fitted with the video. There should be no limitation when you want to produce creative videos. But not all filters are applicable. Choose wisely.
Part 4: 3 Resizer Apps to Resize Videos for Instagram on Android/iPhone
In this part, you can also learn about three video resizers for Instagram on Android and iPhone. You can use them to edit and crop your videos for uploading on Instagram.
1. iMovie
iPhone users are familiar with this app. It is a built-in app for Apple products with advanced tools to resize videos for Instagram. You can resize the videos by changing resolution or trimming the start and end parts of the file. You can learn the detailed steps to crop videos on iMovie here.
Pros

The output quality is excellent.
Gestures supported.
Cons

The interface is not user-friendly.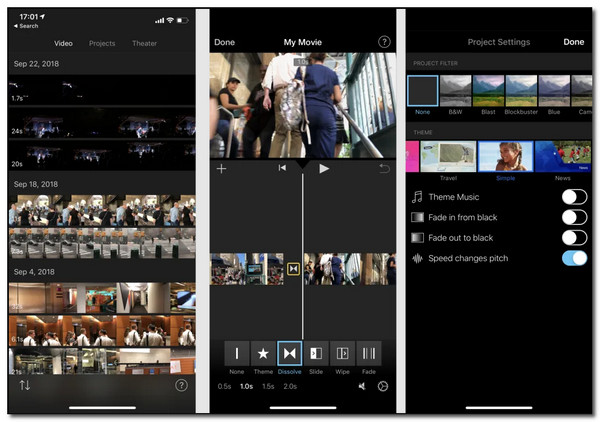 2. Video Slimmer
A video resizer for Instagram posting like Video Slimmer is a must-have for Android and iPhone users. You can download it for free and achieve resized video in a few clicks. Also, this video resizer uses a codec optimizer which helps produce high-quality video.
Pros

Support batch video resizing.
Support various video file formats.
Cons

Require iPhone users to purchase the app.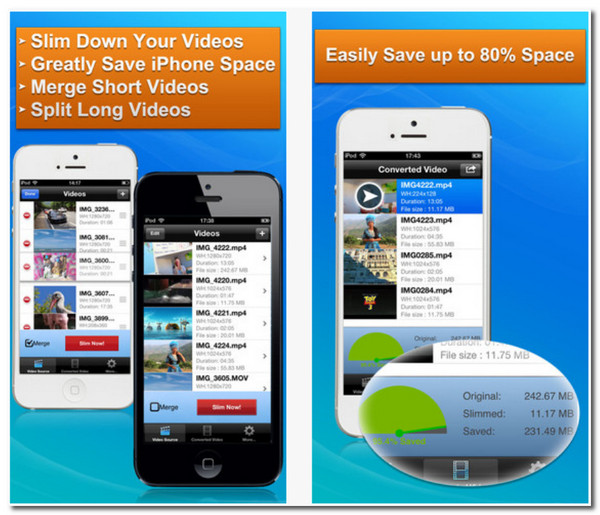 3. Video Compressor
Another video resizer for Instagram that is compatible with Android and iPhone devices. It is easy to use and offers the essential tools for resizing videos for Instagram. It also support compressing videos to smaller sizes. Moreover, it allows you to share the resized video on your social accounts directly.
Pros

Free to use essential features.
It produces good output quality.
Cons

Sometimes crashes during resizing videos.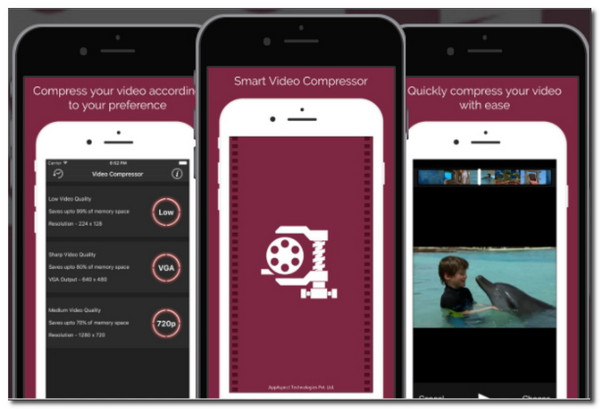 Part 5: FAQs about How to Resize Videos for Instagram
1. What video file formats does Instagram support?

Instagram supports MP4 and MOV file formats, and videos with these file formats are the only ones allowed to be posted on Instagram. If you have a video that is not MP4 or MOV, use AnyRec Video Converter to convert it.

2. What is the recommended size for Instagram videos?

The recommended size for Instagram videos is 1080 × 1920p. This is applicable for all types of posting on Instagram. So you'd better resize videos for Instagram to 9:16 aspect ratio.

3. Can I post horizontal videos on Instagram?

It is possible to post a horizontally oriented video on the IGTV channel. However, you need to keep in mind that you need to resize videos to vertical for Instagram Story, Feed, etc.
Conclusion
Resizing videos for Instagram is essential because it will help you to have a beautifully posted video on your newsfeed. It is not hard to resize the video with the help of AnyRec Video Converter as it will professionally crop and compress your video files. Have other questions? Please contact us now.
More Related Articles