Get Top 8 Chrome Video Converters to Convert Videos on Chromebook
Do you have some videos stored on your files that are not compatible with your Chromebook? You may need a chrome video converter that enables you to convert or alter the videos to compatible formats. In this way, you can easily play any video smoothly and send the converted videos to others.
There are so many chrome video converters that you can find online, and it will be hard for you to choose the best one. You may take a long time trying and testing everything you find online. That is why we have tried many chrome video converters and will give you more knowledge about them. Just keep on reading the whole post, and we will make sure that your time will be worthwhile.
Part 1: Reviews of the Top 8 Best Chrome Video Converters
The Chrome video converters listed here are simple to use and accessible. Furthermore, they are all of exceedingly good conversion quality. These eight converters are the best you will discover, with the highest conversion quality conceivable. Learn more about their features below.
1. Video Converter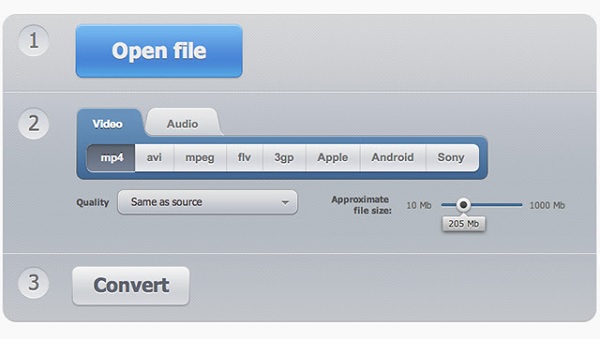 Video Converter for Chrome is a highly customized Chrome video converter extension. Your files can be loaded from your PC, Google Drive, Dropbox, SkyDrive, and website URLs, among other places. This Chrome video converter supports all the common and standard formats, including MP4, AVI, MPEG, FLV, MP3, WAV, and device presets (Apple, Android, Samsung, Blackberry).
Pros

Allows you to change the format, resolution, or size of your video.
Assurance of safety.
Cons

The conversion process may take some time.
Limited file format to convert to.
2. Clipchamp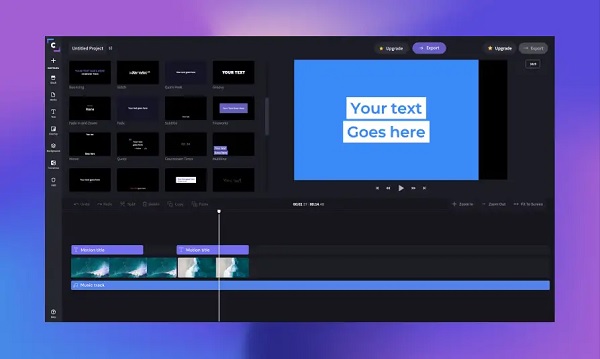 Clipchamp is another Chrome video converter that allows you to load videos from your PC or import them from Google Drive. This is a free online video editor that allows anyone to create compelling video stories. It provides users with professional tools and capabilities ranging from basic editing and cropping to efficient online screen recording and unique effects such as Green Screen. Even better, it integrates directly with Google Drive and Google Photos.
Pros

Allows users to export their films in various formats and aspect ratios.
Clipchamp's stock library provides 800,000+ video and audio files to users.
Cons

Depending on the file size, the conversion procedure may take some time.
Occasionally, this Chrome video converter will stop working.
3. Best File Converter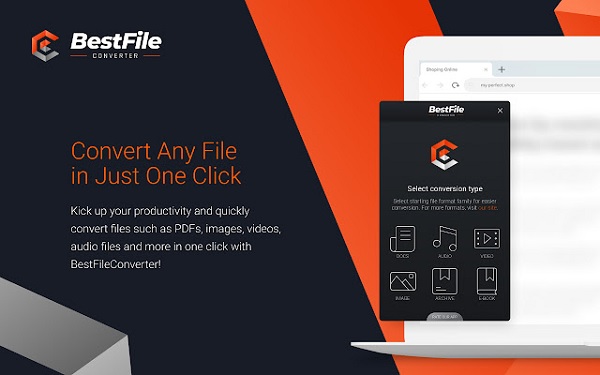 The video file formats aren't the only ones that Best File Converter can handle. Using this Chrome video converter, you can convert ebooks, images, documents, archives, and audio files.
Pros

Support different kinds of files in any formats.
Cons

It may cause malware on your computer.
There will be a lot of advertisements that will appear on your screen.
4. Converter356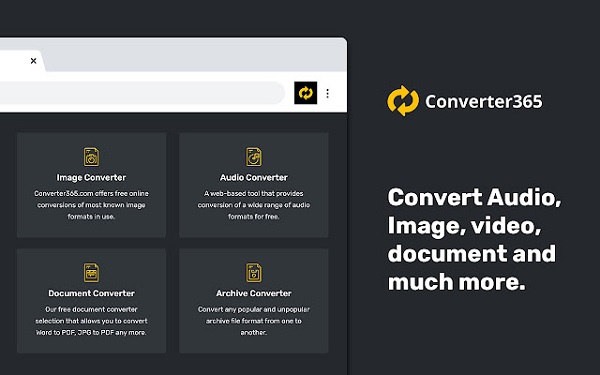 Converter365 is a free and universal program that allows you to convert 1000+ files on Chromebook. The conversion process at Converter365 is also pretty straightforward. Simply select the video converter from the menu of the Converter365 Chrome extensions.
Pros

A wide range of video, audio, image, vector, spreadsheet, presentation, ebook, archive, and document formats are accessible for conversion.
It has an interface that is simple to use.
Cons

This video converter has file size limitation of 200MB.
5. CloudConvert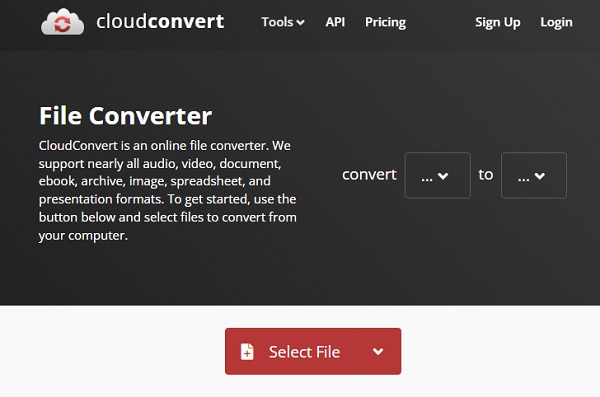 CloudConvert is a simple, easy-to-use Chrome video converter. In addition to the conversion, you can also trim the video from the beginning and conclusion. The conversion quality is assured, and purchasing the application's premium version adds further layers of security when using it in the long run.
Pros

Audio, video, document, ebook, archive, image, spreadsheet, and presentation formats are all supported.
Contains a database of over 200 formats for various file type.
Cons

Slow conversion speed.
6. Grab Tube's Converter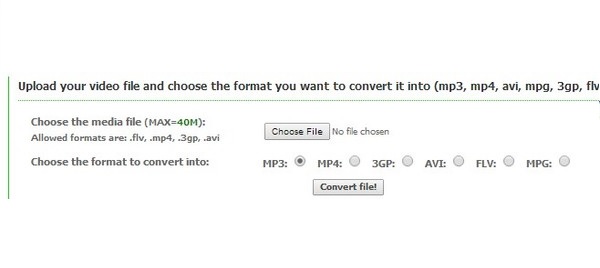 Grab Tube's Converter allows you to convert videos and audio recordings up to 40MB in size. MP3, 3GP, AVI, FLV, MPG, and other standard formats are also supported by this Chrome video converter. Thus, you can simply convert MKV to MP4, MOV to AVI, etc.
Pros

It allows you to convert downloaded videos on Chromebook.
Cons

The supported file size is too small.
7. Online Video Converter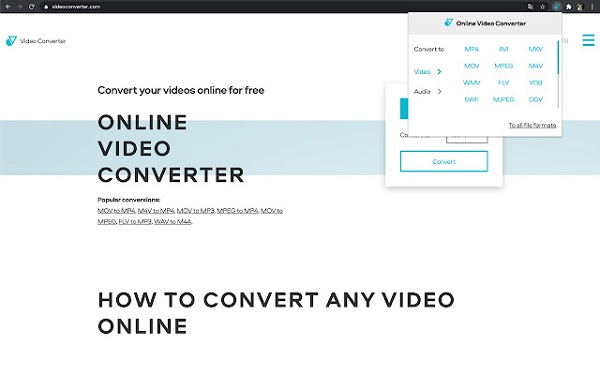 This Chrome video converter extension allows you to change the video format of your files in a matter of seconds. It's an easy way to get to a free online video converter that can also compress videos.
Pros

Up to 2 GB of huge media files can be uploaded.
High-definition videos and clips are supported (1080p and higher)
Cons

It does not support batch conversion.
8. Easy Video Converter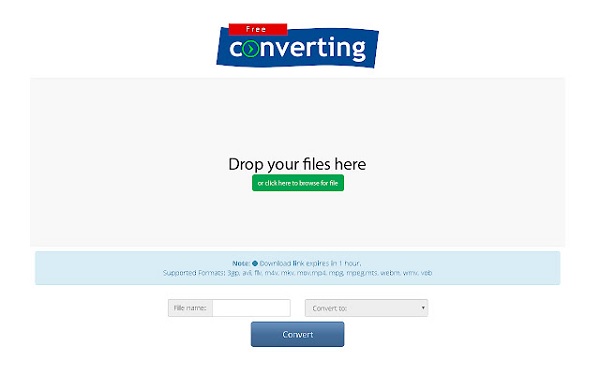 It is a simple drag-and-drop Chrome video converter. With this simple video converter, you may convert your video files to different formats. It supports a variety of formats, including mp4, avi, flv, and more.
Pros

This video converter is user-friendly.
Cons

It does not support converting big file sizes.
Bonus Tips: The Ultimate Video Converter for Windows/Mac
In addition to Chrome video converters, this article also provides a professional video converter for Windows/Mac that makes your conversion hassle-free. AnyRec Video Converter is one of the most reliable and powerful video converters because of its one-of-a-kind features. Unlike some video converters, this tool allows you to convert a large number of videos at once with no file size limitations up to 50 times faster than ever. Moreover, it enables you to convert from all popular formats to ensure that your file is compatible with any device. Download this software now on your Windows/Mac and make your conversion easier!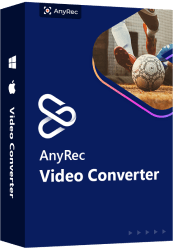 Exceptional Features of the Most Recommended Video Converter:
Supports converting 1000+ video and audio formats on Windows/Mac.
You can convert video and audio files in bulk 50 times faster than ever, which might save you a lot of time waiting.
Excellent editing features to help you make your videos more pleasing to the eyes.
This powerful tool preserves the quality of your original video during the conversion.
Part 2: FAQs about Chrome Video Converter Extensions
1. Which is the best Chrome video converter?

As mentioned before, Clipchamp is really a good Chrome video converter without size limitation. Moreover, it supports converting almost all video and audio formats. With additional settings, you can keep high quality of the export videos.

2. Is it possible to use Chrome video converter extensions on a mobile device?

Chrome extensions are not compatible with the Chrome browser on Android devices. Sure, Chrome for Android includes a 'Desktop' option, but it does not behave like the standard Chrome browser on a computer, with all of its add-ons and capabilities.

3. Are Chrome Video Converter Extensions safe?

According to Google's guidelines, approximately three-quarters of the extensions in Chrome's store will be rated trustworthy. Not being 'trusted' doesn't mean Google feels an extension is hazardous; it just means the developer is new to the store or has recently broken a minor restriction.
Conclusion
There you have it! Listed above are the top 8 most reliable Chrome video converters that you can easily find on your Chromebook. You can choose the most suitable one to convert videos on your Chromebook. We have also given you a bonus tip on the best video converter on Windows/Mac - AnyRec Video Converter with powerful features. After trying the mentioned Chrome video converters, welcome to tell us your feelings.
Related Article