VSDC Free Video Editor Review: Features, Price, Pros, and Cons
With its recent update, VSDC has improved in both usability and power. Multilab LLC launched VSDC Free Video Editor in 2010 and developed throughout the years. The GoPro official community and many content creators have recommended this feature-rich tool as the best editing software for video content such as gameplay and sports. However, does VSDC a good video editor for you? Will it meet the standards you are looking for an editor? This article will give you a review of VSDC Free Video Editor about its features, performance, price, and more. Be the judge of how good it is. Let's start.
Part 1: A Brief Introduction to VSDC Free Video Editor
VSDC Free Video Editor is a non-linear tool meaning it can combine your video files and images in any sequence and still create a superb composition. It allows you to blend fragments, create layers, or even merge several objects onto one scene and overlap them. It might sound complicated than you expected, knowing VSDC has improved..For this part, you will know the three main features VSDC offers you.
Videos, Animation, Audios, and Images Editing Tool
VSDC was created for editing any supported file type, including MP4, AVI, MOV, FLV, etc. It has powerful tools to enhance your video, such as transitions between segments and text editor, allowing you to design your title and freely modify the audio segments. Of course, since VSDC is a non-linear video editor, it still offers essential functions such as adjusting the video hue, cropping, splitting, and rotting footage. VSDC also does not apply any watermark on your edited video.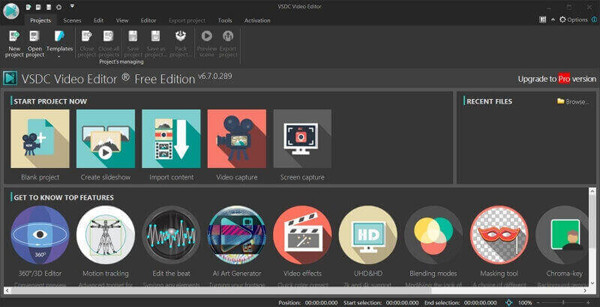 Screen Recording with Webcam
Many users of the VSDC Free Video Editor love its screen recorder. With any recording device, VSDC can adjust the screen region however you like it and allow you to import audio. You don't need to worry about a complicated setup as the software will provide you with recommendations on setting up the screen recorder for easy screen capture. Using the screen recorder function will also lessen the difficulty of editing the video, as you can directly edit it after recording.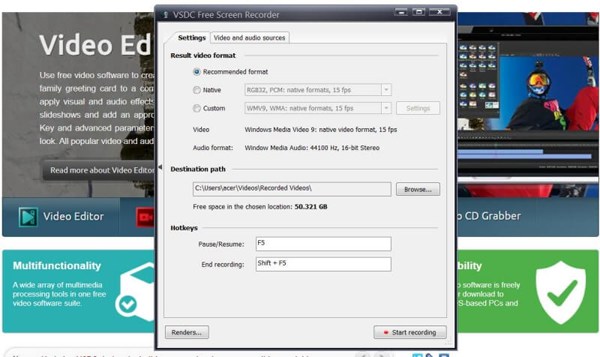 Chroma Key Green Screen Removal
One of the unique functions of VSDC is the Chroma Key. This is best to use if you want to record yourself on a green screen and edit the video to put any background. Users of VSDC Free Video Editor love this most, especially the gamers who want to make their gameplay the stage while playing. But bear in mind that the free version only removes the green chroma. If you have other color screens like blue, you need to upgrade to Pro.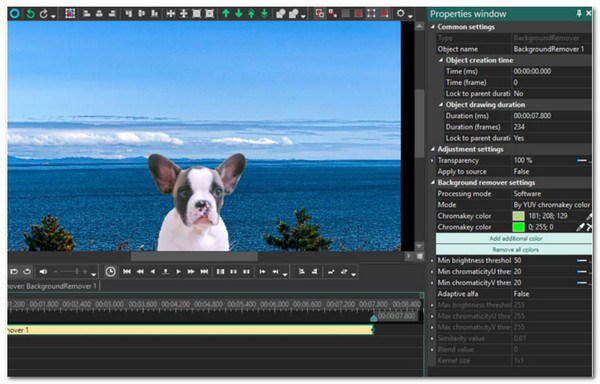 Part 2: VSDC Free Video Editor Review: Pros and Cons
As the advanced tools were introduced, not everyone could use VSDC Free Video Editor. The interface is enough to confuse any beginner. A massive amount of information will flood a user right from opening the tool. Even then, VSDC Free Video Editor offers its professional features for free so that you can use the video editor in no time with a bit of patience. Below are the advantages and disadvantages of VSDC Video Editor:
Pros
It has a primarily supported file format such as WebM, MP4, FLV, APNG, etc.
Support 4K output and 120 frame rate for editing and recording videos.
Directly upload video files to social platforms like Facebook and more.
Offer powerful capabilities such as Chroma Key, PiP, and Color Wheel.
Cons
The program's interface still lacks polishing even after the recent update.
The nonstandard workflow and layout make it hard to navigate and use.
It doesn't show a full-screen video preview.
Sometimes crashes and lose the video-in-progress.
Too many functions are hidden in the submenus of the tool.
Part 3: Is VSDC Completely A Free Video Editor?
The answer is yes. This is always the question regarding the free usage of professional tools like VSDC Free Video Editor with no watermark applied in the videos. However, it is common knowledge that free versions have some limitations. So to break it out to you, there is a Pro version($19.99/yr) of VSDC Free Video Editor. Compared to the free version, it only provides additional hardware acceleration, audio waveform, video stabilization, and some special effects.
Part 4: The Ultimate Alternative to VSDC Free Video Editor
VSDC Free Video Editor comes with many features, but it takes so much of your time learning the program. So, why not go for an alternative tool for video editing? AnyRec Video Converter is the ultimate alternative you could find in the market. You don't have to worry about learning a video editor because this software has a user-friendly interface and is so much easier to navigate than VSDC Video Editor. It offers the best editing tool for your videos, such as video enhancers, effects & filters, subtitles, and many more. You can achieve a professional-looking video by choosing the quality resolution for your content.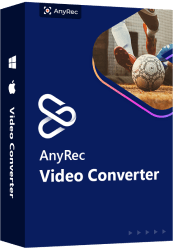 AnyRec Video Converter
Offer 1080p and 4K resolution quality for uploaded video files.
Support various file formats such as MP4, MKV, MOV, WebM, etc.
It has a 50x faster speed to save files with full GPU acceleration.
Enable to merge batch videos into one file without losing quality.
Step 1.Download the program to its official website and run it to your device. Click the Plus icon in the middle of the pane to choose the file you want to edit. You can add another file by clicking the Add Files on the left part of the pane.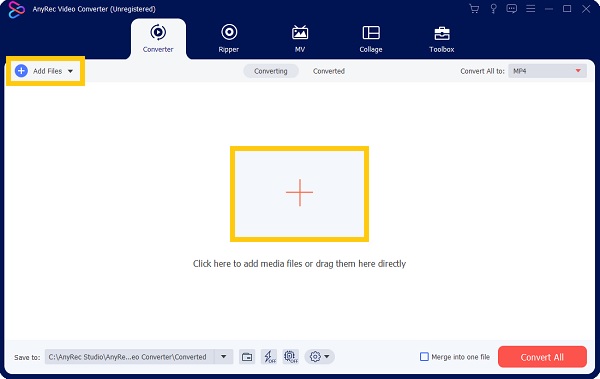 Step 2.Click the Star Wand icon under your file's name, and you can see the various tools such as cropping, zooming, applying effects or filters, increasing audio volume and adding subtitles. If you want to cut the video into several segments or trim it, click the Scissors icon beside the Star Wand.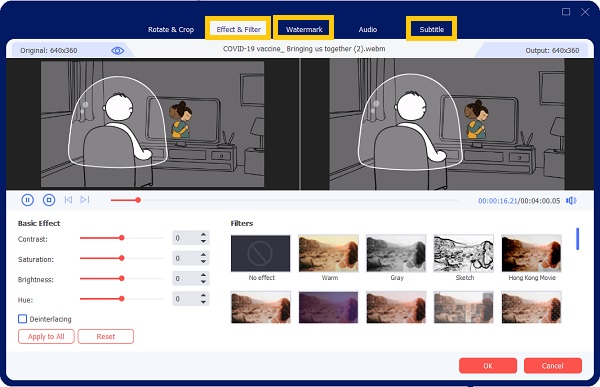 Step 3.Removing noise, reducing the video shakiness, and even upscaling the resolution can be found on the Pallet icon. You can manually apply the changes or click the Apply to All button to make it easy. Once you are done with editing, click the Save button.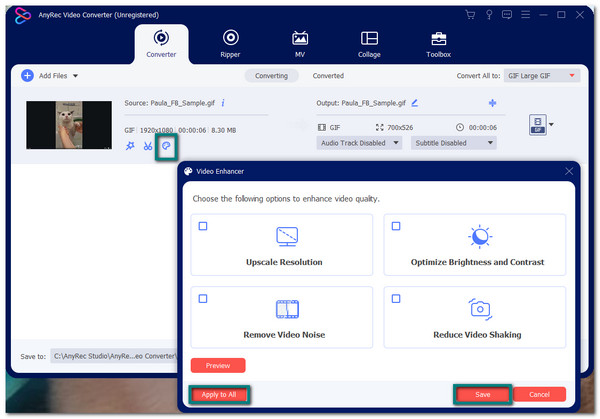 Step 4.Browse in the Save To option to choose the folder to save your video file. Once everything is done, click the Convert All button to start the process, and the alternative to VSDC Free Video Editor will automatically save the video to the selected folder.
Part 5: FAQs about VSDC Free Video Editor
How to add subtitles to my video in VSDC Free Video Editor?

Go to the Editor menu and locate the Subtitles to add text to your videos. You can directly upload an SRT file from your computer's folder. You can click the Text tool to type the subtitles manually in real-time.

What is the system required for VSDC?

VSDC Free Video Editor only requires very low system requirements. It requires as little as RAM 256Mb for the program and 50MB of free disk space. This is truly incredible as you can't find another non-linear video such as this.

Is VSDC safe to download?

Yes. If you are going to the official website of VSDC Free Video Editor, the developers make sure that every new version they release is scanned with all major anti-virus tools. This will ensure VSDC to be clean and safe to download.
Conclusion
To summarize, the VSDC Video Editor is free non-linear software to help you make professional videos. It might take a little time to get used to this program; you might as well use AnyRec Video Converter. As an all-in-one solution, it will not let you down with the video editing tools it offers. If you have more questions, please contact us.
Related Articles