6 Fresh Ways | How to Get Rid of DVDs without Harming the Environment
A fresh new year is coming. Are you thinking about going out with the old and in with the new? If yes, the first thing to do is clean off the old stocks piled up at your home. Old DVDs are such a good example. You probably received numerous DVDs as your Christmas gifts in the past few years and forgotten about them after watching the videos once, or even worse, left them unwrapped. So, what to do with the old DVDs? You can't just chuck them, at least without careful consideration. The following are 6 solutions recommended to get rid of the old DVDs properly. Read them through and prepare yourself for the new year.
Part 1: 5 Ways to Deal with Old DVDs Stocked at Home
Before toasting the old DVDs around your house, you should know there are several friendly ways to deal with them. However, before following the suggestions to get rid of the old DVDs, you should look at the videos in them to better organize and decide which one should be thrown away. Now, follow the lead and take care of these old memories one by one.
1. Play the old DVDs and organize them [Preparation]
Speaking of playing the DVDs, you will need a functional DVD player to check the content. As digital media goes viral these days, finding a workable player is simple, and AnyRec Blu-ray Player is such one you need. Once you install the program on your computer, you can re-watch the old DVDs one by one before deciding which one should be given away or recycled. Although this is a Blu-ray player, you can still use it to play all kinds of DVDs and Blu-rays, for it supports a wide range of DVD and Blu-ray formats, including the latest ones.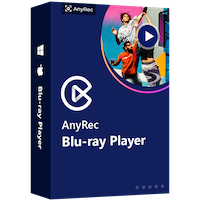 AnyrRec Blu-ray Player
Get seamless and lossless playback of the DVDs.
Enjoy an immersive experience with high-level audiovisual quality.
Adjust the aspect ratio or apply effects during watching.
Load the chapters and titles of the old DVDs within seconds.
Step 1Insert an old DVD into the drive and connect it to the computer. Download, install, and launch this player on your computer. After launching it, the program will generally detect and auto-play the disc. If not, click the Open Disc button to choose your old DVD from the pop-up.
Step 2This player will randomly play a video from the DVD, but you can click the Playlist button to choose a different chapter or video. On the playback control panel, you can adjust the volume, stop the play, go forward/backward, take a snapshot, etc.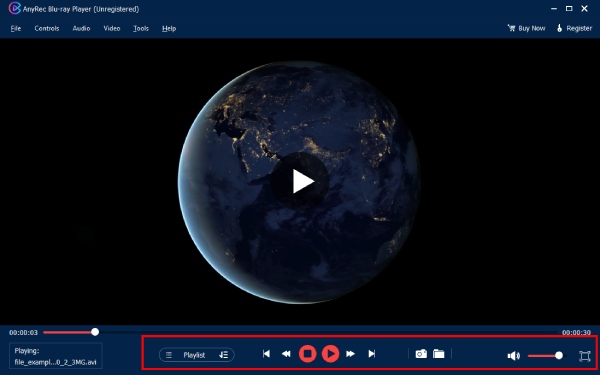 2. Recycle the old DVDs
Fortunately, the old DVDs and plastic boxes are recyclable. So, they can be valuable materials again if you throw them away properly. Most importantly, you can't get rid of these old DVDs and mix them with your household garbage. You can pack these DVDs together and bring them to the local recycling center, which you can look up online. Besides, several institutions would like to pay for these old DVDs and recycle them. So, you may also try and contact such agencies.
3. Sell the old DVDs online
What to do with the old DVDs when you think the videos on them are still valuable? Since you are already tired of the content but still find the videos on the DVDs worth watching, you can sell the old DVDs online and make them valuable to others.
4. Give away to a local library
Another workable solution for the old DVDs disposal is giving them away to your local library. A short visit to the local libraries and you will find they are happy to receive some of the old DVDs for movie or children's program collections. You could also find your DVDs appear to be useless to them. Still, it's worth a shot.
5. Make handicrafts with old DVDs
Old DVDs can become functional again with a little bit of creativity and ingenuity. But, before converting them into decorations in your house, you may want to extract the videos out of them and record the videos to PC is an excellent idea to do so. Then, you can begin to turn these DVDs into little ornaments. Coaster and mosaics sound great.
6. Donate to Goodwill
If the library is already full of the DVDs like yours, consider donating the old DVDs to your nearby Goodwill store, and you can exchange them for tax credits. You can look it up on the local Goodwill website for more details.
7. Keep old DVDs in storage
Before throwing away these old DVDs with the above solutions, think about why you want to get rid of them. Shortly, you might regret doing so. Like in the episode The Old Wagon from Modern Family, Claire regrets selling the old wagon because it holds too many memories of this family, and she can't let it go. Maybe the DVDs are gifts from a distant friend, or they contain funny Christmas songs you used to like when you were little. Therefore, you can sort this out by replaying these old DVDs. Once you decide to keep these, you can find a place in your house and store them properly.
Part 2: FAQs about What to Do with Old DVDs
Can I get money for old DVDs?

Yes, you can. You can also use these old belongings to exchange something. For example, ask the local bookstores if they are willing to accept the used old DVDs and give some old books to you in return.

Where can I sell these old DVDs online?

The Declutter website is an excellent place to sell old DVDs online. It is a big website with millions of CDs and DVDs sold yearly. You might get some allowance through this.

Can I throw the old DVDs directly in the trash bin?

No, you can't. It's best to bring them to the mobile recycling center for recycling. Meanwhile, they can also be put in general waste bags when thrown away. Then, they will be sent for energy recovery.
Conclusion
To conclude, the above solutions for getting rid of DVDs that are no longer useful to you are all workable. Before the New Year comes, you can deeply clean your house and properly get rid of these old belongings. But think twice before you do in case you throw away cherished memories.
Related Articles: