Discover the 10 Best Recommended WebM Video Editors Online/Offline
Since there are only a few video editors support WebM files, editing WebM files can be challenging for many. That is why we explored the web for the 10 finest WebM video editors that you can use both online or offline on your Windows/Mac. Here you will know their features, pros, and cons in detail. Keep reading the whole post to gain knowledge about the best WebM video editors.
Part 1: The Best WebM Video Editor with Powerful Functions
Unsupported file formats are not an issue when you have the best WebM video editor AnyRec Video Converter on your Windows and Mac! This video editor supports over 1000+ audio and video file formats, including WebM files. Moreover, you can edit your WebM files like a pro with beginner-friendly and fantastic editing features. You can make your WebM files into a cool music video, and add filters and effects, trim, merge, rotate, and more to your WebM files. So what are you waiting for? Download this ultimate video editor now and follow the given steps below.
Pros
Supports importing and editing WebM video file format easily.
It has pre-made themes, transitions, filters, and background music.
Extremely easy-to-use but with multiple useful editing tools.
Combine WebM videos into one screen to make a video collage
Cons
Provide no timeline to add effects to different parts separately.
Steps to Follow:
Step 1.First of all, install and launch the AnyRec Video Converter on your Mac or Windows computer. After finishing the installation, you may start uploading your videos to the software. Click the Add Files button or drag and drop them all at once to quickly upload them.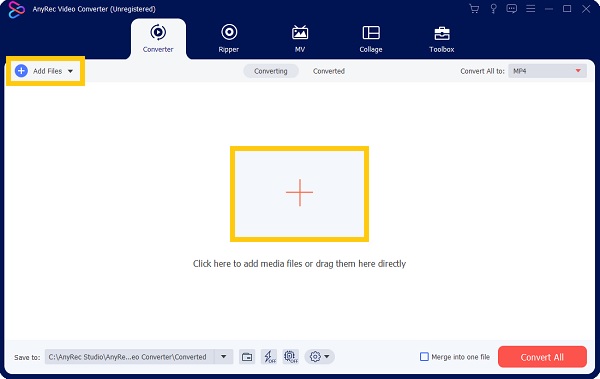 Step 2.Step 2: Next, click on the Edit icon to edit your WebM video files. You can go to the Rotate & Crop section. From there, you can crop, rotate, flip, and change the aspect ratio of your WebM video.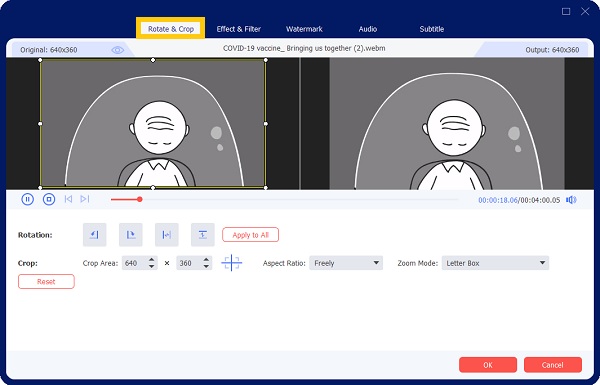 You can also go to the Effect & Filter section to add filters to your videos. From there, you can also adjust the saturation, brightness, contrast, and hue.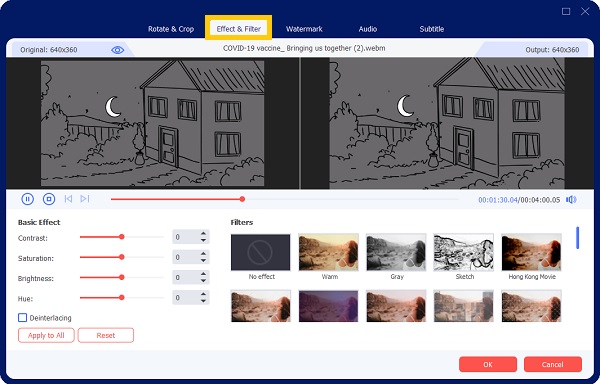 Step 3.Finally, you can now save your WebM edited videos when you are done and satisfied with the outcome. But before saving them, choose a file location first for you to locate them quickly. Click the Save To button. After that, click the Convert All button to save them successfully.
In addition to WebM videos, it's also a powerful FLV video editor on Windows/Mac. With it, you can create wonderful Flash animation without Adobe.
Part 2: Top 9 Best WebM Video Editors for Windows/Mac
Aside from the powerful WebM video editor stated above, you can also consider taking a look at these top 9 WebM video editors online and offline. These video editors are tried and tested for your convenience.
1. OpenShot Video Editor
OpenShot is an excellent WebM video editor for Windows/Mac/Linux because it supports various video formats. In addition to basic video editing features like resizing, rotating, cropping, and trimming, OpenShot has an extensive collection of video effects and animations to help you make your WebM video look more attractive and professional.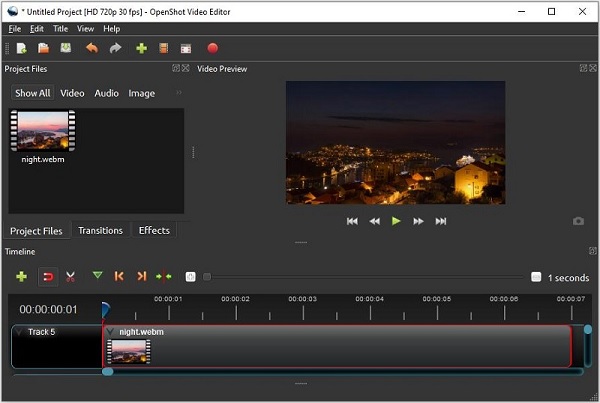 Pros
It comes with a comprehensive set of advanced editing tools.
Very easy to utilize with a simple tutorial.
Cons
The tool frequently crashes when it first starts up.
2. AvideMux
Avidemux is a simple but effective WebM video editing program with all of the tools needed to handle WebM videos. It is inexpensive and easy to use. Aside from that, you may convert the WebM file to more standard formats such as MP4, AVI, and MKV, as well as MPEG and WMV.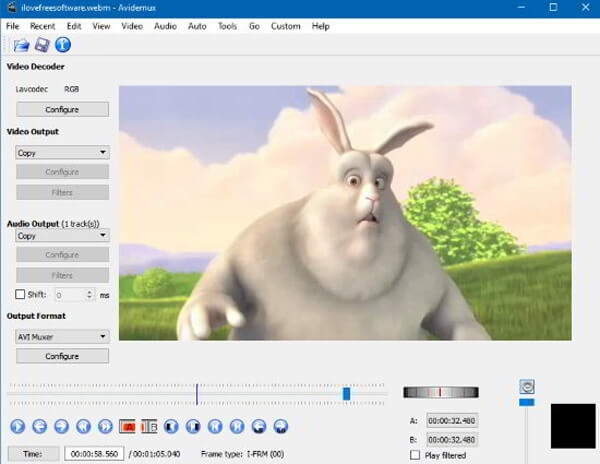 Pros
Video output quality appears to be satisfactory.
The user interface is well-crafted.
Cons
Some editing capabilities, such as merge, are not available from this WebM editor.
3. ClipChamp
ClipChamp is one of the great online WebM editors. Its simple interface allows you to modify videos in minutes. The program also allows you to compress, transcode, and record screens and webcam. It has a large selection of fully adjustable video templates, and you can use its stock media assets to edit your WebM video.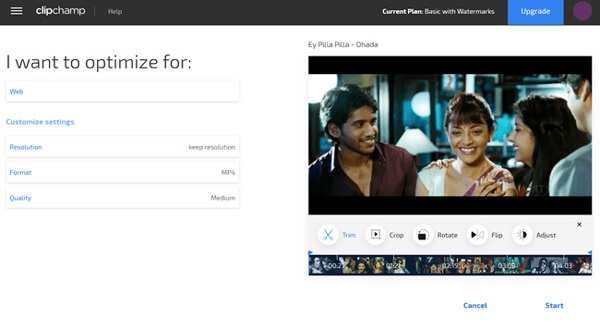 Pros
It has a user-friendly interface.
This WebM editor allows you to make free WebM videos online.
Cons
The free version only exports 480p videos.
The free version of the software adds a watermark to your movies.
4. FlexClip
FlexClip is a popular online WebM video editor that helps you alter WebM files by chopping, flipping, speeding up, or slowing down the movie. It also lets you change the aspect ratio of your WebM video for different social media networks. The site also has hundreds of professional templates and thousands of movies, music files, and photos.

Pros
The produced video has no watermark unless you manually add one.
It supports all well-known video file formats.
Cons
The application is not entirely free to use.
It is a little tough to navigate for new users.
5. AConvert
AConvert is a well-known web-based WebM editor that includes basic video editing features. It allows you to edit WebM files and convert them to various other formats. Aside from video editing, the software can also alter or convert ebooks, papers, and audio files.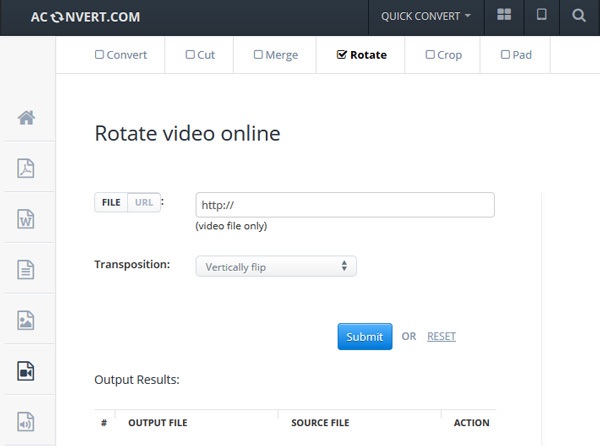 Pros
It is entirely free of charge.
The UI is straightforward.
Cons
You are unable to edit WebM on the timeline.
6. WeVideo
WeVideo is an excellent online video editor for work, school, and life. It allows you to edit WebM videos and make stunning videos. It contains a lot of video editing tools, but which ones you may use based on your subscription level. Its professional and business plans include over a million stock media.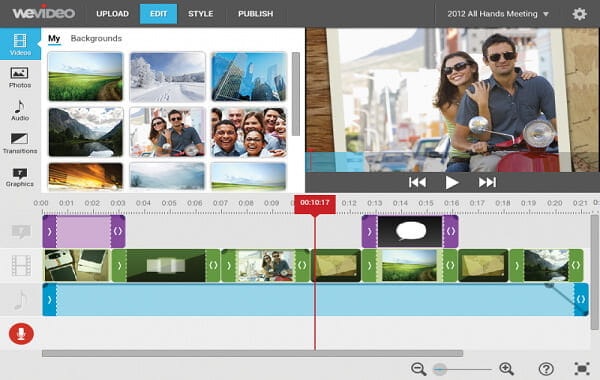 Pros
It can play 4K videos.
The timeline simplifies WebM editing.
Cons
The free edition of WeVideo limits you to five minutes of posting every month.
Any videos you create in the free edition are watermarked.
7. VSDC Video Editor
VSDC Video Editor is another excellent WebM video editor for Windows. It can handle 4K UHD, 3D, and VR 360-degree videos. You may also use it to convert WebM video files. Upgrade to the Pro version if you need more powerful tools. VSDC Pro lets you use motion tracking, audio waveform editing, video masking, stabilizing shaky footage, and more.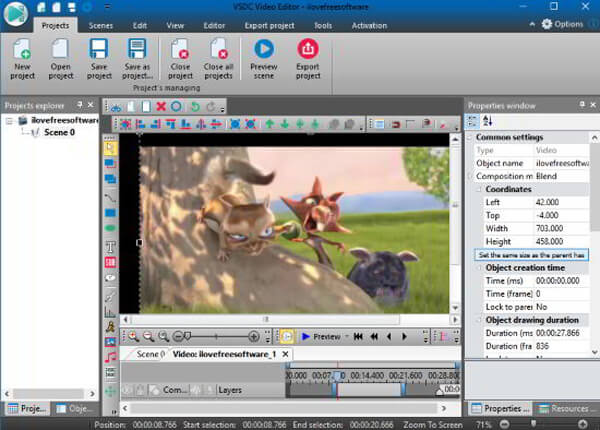 Pros
This WebM editor's installation file is compact.
It can edit and export up to 4K videos.
Cons
The user interface is a little complicated.
8. VideoProc
If you are looking for a WebM video editor to edit, transcode, resize, and change a WebM video, look no further than VideoProc. The program can also download information from the internet and supports 4K videos. Furthermore, it is compatible with both Windows and Mac OS X.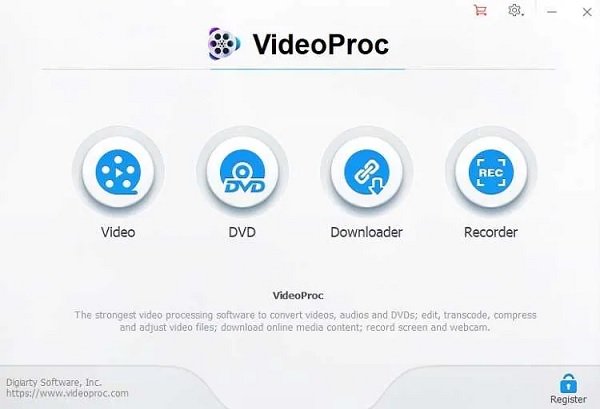 Pros
The tool's UI is straightforward, and it's simple to use in general.
It allows you to integrate videos instantly.
Cons
Its free trial edition only gives you access to a limited number of pro features.
9. VLC Media Player
VLC is a famous cross-platform media player that also includes video editing features. VLC can modify WebM video files in addition to transcoding them. This media player lets you apply filters, effects, and color adjustments to WebM videos.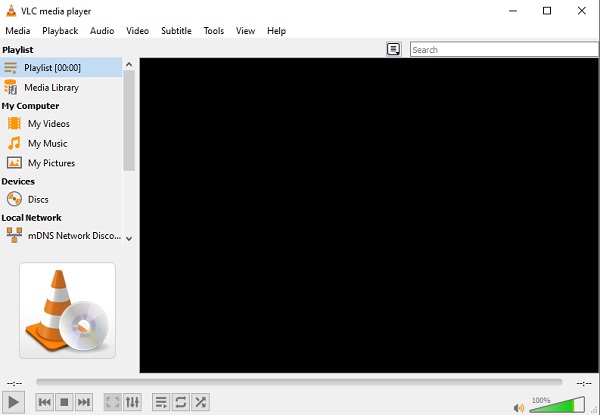 Pros
Allows you to clip or crop any video you open.
Delete parts of WebM videos from your online audience.
Cons
Beginner users may find editing videos with VLC complex.
Part 3: FAQs about the Best WebM Video Editors
What is a WebM video file?

A WebM is a video stored in the WebM format, an open, royalty-free video-sharing standard. WebM holds audio and video data in a container structure comparable to the Matroska (.MKV) video format.

Can I edit WebM on iMovie?

Unfortunately, iMovie's platform does not allow users to edit or handle WebM videos. You can, however, convert the WebM video to a format that is compatible with iMovie and then edit it there. But if you want a straightforward way, you can use AnyRec Video Converter.

Is WebM a high-quality format?

WebM video files are not of very high quality. Also, because this video format is simple to play, it may be seen on devices with limited technical capabilities. Thus, you should choose the best WebM video editor to keep its small size and original quality.
Conclusion
Above is a list of the top ten best WebM video editors. After knowing their features, you can choose the suitable one to have a try. And AnyRec Video Converter is the best recommended WebM video editor. That's because it provide all the basic and some additional editing tools, and it's still easy to use for everyone. If you have other questions, please contact us now.
Related Articles