Good Usernames for TikTok: Get Ideas and Name Generators
TikTok is the home for all so many creators out there. And if you want to join this popular video-sharing platform, all you have to do is to sign up, then think of good usernames for TikTok that will instantly show your vibes. We can all agree that having a catchy username creates the first impression of you for your audience. Now, as our response to this, we provided the best TikTok username generators you can use to have perfect username ideas for TikTok. You will also learn some tips and ideas to have a catchy name to attract more followers. Let's get in!
Part 1. Tips to Choose a Good TikTok Username
Having a unique username for TikTok is difficult since billions of people are using the said video-sharing platform, and one may use the same name. But now is the time to make your username cool and secure at the same time. Below are some tips for selecting good usernames for TikTok.
Always Go For a Secure but Straightforward One
Your username must be simple but ensure that it's unique and secure. Having easy usernames are the ones that are easy to remember by the audience; ensure to have combined the words, numbers, or special characters correctly and are connected to you.
Make it Personal
As said, don't combine characters that aren't even related to you and your content on TikTok. Make sure that your username is personal and will give an excellent impression to your future audience. In this way, you will have lots of cool TikTok usernames ideas in mind.
Describe Your Content
This point is somehow related to making it personal. However, it is more applicable to someone who has a brand to show on Tiktok, which will help their branding strategies.
Follow the Character Limit
Like others, TikTok also has character limits in choosing a username. It is vital factor to think of your name carefully and intelligently to show your audience your identity. You don't have to rush when thinking about one.
Part 2. Top 5 TikTok Username Generators
Followed by the tips to have cool TikTok usernames, one more thing that can help is a username generator. And to help you with that, below are the five best TikTok username generators to have the perfect username for your account.
1. SpinXO
First in selecting the best TikTok username generators is SpinXO, which comes with various name-generating options. Once on the main page, you will see different tabs such as Name or Nickname, Hobbies, Things You Like, Numbers or Letters, etc. Thinking of good usernames for TikTok can be quickly done and fun with this username generator.

2. Cool Generator
By simply entering any random personal idea about you or your content on TikTok, the Cool Generator will offer tons of ideas. You can also select whether the username is for a boy or a girl; in this way, the generator will automatically describe your thoughts or identity through simple words or phrases.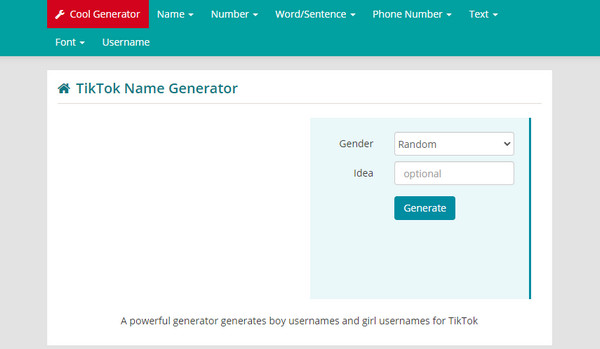 3. Namechk
Namechk is a name generator that gives a suggestion that is unlikely to be the same as other names currently used on TikTok. It will assist you in merging different words where you are interested. With this name generator, you will have many TikTok nickname ideas that you would probably think about for hours if you're alone.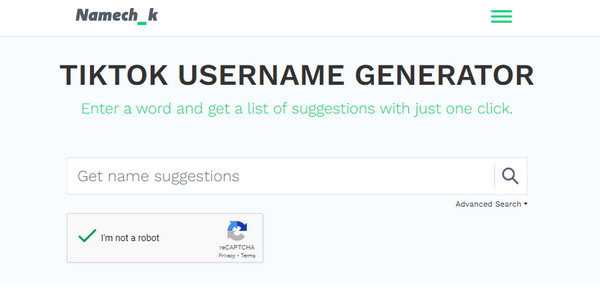 4. Jimpix Username Generator
Like the first ones discussed, Jimpix lets you enter your word as well; then, it will instantly provide a list of categories to generate cool TikTok usernames. This tool could help you to generate names for Twitch, Facebook, Snapchat, and many other platforms. Alternatively, you can set the Random Category if you haven't thought of any word yet. Another thing about this name generator is having useful options like Reverse, Shuffle, Chunk, Number at Start/End, and more.

5. Masterpiece Generator
To end, we have here the Masterpiece Generator. Out of the ordinary, it is one of your best selections if you want something creative for your TikTok username. It is capable of giving you names after entering words, including your name or nickname, with your favorite adjectives or things that will describe your TikTok account.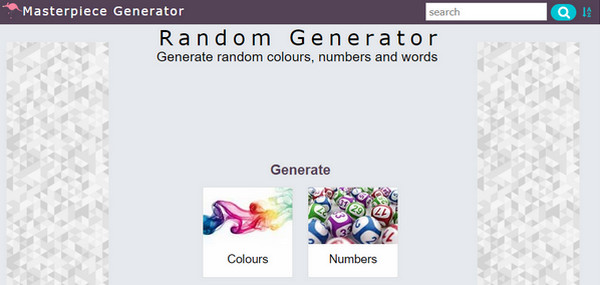 Part 3. Get 20 Ideas for TikTok Usernames to Attract Followers
While it might be challenging to have cool TikTok username ideas, you can use the below list as a reference or use one to change your TikTok username. Each is provided by the username generators discussed above.
1. Spuffycloud
2. Hazecloud
3. Flowerfect
4. Livingflower
5. Fashion Drop
6. OverFashion
7. CatchTheCoffee
8. Night Bestie
9. NightButNot
10. Get This Coffee
11. FashionFruit
12. ThatsSoFashion
13. WishACoffee
14. GuessShoe
15. BookMagnet
16. Flashnight
17. Afterglowbook
18. YouAreSoBook
19. Huggable bear
20. Munchkin
Part 4. Bonus Tip: Edit TikTok Videos with AnyRec for More Views
Now, let's get into editing videos you will post on TikTok to get more views and followers. Having good usernames for TikTok and excellent quality video content effectively showcases your account and brand. For more advanced editing with no steep learning curve. AnyRec Video Converter has it all! Besides being a video converter, if you want to create an excellent music video with a simplified process, go for the MV Maker.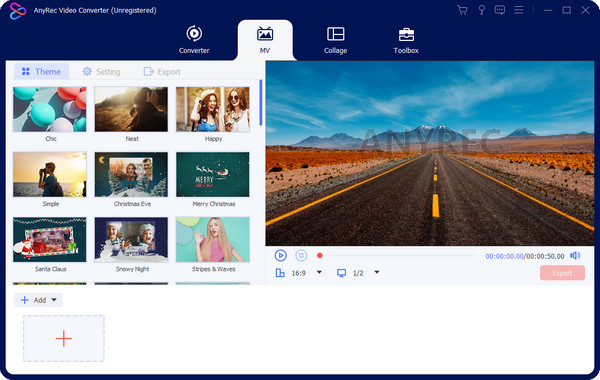 On top of the MV maker, you can also rely on the program's Collage Maker. With this feature, it is possible to put two or more videos into one frame. You can acquire more than 44 different split-screen templates and multiple editing filters. It will then result in playing videos in one frame simultaneously when you export it afterward. These are just two of the many features you can expect with the program, visit its main page and download it now!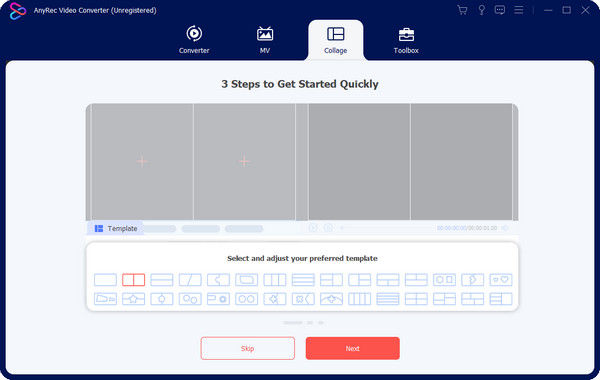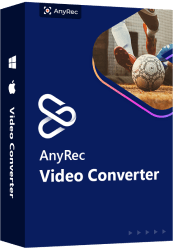 AnyRec Video Converter
Have MV and Collage Makers get a unique video posted.
Multiple output formats are supported to export your video.
Customize video and audio settings to maintain high quality.
Provide plenty of themes to apply to your TikTok videos.
Part 5. FAQs about TikTok Usernames
What is the character limit for a TikTok username?

TikTok usernames support a character limit of 24. And can only have letters, numbers, periods, and underscores.

How many times can you change your TikTok username?

Keep in mind that the username can only be changed every 30 days. So it is crucial that you're sure of what username you use to change the old one.

Is it possible to change your TikTok username before 30 days?

No. There is no official way to avoid this restriction. When choosing a username, double-check it since you will have to wait for 30 days before you can change it again. The only exception to changing it before 30 days is when you change it for the first time after signing up.
Conclusion
Considering the good ideas of usernames for TikTok today, having a unique one is essential. You can always rely on the five best TikTok username generators discussed alongside the tips and ideas. After you've generated a username, the video you will be posting is your focus now! In this situation, AnyRec Video Converter will be your go-to video editor. Get the best TikTok video by taking advantage of the program's editing features, the MV and Collage Makers.
Related Articles