Top 20 Trending TikTok Hashtags to Boost Your Video
TikTok is a platform with 1.05 billion active users and most actively publicizes various videos. They can build engagements with their other content by posting videos with trending TikTok Hashtags. With hashtags, people find their content out of over 3.7M videos uploaded daily. To learn more about these trending hashtags on TikTok and how to use them, continue reading this post!
Part 1. Quick Introduction of TikTok Hashtags
Before we dive into the top 20 TikTok hashtags trending, let us first briefly understand what, why, and how to find TikTok trending hashtags. By reading this part's sub-components, you can identify the importance of using trending TikTok hashtags to make content acquire more engagements and interactions.
What Are Hashtags?
Hashtags on TikTok are words or phrases comprising the symbol hashtag (#). These hashtags are incorporated into the uploaded videos under written captions. Hashtags are being identified by TikTok's algorithm and used as a basis for categorizing content and deciding which users' FYP they will make the content visible.
Why Use Hashtags on TikTok?
You need to incorporate the TikTok hashtag on your content before publicizing it because you are helping TikTok's algorithm to easily categorize content and promote it to the users who might be interested in it. Additionally, hashtags can maximize or increase your content's discoverability across users' FYP.
How to Find Trending Hashtags on TikTok?
The best way to find the latest and previous trending TikTok hashtags is by visiting TikTok's Trending page. You can use your desktop and mobile browser and search for Trend Discovery: Popular Hashtags On TikTok. On this page, you can discover the most used hashtags that are currently trending all over the region. You'll also see various hashtags that are presently trending in your country. Apart from that, you are also given the option to check those hashtags that have been trending for the past 7, 30, and 120 days. So if you want to know what hashtags are trending on TikTok right now, you can visit this site to discover those trending hashtags.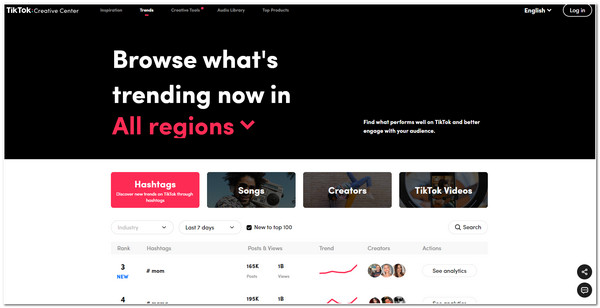 Part 2. Top 20 Trending TikTok Hashtags
That's it! Those briefly explain what, why, and how to see trending hashtags on TikTok. Let us now discover the top 20 TikTok trending hashtags that you can use to expand your content engagement across various TikTok active users.
1. #foryou / #fyp / #foryoupage
The trending TikTok hashtags in almost all content are the #foryou / #fyp / #foryoupage. Users mainly incorporated these hashtags aside from those directly related to the content to ensure it will be discovered or promoted on people's FYPs.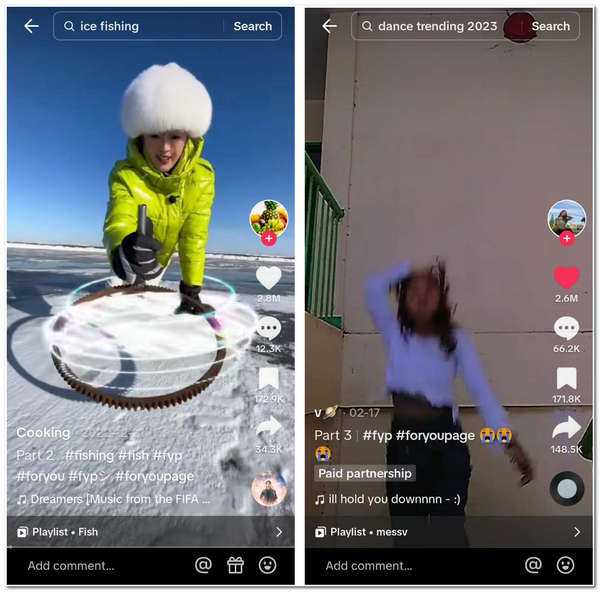 2. #aifilter
One trending TikTok hashtag that has gained much usage over the past 7 days, up until now, in all regions is the #aifilter. This hashtag is used to be incorporated into content that utilizes an AI-generated filter that completely remolds users' faces or other subjects into a new look. This new look turns either into an anime, artistic graphical image, architecture, etc.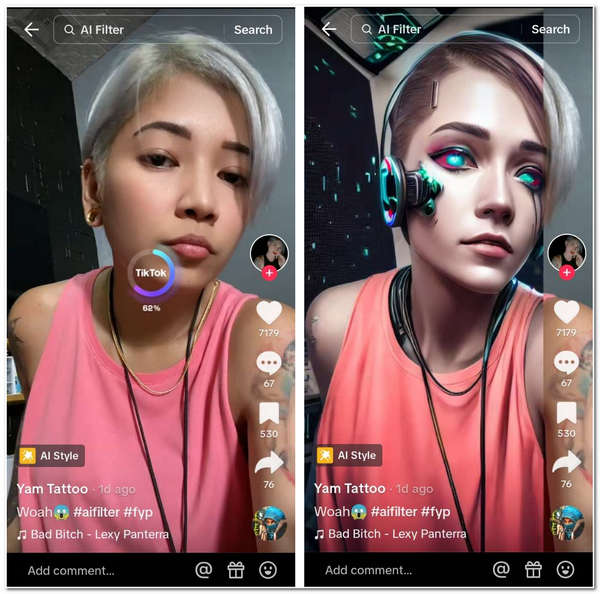 3. #sanemi
If you are a Demon Slayer: Kimetsu no Yaiba fan, you'll recognize this trending TikTok hashtag - #sanemi. This hashtag was used in more than 8K posts by different users in all regions after the anime Demon Slayer released Episode 6. This episode featured the life of Genya when he was still young and with his brother Sanemi.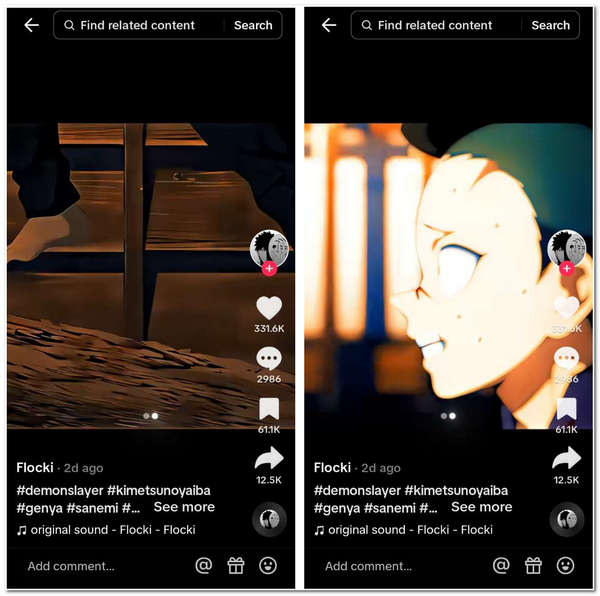 4. #fancamkpop / #fancam
Other trending TikTok hashtags are #fancamkpop and #fancam. This hashtag is incorporated into K-pop-related content that usually features a zoom capture of a K-pop artist while performing, doing fan signing, on music, or on variety shows.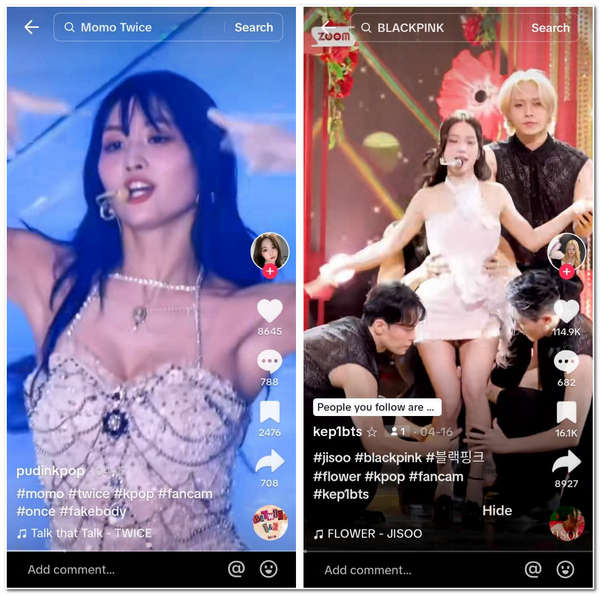 5. #dancechallenge
One of the most trending contents on TikTok is dance challenges. Many users, especially billions of dancers worldwide, post their dance challenges with the hashtag #dancechallenge. Additionally, some are making dance tutorials using the same hashtag, making it one of the trending TikTok hashtags.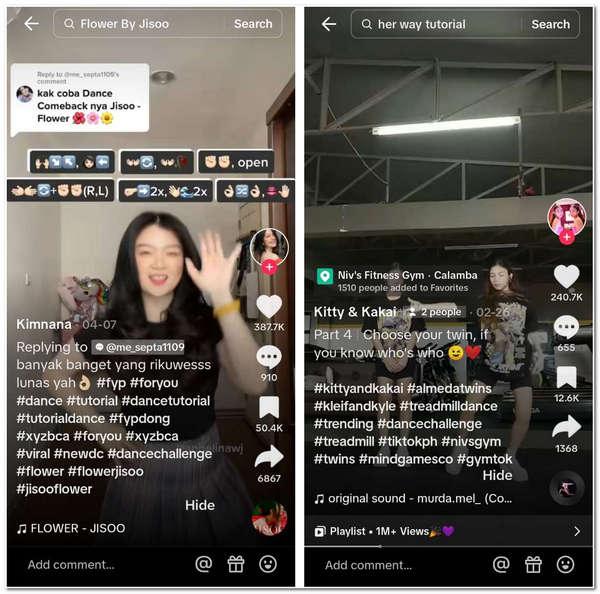 6. #pov
Point of View or POV content gathers almost 8 billion views on TikTok through using #pov, which is also one of the trending TikTok hashtags. POV content can catch users' interest; some find it relatable or entertaining. Creators publicize POV contents that feature an opinion, a particular scenario, a meme, etc., making people think they are in the posted content.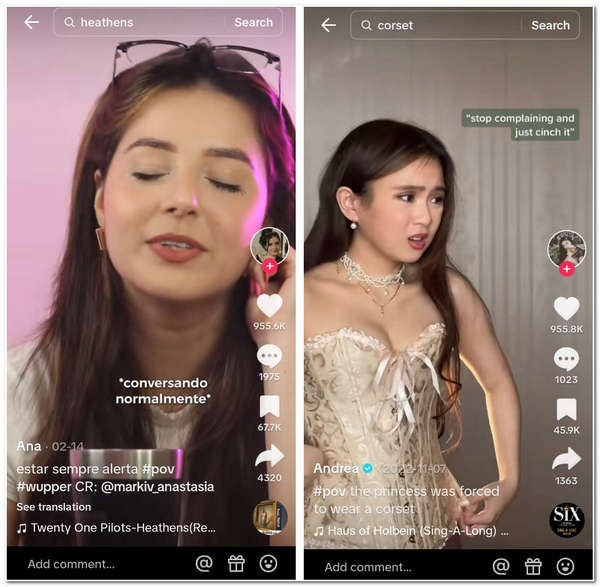 7. #meme
Another trending TikTok hashtags that make billions of users laugh or chuckle is the #meme. Meme contents portray funny moments, situations, experiences, etc., and all usually go viral within your country or worldwide using the #meme.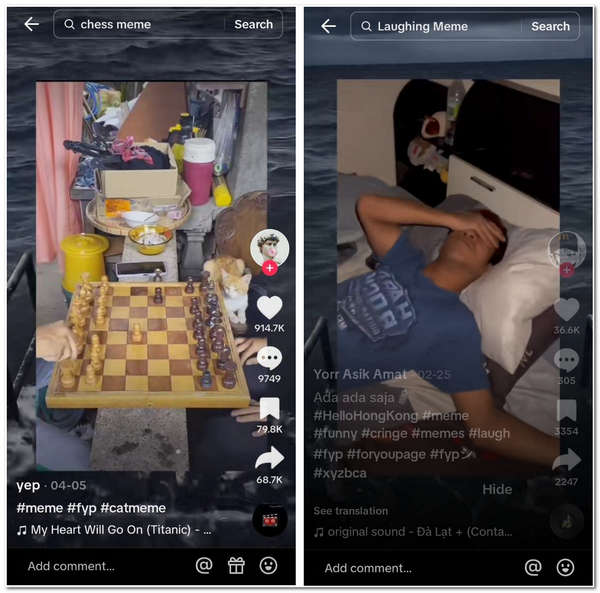 8. #stitch
Next on the list of trending TikTok hashtags is #stitch which reached a trillion users. This hashtag uses others' content to collaborate and produce new content. This usually focuses on providing an opinion seriously or funnily, a reaction from the collaborated or stitched content, or creating a short skit.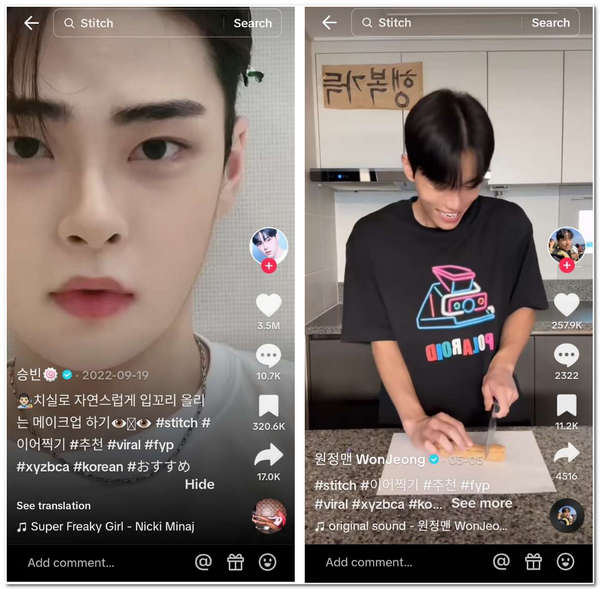 9. #duet
#duet is also one of the trending TikTok hashtags. This hashtag is similar to #stitch; #duet is usually incorporated with a post that contains others' content alongside your video. Other than that, this hashtag is also included with the content that contains people who sing a song with displayed lyrics, which lets the audience sing along with them.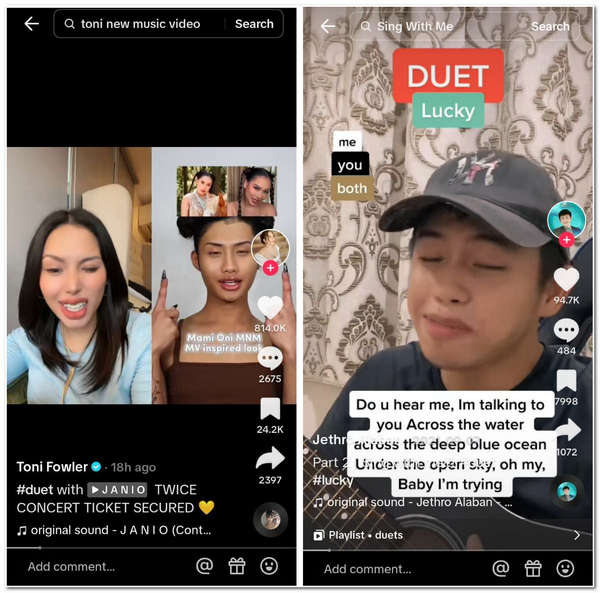 10. #explore
Over a billion active users of the TikTok platform, a lot of them are sharing their travel vacations and their beautiful destinations. They use #explore, which eventually became part of the trending TikTok hashtags. Sometimes, users utilize this hashtag to present the most beautiful places on the earth.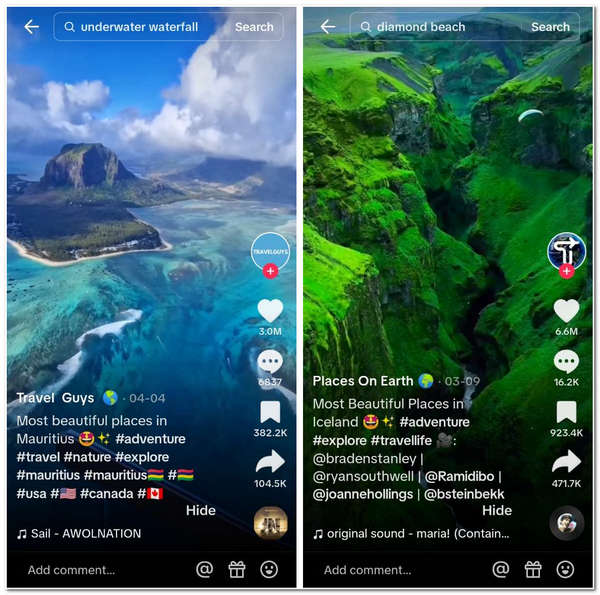 11. #TikTokaMadeMeBuyIt
Recently TikTok infused a feature where people can purchase different products. Some users grab this opportunity to sell different things and use the platform to introduce them. In line with this, most people begin to flex their purchases from those sellers by posting it on their TikTok with the hashtag #tiktokmademebuyit. This hashtag eventually became a trending TikTok hashtag with more than 8M views.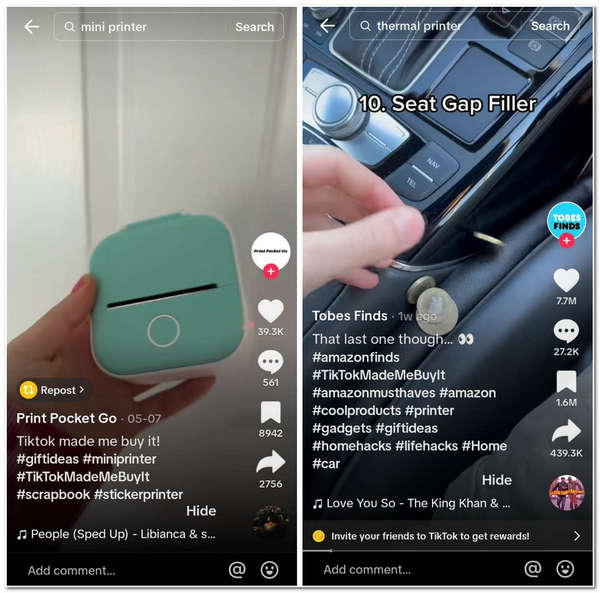 12. #makeuptutorial
If you are a makeup artist and wish to publicize various makeup tutorials, you must use #makeuptutorial, for it is also a part of the trending TikTok hashtags. Using that hashtag, you can reach users interested in watching makeup tutorials.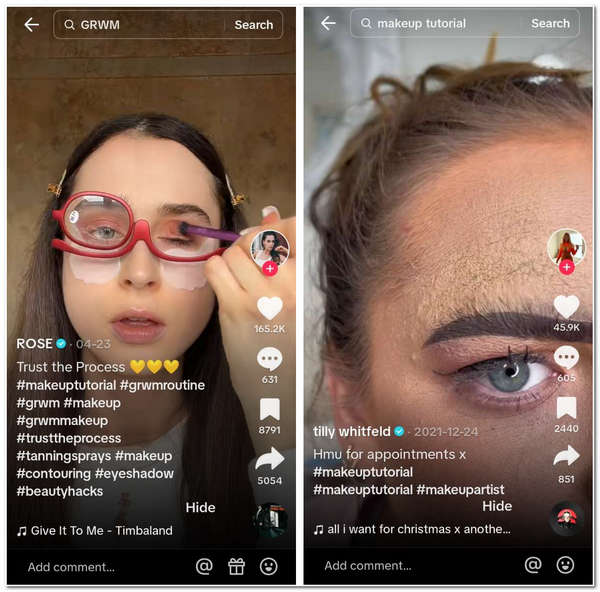 13. #ootd
Apart from makeup-related content, outfits are also publicized on the TikTok platform. People nowadays are into fashion; they usually share their everyday OOTD and even feature some recommendations or ideas by presenting various OOTD styles. They usually utilize the #ootd, which became part of the trending TikTok hashtags.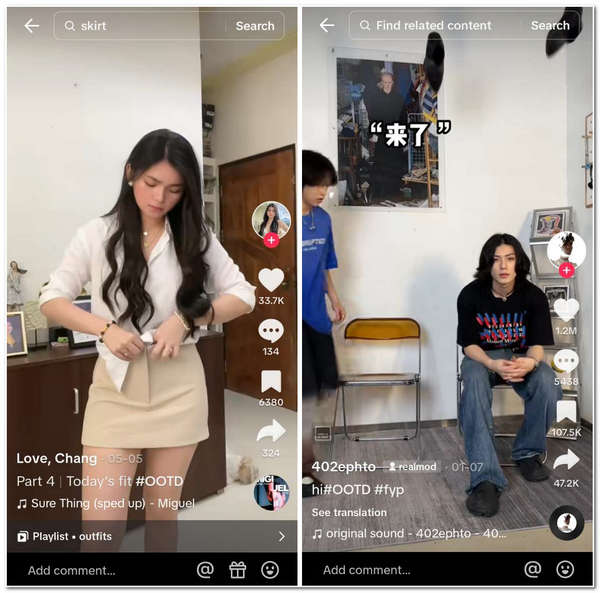 14. #lifehacks
Another trending TikTok hashtag that you can use is #lifehacks. Lifehack content is quite popular on TikTok. Some feature silly ways to solve a problem, but some are useful and fantastic to the extent that you don't expect them to work. You can use this hashtag with content featuring foods, crafts, clothes, etc.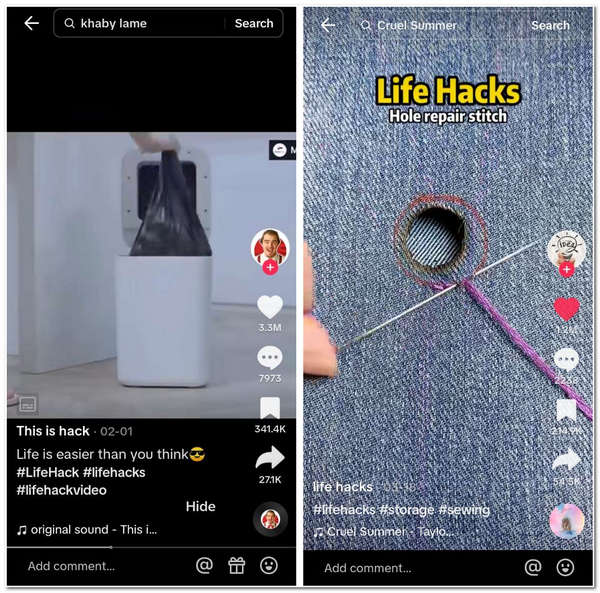 15. #funny
The following trending TikTok hashtag is #funny. This hashtag is usually incorporated with content that mainly contains funny videos. These contents are usually a comedy skit and a funny moment captured by a camera.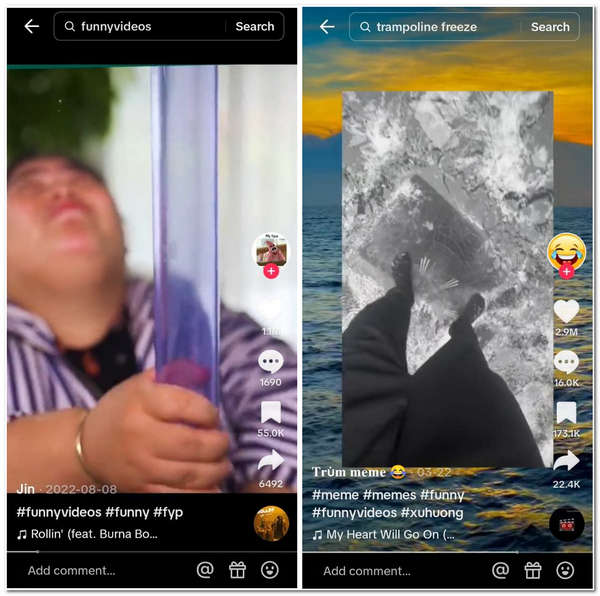 16. #workout
Otherwise, if you are conscious about your body and want to become fit, you can consult TikTok and look for the videos by searching #workout. TikTok has total users who love sharing their workout routines and journey by posting them on their TikTok. With over 174K content uploads with #workout, it shows that many users are into this, making #workout one of the trending TikTok hashtags.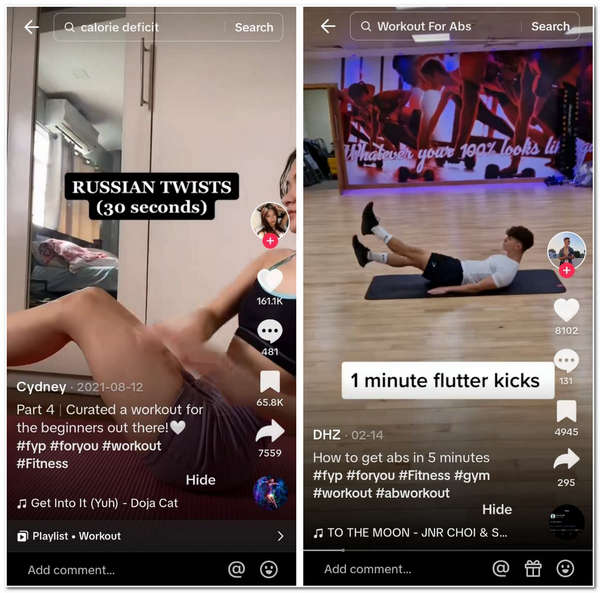 17. #storytime
The following hashtag for this group of trending TikTok hashtags is #storytime. Contents with these hashtags contain a variety of stories being spoken by the creator. Usually, the shared stories deal with life experiences such as scary moments, funny incidents or encounters, and concerning moments.
18. #diy
Next on the line of trending TikTok hashtags is the #diy. The content that is incorporated with this hashtag is creative mainly and valuable. They can be DIY decorations, a specific clothing style, crafts, etc. You can use this hashtag for how-to content that shows how to do a specific DIY subject.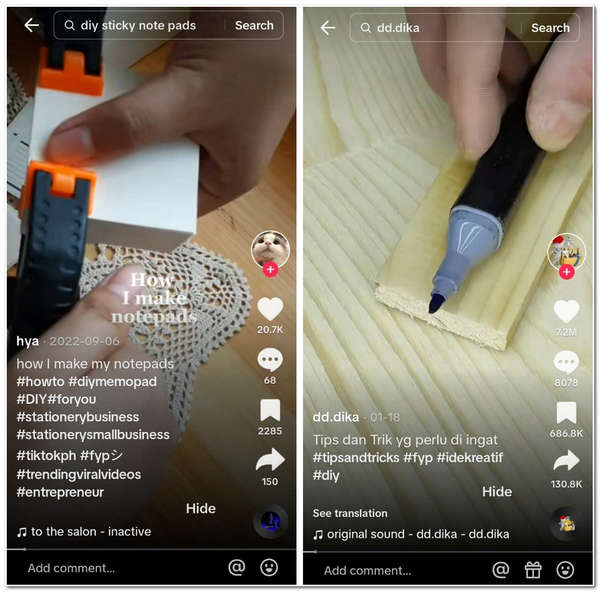 19. #didyouknow
Contents with this hashtag, #didyouknow, became popular across various FYPs for having interesting knowledge about certain things supported mainly by facts. This usually deals with knowledge or trivia about animals, places, movies, history, technology, etc., that only a few know about. This exciting content made the #didyouknow amongst the trending TikTok hashtags.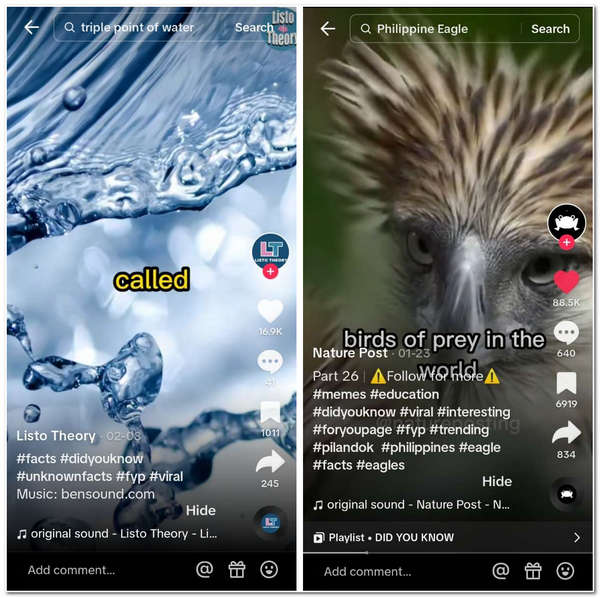 20. #lyrics
Finally, the last hashtag for this group of trending TikTok hashtags is the #lyrics. This hashtag is used to incorporate a lyrics video. This aims to provide users with written lyrics of a song which makes them sing it while the song is being played on the video. Sometimes this hashtag is also used for content that shows the song's best and most meaningful part.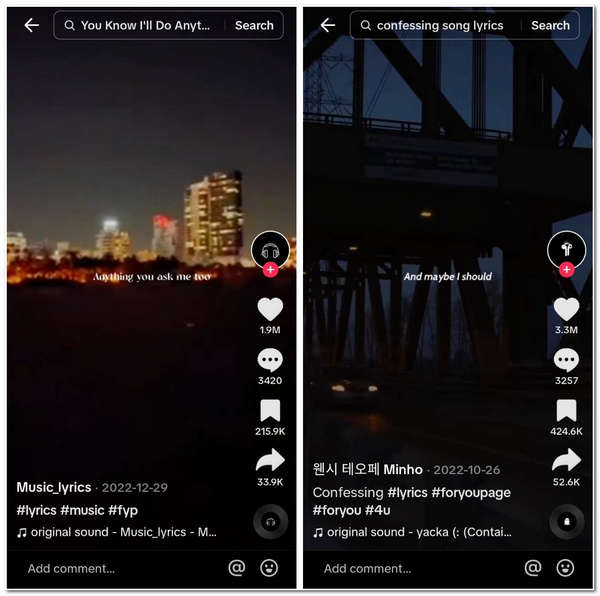 Part 3. How to Use Trending TikTok Hashtags
There you have it! Those are the top 20 trending TikTok hashtags to post specific content on TikTok. Now, it's time for you to know how you will use those hashtags to be incorporated into your content. We list 3 essential points you need to remember in using a trending hashtag on TikTok. Take your first step in discovering them right now.
1. Use Relevant Hashtags for your Content and are Popular
Identifying a relevant yet popular hashtag for your content to boost its engagement is very important. You can spot them by browsing other famous creators' TikTok pages. You can look for content that acquires many engagements or interactions and check which hashtags are used. Those hashtags are probably one of the reasons that make their content popular. Also, you need to ensure that you are using a relevant hashtag. People might find you an unreliable content creator if you use irrelevant hashtags.
2. Use Many Hashtags on One Content
Another way of using trending TikTok hashtags is by using many in a single post. It would be best if you remember that each of the hashtags is helping you and your content to be visible across various FYPs. Incorporating more than 5 hashtags is tricky, especially if they are shorter; why? Because TikTok only allows you to put captions and hashtags with a maximum of 2,200 characters. So, you need to shorten your caption and use what's left for your hashtags.
3. Incorporate Hashtags in Comment Sections
If you run out of characters on captions, you can place other hashtags in your content's comment section. Although this might not be as effective as incorporating hashtags in captions, it is also a great way of solving the issue of running out of characters. You can also place other content with captions and hashtags in the comment section by replying to one of the comments there. This is also a great of promoting other content to your audiences.
Part 4. Tips for Using Trending Hashtags on TikTok Effectively
Now that you know how to use trending TikTok hashtags and where to place them, let's move on to how to utilize them effectively. We feature tips below that could help you achieve your desired content engagement and interaction across users' FYPs. Explore them now!
1. Create Engaging Content Aside from Relying on Trending Hashtags
Using popular or trending hashtags is indeed effective in boosting your content engagements. However, reaching many audiences will take work because there will be traffic. Too many videos using the same hashtags will lead to an overload. So, to leave a mark on your audiences and let them come for you, you need to create engaging content for them. This is an excellent way of making yourself as a creator or a brand unique despite being similar to other content.
2. Mix Hashtags to Reach Many Users
Mixing popular and relevant hashtags with niche ones will expand your content visibility. For example, if your content is mainly talking about a book with music in the background, whether you are trying to sell it or feature it on your audiences, you can use the hashtag #booktok, which is a hashtag that contains a large number of usage and search. And to expand its visibility, you can use the music you embedded in it as a hashtag. That might not be a popular hashtag and is irrelevant, but if a few out of billions of users search for that music, they will come across your content. You can also create 3-minute TikTok videos with more hashtags, which will also attract more views.
3. Expand your Hashtags but keep it Relevant
Aside from using a hashtag that explains the subject of your content, you can also use other relevant hashtags. For example, if your content features a K-pop music video like How You Like That by BlackPink, you can use #hylt, #howyoulikethat, #howyoulikethatmv, and #blackpink. These hashtags contain a large volume of usage and TikTok dancing trends. On the other hand, you can expand it by using other relevant hashtags such as #jennie, #jisoo, #lisa, #rose, or those that describe your audiences, such as #blinks and #kpopfan. This lets you make your content visible on different users' FYP.
Part 5. How to Record Trending TikTok with the Best Quality
Now that you are fully equipped with the things about trending TikTok hashtags, you may want to record trending TikTok content while scrolling the platform on Windows or Mac computer. However, despite the enjoyment of watching content on a bigger screen, the platform doesn't have a Save video button. To help you save videos, you can use the AnyRec Screen Recorder to record and save them on your computer! This tool can record any on-screen activities on your computer, including TikTok.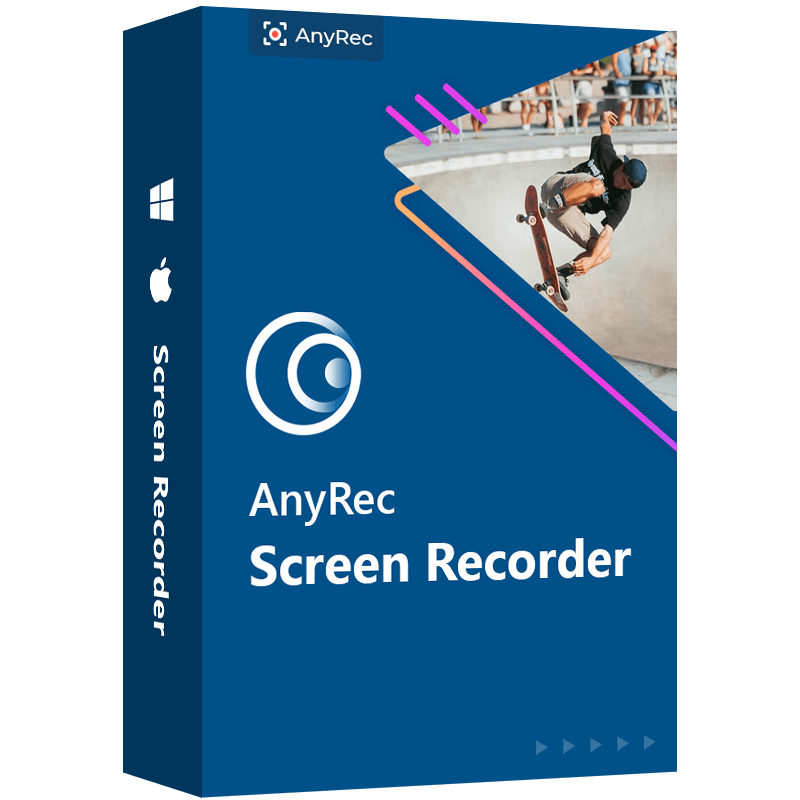 AnyRec Screen Recorder
Infused with a Trimmer to remove unwanted parts of your TikTok recordings.
Have a Phone Recorder to cast the phone to the computer for screen recording.
Export content recordings with many formats, such as MP4, MOV, WMV, etc.
Support Output Tweaking options to set output's codec, quality, frame rate, etc.
Part 6. FAQs about Trending TikTok Hashtags
Can I still gain content interactions without using trending TikTok hashtags?

Yes. However, your content will likely be more discoverable only to those who follow you on TikTok. This will not likely become visible across different users, and they will experience difficulty discovering you on the platform.

Does TikTok limit users on how many hashtags to put on TikTok content?

No. TikTok doesn't limit its users on how many hashtags to put on a single content. However, if you incorporate too many hashtags on a single post, it might look spammy. It would be better to incorporate 3 to 5 relevant hashtags to your content and contain a large usage volume.

Can I find trending content hashtags directly on iPhone's TikTok app?

Yes. To identify the trending TikTok hashtags on your iPhone, launch your TikTok application and tap the search button with the magnifying glass icon. After that, search for the content, slide the options bar to the right, and select the Hashtags option. Then, the trending hashtags related to that content will appear below the options bar.
Conclusion
Now those are the top 20 trending TikTok hashtags! It's time to choose which of them to use and what you think suits your content. Always remember that when choosing a hashtag, you must ensure it is relevant to your content. Also, it would be best to target those hashtags with a high volume of usage, so you can easily land your content to much larger FYPs. If you need a tool that could help record various TikTok contents with high quality, then you can use the professional AnyRec Screen Recorder tool! With this tool's easy-to-use yet powerful features, you can achieve your desired on-screen trending TikTok content recording needs!
Related Articles: