Best 10 Photo Enlarger Apps for Photo Enhancement on iOS and Android
When you need to change the aspect ratio or cut the unnecessary parts of your favorite picture without lowering the image quality, using a photo enlarger app to increase the resolution is necessary. You can also enlarge photos to print and post your favorite one with the original pixels. Read further to choose from the best 10 photo enlarger apps on Android or iOS.
Part 1: Best 10 Photo Enlarger Apps on Android/iPhone to Resize Photos
If you are sharing photos you captured via email or social media; the images may lessen the quality during the procedure. Fortunately, you can do much like using a photo enlarger app where you can resize the image file size without losing too much quality. Read more to know the best photo enlarger apps for Android and iPhone.
1. Resize Me [Android]
This photo enlarger app is an excellent app to resize and compress your pictures on Android if you want to share images on your social media accounts like Twitter, Instagram, or Facebook. You can also use its real-time camera function, where you can capture and edit directly on the app.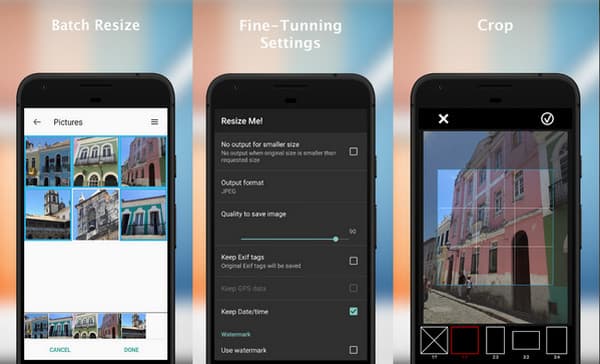 Pros
Provide basis photo editing tools.
Save photos in JPEG and PNG formats.
Clean and user-friendly interface.
Take a picture with the camera and resize it immediately.
Cons
Saved pictures are relocated to another file folder.
The resized images will lose location data.
A previous update brings a yellow hue to images.
2. Pixlr [iOS/Android]
Formerly known as Pixlr Express, this photo enlarger app has stored essential tools for image resizing that can help you edit and beautify your photos effortlessly. You can free download this app from both Google Play Store and App Store. What's more, it includes an auto-fix function that adjusts the image's color. It also allows you to add borders, effects, and text without any limitations.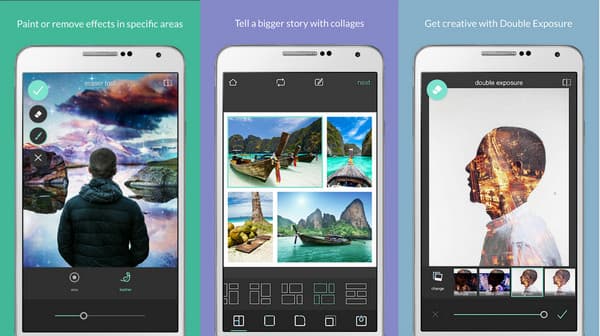 Pros
Collage maker with preset collages, grid style, etc.
Favorite button to collect all favorite effects in one place.
Offer many fonts in different styles.
Cons
The app makes super bight changes in the photos.
The app shares data with other third-party apps.
Takes more time to resize an image than in other apps.
3. Image Size – Photo Resizer [iOS/Android]
Another best photo enlarger app for Android and iOS is Image Size. It enables you to change the format, file size and even rotate your images at a 90-degree angle. The app will direct you to share pictures with other apps by allowing Image Size access to your device. But this app also has limitations. For example, you will find that the output formats options are insufficient if you want the latest formats like WEBP.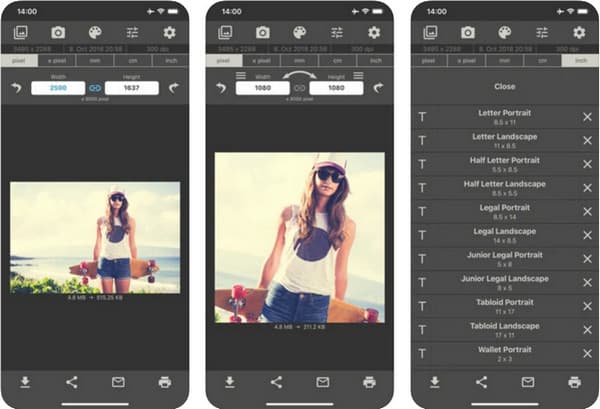 Pros
Advanced output format specifications.
An ideal app to share and print images.
Adjusting tools for output JPG quality are available.
Pre-installed photo editor with cropping and rotating features.
You can directly connect to the printer in this app.
Cons
No lossless output.
Advertisement in every click.
There will be an error for uploading specific pictures.
4. Z Mobile Photo Resizer [Android]
Sending via email may not accept the large image file, so you need Z Mobile Photo Resizer to compress your photos while keeping the original quality. This photo enlarger app is a free tool for any image optimization. Other than this, you can send the image on any social platform like KakaoTalk, Google+, Reddit, and more.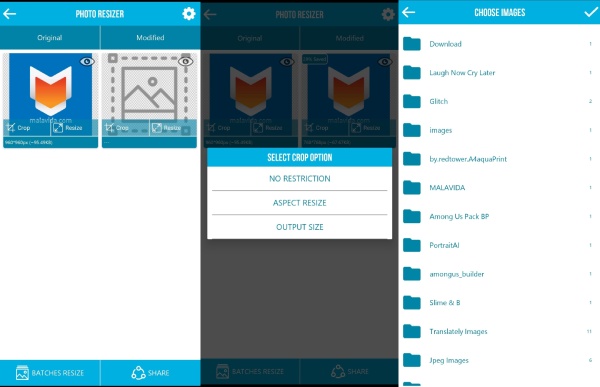 Pros
Support batch compression and resize.
Allow sending images in zip format.
Occupy a little space on your mobile phone.
Different adjustment and cropping tools.
Apply resizing changes by batches or separately.
Cons
There are no recent updates.
The sorting function is not working correctly.
No advanced features beyond resize.
5. Photo Resizer [Android]
A simple photo enlarger app with essential functions for photo compressing. The best part of this app is it can easily resize an image. Just choose a photo to resize, preset size, or customize it on your own, then you can save it on your device. With its premium version, you can unlock more features for photo resizing.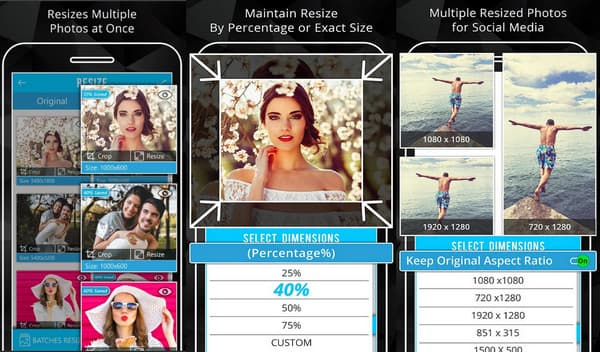 Pros
Support batch resizing.
Create its own folder to save the resized pictures.
Aspect ratio presets for social media platforms.
Preserve the original quality of your images after resizing.
Enlarge your images with customizable percentage options.
Cons
Intrusive ads in the free trial.
The bulk selection of images might fail.
Enlarge large images at a slow speed.
The Save button could be more obvious.
Customizable size is not working sometimes.
6. InShot [iOS/Android ]
Although the app's primary function is more on video making and editing, InShot stores unique features for image enlarging. With its high-quality video editing, you can also rely on its photo enlarger app, where you can add text, compile pictures into collages, and more.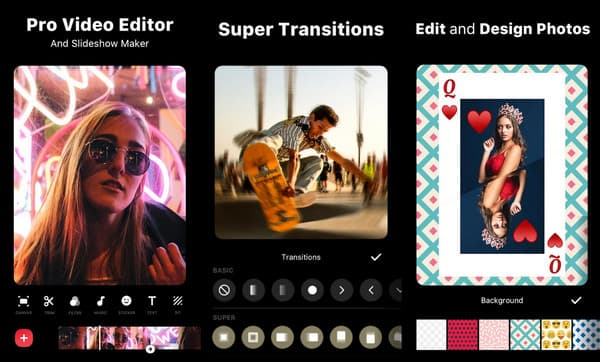 Pros
Provide beautiful hundreds of backgrounds.
Easily share directly to other apps.
Enlarge your image background easily.
Polish your resized images with funny stickers.
There are many high-end features for both images and videos.
Cons
Only basic editing tools for image enlargement.
It lacks professional effects.
Watermark in the free version.
Need many resources to run the app.
7. Desqueeze [iOS]
Desqueeze is a straightforward photo enlarger app packed with valuable tools. You can download it on iOS for free, letting you do batch compression and resizing. What's more, it allows you to change the aspect ratio and upscale 1080p to 4K. The freedom Desqueeze gives to its users is enough to save time and immediately share photos with friends.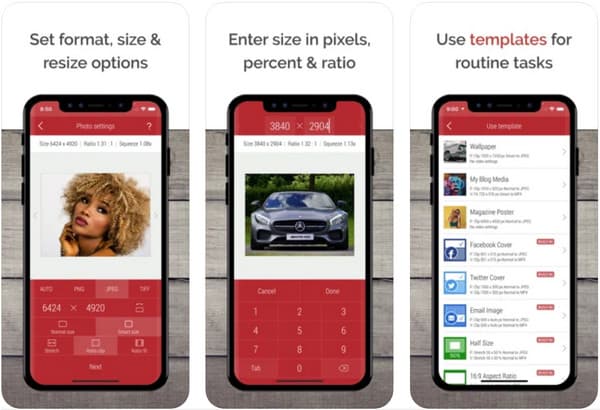 Pros
Allow manual input of size, percent, and aspect ratio.
Support image formats like JPEG, TIFF, PNG, etc.
High-resolution exportation options.
Enlarge the images in batch with built-in presets.
Apply different themes from a well-organized library.
Cons
It doesn't support HDR on iPhone 12 devices.
It has no extra editing tools for images.
No direct sharing with other popular apps.
8. AI Enlarger: for Photo & Anime [iOS/Android]
AI Enlarger , accessible on both iOS and Android, is a stunning photo enlarger app. You can easily upscale and enlarge your photos/anime pictures 2×, 4×, and 8× with no quality loss. Meanwhile, you can use this enlarger to repair your blurry pictures on your mobile phone. With these excellent features, you can effortlessly get a 4K or even 16K picture on a cellphone.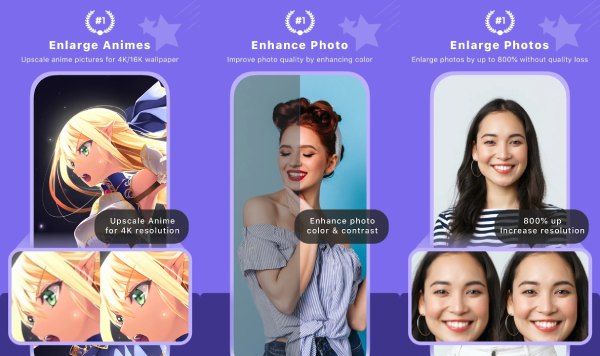 Pros
Color correction is also available.
Sharpen, deblurring, and optimize your images.
Enlargement and upscaling are done automatically.
Equipped with advanced AI technology for enlargement.
Cons
Expensive subscription fees.
The album and folders are out of order.
The free trial can only enlarge 10 images.
9. Photo Compress 2.0 [Android]
This app does its job exceptionally well done. Photo Compress 2.0 compresses photo file size without reducing the quality and allows users to choose the file size they need for the images manually. What's more, the photo enlarger app is quick to learn because of its clean interface.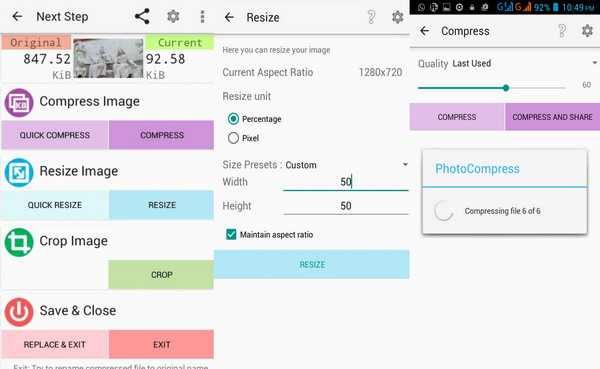 Pros
Your EXIF data will remain.
Save recently used settings.
Ad-free photo enlarger app.
Resize your images in batches.
Offer preview after resizing or enlarging.
Enlarge your images for free without ads.
Cons
Only exclusive for Android devices.
No updates since 2016.
There is no option or percentage enlargement.
Compressing feature is more efficient than enlargement.
10. Instasize Photo Editor [iOS/Android]
Aesthetically speaking, this photo editor, also a video editor is an ideal tool for image editing. However, it also provides you with its photo enlarger app, which helps you to compress images in different formats. You can use its preset crop sizes to share and post good-quality photos on Instagram, Facebook, Twitter, and more.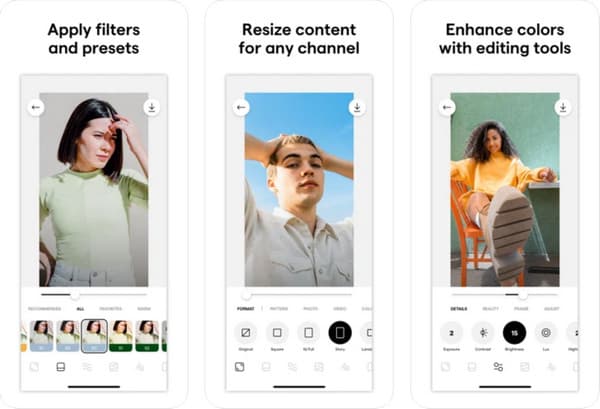 Pros
All-in-one photo and video editor.
A professional set of tools.
Plenty of amazing templates with beautiful designs.
Your face features will not be damaged when enlarging a selfie.
Cons
The free version only lasts for seven days.
You can't skip the subscription screen.
Add borders when resizing the image.
Bonus Tips: Learn about the Recommended Photo Enlarger Tool Online for Free
Using an online tool as a photo enlarger is another method to resize your photos. AnyRec AI Image Upscaler is the recommended tool to effectively resize any photo in the formats like JPG, TIFF, PNG, BMP, and more. The tool offers the editing tools you need for photo enlarging while the interface can be easily navigated. AnyRec AI Image Upscaler is the best free alternative for photo enlarger apps without ads.
◆ 100% free online tool and safe to use for photo resizing in high quality.
◆ Magnification options up to 800% for a sharper, crisper, and cleaner look.
◆ Automatically detect the blurred space and recover pixels, textures, and details.
◆ Suitable for printing banners, digital presentations, and sharing via social media.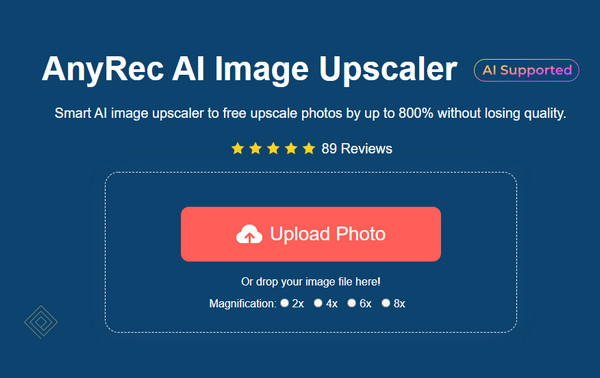 Part 2: FAQs about the Best Photo Enlarge Apps on Android/iPhone
What features and functions make an excellent good photo enlarger app?

When looking for the best photo enlarger app, you need to consider how it will effectively compress your photos without losing quality. Although most recommended apps promise good quality, some tools are not good enough to use.

Does enlarge photos lose quality?

As long as you are using an excellent photo enlarger app, your photo will not lose quality. Your app should have a more advanced output setting where you can manually input the desired width and length. Then you can compress the photo for a smaller file size.

Can I use the Photo software to enlarge photos on Windows 10?

Yes, the Photos app can resize any photo from your Windows folder. Just choose the desired image, open it through the Photos app, then click the button with Three Dots icon at the top right part of the window. Choose the best size from the Resize Image button bar. You can save it as a replacement for the original photo or save it as another photo.
Conclusion
Now you can send your photos via email and share them with your friends on social media. Keeping old photos is not also hard for the storage space when you use a photo enlarger app. If you are looking for the best photo enlarger tool for Windows and Mac, try AnyRec AI Image Upscaler for easier enlarging photos.
Related Articles