How to Transfer WhatsApp from Android to iPhone 14 without Losing Data
Communicating has been easier with messaging programs such as WhatsApp. Many people want to transfer WhatsApp from Android to iPhone when they get a new iPhone 14. This popular chat platform delivers messages with end-to-end encryption for the sender and receiver's privacy. So, you may think it is not easy to send those chat histories across different operating systems. Do not worry about that; this post will tell you how to transfer WhatsApp messages from Android to iPhone with six methods.
Part 1: Send WhatsApp Chat History via Move to iOS
Move to iOS is a file mover from Android to iPhone. The app allows you to export various files, including music, pictures, videos, and others, with minimal effort. Unfortunately, it has certain limitations regarding data transferring, such as a higher OS version, a new phone or factory reset, and the same phone number. Meeting these requirements will help you to transfer WhatsApp from Android to iPhone.
Step 1.Download and install Move to iOS on Android and launch it. Proceed to do the setup process on your iPhone. Once you are on the Apps & Data window, select the Move Data from Android option.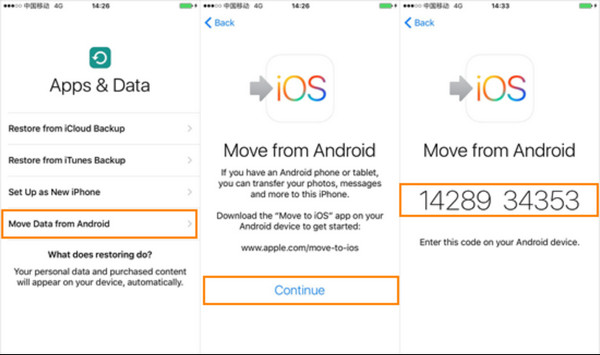 Step 2.A one-time generated pin code will appear on iOS; enter it on Android and tap the Continue button. Select the WhatsApp option from the Transfer Data screen. Tap the Start button and wait for iOS to scan the data to export. Once the transfer is done, install the latest version of WhatsApp on your new phone.
Part 2: Export Your Chat and Restore it on iPhone
The second way to transfer WhatsApp from Android to iPhone is through the Export feature on the app. Follow the steps below to move your chat history to a new device.
Step 1.Launch WhatsApp. Open the desired conversation on your Android device. Tap the Menu with the triple dot icon on the top right corner and select the More option.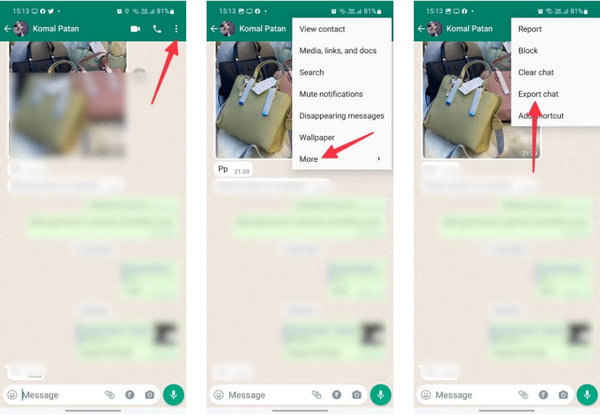 Step 2.Tap the Export Chat button. Choose the Without Media or Include Media option. Email the created zip file to your email address. Later, open the file on WhatsApp from your iPhone.
Part 3: Download Wutsapper to Transfer WhatsApp with a Cable
Wutsapper is an app that provides an easier way to transfer WhatsApp from Android to iPhone. You can transfer data from multiple WhatsApp accounts to one device with just a USB cable. Unfortunately, there is no free version of Wutsapper, but it is an excellent investment for file transferring.
Step 1.Launch Wutsapper and allow it to check your device for WhatsApp backup after installing the app on your phone. Ensure that you have OTG or USB-C cable ready. Alternatively, you can also use a Lightning cable.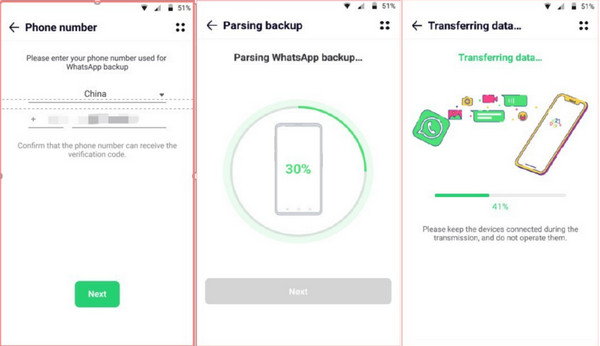 Step 2.Once the cable is connected, tap the Trust button and enter your phone number. Start transferring, and the app will parse the WhatsApp backup. When it is done, click the Start button and wait for the transfer to be completed.
Part 4: Email the WhatsApp Conversation Across Devices
Another non-third-party app to transfer WhatsApp from Android to iPhone is via Email. This method requires no payment or additional setup. However, it does not support restoring the same messages; it only lets you access them on a new device. Moreover, the
Step 1.Open a chat message on your WhatsApp account from an Android device. Access the menu from the triple dot or Hamburger icon at the top right of your screen. Select the Email Conversation option from the list and choose if you desire to include or exclude attached media files.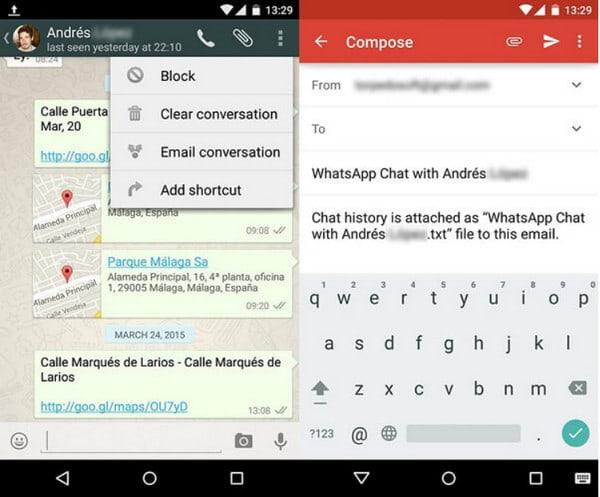 Step 2.Ensure that file you want to transfer will be at most 20MB. The compose interface on Gmail will appear then. Send the email and access it on the new device. You can download the chat, but it is unavailable on WhatsApp like before.
Part 5: Change the Phone Number to Sync Your Chat History
If you need to change to a new phone number along with the new device, WhatsApp can help you with this. Many users find this method ineffective as they fear not accessing the backup while changing the sim. However, you can use it when you backup and restore the WhatsApp data. Here's how to do it.
Step 1.Connect the new sim card to one of the slots on your Android device and ensure they are active. Go to the Settings of WhatsApp, navigate to the Account menu, and select the Change Number option.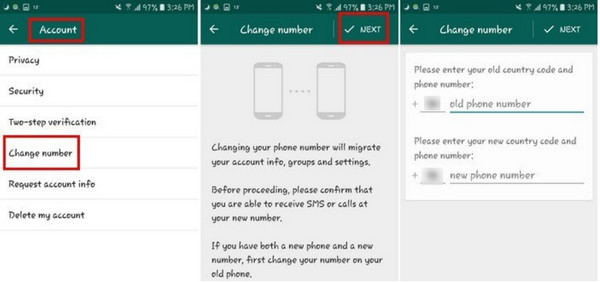 Step 2.Tap the Next button and enter the existing and new numbers. A one-time generated code will be sent to you for confirmation. Later, you can have the backup from the new number and export it to your new device.
Part 6: Transfer WhatsApp Downloaded Media Files with AnyRec
Some of the solutions mentioned in this post are primarily supporting chats. But they are not designed to transfer WhatsApp media files from Android to iPhone. The recommended tool to use AnyRec PhoneMover, which is a powerful program for fast-speed transfer. It supports exporting files from phone to phone while connecting devices with a USB cable, QR code, and the same WiFi network. It also manages duplicate files to save storage space on your device.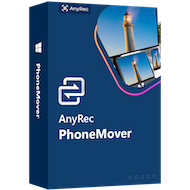 AnyRec PhoneMover
A one-click transfer for all files like videos, audio, documents, text messages, and pictures to other devices.
Enable to convert photos to standard formats like JPG and PNG when transferred from a smartphone.
Compatible with connecting devices such as Android to Android, iOS to iOS, iOS to Android, etc.
Back up the entire contact list on the user's computer without needing iTunes or iCloud.
Step 1.Download AnyRec PhoneMover and wait for the installation to complete. While waiting, download MobieSync on your smartphone. Launch both apps and use one of the connecting methods, such as via USB or QR code.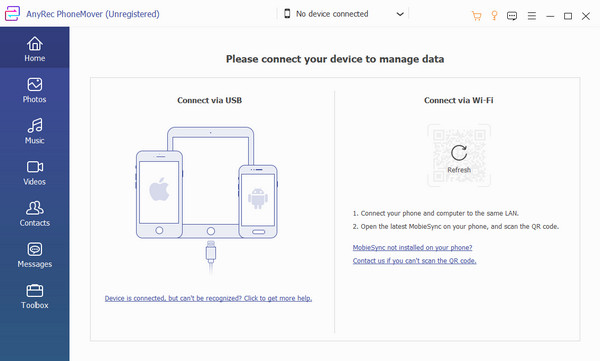 Step 2.Once you connect your phone to the computer, you will see the mobile unit and information on the interface. Proceed to the tabs from the left part of the window. If you already saved the photos from WhatsApp, you can see them in the Photos section. Tick the checkboxes of the desired files you want to transfer.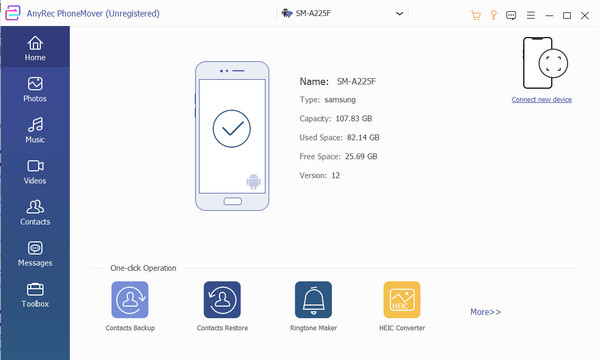 Step 3.Click the Connect a New Device button at the top of the menu. Scan the QR code on your iPhone to connect. Then, click the Export to Phone button. Use other features, such as HEIC Converter, from the Toolbox menu.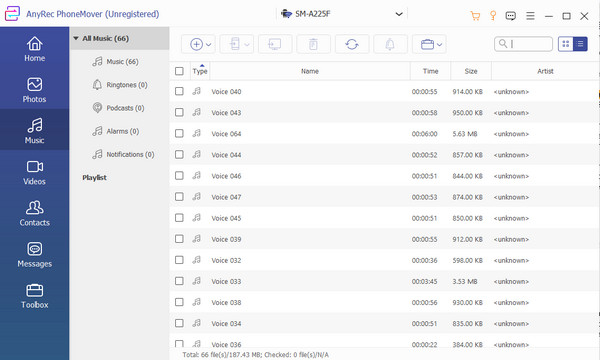 Part 7: FAQs about Transferring WhatsApp from Android to iPhone
1. How to save chat history before transferring WhatsApp from Android to iPhone?

WhatsApp will back up and save your chats automatically. But you can also manually backup WhatsApp by going to settings. Find the WhatsApp menu, tap More Options, and select the Chat Backup option.

2. Can I transfer WhatsApp from iPhone to Android?

Yes, you can export your chat history to an iOS device. Options to transfer include a USB cable, Google Drive, and Google's Data Transfer Tool.

3. How to delete my WhatsApp backups?

Ensure that your history backup is saved in a folder. Open it with a file manager, find WhatsApp, and tap the Database files. Tap the Delete button to confirm.
Conclusion
Now you can transfer WhatsApp from Android to iPhone with many methods. And you can also rely on AnyRec PhoneMover to get all your media files from WhatsApp without losing quality. Try the fastest software to export files to devices without delay.
Related Articles: