6 Ways to Convert TIFF to PNG without Losing High Quality
Choosing the image format determines a lot of aspects, including the usage, compression, and program where the user wants to put it. TIFF is one of the image types that will allow you to store the photo quality and use it for printing, which can be on a large canvas like a billboard. But how to convert TIFF to PNG, since the format consumes too much storage space and it's not supported by many devices. This article shows the best ways to convert TIFF to PNG without losing the original quality.
Convert TIFF to PNG with AnyRec Free Image Converter
AnyRec Video Converter is the best choice for converting TIFF to PNG on Windows and Mac. It is a multi-program that provides an image converter for TIFF, PNG, JPEG, GIF, and so on. Its user-friendly interface holds the essential features to change the output format, quality, background color, and more. The best part is that it supports batch conversion, where you can also edit images individually. Have a try on it now.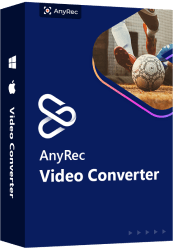 AnyRec Video Converter
Convert TIFF to PNG without losing the original image quality.
No file size limit, and allow various formats in one conversion.
Provide advanced background color with a great color palette.
Support zoom and quality adjustments by up to 100%.
Step 1.Install the AnyRec Video Converter on your computer and launch it. Navigate to the Toolbox menu and click the "Image Converter" button. Click the "Add" button to import the TIFF file from your local folder and continue to convert TIFF to PNG. You can also click the "Add Source File" button to convert batch images together.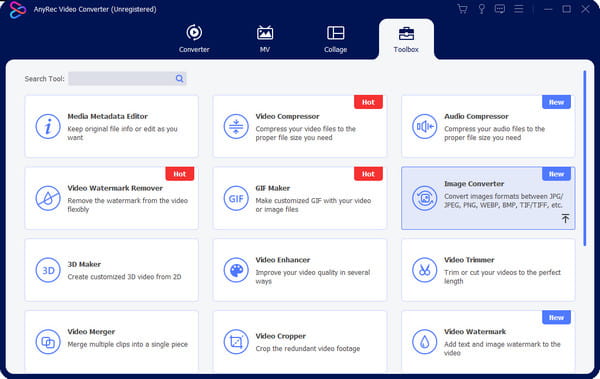 Step 2.To convert all uploaded photos into one output format, open the "Convert All To" menu and choose PNG to convert TIFF to PNG format. Of course, you can manually and individually select the output format for each picture. Proceed to adjust zoom and quality or rename the file.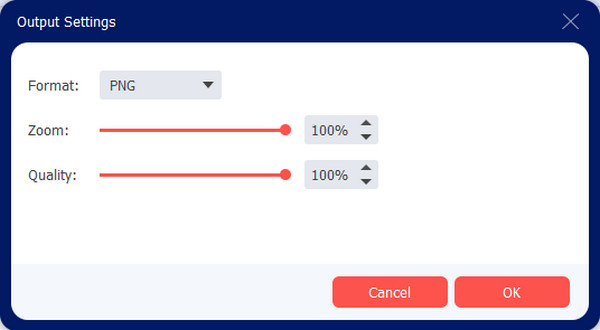 Step 3.Set the destination of the converted files from the "Save To" menu by browsing the computer's folder. When everything is set, click the "Export" button to convert and save all the photos. Once the conversion is completed, the location folder will appear automatically, so you can view the pictures.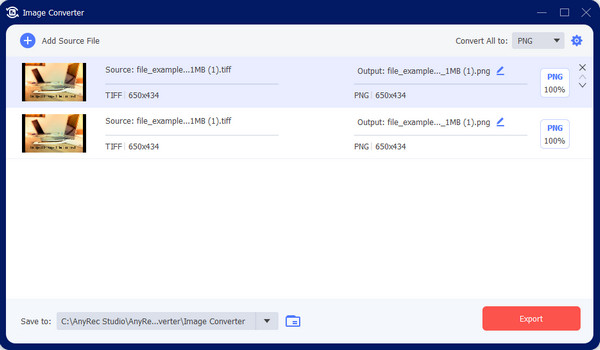 Change TIFF to PNG in Adobe Photoshop
Photoshop is known for its complex editing tools for various media content. You can use it to make PNG files out of TIFF photos since it supports inputting TIFF files. However, it's difficult for beginners and the conversion is only available on the Pro version of the tool. Without further ado, follow the demonstration below to convert TIFF to PNG:
Step 1.Open Adobe Photoshop and import the TIFF file to convert to PNG. Navigate to the "File" menu and select the "Save As" option.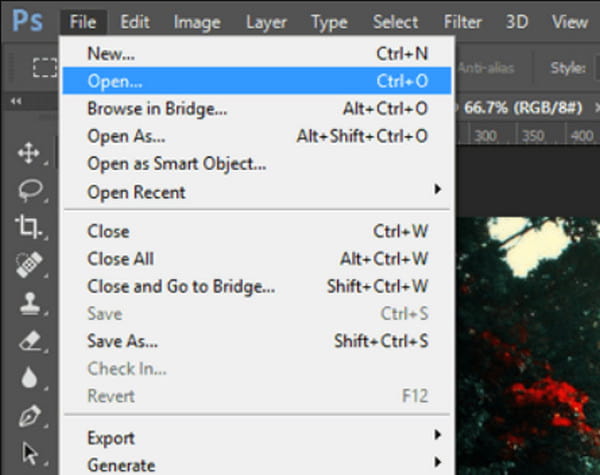 Step 2.Select an Interlace option of your preference. Choosing "Interlaced" will make the download progress quicker with a low-resolution image version as it downloads. Otherwise, the "None" option will only display the picture on a browser after downloading. Click the "OK" button to finish.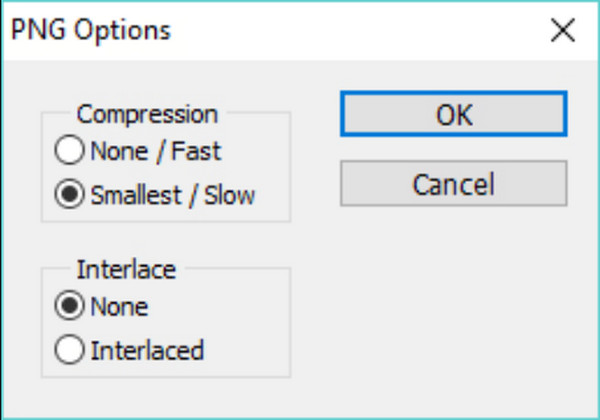 Transfer TIFF to PNG with GIMP for Free
GIMP is a free photo editor, a great alternative to Adobe Photoshop to convert TIFF to JPG and PNG. Aside from its professional photo manipulation and design elements, GIMP can also change the TIFF file extension into PNG without issues. Meanwhile, you can use its awesome features to manage the image's colors, components, and quality. It is best for scripted image manipulation using Python, Scheme, C++, C, and more. Since it is a free tool and cross-platform, you can download GIMP with minimum system requirements.
Step 1.Launch GIMP and open the "File" menu. Choose "Open" to upload the image on the tool. To convert TIFF to PNG, click the "File" menu again and select the "Export as" option.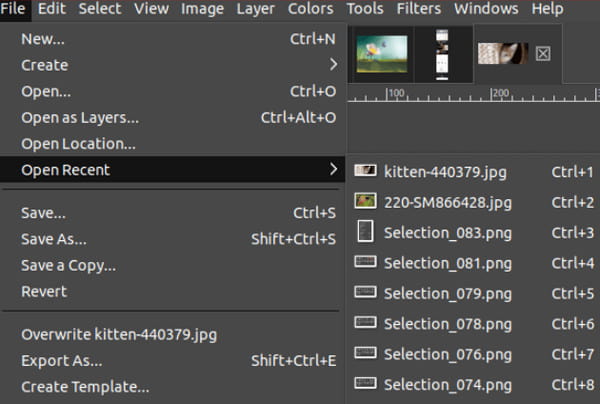 Step 2.Choose "Select File Type (By Extension)" to open the list of formats. Look for the PNG type and click on it. Finally, click the Export button and proceed to set the "Export Image as PNG" settings. Click "Export" again to save the PNG image to your computer.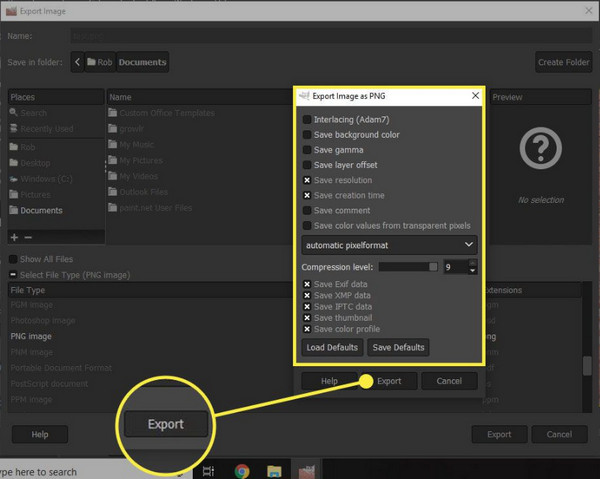 3 More Online Converters for TIFF to PNG
Online converting is another way to change TIFF file extensions. While desktop software like Adobe Photoshop and GIMP are helpful, you still want an easier setup and quicker converting process. With that said, here are three solutions to convert TIFF to PNG online.
1. Zamzar
Zamzar is a popular online tool that converts TIFF to PNG. This includes videos, images, documents, audio, and more. It has a simple interface without ads interrupting the conversion, while it supports simultaneous conversion with multiple files. Zamzar is not a problematic online tool, but you must log in or subscribe to one of its plans to unlock more features, including unlimited file size, high-speed conversion, and online storage.
Step 1.Visit the website and proceed to upload the TIFF pictures. You can also easily drag and drop the file to the tool for converting TIFF to PNG.

Step 2.Open the dropdown menu for the format and look for PNG. Then, click the "Convert Now" button to start the conversion. An alternative to downloading the converted files is to enter your email, and Zamzar will send it to the address.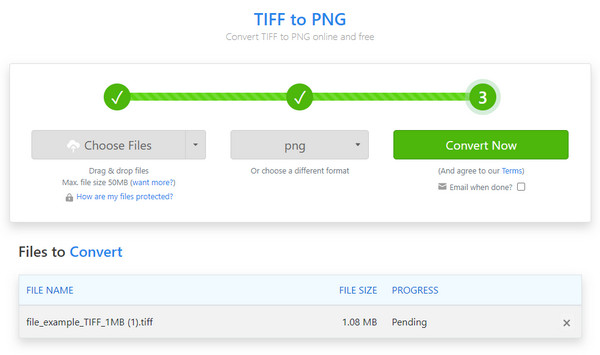 2. Convertio
This online TIFF to PNG converter is recommended if you want to convert files without consuming your device's capacity. Convertio supports more than 300 formats with a fast and easy process. It guarantees the quality of the converted file and also provides custom settings to choose the quality, codec, aspect ratio, and others. The online converter is accessible to any device, and its conversion will take place in the cloud.
Step 1.Click the "Choose Files" button or select another source like Dropbox or Google Drive.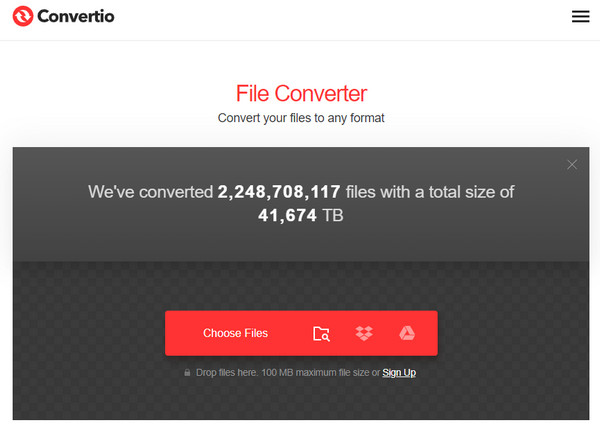 Step 2.Set the output format to PNG and click the "Convert" button. Download the converted files to save them to your device. This is a quick way for TIFF to PNG conversion.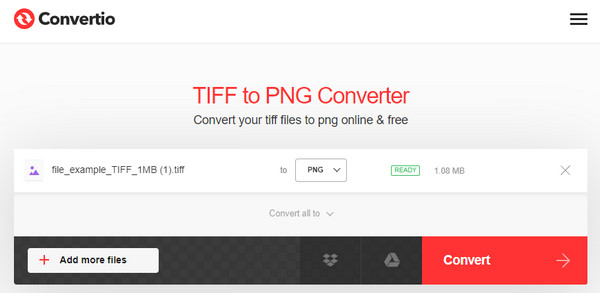 3. Pixelied
Pixelied is recommended by many users because of its simplicity and fast-speed process. The online tool not only focuses on converting TIFF to PNG, but it also supports converting images like JPEG, WEBP, SVG, HEIC, and more. Moreover, it gives an extensive image editor after converting files for further editing the filter, effect, text, etc.
Step 1.Import the picture to the website by clicking the "Choose Files" button, or do the drag-and-drop method to add batch of files.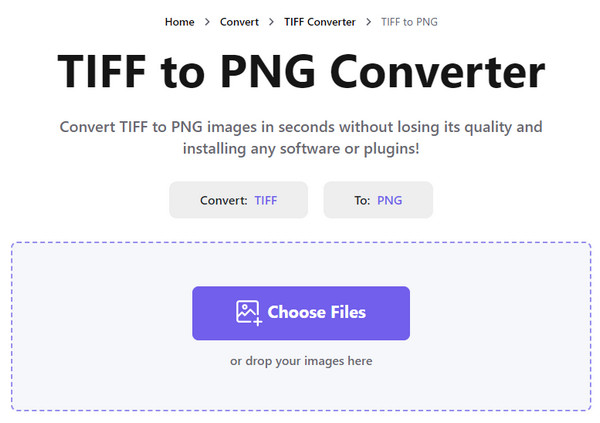 Step 2.The next window allows you to add more pictures to convert and edit the output quality. Once you are done editing, click the "Start Conversion" button. After downloading the converted photo, you can clear the queue or click the Edit PNG to open Pixelied's image editor.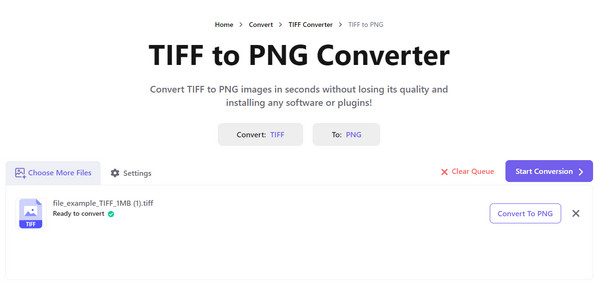 FAQs about Converting TIFF to PNG Format
1. Does TIFF support transparency like PNG?

Yes. However, the format is incompatible with most web-based programs. So, only third-party apps can fully support the transparency of TIFF files. There is also a tendency where you have to edit TIFF images to get the results you want.

2. Is it better to use PNG than TIFF?

It depends. It is hard to say PNG is better than TIFF or not. These formats are different, and both are beneficial for the user. As such, you can choose TIFF if you want high resolution and picture quality. On the other hand, PNG is smaller in file size and more manageable for any program, which is commonly used.

3. What is the disadvantage of converting TIFF to PNG?

PNG is not suggested to use for larger printing and web sharing. So if you have TIFF, you can rely on editing first before converting it to another format.

4. Is it possible to convert PNG to TIFF?

Yes. Most of the tools mentioned in this article support converting PNG to TIFF without any problem. Remember, TIFF can be a disadvantage regarding sharing and editing. But it is good for maintaining the image quality.

5. How to convert TIFF to PNG on a mobile device?

A few apps support converting TIFF files on Android and iOS. Try Image Converter – PixConverter and Image Converter by MBAndroida. You can also use apps to view TIFF files on your phone, like Multi-TIFF Viewer and OfficeSuite.
Conclusion
TIFF is an excellent format for storing high-quality images taken by a professional camera. It is also best for printing pictures on a larger canvas. However, this is not always the case. So, you will need to convert TIFF to PNG at some point, and this article recommended the best solutions. Furthermore, AnyRec Video Converter can change file extensions within a few seconds, supporting PNG, JPEG, SVG, BMP, and more. Try it for free on Windows and Mac!
Related Articles: