3 Ways to Convert GIF to PNG for Free on Windows/Mac/Online
GIFs are created by an animation with a sequence of images. But in some cases, you may prefer a GIF file to be a typical picture. The best way is to convert GIF to PNG as a still image. Because when you convert GIFs to other image formats, you will find out those still images have low resolution and have many noises. This post will give the best converters for Windows and macOS users to help you convert GIFs to PNG.
Part 1: The Online Tools to Help You Convert GIF to PNG
1. AnyRec Free Image Converter Online
AnyRec Free Image Converter Online is one of the most recommended tools by many users. The web-based converter gives you the most accessible navigation, as the interface is intuitive enough for both beginners and novices. It supports more than 30 input formats, including BMP, TIFF, WebP, and SVG, which you can convert to JPG, PNG, and GIF. Moreover, you can upload multiple image files and convert GIFs to PNG in a batch conversion. Visit AnyRec Free Image Converter Online and convert files for free!
Features:
◆ Effective online converter to convert GIF to PNG without losing the image quality.
◆ Allow users to upload 40 files with a maximum file size of 5MB each.
◆ Accessible to any browser, such as Windows and macOS, without installing a launcher.
◆ Free online converter without requiring users to sign up or create an account.
Step 1.Click https://www.anyrec.io/free-online-image-converter/ to go directly to the online converter. Choose the PNG option from the main interface, then click the Add Images button to upload the GIF file you want to convert. Ensure that the file is within the supported file size. Click the Open button to confirm the selection.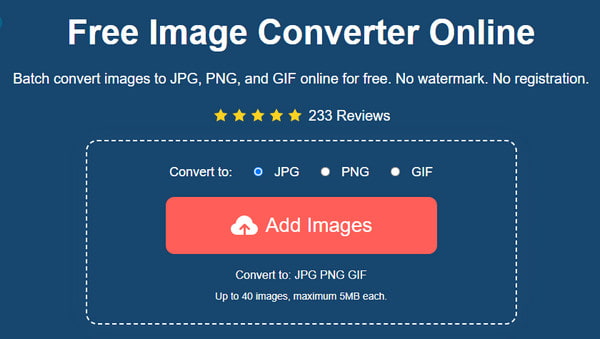 Step 2.Once the photo is uploaded on the website, it will convert the file by default. You may see the progress beside the file's name. It will take a few seconds for the conversion to get done, then the word Finished will appear on the timeline.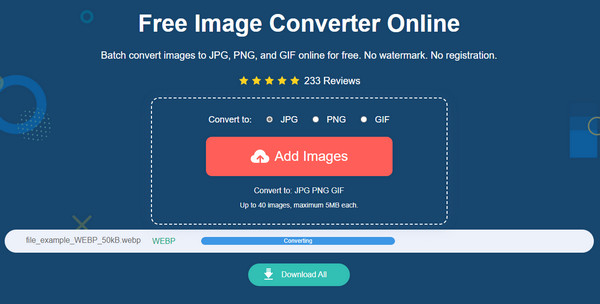 Step 3.Click the Download button to save the converted file on your computer. If you have multiple files to download, one-click the Download All button. Also, you can use the Delete button to remove unwanted files.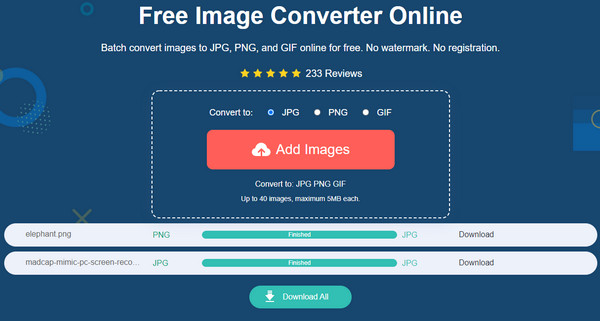 2. Convertio
Alternatively, you can use Convertio to convert GIF to PNG. A free program that offers its service for free. Its intuitive interface allows you to navigate the online converter with ease. It supports hundreds of formats, including MOV, MP4, GIF, PNG, JPEG, BMP, WMV, and more. The online converter is accessible to any device and platform without downloading or installing the software. Convertio gives a maximum of 100MB file size for every upload. It is safe to upload and convert in this online tool as it deletes files after 24 hours.
Step 1.Go to the Convertio website and click the Choose Files button to import the file you want to convert. You can also get the file from other sources like Dropbox and Google Drive. Click the Open button to upload the file.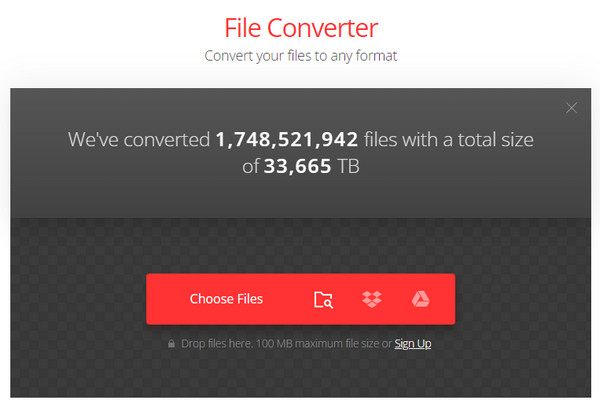 Step 2.After uploading, select the format from the list. Go to the Image tab and click the PNG button. If you have multiple files to convert to PNG, click the Add More Files button to upload.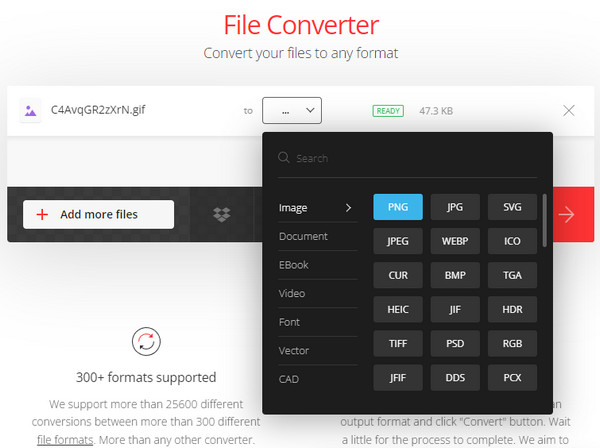 Step 3.Then click the Convert button to process the conversion. It may take some time, depending on the file size or the internet connection. Download the output to save it on your computer.
Part 2: Use Windows Default Tool to Convert GIF to PNG
Did you know you can convert GIF to PNG without installing a converter tool? Paint has been a helpful program for photo editing, and lucky for you, it can save a file in another format. The program mainly focuses on photo editing, where you can draw, apply elements, and put another picture. There are various add-ons, such as shapes, colors, and lines. It also provides the basic tools for editing, including resizing, rotating, and cropping. Moreover, Paint is affiliated with Paint 3D, which has advanced tools for photo editing. It supports output image formats like GIF, BMP, HEIC, PNG, TIFF, and more.
Step 1.Browse for the picture and right-click your mouse. Select the Open With option from the revealed menu and choose the Paint app. You can also upload by launching Paint and heading to the File menu. Click the Open button and select the picture.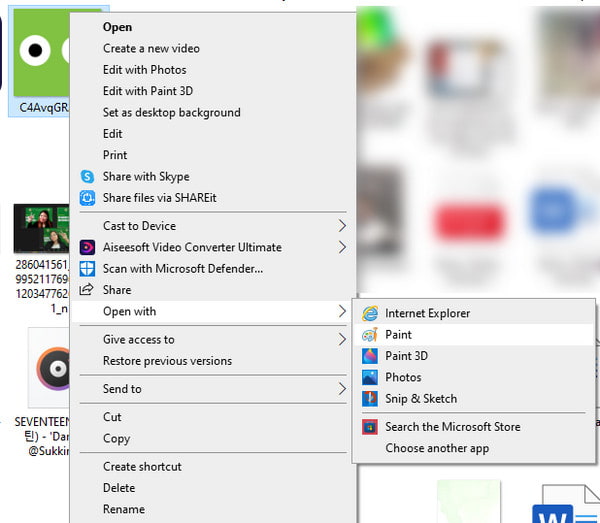 Step 2.Edit the picture however you like. You can also adjust it by using the features like cropping or cutting. Head to the View menu, and you will find other actions such as zoom in/out, fullscreen view, and gridline options.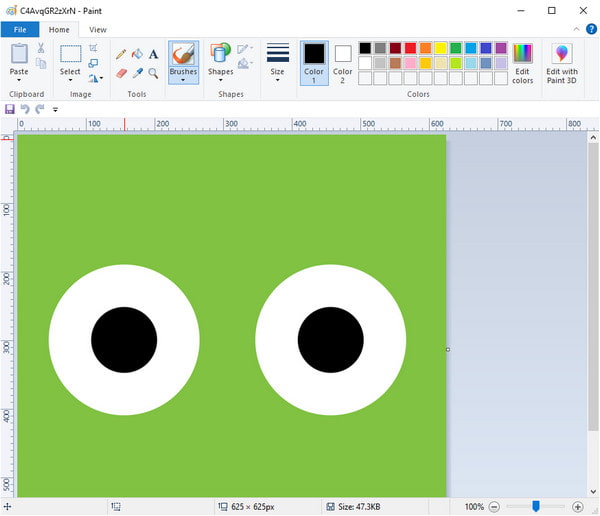 Step 3.To save the GIF, go to the File menu and select the Save As option. Head to the Save As Type menu and choose the PNG file format. You can also rename the file if you wish. Click the Save button to convert GIF to PNG.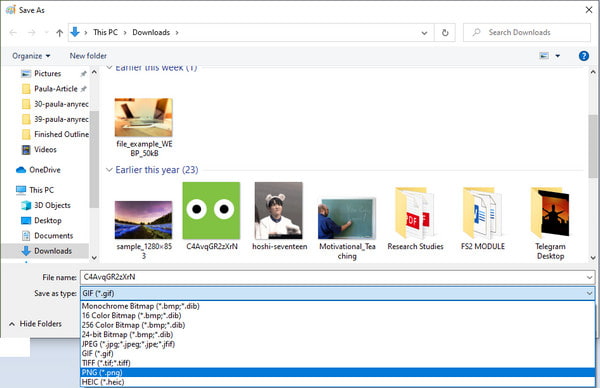 Part 3: Directly Output GIF into PNG on MacOS
If Windows has the Paint app to convert GIF to PNG by default, macOS also has a built-in program that allows you to change image format. The Preview has many features, and you might want to hear these features for various actions. The main work for this application is to open and view files. Even if you have PDFs (like captured screenshots to PDF) or images. Preview supports different formats like PSD, JPG, TIFF, etc. It also allows you to manage files by combining documents, putting up a password for important files, and compressing images like PNG if you need to save space. Moreover, Preview can convert an unsupported file by exporting and choosing the best file format.
Step 1.Run the Preview app on your macOS. Open the GIF file you want to convert to PNG. Since GIFs consist of many images, you will get and see them on the left part of your screen. Choose the frame you want to save and drag it on the timeline.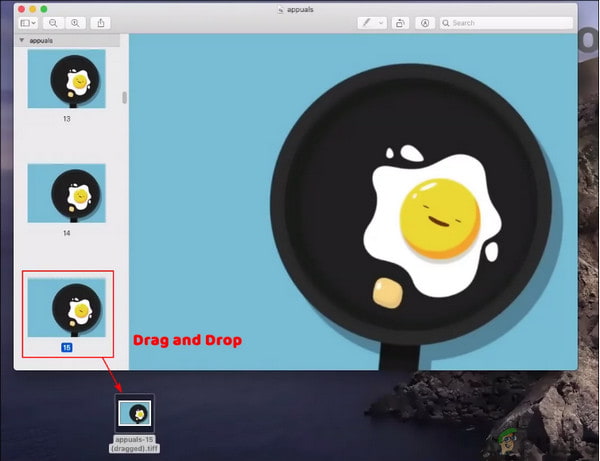 Step 2.The chosen picture will be saved as a TIFF file; open it on the Preview app and head to the File menu. Select the Export button to open the dialog box.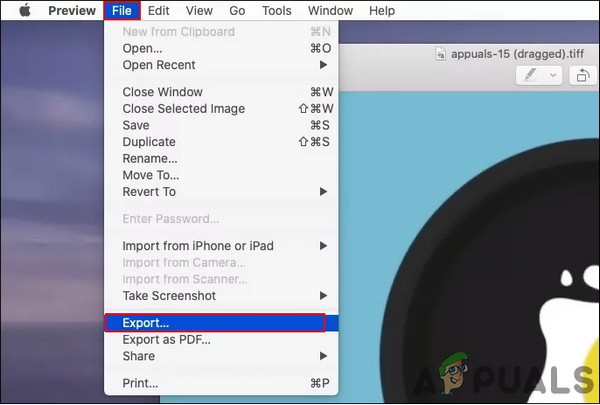 Step 3.Rename the file or change the designated path. From the Format option, choose the PNG file format from the list. Click the Save button to save the changes.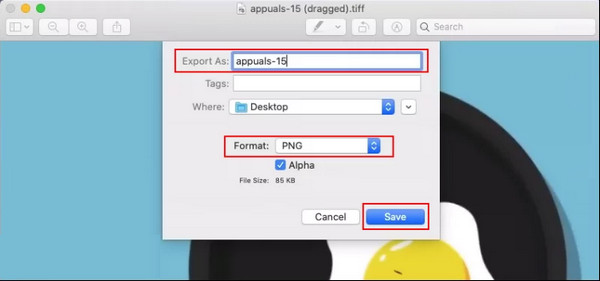 Part 4: FAQs about Converting GIF to PNG
1. Why do I need to convert GIF to PNG?

Converting GIF to PNG gives you more benefits in storing still images. The PNG format supports patent-free restrictions and applies more colors to your picture. It is highly sophisticated, with transparency and color support, so you can store the image in the best quality.

2. Does converting GIF to PNG lower quality?

Yes. Converting GIF to PNG reduces image quality, and it will happen inevitably. However, you can use an image enhancer to upscale a photo. You can use AnyRec AI Image Upscaler, an online image enhancement tool. You can magnify the photo resolution up to 8x without the quality. It is free and accessible to Windows and macOS.

3. How to convert GIF to PNG on my phone?

If you want a quicker way to convert files, online converters are accessible on smartphones. It is recommended to use Zamzar with free access. Open a browser and search for Zamzar GIF to PNG converter. Tap Choose Files and add the GIF on the website. Next, ensure that the format you want appears on the box. You may pull down the list and choose PNG. Tap Convert Now to process. Download it and repeat it if necessary.
Conclusion
GIFs are essential for communicating, presenting works, and promoting business. But suppose you only need it to be a still image; converting GIF to PNG is best. With recommended tools in this post, you can easily convert files as many as you need. Moreover, AnyRec Free Image Converter Online will help you convert multiple files while keeping the quality. Visit the website today and get a free trial!
More Related Articles: