4 Efficient Ways to Speed Up Videos on iPhone with Dramatic Effects
Speeding up videos is a trend on any social media platform. You can even see people posting their drawings in time-lapse or funny videos with fast movements. What's more, speeding up videos on iPhone is an incredible way to make attractive clips. In this article, you will learn the 4 different methods on how to speed up a video clip on iPhone and other helpful ways to create more interesting speed-up videos. Let's get started.
Part 1: Two Default Methods to Speed Up Videos on iPhone
It is good to know that iPhone has two default ways to speed up videos. It is easy to create a speed-up video with good quality. In this part, you are about to know these methods to speed up videos on iPhone.
1. Speed Up Videos on iPhone through iMovie
iMovie is a default video editor for Apple products. It offers free advanced tools to make professional videos. Of course, speeding up your video clips on iPhone and cropping videos is possible with iMovie. If you are still unfamiliar with iMovie, follow the steps below:
Step 1.Download the iMovie from the App Store and launch it. Click the Create Project button, then the Movie option to start selecting the video clip you want to speed up on iPhone. You can also tap the Media button to open your gallery.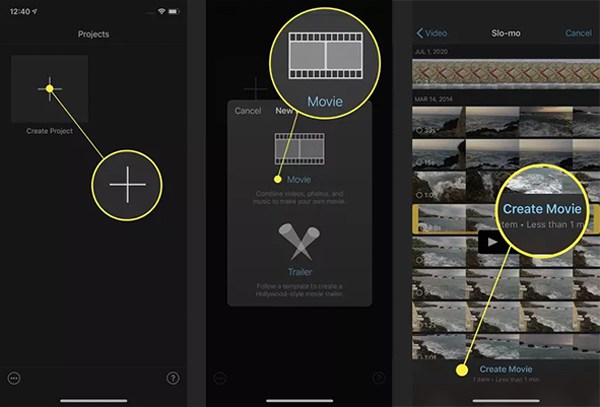 Step 2.After choosing the desired video, click the video timeline for the editing tools to appear. Select the Clock icon for the speed controller. Move the Speed Slider to the preferred speed of the clip. You can also do other editing, such as trimming and inserting text on the video.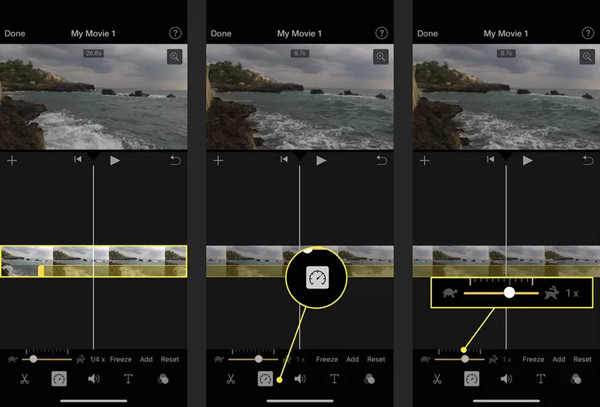 Step 3.Once finished with editing, you can now tap the Done button on the left part of the screen. Download the video clip by clicking the Save button. You can share the speed-up video on your social media accounts.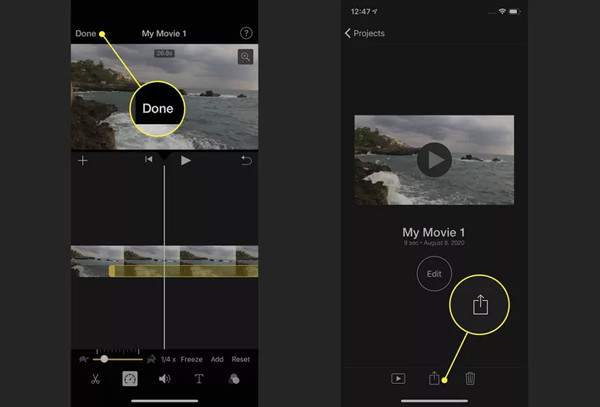 2. Accelerate Videos on iPhone With the Photos app
If you have many slo-mo videos you want to speed up or bring back to average speed, you can use the pre-installed Photos app to edit the speed of the clips. Moreover, it also offers other editing features like trimming, color adjusting, and more. How to speed up videos using the Photos app:
Step 1.Open the Photos app on your device and go to the Albums section. You will be directed to folders with the exact names of shots. Choose the Slo-mo folder. Here, select the slo-mo video clip you want to edit.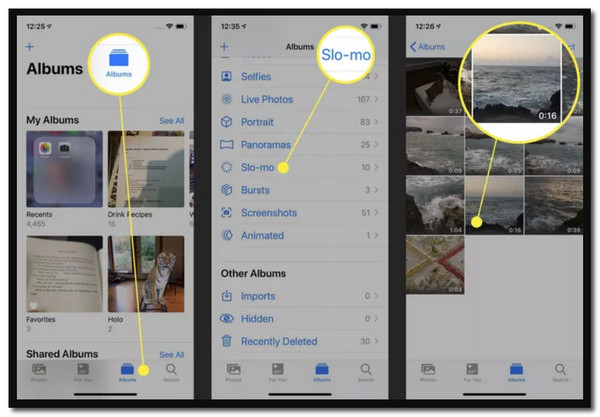 Step 2.tap the Edit button on the top right part of your screen. On the bottom part, you will be able to see the bar with vertical lines just below the video's timeline. Just drag your finger to speed up videos on iPhone easily.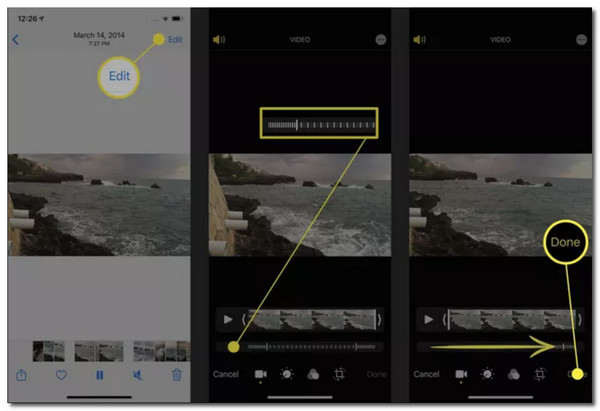 Step 3.When the vertical lines are all apart, it indicates that the video is at normal speed. You can also use other editing tools such as brightness, crop, and filters to enhance the video clip. Once finished, tap the Done button to save the changes.
Part 2: How to Speed Up Videos on iPhone at More Than 2X
It's much easier to use iMovie to crop videos and speed up videos on iPhone. However, the downside of these is they only have a limited speed meter, and you might need to create a faster video. Don't worry, as this part have the essential apps to help you speed up your videos on iPhone at more than 2x speed.
1. SloPro
SloPro can shoot a video at a prolonged speed and still offers the faster speed you are looking for. It has the most straightforward interface with some features to help speed up videos on iPhone. It also enables you to directly share the speed-up video on your social accounts such as Facebook and YouTube.
Pros

Allow batch downloading.
Powerful but intuitive editing system.
Cons

Watermark in the middle of the video every new update.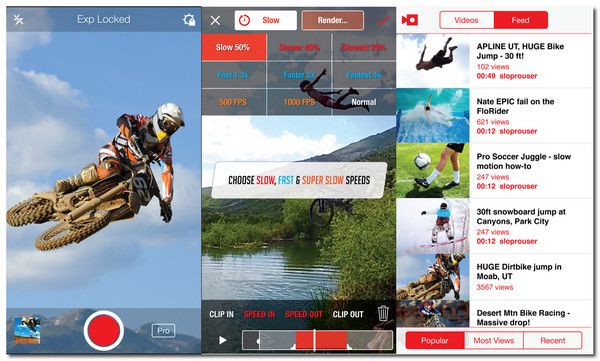 2. TiltShift Video
Another groundbreaking speed controller for iOS is the TiltShift Video app. It can stimulate slow-motion or a faster speed for timelapse. It is user-friendly for speeding up videos on iPhone. However, if you want to shoot using this app, it will require expensive DSLR lenses to simulate the effect.
Pros

Export videos in full HD or other export preset.
Easily adjust the video saturation, contrast, etc.
Cons

Crash every time music is added.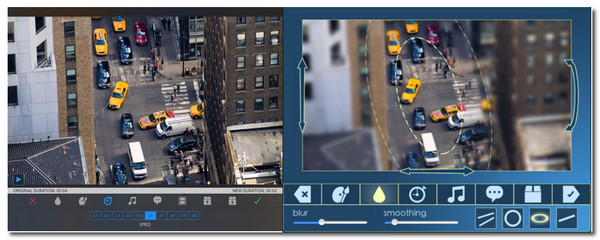 Bonus Tips: The Best Software to Speed Up iPhone Videos on Windows/Mac
If you want to speed up iPhone videos with more function and settings, AnyRec Video Converter is recommended as a powerful speed controller on Windows/Mac. It has the advanced tools to speed up your video clips without flashy lights, and it also enables you to edit your video encoder, format, quality, and frame rate up to 60 fps.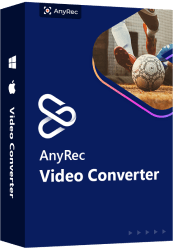 Other outstanding features of AnyRec Video Converter:
Smoothly speed video and audio clips up to 8x speed.
Support video file formats to speed up like MP4, MOV, MKV, etc.
Modify video clips before speeding up with AI Video Enhancer.
Offer other editing tools like video trimmer, rotator, merger, and effects.
Part 3: FAQs about Speeding Up Videos on iPhone
1. Can I speed up a 30-minute long video on iPhone?

Certainly, yes. It will depend on the tool you will use if it can handle speeding up your video. Also, you need to condition your phone's storage space, so you don't need to receive an error notification.

2. Can I speed up a Live Photo on iPhone?

Unfortunately, no. You cannot change the speed of a Live Photo. However, you can convert it to a video for you to speed it up. You can use the iMovie app or another third-party app.

3. Does iMovie lower video quality when I speed up a video on iPhone?

Yes. That's because you can't set the parameters of videos through iMovie However, you can also use AnyRec Video Converter to speed up your iPhone videos and keep the original quality as it supports adjusting the parameters.
Conclusion
Although it is an easy task to speed up videos on iPhone, still, you need to consider many things, such as the smoothness of the video when it is already speed up or how much speed an app can offer you. If you want to speed up your iPhone videos with more than 2x speed, the default tools on iPhone cannot do this. That's why AnyRec Video Converter is created with 8x speed. You can try its features from the free trial version. Have any questions? Please contact us now!
More Related Articles