How to Speed Up or Slow Down Video Files Using iMovie (iPhone/Mac)
The speed-up effect plays a huge part in creating a video, especially when you want your audience to pick up the mood in a movie. Luckily, if you are Apple users, you can directly speed up or slow down videos with iMovie to add funny or dramatic effects. This default tool also provides many useful tools to edit your video professionally. Read further to learn how to speed up or slow down your video in iMovie on iPhone and Mac.
Part 1: How to Speed Up/Slow Down Videos in iMovie on iPhone
As mentioned, iMovie is a dedicated and free application for Apple users to speed up/slow down videos. However, unlike the Mac version, iMovie on iPhone only offers a small portion of its unique features. With that said, iMovie still professionally changes the speed of your video files in a few clicks. Follow the steps below on how to speed up or slow down video files using iMovie on iPhone:
Step 1Once done, launch it to start editing. Click the Plus button and choose the Movie option to create a new project. Choose the desired video clip or browse albums to edit and import them to the app. Tap the clip on the track for the editing tools to appear.
Step 2At the bottom part of the screen, tap the Clock icon for the speed options. Select a part of the clip you want to change the speed, then move the speed slider to speed up/slow down videos on iMovie. Then click the Add button to apply speed.
Step 3You can do more editing, such as trimming the clip, inputting text/title, or adding another clip. Once satisfied with the changes, click the Done button at the top left part of the interface. After that, you can change the name of the video clip.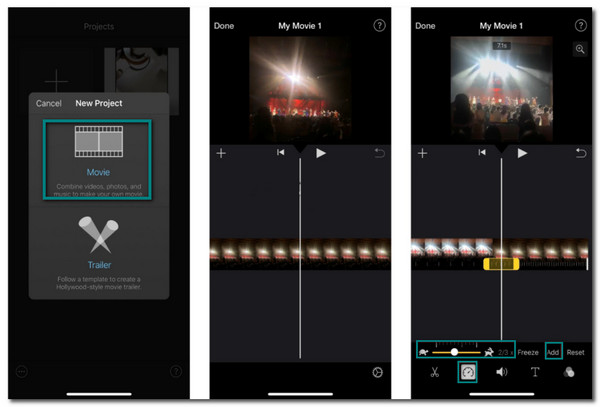 Part 2: How to Speed Up/Slow Down Videos in iMovie on Mac
If you prefer editing your video file on a computer or laptop, the Mac version of iMovie is available. This version of iMovie has more features you might need for editing video clips. Moreover, it is also easy to change video speed in any way you like it. Let's get started on how to speed up or slow down video files using iMovie on Mac:
Step 1Open the iMovie software on your Mac to start video editing. Click the Import Media button to upload the desired video file. Once uploaded, drag the clip to the timeline, then click it again to make the editing tools appear.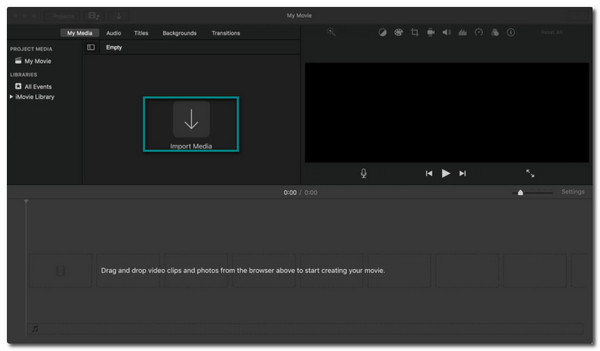 Step 2Click the Speedometer button to start changing the video speed. Choose the desired speed for your video clip from the Speed drop-down menu. Select from the Speed Set how fast or slow the pace would be.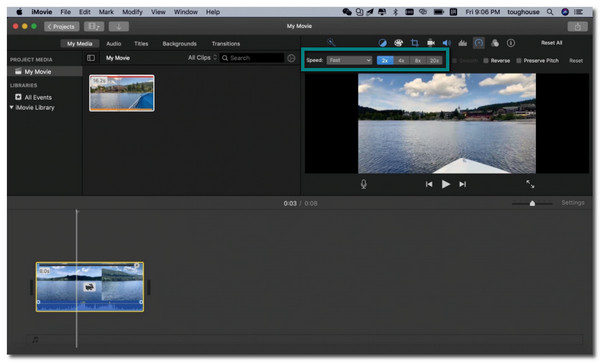 Step 3Once done, you can also select a part of the video then hold the R key to drag across the clip. Click the Speed drop-down menu to customize the speed. You can repeat this method if you have other clip parts want to speed up/slow down on iMovie.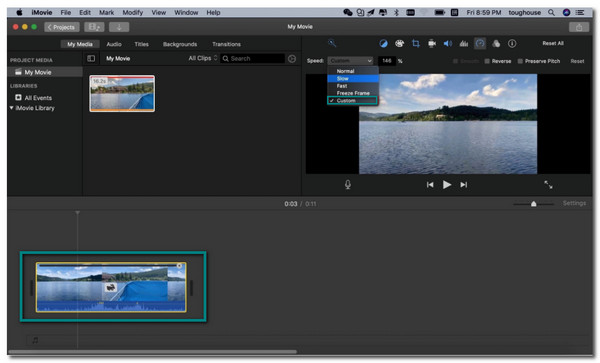 Part 3: The Ultimate Way to Speed UP/Slow Down Videos on Windows/Mac
Using iMovie to speed up/slow down videos is excellent when you get familiar with it. However, this is not the case for other users because of its complex interface, especially beginners. So to make it easy for you, AnyRec Video Converter is the best to use. This software has terrific functions like iMovie that help professionally speed up or slow down the speed of your video clip. Moreover, you don't need to worry about video quality because AnyRec Video Converter offers high-quality resolutions and parameter adjustments.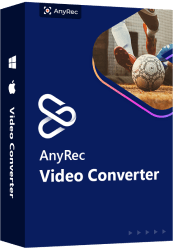 AnyRec Video Converter
Change video speed from 0.125x slower speed to 8x faster easily.
Support any video file format to edit like MOV, WMV, MP4, etc.
Change the output settings, like frame rate and resolution to keep quality.
Offer other essential tools like video merger, converter, and more.
How to speed up or slow down video clips with AnyRec Video Converter:
Step 1Once you have downloaded the software on your device, open it to start editing. Locate the Toolbox option on the menu at the top part of the pane. Select the Video Speed Controller option and upload the desired video file.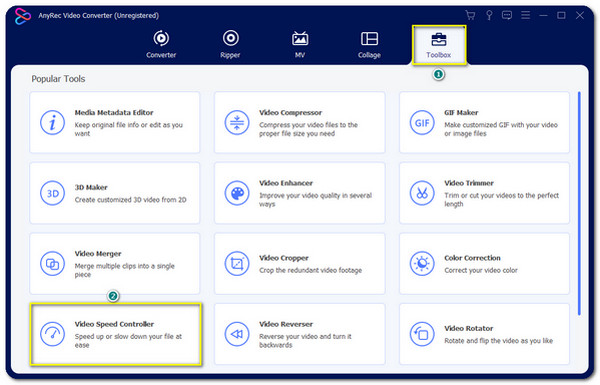 Step 2Choose the desired speed for the clip. If your video is long and you want to speed it up, choose the 8x speed. However, you can select the 2x for a moderate pace. Or slow it down up to 0.125x speed.It's much better than speeding up/slowing down videos in iMovie.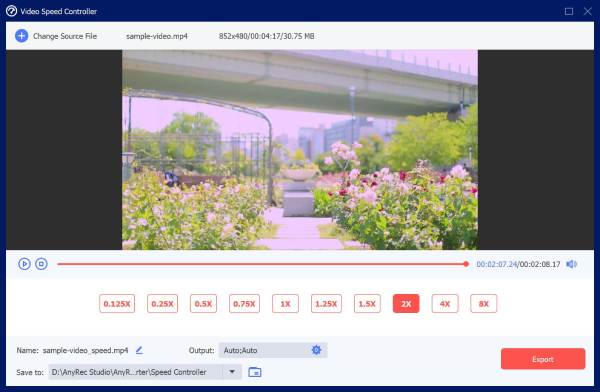 Step 3If you want to change the video settings, click the Gear icon on the Output option. You can change the video format, resolution, frame rate, encoder, and more. After editing, click the OK button.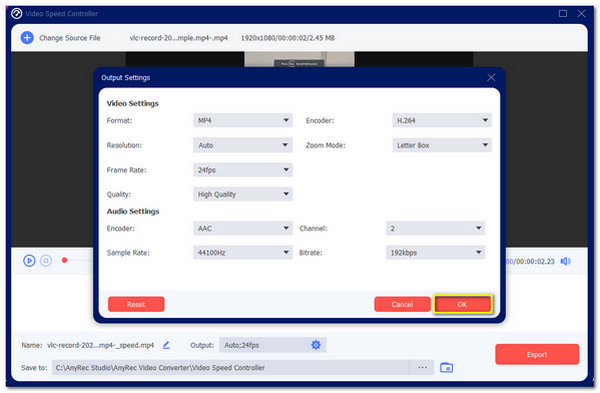 Step 4Go back to the main editing pane. Choose the designated folder on the Save To option. After browsing the correct folder, you can click the Export button to start the process. The chosen folder will automatically appear, showing the edited video clip.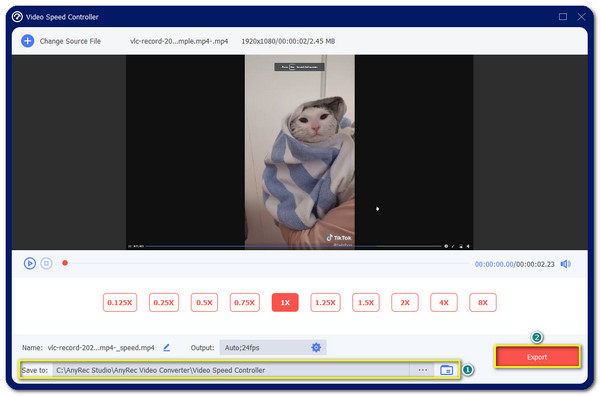 Part 4: FAQs about Speeding Up/Slowing Down Videos in iMovie
Does changing video speed through iMovie causes quality loss?

Yes, it does. Since iMovie does not offer frame rate and resolution adjustments, it might cause a quality loss on your video file. However, you could find tools that guarantee good quality, like AnyRec Video Converter.

Can I speed up or slow downd videos on Android?

Certainly, yes. There are many video speed controller apps you can download from the Google Play Store for free. The most recommended apps are Video Speed Changer: SlowMo FastMo, Video & Audio Speed Changer, Fast Motion, and more!

Is it possible to change video speed online?

Yes. Go to your browser and search video speed controller or video speed changer. There are many available online tools you can freely access and use. However, you need to be careful as some websites give spams and viruses.
Conclusion
When you don't like the pace of your video file, you can speed up or slow down videos using iMovie. It has unique features you can use to modify your video files. But if you find this software hard to navigate and think it might take some time to get used to it, you can use AnyRec Video Converter instead. You can have as much speed as you want without losing quality. Welcome to contact us and leave your suggestions.
Related Articles