Two Speed Accelerators Help You Speed Up Video Online and Offline
When talking about changing video speed, many people think that using a website to speed up a video online is a good way. Although it is convenient, limitations exist too. So, compared with websites, offline software could give you more surprising effects on your video. This post will give you one offline software and a website tool to help you speed up the video. And you can make a judgment about which is good, speeding up a video online or offline.
Part 1: Increase Your Video Speed with AnyRec [Convenient]
If you want a professional video editing tool to increase your video speed, AnyRec Video Converter seems like the best choice. Using the software may not be as convenient as using a website to speed up a video online. But the professional video editing effect and video quality of AnyRec Video Converter are beyond an online tool.
This software could not only speed up your videos but also slow them down. There are multiple speed options for you to choose from. And you can preview the final effect in case you do not like the speed. What's more, there are more video editing tools that could help you enhance your video. You can enhance video quality and make your video look better with easy clicks. And if you think the audio track is weird after changing the video speed, you can also use this software to add a new audio track, which you cannot do on a website when you speed up the video online.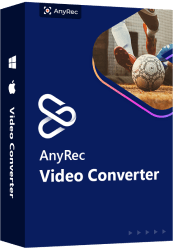 AnyRec Video Converter
Provide 0.125X to 8X options for you to change your video speed.
Enhance the video quality with AI technology after editing the video.
Give multiple output settings like formats, bitrate, and so on.
Edit your video and audio with many professional effects.
Step 1.When you launch the software, click the Toolbox button on the top of the main screen. And you can see there is a Video Speed Controller button on this screen, click it to add the video you want to edit.
Step 2.After you add the video you want to change the speed; you can see there are 10 buttons under the video. These buttons are speed options from 0.125X to 8X. You can choose which speed you want to apply to your video.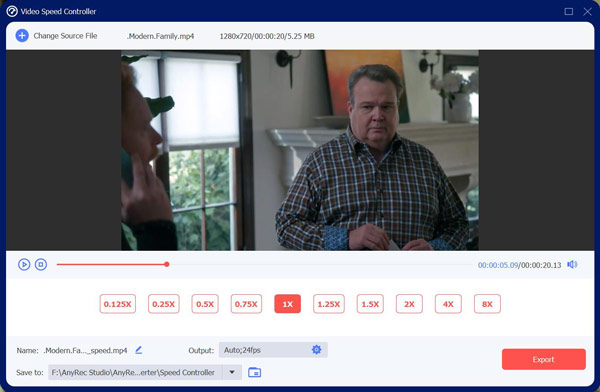 Step 3.When you are done with the speed setting, you can preview the video to see the effect. But to ensure the preview effect, you cannot preview videos at 4X and 8X speed. But that doesn't influence the output video effect.
Step 4.The last step is to change the output settings; you can change the video and audio output. And when you click the OK button to save settings, you can click the Export button to save your video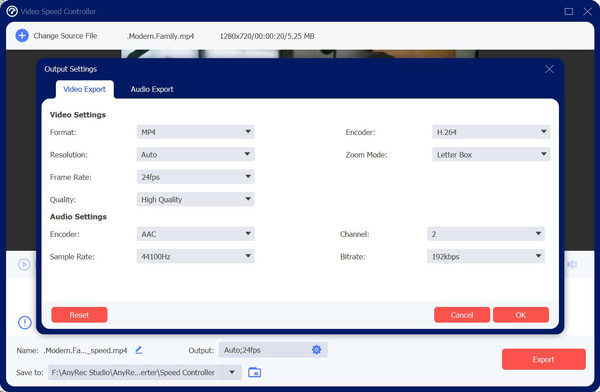 Part 2: Change the Speed of Video on Adobe Express [Professional]
There is a convenient way to change the video speed. There are many website speed accelerators to speed up the video online. You can use Adobe Express to speed up a video online quickly. And you can instantly download your new video to share anywhere.
As you can see it is very convenient to speed up a video online with Adobe Express, but there are also many limitations. The highest speed you can change your video is 2X. And the most important disadvantage is that the quality of the video will decrease after using website speed accelerators.
However, let's take a look at how to use Adobe Express to speed up the video online:
Step 1.Visit the Adobe Express website and then choose your video and upload it. And the video length is limited, you can only upload the video last one hour.
Step 2.Use the speeds option to change the speed. You can speed up the video in Express by 1.5X and 2.0 X.
Step 3.Download your final edit.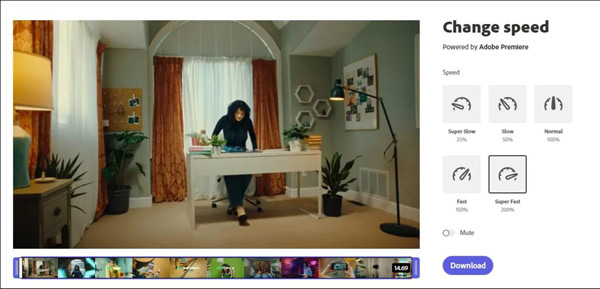 Part 3: FAQs about Speeding Up Video Online
How can I speed up Facebook videos online?

If you are watching a Facebook video on Chrome and you want to change the speed, you can use Video Speed Controller extension. While playing the video, you will see a speed option in the top left corner of the video. You can click on the speed and set the desired one. You can also press the D key to speed up the video.

Can I just speed up sections of the video?

Yes, you can speed up the sections of a video. The simplest way to do that is by splitting the video into clips and increasing the speed of the desired part. After that, you can merge all the clips. Moreover, some video editing tools like Adobe PR have a special feature. You can add speed points at various locations in the timeline and speed up a particular section.

How can I speed up a video on my iPhone?

To speed up the video on iPhone, you should tap Fast Forward from Clipon the chosen video. And then you can see there are multiple options: 2x, 4x, 8x, or 20x. If an option can't be selected, it means the video clip isn't long enough to accommodate that increase in speed.
Conclusion
After you see these two ways to speed up a video, you may have the answer to which one is good for you. If you have a short clip and you do not care about the quality, you can speed up the video online. But if you are seeking better quality and more speed options, AnyRec Video Converter is the best choice for you.
More Related Articles: