Shrink a Photo on iPhone without Blurring to Save More Space
Your iPhone takes photos with the best quality, and keeping them on your device will not be a problem. So many people want to shrink a photo on iPhone because this quality picture takes up too much space on your device. And for a worse scenario, you must not want to delete pictures on your iPhone. Don't worry; it is possible to edit the image size by learning how to shrink a photo on iPhone. This article will teach you the default way and some practical alternatives for more accessible solutions.
Part 1: Shrink Photos on iPhone with the Photo App
The Photos app is the default gallery and photo viewer of iOS devices. It provides functions like a hidden folder and photo editor to draw, crop, and apply filters to your pictures. Since it is a built-in function of the iPhone, you don't need to install an add-on for further editing. Using it will also protect the quality of the picture even after cropping them. So if you want to shrink a photo on iPhone by cropping it, you can use this method.
Step 1.Go to the Photos app on your iPhone. Choose the picture you want to resize and tap Edit from the upper right corner of the screen.
Step 2.Once the tools appear, tap Crop at the bottom part of the editing menu. Proceed to resize the picture to the desired area. Then, tap Done to save the changes.
Part 2: Reduce Images on iPhone via Online Compressor
Do you want to resize the photos on iPhone to reduce the file size? AnyRec Free Image Compressor Online is an outstanding tool for compressing pictures without losing quality. It helps to compress images into a smaller size to post on social media without restriction. It is also an alternative if you don't want to crop pictures to reduce the size. Unlike other online tools, AnyRec does not require paying or creating a free account to utilize its features thoroughly.
Features:
A clean website without interruptions from pop-ups and advertisements.
Export and download images from iPhone in batches at a fast speed.
Support AI technology loses minimum quality after shrinking photos.
Have no watermark after you shrink the photos from your iPhone.
Step 1.Visit the online compressor on your iPhone's browser and click the Add Images button. Import the picture you want to resize from your phone's gallery.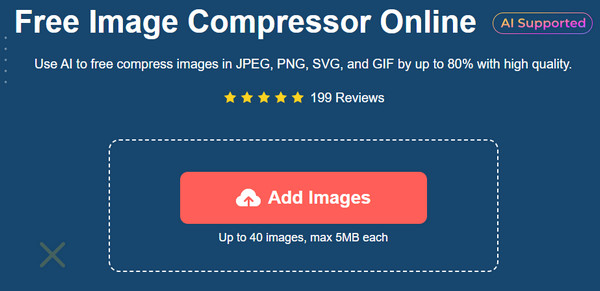 Step 2.Once the first picture is uploaded, you can see the process from the parameter. You can also add more photos during the process to create batch compression.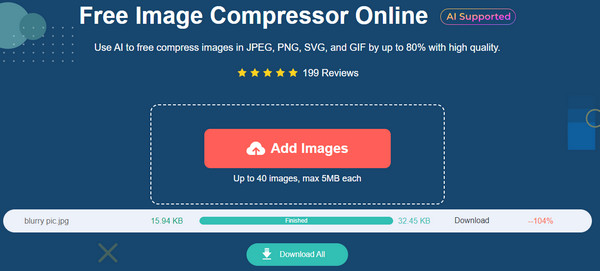 Step 3.When all imported files have the word Finish in their parameter, it is time to export them. Click the Download All button to start the exportation.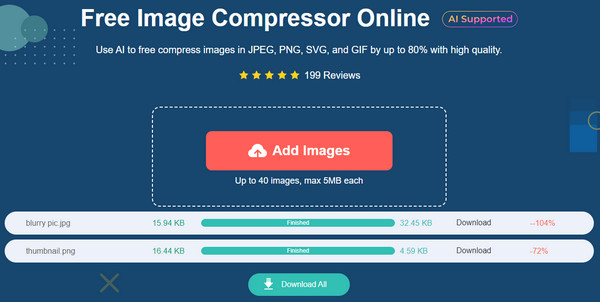 Part 3: Resize a Photo on iPhone by Converting to JPG
Alternatively, AnyRec Free HEIC Converter Online can shrink images on iPhone without losing the quality. This is ideal for HEIC photos on your iPhone. Although HEIC is an excellent format for keeping quality, it still holds large file sizes, so, AnyRec created a powerful tool to convert with an AI-based algorithm. It has a simple UI where you can add files from your computer without limitations. Free HEIC Converter is a convenient converter for all popular browsers.
Features:
Shrink images by converting HEIC to JPEG without losing quality.
Allow users to upload ten images per day with a maximum of 5MB.
Enable to do batch conversion with a fast speed converting process.
Require no registration for using the tool to convert HEIC to JPG.
Step 1.Go to AnyRec Free HEIC Converter Online and click the Add HEIC/HEIF Files button to upload the photo. From your local folder, click the Open button to confirm the selected image.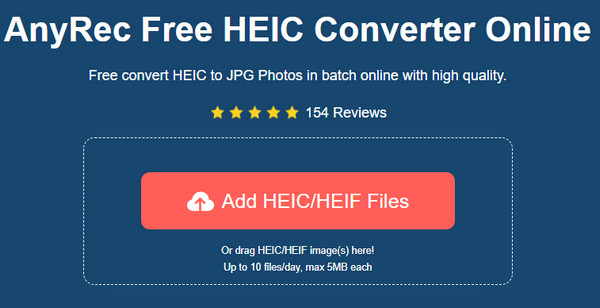 Step 2.The online tool will automatically start the process once the picture is uploaded to its interface. Click the Upload button again to add another file.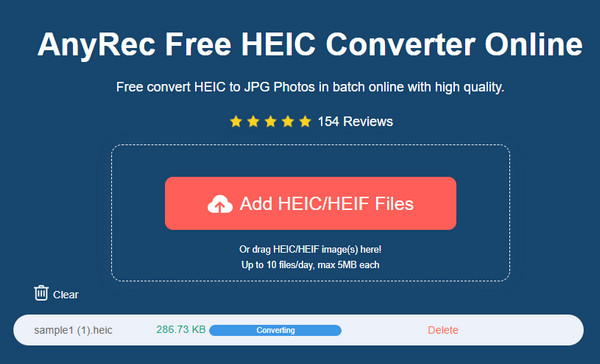 Step 3.When all uploads are converted, click the Download All button to save them to your device. Click the Clear button to start a new batch.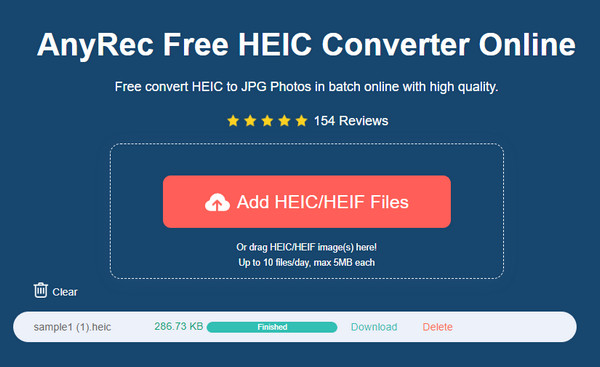 Part 4: FAQs about Shrinking a Photo on iPhone
1. How to shrink photos on iPhone to avoid getting low storage space?

By default, capturing pictures on your iPhone's camera is saved as JPEG, the standard format. However, since the release of the latest version of iOS, developers have made HEIC the default format for captured photos to save some storage space for the devices.

2. Can I undo the cropped picture on my iPhone?

Yes. If you cropped or shrank a photo and find it insufficient, you can undo it on the Photos app. To do this, open the cropped image and tap Edit from the upper right corner. Then, locate and tap Revert and Revert Original. The picture will then restore to its original size.

3. How to shrink photos on Android?

Android devices also have a built-in photo editor on the gallery. To crop a picture, open the default photo viewer. Choose the photo you want to crop. Tap Edit, and the editing menu will then appear. The cropping tools are the first to appear on the window. Resize the picture with the presets or manually.
Conclusion
How to shrink photos on iPhone? There are many ways to crop and edit the file size of your pictures. iPhone is popular because of its high-quality camera, which can make photos HD, and even makes the settings more flexible to capture the best shots. Of course, the Photos app provides editing features that do not require any add-on. For other solutions, AnyRec Free Image Compressor Online is accessible to Safari, Chrome, and other popular browsers. And AnyRec Free HEIC Converter Online can help you shrink photos on your iPhone by converting HEIC to JPG on iPhone, Android, Windows, and Mac.
Related Articles: