ScreenFlow Review: Explore its Overall Review and 5 Best Alternatives
ScreenFlow, a screen recorder tool for Mac, is known for its supported excellent features. However, could this screen recording tool achieve the needs and desires of every screen recording process? The only way to find it out is by reading this post's overall review of ScreenFlow, featuring its features, functionality, pros, and cons. Additionally, it also collects the 5 best alternatives to ScreenFlow for Mac! Start exploring them now!
Part 1: Review of ScreenFlow
ScreenFlow Overview
Before exploring ScreenFlow's excellent features, functionality, advantages, and disadvantages, let us first discuss its overview. ScreenFlow by Telestream is made to record any on-screen activities on Mac. It supports various screen recording modes, such as screen, camera (Webcam), and microphone. Moreover, you can also redefine your recordings using its built-in video editing features. Furthermore, you can also instantly share your recordings on various platforms, web pages, or Cloud storage.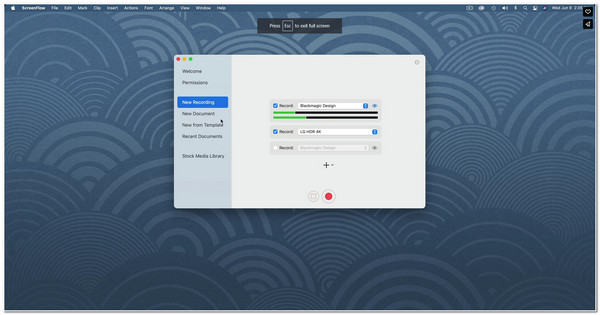 Features and Functionalities of ScreenFlow for Mac
Support the

Screen Recorder feature

- This feature enables you to record your Mac or an iOS device screen with your Webcam and Microphone with high quality.
Offer a

Library of Stock Media

- This Stock Media comprises images, audio, and video clips that you can apply as an additional element to your recordings.
Infused with

Powerful Video Editing

tools - This tool is made available to redefine your video by applying transitions, text & video animations, annotations, motion graphics, styles, templates, etc.
Integrated with various

Social Media Platforms

- ScreenFlow supports direct publishing to various platforms, including YouTube, Vimeo, Wistia, etc., to share your recordings.
Those are just a glimpse of these ScreenFlow for Mac features and functionalities. With those features, you can see how powerful this tool is. It shows that it is made to capture your Mac screen and lets you unleash your creativity by redefining it using its built-in video editor. It also supports recording your iOS device screen, surpassing other screen recorder tools today. Moreover, it is also integrated with social media platforms for instant sharing and publishing.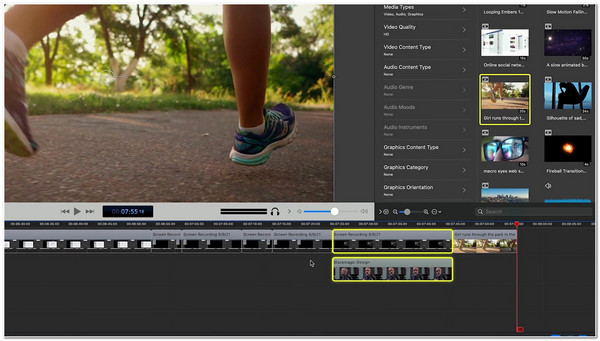 ScreenFlow PROS and CONS
Pros

It comes with an intuitive interface for beginners and experts.
ScreenFlow supports iOS screen recording.
It is rich with Powerful Video Editing features.
It offers various Media files on its built-in Library for additional graphical elements.
ScreenFlow provides easy-to-understand feature tutorials on its official website.
It supports a free trial version without an expiration date.
Cons

There is no official ScreenFlow for Windows version.
It exports your recordings with a large file size.
As for free users, there will be a watermark attached in the output video.
The ScreenFlow plans are expensive.
As you can see, ScreenFlow for Mac disadvantages makes you look for alternatives. Despite its outstanding features and advantages (PROS), its disadvantages (CONS) can hinder you from achieving your desired screen recording needs. When we compare it to other screen recorders today, some of them only limit you with screen recording duration under the free version, and they do not add watermarks to your recordings. This point could be one of the significant areas for improvement of this tool, not to mention that it is not a multi-platform tool. Thankfully, ScreenFlow offers the best video editing and sharing features, not all screen recorders offer, which is its primary strength.
Part 2: 5 Alternatives to ScreenFlow for Windows and Mac
If you are now considering looking for a ScreenFlow alternative, then in this part, you'll see the best lineup of screen recorder tools that are applicable as an alternative. Start exploring these 5 Windows and Mac-compatible screen recorder tools and choose the one you think is the best alternative to Screenflow.
1. AnyRec Screen Recorder (Windows/Mac)
The first beginner-friendly tool you can use as a ScreenFlow alternative is the AnyRec Screen Recorder tool! This Windows and Mac-compatible tool can capture any on-screen activities on your computer. It supports recording your computer's entire screen, a specific portion, and an active window. Moreover, it records your screen without limitations, watermarks, and lag issues, even if you are using a free version. Furthermore, you can record on-screen activity in 4K Resolution and 60 Frame Rate, providing high-quality output. These are just a glimpse of its features and functionality, and it still has much to offer! Explore its other outstanding features below!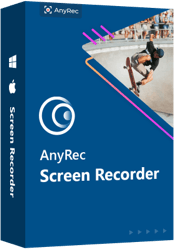 AnyRec Screen Recorder
Equipped with a Phone Recorder feature, you can capture iOS and Android devices.
Support a Real-Time Drawing feature that lets you add annotations during recording.
Infused with an Advanced Trimmer, you can remove unwanted parts on your recordings.
Convert your recorded videos to any format you want to send or share them easily.
2. OBS Studio (Windows/Mac/Linux)
If you are searching for a completely free alternative to Screenflow, then OBS Studio is what you are searching for. OBS enables you to record on-screen activities and sources. It also allows you to share and publish your recordings on YouTube and Twitch. This tool became an excellent alternative because it lets you tweak streaming and recording outputs. You can modify your output's bitrate, encoder, and audio bitrate. However, if you are a beginner, you might see this tool as complex.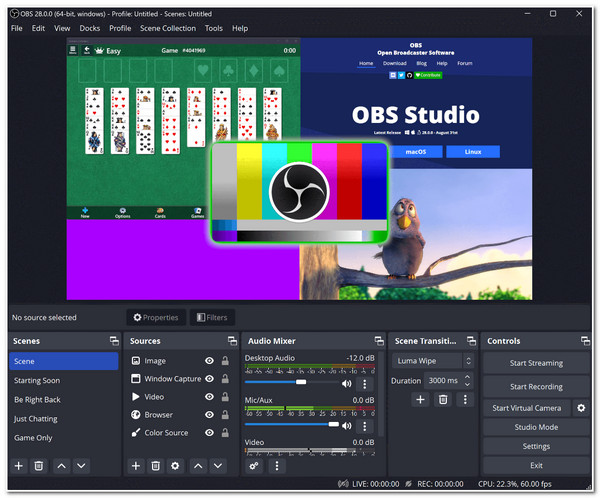 3. ScreenPal (Windows/Mac)
Another tool you can use as a Screenflow alternative is the ScreenPal. This tool is much easier to use than ScreenFlow, which shares the same features. This tool supports a simple interface with easy-to-understand features. One of its capabilities is to record your screen with an overlaid webcam and an active microphone for narration. It is also equipped with a video editor feature that lets you add texts, shapes, and images for free. Moreover, it also offers Stock media files that are made available for you to apply to your recordings. However, the same goes for ScreenFlow; this tool embeds a watermark on your output, which you can eliminate by purchasing its upgraded version. Don't worry; ScreenPal is much more affordable than ScreenFlow's upgraded version.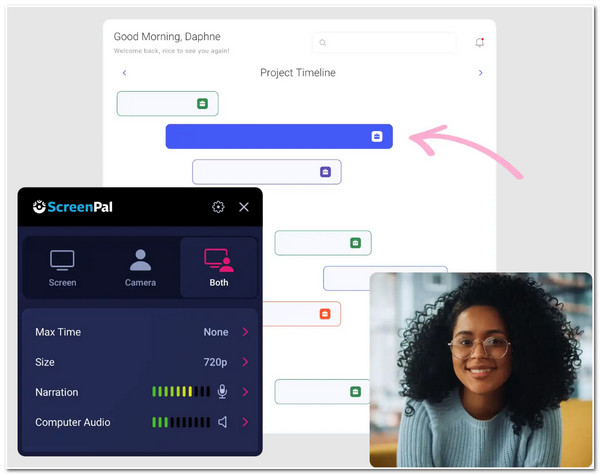 4. Snagnit (Windows/Mac)
It would be best if you also didn't want to miss the chance to use Snagnit as an alternative to Screenflow. The same in Snagnit review goes with the first mentioned screen recorder tools; Snagnit is also developed to record an entire screen, a selected region, an active window, and a scrolling screen for lengthy subjects. Additionally, it also supports capturing picture-to-picture during screen recording. Moreover, it is also equipped with real-time screen drawings, graphical stamps, ready-made templates, etc., which you can apply to your recordings. Although Snagnit also offers many features like ScreenFlow, not all are available under the free version. But you can purchase one of its offered plans, which is much more affordable than ScreenFlow's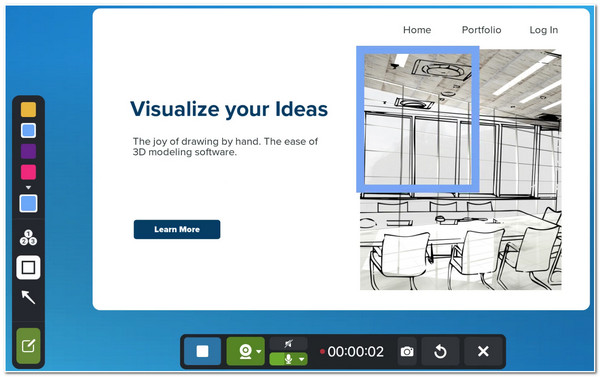 5. Loom (Windows/Mac)
Last but not least is the Loom. If you are looking for a much easier tool than ScreenFlow to capture your screen, then Loom Screen Recorder is what you are searching for. This tool simultaneously supports recording your screen, camera (webcam), and voice on a microphone. Moreover, despite its simplicity, it covers the ability to share your recordings with your recipients via a link. They can watch them without creating or signing into an account. Though Loom is one of the best and most straightforward alternative tools for ScreenFlow, you can only record 5-minute on-screen activity under its free plan. But you can go further to that limitation if you purchase its Business plan, which is much more affordable than ScreenFlow.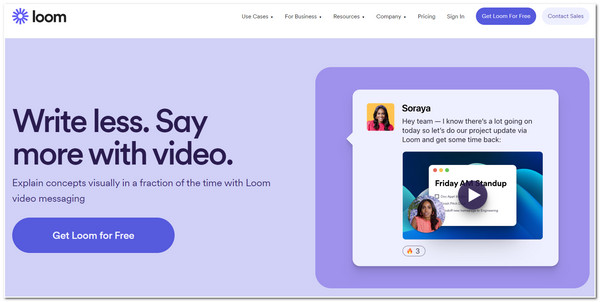 Part 3: FAQs about ScreenFlow
1. How much does ScreenFlow upgrade version cost?

ScreenFlow pricing starts at $169, allowing you to capture high-quality recordings and offering an easy-to-use video editing interface. The following price plan costs $229 with access to 500,000 Stock Media Library and $259 with Premium support.

2. What would be the best alternative way to import a MOV file to ScreenFlow if I can't use the OPEN button?

Suppose the OPEN button of ScreenFlow is hindering you from importing a MOV file. In that case, the alternative you can do is to open a blank document in ScreenFlow, access the Media Library, and click the Add Media button. Then, look for the MOV file and add it to the library. After that, drag it to the timeline.

3. Where do ScreenFlow recordings go?

By default, ScreenFlow will let you decide which file location to save once you are done recording. They are automatically saved to a folder you can find by following this process: access your Finder, go to Library, click the Application support button and head to Telestream-ScreenFlow-Auto Saving.
Conclusion
After reading the latest review of ScreenFlow, you'll see how powerful this tool is. If those disadvantages (CONS) bother you from using this tool, you can choose from the featured ScreenFlow alternatives, which you think will achieve your screen recording needs! But among them, the AnyRec Screen Recorder tool is the best choice! You'll see how professional and powerful this tool is with those features. Not to mention that those features are well-composed for a much easier and quicker screen recording! Feel free to download the program and learn more about this tool. Take your first step today!
Related Articles: