Loom Screen Recorder: A Complete Review With 10 Alternatives
Anyone who has used Loom Screen Recorder can attest to its ability to capture and record on-screen actions. It is one of the most well-known internet recording tools and a computer and mobile device application. What else does Loom offer its customers besides a screen recorder? Is it limited in any way? As you go through the following parts, you will discover more about it. In addition, there are ten alternatives to the Loom Screen Recorder. Check them all out right now!
Part 1: Review of Loom Screen Recorder
As a screen recorder, Loom captures the screen, webcam, or both simultaneously. It is compatible with Windows, Mac, iOS, and Android. Using Loom, you can record any content on your screen, then make additional edits to make your video look fun and more attractive. Plus, you can share them instantly and give feedback on someone else's work. More than 21 million people can say that it has become a collaboration tool, mainly for companies and starting businesses. With this screen recording application, anyone can communicate and share information that can be watched and replayed wherever and whenever.
Another fan-favorite thing about Loom Screen Recorder is that not everyone can view your recordings. You can choose who is the one who can view it and leave comments on it. Other than that, the application has many great thighs; see below some of the main features of Loom Screen Recorder. The benefits of using it and its drawbacks are also included.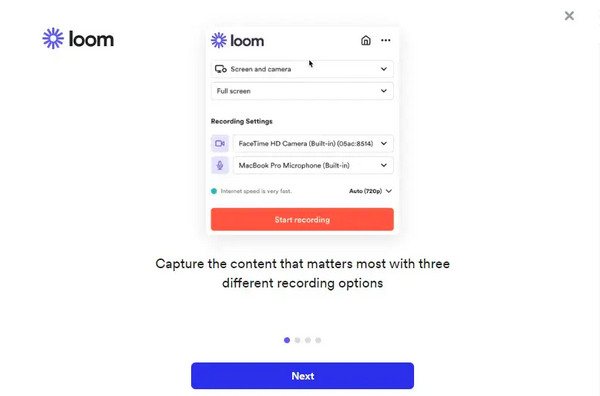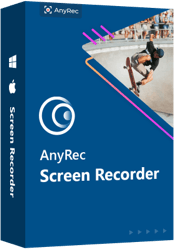 AnyRec Screen Recorder
Saves your videos to the cloud automatically and provides a sharing link.
Allows you to edit and trim video recordings directly from the Loom web app.
Notifies users when someone watches, react to, or comments on their videos.
Emoji replies and time-stamped remarks are available in the recorded video.
Pros

Password protection is offered.
Provides limitless storage space.
It can function as a mobile application.
Cons

The quality of the whole-screen recording is lower.
As reported by users, there are difficulties and glitches.
The free version has several limited features.
Customers' Review:
Loom Screen Recorder is a great tool that lets you quickly record your screen and turn it into a video to share instantly with everyone. Aside from being a recorder, it also has a screenshot tool, but it can be unpleasant to add annotations since every time you do it, another window will open. The recording is the best point of it as there are so many recording features, like an option to record just your screen or webcam. It also has support for system audio. However, if you prefer annotating captured screenshots, it's much better to start using another recording tool.
Part 2: 10 Alternatives to Loom Screen Recorder
For users who prefer a tool that works best in editing and screen recording, one of the programs below might be for you. Keep reading and learn the 10 recorders you can use as an alternative to Loom Screen Recorder.
1. AnyRec Screen Recorder
First on the list of alternatives to Loom Screen Recorder is a lightweight program that works best as your recorder and editor, AnyRec Screen Recorder. It supports many recording mode options, like recording the entire screen, an active window, a customized part of the screen, etc. After recording, you can make additional edits in the preview window. Aside from that, it comes with a custom hotkey, allowing users to quickly start, stop, pause, and resume the recording. You can also take screenshots while doing so.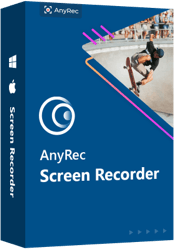 AnyRec Screen Recorder
Built with the support of real-time drawings to draw while recording.
Has a Zoom-in with Magnifier to zoom in on a part in the recording.
Delete unwanted beginning and ending parts before exporting.
Supports various different output formats for video and audio.
2. Icecream Screen Recorder
Icecream Screen Recorder is one of the alternatives to Loom Screen Recorder with an appealing user interface. But aside from having that, it lets you record the entire screen, choose an area to capture, an active window, and more. It effectively records several activities on your screen, like gameplay, tutorials, calls, etc. It is a feature-packed screen recorder, however, it is somehow limited to use in the free version, which forces you to get the pro one.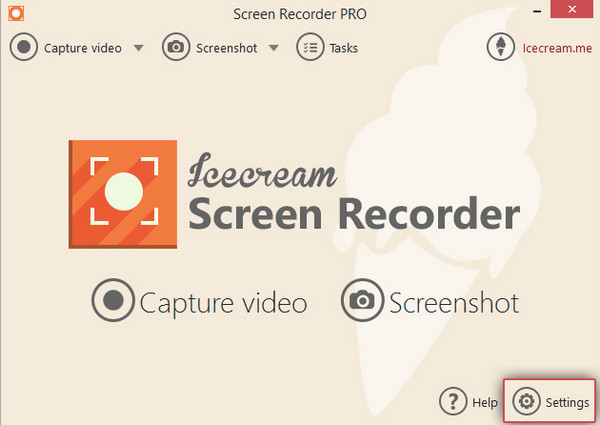 3. ShareX
ShareX is another great replacement for Loom Screen Recorder. Like the first two mentioned, it supports recording modes, like selecting an area of your screen, scrolling the entire screen, active windows, and so forth. But, other than that, it is built with tools, including the Image Editor, Color Picker, Image Effects, etc. However, the program is not recommended if you're looking for a straightforward screen recorder.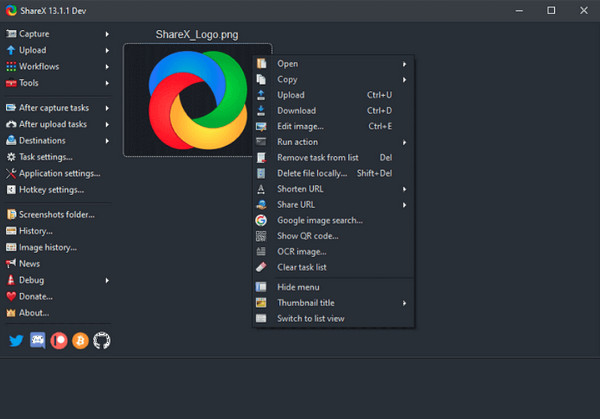 4. Screencast-O-Matic
Screencast-O-Matic is a complete package program that has extraordinary and unique features in a recording. This alternative to Loom Screen Recorder offers users four options to take, and these are: Take Screenshot, Launch Recorder, Open Editor, and Open Uploads. It also has annotating, zooming, and other editing tools. Although using the recording and editing functions won't always give you a smooth experience, you can still use them.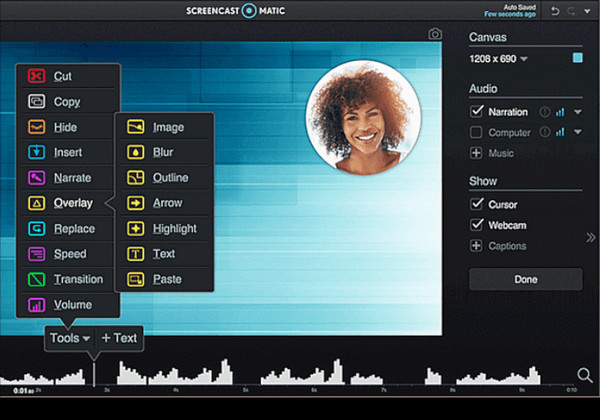 5. Bandicam
Another suitable replacement for the Loom Screen Recorder is the Bandicam. This program offers excellent video and audio recording functions. It is one of the widely used recording software, as it can record gameplay, meetings, calls, activities on social media, and so forth with no lagging. Plus, it allows you to draw and add annotations while recording with its real-time drawing feature. But, unlike other recorders that support more systems, it is only limited to Windows. And you cannot remove the Bandicam watermark if you do not purchase it.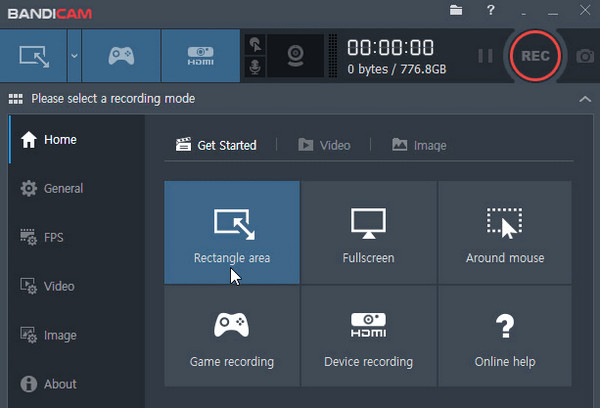 6. Snagit
Following Bandicam is the Snagit. In contrast with others, this Loom Screen Recorder alternative is more straightforward. As Snagit reviews say, it still offers powerful recording features. It can capture your screen and camera simultaneously and lets you share it instantly with popular apps and cloud drives. When sharing it, you can still keep the original editable copy. But, as per users, the program crashes when using it for a long hour.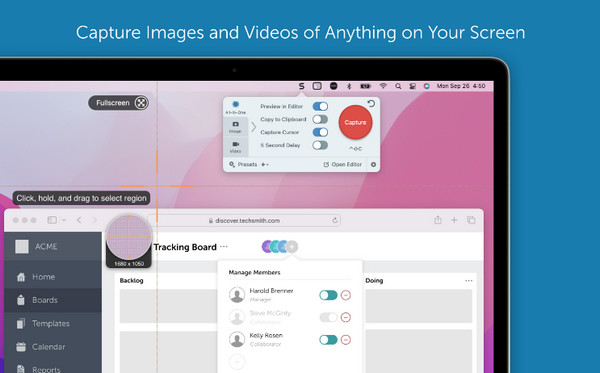 7. Screencastify
One of the famous online screen recorders today is Screencastify. Like Loom Screen Recorder, you can use this recording tool as a Chrome extension which is excellent for online meetings. It supports recording and editing solutions, such as merging, cropping, trimming, adding overlays, etc. However, the drawback of Screencastify is that many features are limited in the free version; although you can use it, it has too many restrictions.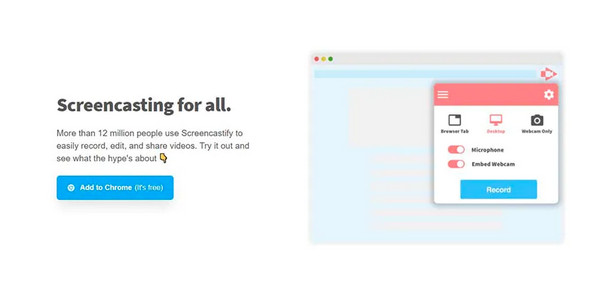 8. ActivePresenter
ActivePresenter captures every moment on your computer screen, including meetings, tutorials, online content, and more. This Loom Screen Recorder alternative lets you record your screen or create a slide. Even though some say that its user interface is not as appealing as others, it lets you quickly find the tools you want to use. You can edit, trim, and annotate on Zoom, Microsoft Meeting, and other recording. But, as for transitions and animations, it only has the standard ones.

9. SmartPixel
Aside from being a screen recording tool, SmartPixel can also be your editing program. It is efficient to use as a replacement for Loom Screen Recorder, as it supports recording tutorials, webcam, gameplay, and any other screen activities quickly. Additionally, the program supports essential editing tools, like splitting, trimming, merging clips, and more. Although saving is quickly done, you might need help installing the software.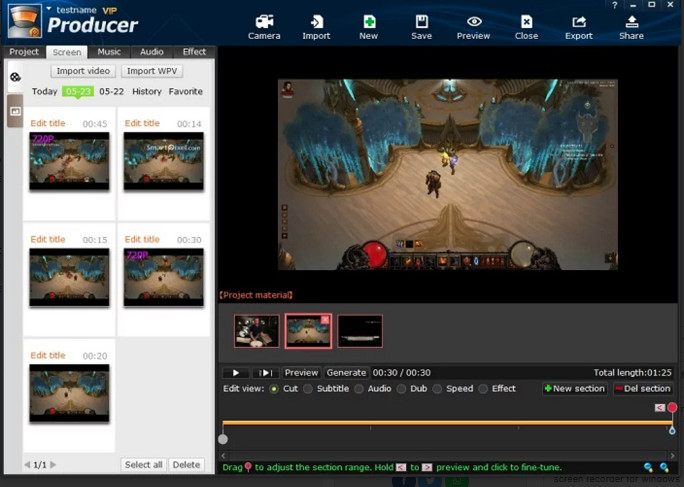 10. GoPlay Editor
Now, the last on the list of alternatives to Loom Screen Recorder is the GoPlay Editor. It is mainly for editing YouTube videos quickly, but it is effective in recording screen activities, webcams, and gameplay as well. You can then add subtitles, image or video overlays, audio effects, visual effects, and so on. But don't expect too much from them since GoPlay only contains a few transitions and effects, and the saving process takes time.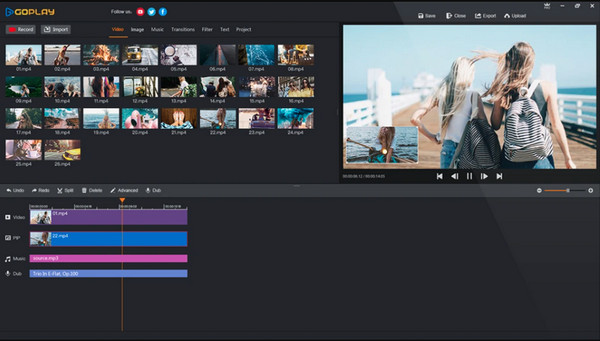 Part 3: FAQs about Loom Screen Recorder
How long can I record with a Loom Screen Recorder?

For starters, users have a 5-minute recording limit. For education users, they have a 45-minute offer to record screens. If you want to record for a long time, go for a Business and Enterprise account.

Where do Loom Screen Recorder videos?

All your recorder Loom videos are stored in My Video Library. You can find it on Loom's official website.

Can everyone see my recorded Loom videos?

No. No one can search your recorded videos and be able to watch them unless you share them with them. You are the only one with access to all your recordings, so don't worry.
Conclusion
That's all for today! The review of Loom Screen Recorder hopefully helps you to get to know Loom better, with its features and pros and cons. If you think it is not the best, you can try one of the given alternatives to Loom Screen Recorder, one of which is the AnyRec Screen Recorder. The program records screen activities, effectively taking screenshots while recording. Adding annotations and editing your recordings are also possible with this excellent recorder. Try it out now!
Related Articles