Top 6 Best Free Online Video Editors Without Watermark Applied
Nowadays, videos became a new trend in social media. Many people want to find online video editors with no watermark because many software takes investment to create a video, including purchasing a premium version. The predicament without paying gives your video clip an unwanted watermark. If you are looking for a free online video editor with no watermark, you are in the right place!
Part 1: Top 5 Online Video Editors No Watermark
Choosing an online video editor with no watermark comes with many considerations. For example, you must consider the features and their convenience to help and edit effectively. Here are the recommended five online video editors without watermarks.
1. Clipchamp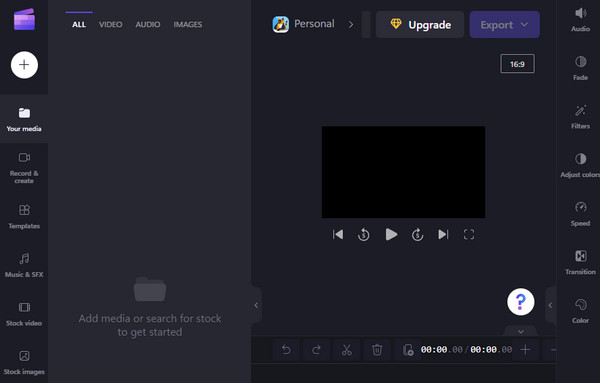 Clipchamp helps users to create their video clips with the best tools. Of course, this online video editor with no watermark allows you to create clips with template presets, text, and other elements you can add to your creation. Although you need to create an account before it lets you edit videos, it ensures to save files automatically.
Features:
◆ Integrate with YouTube, Instagram, and TikTok.
◆ Adjust colors, fade, transition, etc.
◆ Video Timeline is easy to use and preview clips.
◆ Enable to get files from Photos, CloudDrive, and Dropbox.
2. Movie Maker Online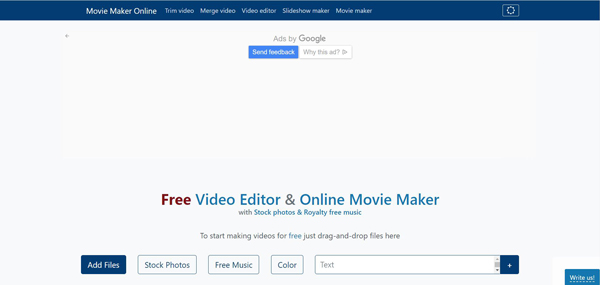 Using Movie Maker Online as your online video editor with no watermark is an excellent idea. The website has an intuitive interface without too many advertisements. You won't need to register or create an account; just upload your video and edit it however you want. You can choose from its built-in themes the design you need for the video.
Features:
◆ Offer free music and presets to edit videos.
◆ Ideal for making slideshows and animations.
◆ Show a guideline for every tool to use.
◆ Provide free images to include in clips.
3. Invideo – Free Online Video Editor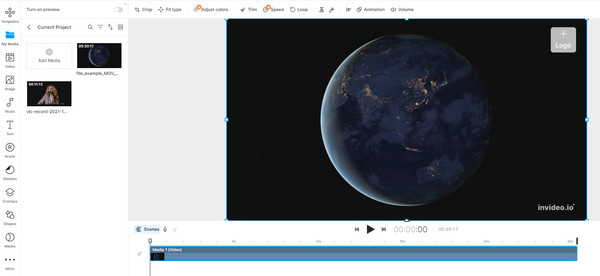 You can create a professional video clip with this online video editor with no watermark. Like most tools, Invideo will need you to sign up with a Google account to access the free version. It provides all the tools you need, such as an audio editor, stickers, and even a green screen. However, some functions are unavailable on the free version, so purchasing the premium version is the key.
Features:
◆ Enable users to create their own brand kits.
◆ Support sharing clips to teams or groups.
◆ Save output videos to the cloud or YouTube.
◆ Trusted by CNN, Dropbox, IBM, and Microsoft.
4. Renderforest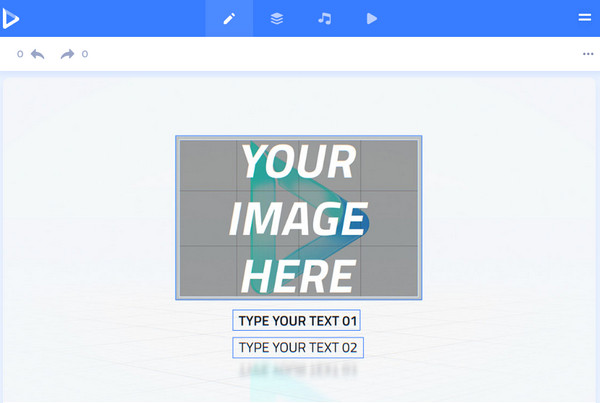 Many users recommended this online video editor without watermark as one of the best tools for video editing. Its straightforward interface has helped many beginners to make professional videos with pre-made videos to promote products or create short films. If you are looking for an easier way to edit videos, Renderforest is for you.
Features:
◆ Users can choose the output aspect ratio.
◆ Templates include 4K and other high-quality presets.
◆ A quicker way to search for a preset is through popular tags.
◆ Enable users to customize the text and uploaded images.
5. Kapwing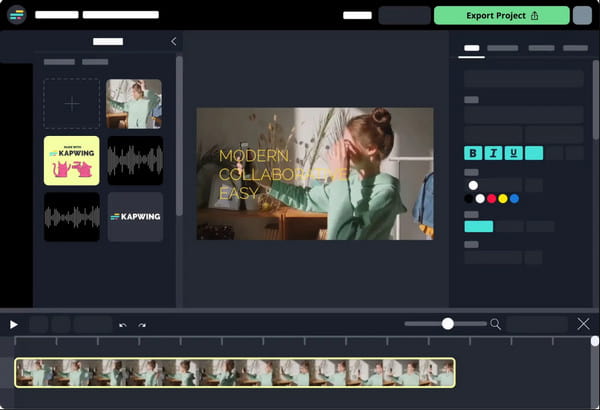 Kapwing has gained its reputation for becoming one of the best online video editors without a watermark. Its professional site allows users to create videos from scratch but still provides the best templates for various themes. Kapwing's interface is advertisement-free and easy to navigate.
Features:
◆ Suitable for TikTok or YouTube videos.
◆ Save output with excellent video quality.
◆ Support Google Drive and Google Photos for uploading.
◆ Offer hundreds of transitions, layers, and elements.
Part 2: How to Remove the Watermark on Video
Aside from the free online video editor without a watermark, you can also remove an unwanted logo from a video. AnyRec Video Converter is a desktop tool that is powerful enough to give you a watermark remover. You can achieve a high-quality clean video clip with just a few clicks. The software also offers users to choose the output resolution, frame rate, bitrate, and format for the edited footage. Install AnyRec Video Converter and experience its unique features as a video editor!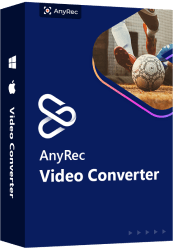 AnyRec Video Converter
Excellent video editor in which users can remove a watermark or customize another with text, image, shape, etc.
Provide essential tools to change the watermark remover's size and location to delete unwanted objects effectively.
Support editing the output video such as format, resolution, frame rate, encoder, quality, etc.
AI-supported to keep the original quality of the video file while being edited and processed.
How to remove a watermark from a video using AnyRec Video Converter:
Step 1.Download and install AnyRec Video Converter from the official website. Once done, run the software on your device and go to the Toolbox menu. Click the Video Watermark Remover button and upload the desired file from your computer's folder.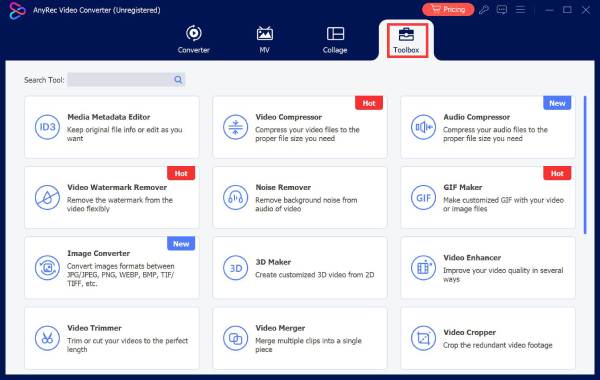 Step 2.Once successfully uploaded, click the Add Watermark Removing Area button to customize the tool. You can move the video timeline where you want to apply the watermark remover. From the preview, drag the blurry tool to the desired area of the video clip.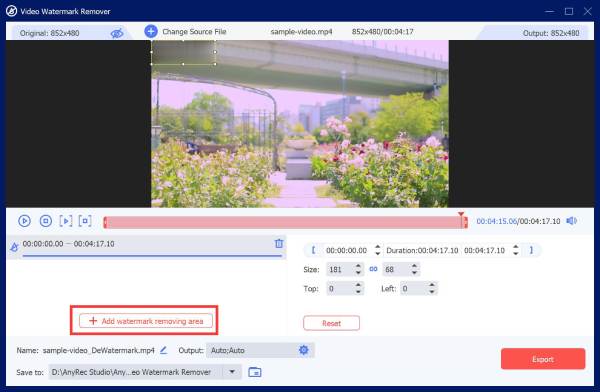 Step 3.You can also use the features at the right part of the window, where you can apply for specific sizes and positions. Click the Play button to preview the edited clip. Then, go to the Output menu to change some footage parts. Choose the video format, frame rate, resolution, bitrate, and audio settings. Click the OK button to save the changes.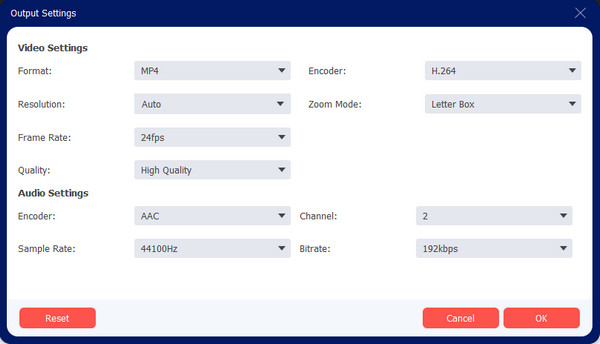 Step 4.Back from the main interface, go to the Save To menu and select the designated for your video. You can also rename the output before saving it. Finally, click the Export button to process the changes. Watch and enjoy!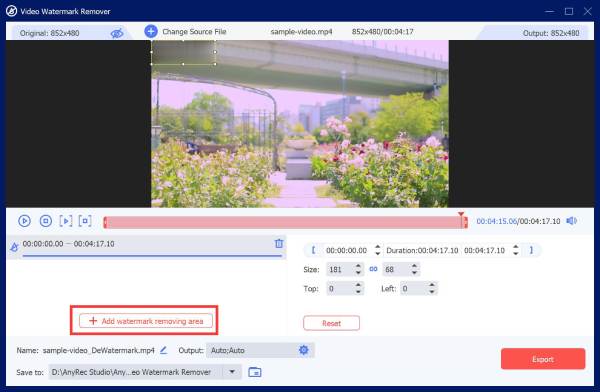 Part 3: FAQs about Online Video Editor No Watermark
Can I remove a TikTok video watermark?

When you save a TikTok video on your phone, there is always a watermark applied. Many people want to remove that TikTok watermark, you can crop out the moving watermark, but the video will get lower quality. Another alternative you use is SnapTik which can help you download TikTok videos without watermarks. The website is available for smartphones and computers.

What is the best video editor for smartphones?

You can find many video editors without watermarks on Google Play and App Store. You can try InShot, GoPro Quik, Adobe Premiere Rush, iMovie, and KineMaster. Some apps may require you to pay, but mostly, they don't apply a watermark on your videos.

Is using an online video editor safe?

Definitely, yes. Almost all video editors are safe to use for video editing, you do not have to worry about that your video will be leaked out. However, it is not guaranteed that every user is safe from receiving spam or advertisements from the sites.
Conclusion
With the recommended online video editors with no watermark, you can try them to create the video clip you always wanted. You need to consider some factors in choosing an online tool, such as its features or accessibility through devices. Investing in a professional desktop tool like AnyRec Video Converter is also advisable to make more high-quality output. Try the free trial version and enjoy free features for converting, compressing, merging, and audio-syncing your media files.
Further Reading