Detailed Reviews for the Best Online Video Cutters to Make Video Clips
The process of creating a video involves specific video editing to flourish and make a powerful output. Especially if you want to remove the unwanted parts of the video, you would need an online video cutter that will not harm or distort your clip. Whether you want to cut the interesting parts to share or just want to delete the unnecessary opening part, you can read this article and find the best online video cutter that fits your need for video editing.
Part 1: Top 6 Video Cutter Online to Delete Unwanted Parts
Have you ever thought that there might be a fantastic online video cutter that can delete unwanted parts of a video? This is necessary for video editing to deliver your objective to your target viewers smoothly. Here are the top six online video cutters that you can use for free to make the perfect video to share on business, work, or school.
1. ClipChamp
ClipChamp is an online video cutter with more features than you can imagine. It has a well-designed interface to edit or delete unwanted parts of your project. Using ClipChamp can give you the advantage of a more straightforward editing process and creating more fantastic video files. It is a go-to website for many users that want to create content like tutorials, blogs, and compiled clips.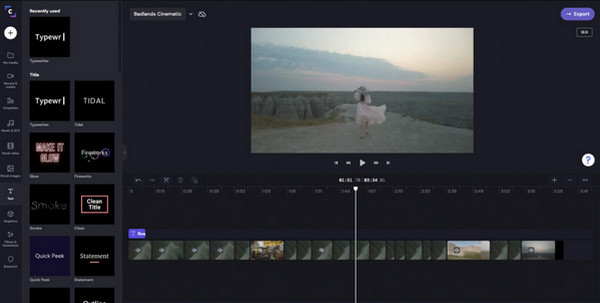 Features:
◆ Allow users to add text, backgrounds, and transitions with advanced editing features.
◆ Turn speech into text and create sound documentaries with AI Voice Launcher.
◆ Provide more essential features, including cutter, trimmer, rotator, and brightness adjuster.
2. Kapwing
Kapwing is another well-known platform for video editing. Its online video cutter is effective for most video file formats, and you can edit them without paying anything. The interface is easy enough for beginners to navigate. You can expect the uploading process to be fast, but Kapwing only allows you to upload for a maximum 300MB file size. However, purchasing the premium version can be worth it.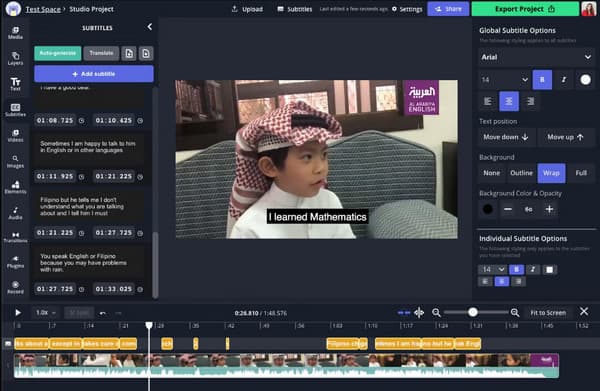 Features:
◆ Auto-generate words to turn into subtitles.
◆ Have a good default configuration with social networks.
◆ Offer colorful templates and features that are accessible anytime.
◆ Suitable for beginners and professional video editors.
3. Online Video Cutter
Right from its name, this online video cutter gives you a clean platform to edit video files. The video duration is laid up automatically, where you can cut the unwanted parts by shifting the sliders. The website can save your edited videos to supported platforms such as your computer, Google Drive, and Dropbox. Cut the unnecessary parts of your project and save them to any format with Online Video Cutter.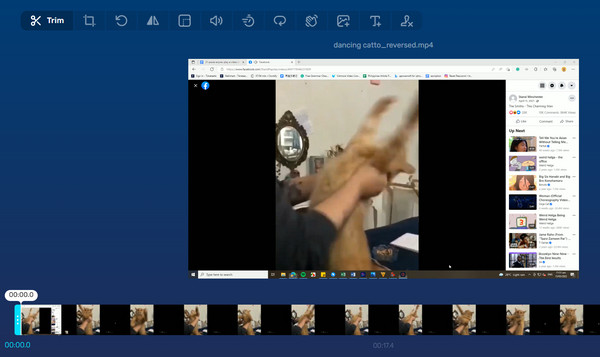 Features:
◆ Offer two video cutter options to delete or extract the selected video parts.
◆ Support a wide range of import and export file formats.
◆ Apply Fade In and Fade Out effects freely to the video.
◆ Provide video rotator, cropper, and presets like Instagram.
4. Kizoa
It is a useful online video cutter that allows users to edit videos through its wide range of features. It includes a variety of intros and outros, unlimited songs, and effects. Kizoa can be your partner in editing videos and making your music. You can download the app version from the App Store if you like how it operates. Give Kizoa a try and cut videos using its free features.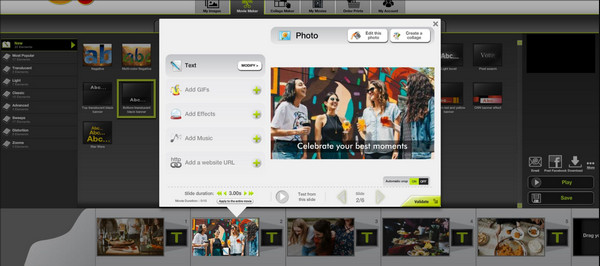 Features:
◆ Allow users to automatically or manually adjust the music volume.
◆ Excellent customization of video size, timing, and position.
◆ Features include a changeable aspect ratio.
5. YouTube Video Editor
Another online video cutter that is designed for video editing before uploading the video file to your YouTube account. Its unlimited features revolve in trimming, arranging, and applying basic transition. After it was first released in 2017, YouTube Video Editor gained many users because of its simple interface. The online tool allows you to create multiple projects without losing any unfinished work.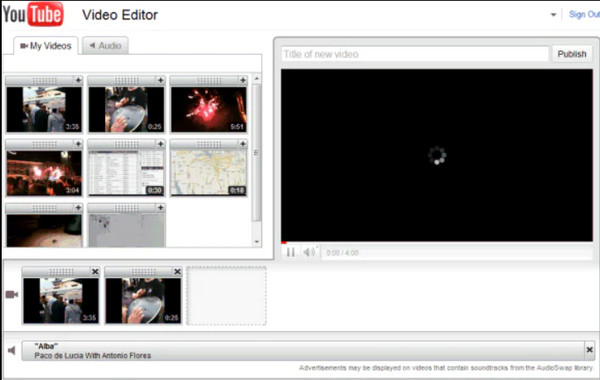 Features:
◆ Process edited video files at a fast speed.
◆ Support file formats like MPEG4, 3GPP, MOV, WMV, and more.
◆ Provide a blurring tool to keep the user's privacy safe in the video clip.
6. AConvert Video Cutter
A simple interface that can help you cut video online. AConvert Video Cutter has a specific design for trimming clips. You can specify the seconds you want to remove from your video. Other than that, the online video cutter offers you a converter and encoder for any video type. It also supports saving the edited video file to cloud storage like Dropbox or Google Drive.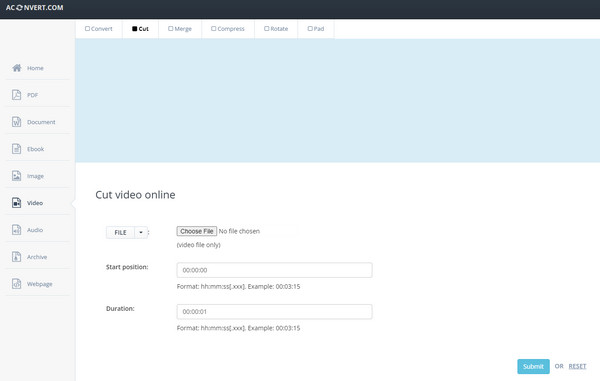 Features:
◆ Support popular video file formats such as OGV and MO4.
◆ Provide essential tools like merge, compress, and rotate.
◆ Fast saving process for any edited media file.
Part 2: The Professional Video Cutter with More Features
Although you might say that online video cutters are professional enough to help you with video editing, there is one desktop tool that fits everyone. AnyRec Video Converter is a multi-functional tool with many features you can use for video editing, such as the video cutter that can precisely cut between the video parts and merge them into one clip. It also allows you to separate clips from one video and save them as multiple files. You can save the media files to supported output formats such as MP4, MOV, MKV, AVI, WebM, and more.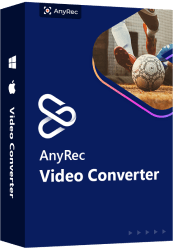 AnyRec Video Converter
Elaborative video cutter to separate parts of a video, add segments, and save them with the original video quality.
Allow users to upload large media files and cut unwanted parts, enhance quality, and convert files to other formats.
Provide editing features such as video merger, cropper, reverser, color correction, and volume booster.
The AI technology helps video files be of the best quality when edited, converted, compressed, etc.
How to use AnyRec Video Converter as the best video cutter:
Step 1.Download AnyRec Video Converter by clicking the Free Download button. Once it is installed on your device, launch the software to start video cutting. Click the Add Files button in the middle part of the interface to add a video file from your folder.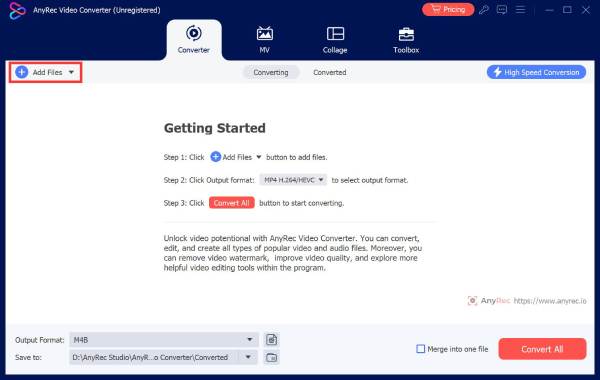 Step 2.Once uploaded, click the Cut button under your video file, and a popup window will appear on your screen. You can start by moving the Timeline Slider and cutting the beginning or ending part. The Add Segment button will allow you to cut a clip from the video and separate it from the rest. In that way, you can easily trim the clips and remove the unwanted parts.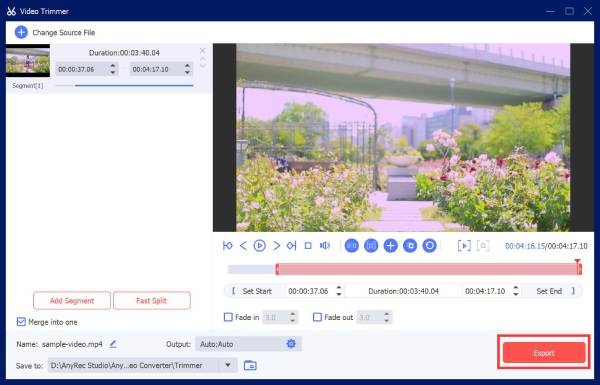 Step 3.Apply the Fade In and Fade Out effects for a clean transition. Then, tick the checkbox ahead the Merge Into One option at the bottom part. Once you are done with video editing, click the Save button to save all the changes.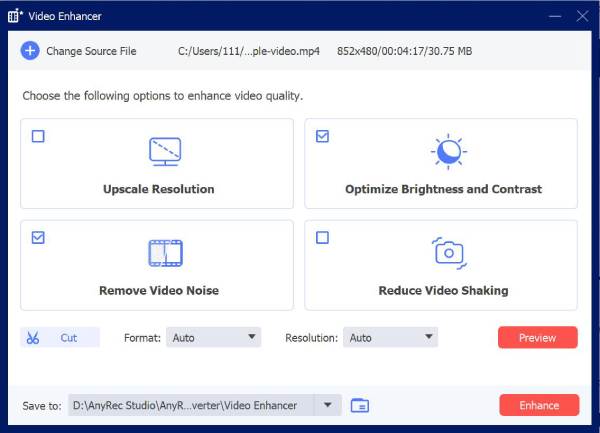 Step 4.Unlike online video cutters, it also provides more video editing functions from the Edit button and Toolbox functions. You can use them to rotate, reverse, and crop videos. Once done editing, click the Save To drop-down menu and select the designated folder for the edited video. Finally, click the Convert All button to save the output file.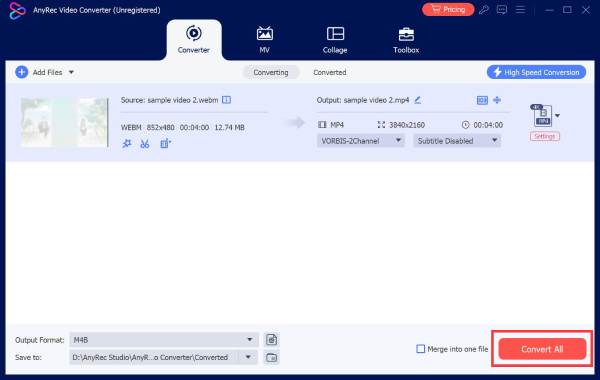 Part 3: FAQs about Online Video Cutter
What is the best video cutter tool for macOS users?

If you are using an Apple device, you can use iMovie to cut videos. It is available for all Apple products, and it is free. It is already pre-installed on your device and is ready for any video editing. The best part of iMovie is it automatically saves unfinished projects.

Can I cut videos online without losing quality?

Yes, you can avoid losing the video quality by cutting videos without re-encoding the video file. Tweaking the parameters like bitrate and resolution can distort or lose the original quality of the clip. A higher chance of not losing video quality is to use an online video cutter that is safe and reliable.

How many clips should I cut for TikTok?

If you are using online video cutters for uploading videos on TikTok, you should cut videos to less than 3 minutes. Of course, you can use the built-in function to edit your video according to the TikTok video size.
Conclusion
Learning about online video cutters can save you from hassle tools. You don't need to download desktop tools to edit videos. However, this does not guarantee a good outcome. But AnyRec Video Converter will not fail you to give the best result. Try converting, compressing, and enhancing media files with the most powerful alternative.
Related Articles