Comparison of OBS and XSplit, Which Is Better for Streamer
Streaming has become one of the most popular activities on the internet nowadays. People like to compare OBS with XSplit. These two platforms are emerging to help you deliver the best quality on social media. While OBS Studio and XSplit provide streaming services very well, you might wonder which is better. This article will show the difference between the streaming tools regarding critical features, pros, and cons.
Part 1: What Are OBS and XSplit
Despite the same services, OBS and XSplit have different features and navigation. This part will show features, supported platforms, and other usages to elaborate on their differences.
What is OBS Studio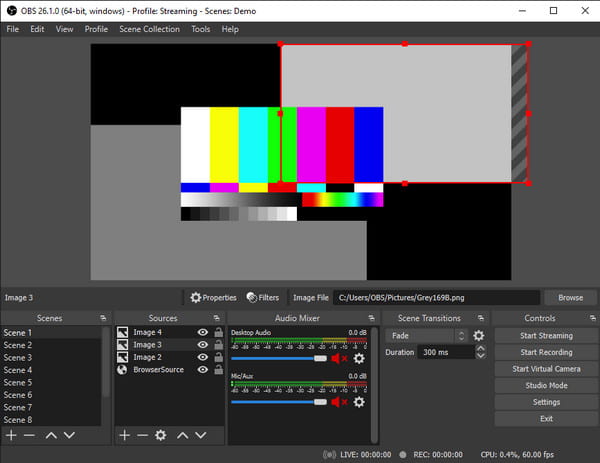 Open Broadcaster Software is a cross-platform program installed on Windows, Linux, and macOS. The free and open-source made streaming and recording possible with its wide range of built-in elements that help adjust the video's quality, resolution, and frame rate. It also allows users to design the overlay to bring the functions they need to the same place. With proper setup arrangements, OBS Studio can be powerful for scenes and transitions on both recording and streaming.
Key Features:
Transmit streaming to popular streaming websites like YouTube, Twitch, etc.
Expandable built-in features and functionalities with supported plug-ins.
Support broadcasting videos from platforms like Facebook and Steam.
Multichannel, multi-language, and sound audio options.
Unlimited scenes to create with transitions to add between each.
What is XSplit
XSplit Broadcaster is a professional live-streaming program with excellent integration tools for broadcast development. Its ease of use does not degrade quality; it is well-known for high-quality results with supported 60FPS. Its process manages stable recording and streaming with various elements to add to multiple platforms. Furthermore, you can use the built editor to edit recorded clips by adding subtitles, resizing windows, and customizing webcam feedback.
Key Features:
Capture multiple screens connected to one PC.
Mix audio from various devices with real-time preview before publishing.
Integrate video calls from Skype with excellent video quality.
Remove, blur, or replace the video background without using a green screen.
Support local network streaming for internal viewing.
Part 2: Which Is Better: OBS Or XSplit
After the detailed introduction of the two software, it's time to compare them to see which one is suitable for recording and streaming. This part shows OBS and XSplit differences in interface, live streaming, video recording, performance, and price.
1. Interface
When it comes to the interface, XSplit is more accessible than OBS. All essential features can be seen on one dashboard on one screen, while OBS usually needs more than one monitor to track all happening on your stream. OBS is only sometimes recommended for beginners because of the intimidating interface with options like Scene, Sources, Transitions, and Audio Mixer. Meanwhile, XSplit is more advisable to try for more straightforward navigation.
2. Live Streaming
Since YouTube is the only platform that supports 4K streaming, both OBS and XSplit are suitable for this category. XSplit can handle 4K videos but can only maximize it up to 1080p in 60FPS. On the other hand, OBS fully supports 4K streaming only if your setup is suitable for the task.
3. Video Recording
XSpit can record onscreen activities with x264 and x265 codecs, which are better for YouTube uploads. OBS only provides more file format options than XSplit, but there are many OBS recording settings you can adjust for your videos.
4. Performance
When it comes to performance, although OBS takes high CPU usage, it takes less portion of your device's resources than XSplit. The tool is much better for gameplay streaming on one PC at one or two percent. While XSplit is also resource intensive, it still uses 12 percent of resources when launching the stream.
5. Price
Despite being a professional streaming app, OBS remains a free and open source for any platform. But if you consider some factors that are not convenient, then you might use XSplit. The Premium XSplit license is $5 per month, but you might pay more for the Premium access to VCam and Presenter.
OBS Pros & Cons:
Pros

Free and open source with community support.
More resolution settings are available for configuration.
Cons

The challenging learning curve for beginners.
Intimidating UI with scattered functions.
XSplit Pros & Cons:
Pros

Offer additional functions for stream improvements.
Integrate green screen and keyframe transitions.
Cons

Demand more CPU sources.
Additional purchase for plug-ins.
Bonus Tips: Alternatives Recorder for OBS and XSplit
These two tools, XSplit and OBS, are very competent for streaming and recording, but you can always choose a user-friendly recorder for onscreen content. Like AnyRec Screen Recorder, screen recording is more accessible with higher visual quality. It captures video with audio from the system sound and microphone, with settings to change the video and formats. Users also have complete control over the output, as the software prepares the Preferences menu with video codec, quality, frame rate, and more.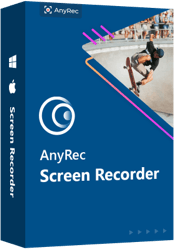 AnyRec Screen Recorder
Record your screen activities, including videos, audio, webcam, and gameplay content.
No recording time limit with multiple supported formats like MP4, MOV, WMV, and GIF.
Support the latest AI technology to improve quality without distorting it after exporting.
Customizable shortcut keys and soundcheck system for audio and microphone.
Part 3: FAQs about OBS and XSplit
1. What are the system requirements for XSplit?

XSplit achieves excellent results using a 2nd Generation Core i7 CPU with 8GB RAM. Use GeForce or Radeon Class graphics card with DirectX 10.1. 256 MB for dedicated video RAM and updated Windows for operating systems.

2. What are the system requirements for OBS Studio?

For Windows system requirements, you have to use Windows 10 with 64-bit. Its Intel must be i7 8700K or AMD Ryzen 1600X with RAM 8GB. If you are a Mac user, the recommended system requirements are a 64-bit processor with 12.5 OS or higher. The processor for OBS Studio for Mac must be Intel quad-core or Apple Silicon (M1/M2).

3. How to record using XSplit Broadcaster?

Install and open the app on your device. Navigate to the settings to set up the recorder first. Click the Custom button and change the video resolution, codec, frame rate, quality, and split. Press the Ctrl + tab keys on your keyboard to reveal the overlay. Click the Record button to begin recording.
Conclusion
Between OBS and XSplit Broadcaster, there are things to consider before using them. Some users prefer XSplit with its simple UI, but OBS Studio provides free service and professional results. OBS and XSplit are handy for live streaming on social media, but you can use an alternative for a screen recorder for a smoother workflow. AnyRec Screen Recorder provides a free trial version, which you can try downloading and installing the software from the official website.
Related Articles: