MP3 Louders: How to Boost Your MP3 Volume without Distortion
Sometimes, you might encounter a situation where the video or audio sound is shallow. And even if you turn the volume to the maximum, it's still difficult to hear clearly. So you need MP3 louders to edit and boost the volume. However, you need to consider which is the best MP3 louder worth buying and will not distort your audio. As you read further, you will learn six methods to boost the volume of your MP3 file, and you can choose the best fit for you.
Part 1: The Best MP3 Louder to Increase Audio Volume
AnyRec Video Converter is an all-in-one tool that is the best MP3 booster you can get to increase your file volume. If your MP3 file is already at 100% max volume, with this powerful MP3 louder, you can increase it by 200%. It also supports many editing functions to clip and add effects to MP3 audio files.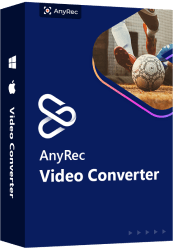 Outstanding Features of This MP3 Louder
Able to boosts the MP3 volume to the desired level in a few simple clicks.
Additional editing functions to amplifies and removes unwanted noises.
It has advanced settings to adjust audio quality, sample rate, channels, etc.
50x faster processing speed to boost the volume of batch of MP3 files.
How to use the best MP3 louder to boost an MP3 file:
Step 1.Download the program on your device. Open it and choose the MP3 file you desire by clicking the Add Files button or the Plus icon in the middle of the pane.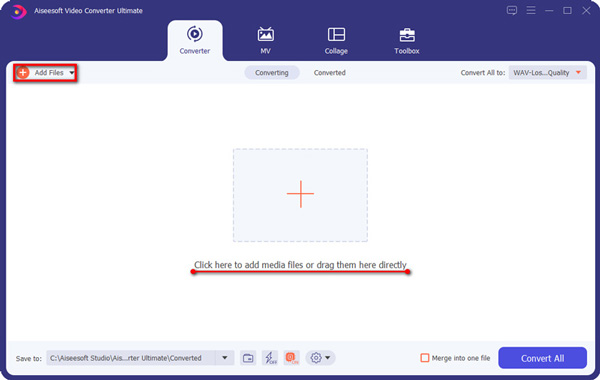 Step 2.After choosing the desired file, click the Edit icon with a star wand shape under the file's name. It will direct you to another pane to edit your audio. Drag the Volume option to increase the volume of your MP3 audio or maximize it at 200% for louder sound. Moreover, you can also set a delay effect by dragging the Delay option to your liking.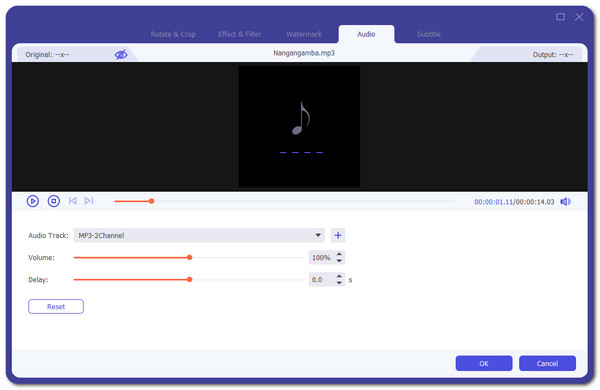 Step 3.Once satisfied with the changes, click the OK button to direct you to the main page. Choose the storage path by clicking the Save To button and browsing the desired folder. Click the Convert All button on the bottom part to save your MP3 file.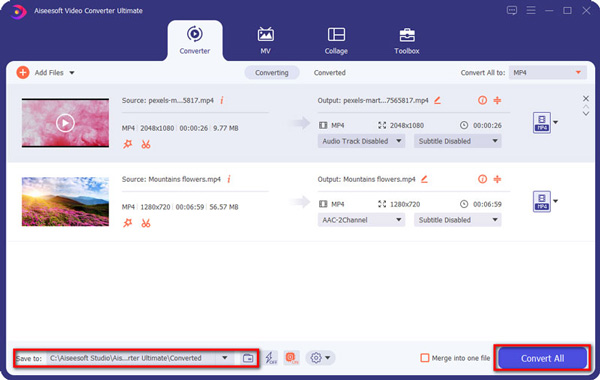 Having AnyRec Video Converter as your MP3 louder is the best method to do. Moreover, with its other tools, you can also use it to edit audio and videos, convert file formats, including MKV to MP4, FLV to MP4, etc.
Part 2: 3 Methods to Boost MP3 Audio Volume Online
Here you can also use online MP3 louders to boost MP3 file volume. You should know that these online MP3 louders not only has limitation to the file size, but also provide fewer options to adjust the volume.
1. MP3 Louder Online
MP3 Louder Online gives you a free web service to increase the volume of your MP3 file. With just a few clicks, you can get that low volume level of your MP3 up to 50 Decibels. Moreover, you will not get lost with navigating this online MP3 louder as it is simple and has a straightforward interface.
How to use MP3 Louder Online:
Step 1.Go to your browser and search for MP3 Louder Online. Click the Browse button, and it will open your folder. Choose the MP3 file and click the Open button.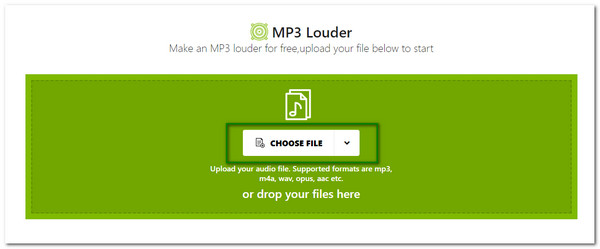 Step 2.You can proceed to the selection of action, choose the number of decibels(4.5 Decibels suggested), and the channel you want to increase the volume.
Step 3.Click the Upload Now button to save the changes. Click the highlighted Download File option to save it to your local folder.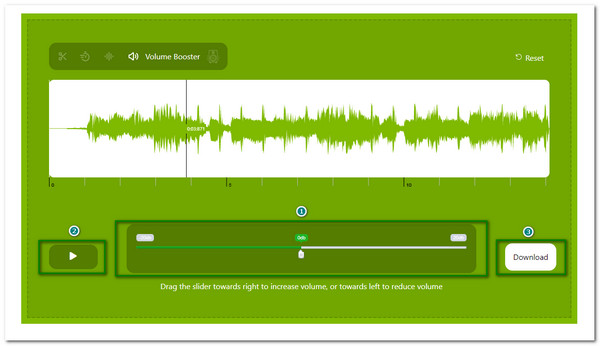 2. Online MP3 Volume Booster
Free for anyone who wants to increase the volume level for their MP3 file, this online MP3 volume booster gives good-quality and quick results for you. Other than that, this MP3 louder provides cross-platform support so that you can have access to its website on any device and operating system.
Step 1.Go to the website and click the Choose File button in the middle of the webpage. You can also acquire your MP3 file from Google Drive and Dropbox.
Step 2.You will get a preview of the MP3 file. Below that, you can drag the slider to increase the volume. Click the Play button to listen to the audio with an increased volume level.
Step 3.Click the Download button and choose which export format you want to save your file.
3. MP3 Volume Changer
MP3 Volume Charger is another MP3 louder that works locally without going via the server. It supports Chrome, Safari, Firefox, and other browsers, so it is easy to access. Moreover, it allows you to decrease, increase, or normalize the volume level of your MP3 files and will enable you to save your file to Google Drive.
Detailed steps to use this MP3 louder:
Step 1.Install the app. It will ask for permission to have access to your account. When it has been installed, click the Menu option on your Google account and locate the MP3 Volume Changer. It will direct you to another window.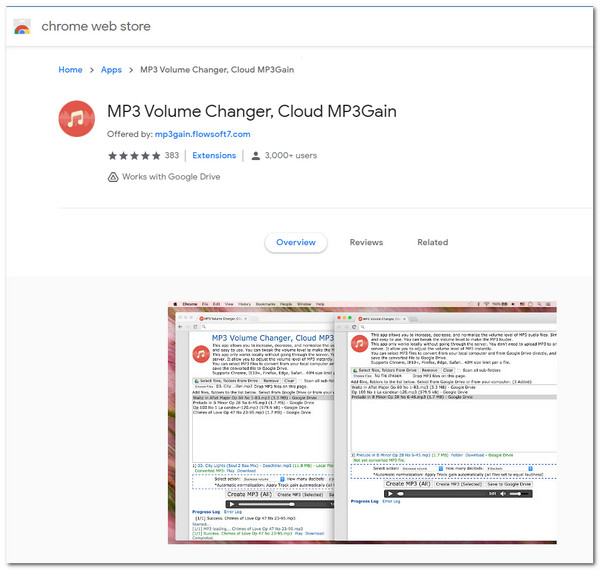 Click the Choose File button to select an MP3 file. Once you have selected the desired file, click the Select Action option and choose Increase Volume. Next, select how many dB you want to add to the audio file, but you can follow the recommended amount to avoid distortion.
Step 3.Once done, click the Create MP3 (All) button to boost MP3 volume. A green notification will appear below. Click the Play button to preview the file or click the Download button to save it to your device.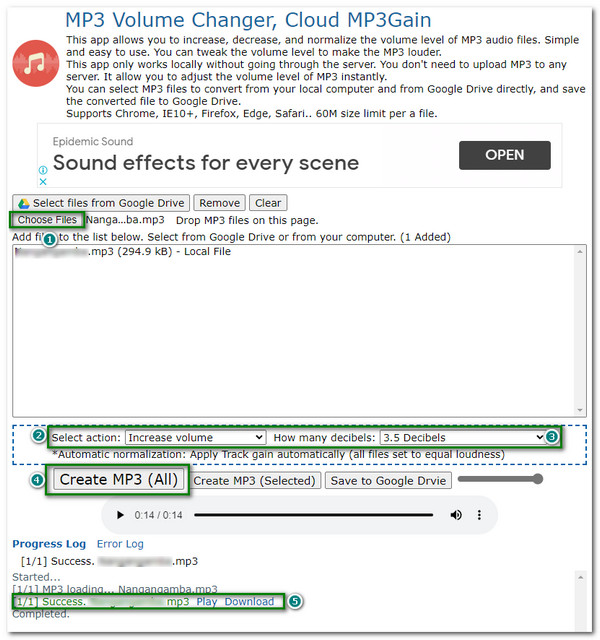 Part 3: 2 MP3 Louder Apps to amplify the MP3 Volume
In addition to increasing your MP3 volume level on Windows/Mac and online, you can also download apps that will help you boost the volume level of your MP3 file on Android/iPhone. So for this, we recommend two MP3 louders for your phones in the following.
1.Easy Volume Booster
With MP3 Volume Booster, you don't need to worry about damaging your device because it uses its own algorithm and system volume to boost the media volume. Moreover, there is no need to purchase the app since this MP3 louder is free to use. However, you may need to be patient because it is overflowing with advertisements.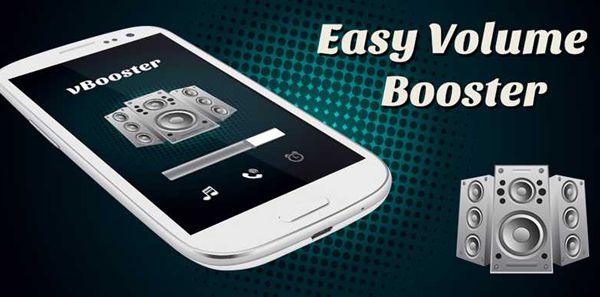 Features:
• It boosts the alarm volume of the device and allows to hear a phone call clearly.
• Navigation made easy with its simple interface.
• Pairs with the Android system equalizer to enhance your file significantly.
• Best volume booster for speaker and headphones.
2. Volume Booster
This app is also a free MP3 louder, although there are ads included. It has a lot more control to offer to its users than the other conventional volume booster apps. It has a custom equalizer that lets you increase the bass and other parts of your media. If you are looking for an app that can boost your MP3 file and play your media files, this is the best app for you.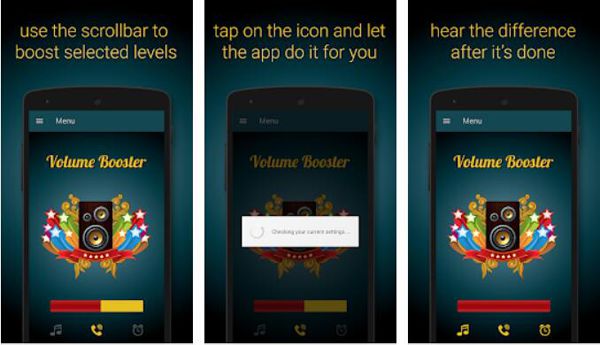 Features:
• Increases your MP3 volume level up to 30%-40%.
• Also can be regarded as a music player.
• Totally free with no in-app purchase.
• Compatible with Android 3.2 and above.
Part 4: FAQs about Increasing MP3 Volume
1.How to make the MP3 volume louder with Audacity?

Open Audacity, click the File menu, then the Open option. Press the Ctrl + A buttons to choose the desired MP3 file. Go to the Effect menu and select Amplify option from the list. Move the slider to adjust the volume of the MP3 file and click the OK button to save changes.

2.What is the standard dB for MP3?

The best setting or standard of dB is at 89dB depends on the MP3 file and the device you use. But also, you can boost MP3 files to 100dB by using MP3 louders if you are not satisfied with its volume level.

3.Why does my mp3 have low volume?

There is no global standard for MP3 volume level, so every audio you download online will have a different volume level. So, you may need MP3 louders or volume boosters to help you to increase your MP3 audio volume.
Conclusion
To conclude, you have learned that boosting the MP3 volume is vital as MP3 files do not always have a high volume level. You can increase volume level through online MP3 louder or volume adjusting apps. But the recommended way is using AnyRec Video Converter to boost your MP3 files without distortion. If you have a question or suggestion, leave it in the comment section below.
Related Article