How to Compress Large MOV Files on Windows/Mac [Ultimate Guide]
QuickTime MOV files can take too much space on your device. This type of file format can also take your time when you send to email, same device, or multiple recipients. However, you can choose to compress MOV videos to smaller sizes. In this way, you don't need to delete them to make some storage space. In this article, you can learn the different ways to compress MOV files on iPhone or Mac. You can also learn about powerful video compressors that will indeed compress your video files without losing the original quality. Let's get started.
Part 1: The Ultimate Way to Compress MOV Files with High Quality
Without further ado, you need a professional video compressor to finish the work quickly. If you have many MOV files you want to keep on your device, AnyRec Video Converter is the answer. With an all-in-one tool, you can do so as much as compressing MOV files on Windows/Mac without losing the quality of these files. Download the best video compressor on your device.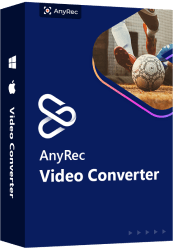 AnyRec Video Converter
Compress large QuickTime MOV files with high-quality resolution.
Offer quality options for MOV files up to 1080P resolution.
Provide video editing tools such as trimmer, rotator, cropper, etc.
50x faster compression speed to deal with batch of files simultaneously.
How to compress MOV files in AnyRec Video Converter:
Step 1.Download the AnyRec Video Converter on your device from its official website. Launch it to start compressing MOV files. Then, locate the Toolbox option on the top menu of the pane. By clicking the Video Compressor, the + icon will allow you to select a MOV file from your folder.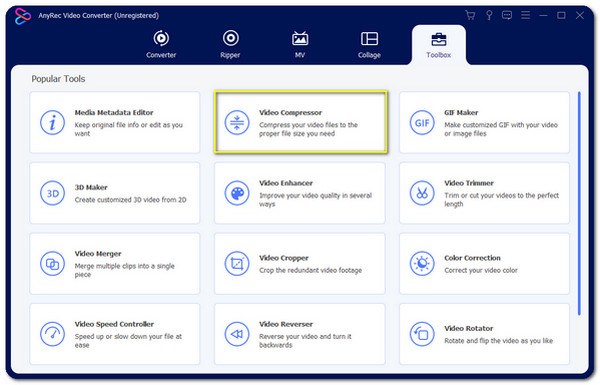 Step 2.After selecting the desired MOV file, the program will show you other settings for your video file. Move the Size Slider to choose the file size or enter a specific size in the box. Once done, you can also change other settings like the file's name, format, and video resolution.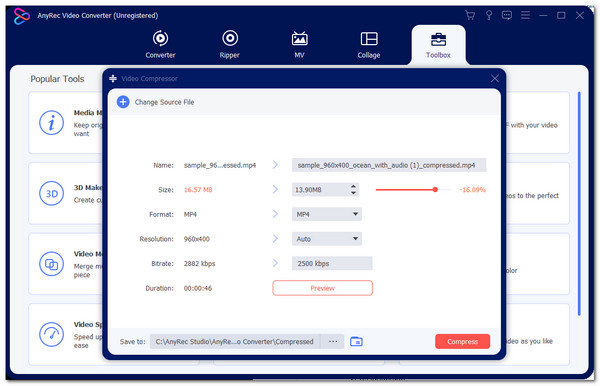 Step 3.Click the Preview button to watch a 10-second part of the supposed to be compressed video. If you are satisfied with the changes, click the Save To option to choose a designated file folder. After that, you are ready to click the Compress button to compress MOV files.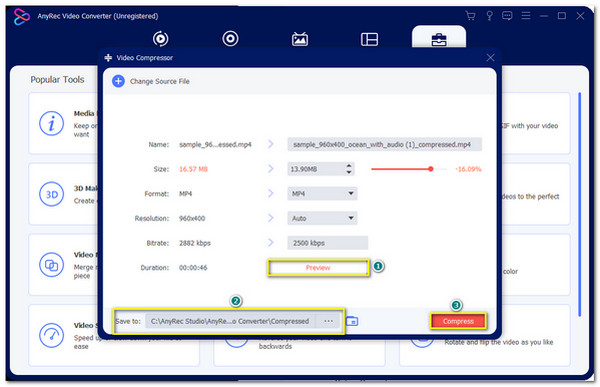 Step 4.Once the compressing process is finished, the chosen file folder will automatically appear with the compressed MOV file. Repeat the same approach to your other MOV files to save storage space on your device.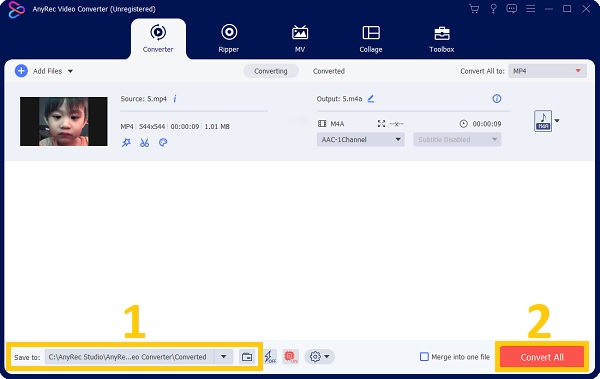 Part 2: How to Compress MOV Files with iMovie on Mac
Apple company doesn't let its users down. They give the essential tools to maximize the usage of their own devices. As the built-in tool on Mac, you can use iMovie to crop videos and compress MOV files easily. Follow the steps below:
Step 1.Open the iMovie app to compress MOV files on Mac. Click the Import Media button to choose and upload a MOV file. You can use the command to select multiple videos and drag them into the iMovie's Library list.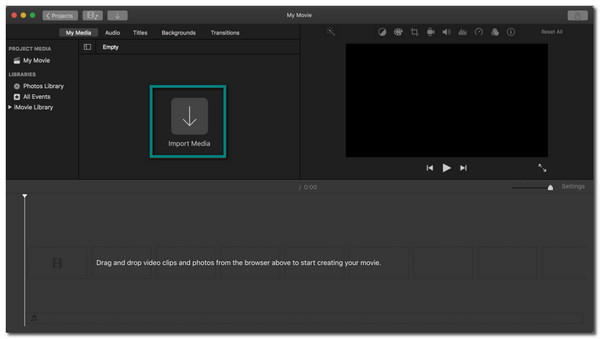 Step 2.Click the desired MOV file again, click the File menu from the top part, then click the Share option. You can choose which type of compression you want, such as for Email, iTunes, YouTube, Vimeo, Facebook, and more.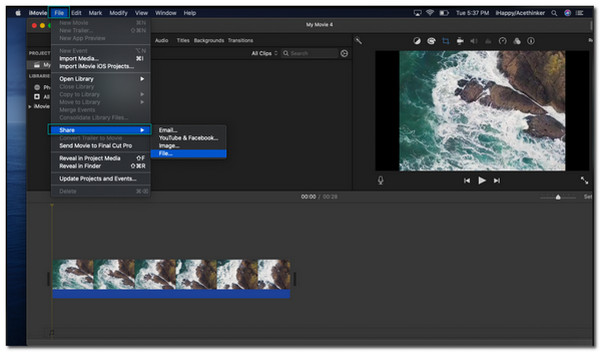 Step 3.Click the File option to tweak the file parameters. Here, you can edit multiple video options such as format, tag, and resolution up to 540P. After customizing the video file, you are ready to compress the video. Click the Save button once it finishes the compression process.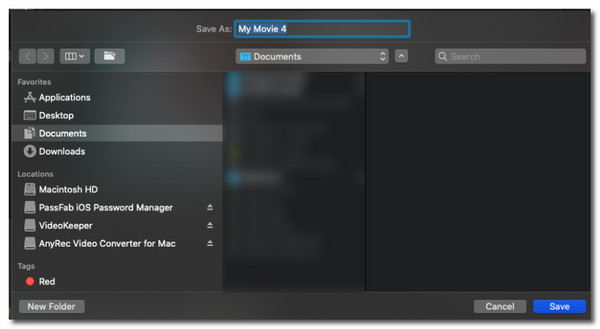 Part 3: 3 Easy Methods to Compress MOV Videos Online
Although you have iMovie as your video compressor, you can't say that it will significantly compress your MOV files without losing the original quality. So to make it for you, here are some recommended online video compressors you can use to compress MOV files on Mac.
1. VEED
VEED provides an excellent video compressor as it offers high video quality when you use it to compress your MOV files online. The online tool provides a simple interface for easy navigation. However, it is not promised that VEED will save your progress if your internet gets disconnected during the compression process.
Step 1.Open your browser and search for the VEED video compressor. Once on the actual website, click the Choose MOV file button to start compressing. You can also drag and drop the MOV file from the computer folder.
Step 2.The program will direct you to the compression options, wherein you can see the estimated compressed size on the lower part of the page. But you can also move the Compression slider to choose another file size for compressing the MOV file.
Step 3.You can also go to the Resolution section, where you can choose another video resolution for the MOV file. Once done, click the Compress Video button to start the compression process. Click the Download button to save it to the folder.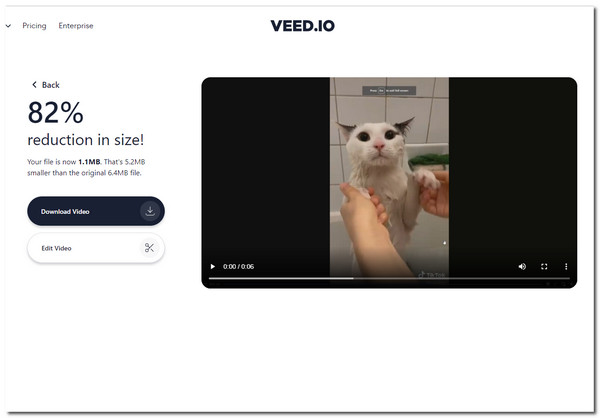 2. Compress.com
Another online tool to help you compress MP4, MOV, and more formats to a smaller file is the Compresss tool. This online video tool is free and offers another file compression aside from MOV file formats. Moreover, you can compress as many as 100 files with 40 MB per file. The downside of this it does not show any preview of the compressed MOV file.
Step 1.Open the video compressor in your browser. Scroll down a little bit and locate the Compression Settings. Click the box for Compression options and choose the Change Specified Video Parameters option to make other video settings appear.

Step 2.Click the drop-downs for the video size, bitrate, frame rate, and others to change the video settings. Once done, scroll up and click the empty box under the Choose files or drag and drop the file from your folder. Wait for the compressor to apply the changes to the video settings on the uploaded file.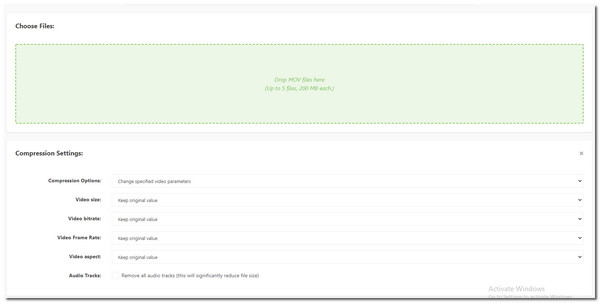 Step 3.Once loading is done, scroll down and locate the MOV file. Check the file size if it becomes smaller. You can also how much percentage it compressed under the Size Compressed. After confirming, click the Download button to save on your folder.

3. Free Video Compressor (Flexclip)
With a straightforward interface, this online tool is a go-to for beginners. It supports various formats such as MOV, MP4, M4V, and more. It promises to secure and protect your privacy when you compress MOV files as it does not access your uploaded files. However, you can still say that this video compressor only offers essential tools, which might lower the video quality.
Step 1.Go to your browser and search for Free Video Compressor by Flexclip. Once on the website, click the Browse Video button or drag and drop the MOV file you want to compress from your folder.
Step 2.In this second step, you can see your file's actual video size and resolution. You can use this to specify the size you want to apply in compression. Choose the desired Compressed Quality and Resolution by clicking the drop-down menus.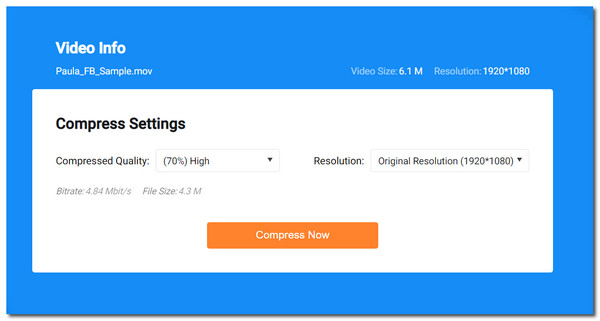 Step 3.Once you change the Compression Settings, you can see the Bitrate and File size change to help you specify the estimated file size once it is compressed. Click the Compress Now button to proceed. After compression is done, the program will automatically save the newly compressed MOV file to your folder.

Part 4: FAQs about Compressing MOV Files
Why do I need to Compress MOV files?

Besides the typical issue of being a large file, MOV can also cause slower loading when you open and play it to a video player. This way, it will ensure a better engagement and user experience.

Is there another way to make MOV files small in size?

Yes. You can convert your MOV files to another file format, such as MP4. To ensure that you will not lose the original quality, use AnyRec Video Converter, as it allows you to choose the preferred video quality for your MOV files.

Does VLC compress MOV files?

Certainly, yes. Open the VLC software on your device, then click the Media button on the menu bar. Select the Convert/Save option or press Ctrl+R hotkey. Click the Add button and choose the desired MOV file to compress. Proceed to click the Convert/Save button tweak some video settings and destination path.
Conclusion
MOV files are large because they were designed to give higher video quality. However, you can still have good video quality even when you compress MOV files on Windows/Mac. Using AnyRec Video Converter to compress MOV files while guarantee the best video resolution you need for the video files. If you have more questions, please contact us now!
AnyRec MOV Compressor
Compress MOV video files by percentage or file size on Windows and Mac freely. Here you can reduce MOV file size from GB to MB and KB in clicks.
More Related Articles