Make Lyric Videos on Windows, Mac, Android, and iOS [Simple Guide]
Lyric videos are famous on any social media platform, such as YouTube, Facebook, and TikTok. You can be an internet sensation once you know how to make a lyric video. A lyric video can be engaging for a viewer because they can follow the script or song of the video. As for newbies, you can find out the best methods to make some lyric videos on computers and smartphones from the article.
Part 1: Make a Lyric Video on Mac/Windows
You can have more freedom to adjust and fit the lyrics to the video's transition on your PC or Mac. If you are unsure what are the best lyric makers to achieve the goal, the best-recommended ones are AnyRec Video Converter and iMovie, which are compatible with Windows and macOS. Here is a detailed guide on how to make a lyric video with the two programs.
1: Make a Lyric Video on AnyRec Video Converter
When it comes to the appropriate way to make a lyric video, it is easier with AnyRec Video Converter. The software is a lightweight file comprising more than 15 tools for enhancing, editing and converting media files. One of its best features is adding subtitles with a few clicks of your mouse. It also saves the final output according to your preference in video format, resolution, quality, frame rate, and more.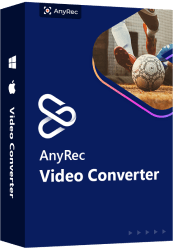 AnyRec Video Converter
Enable to make a lyric video effortlessly with its intuitive interface packed with essentials.
Provide another set of tools to trim, crop, or rotate videos while users can also boost the audio's volume.
Allow users to import any file with larger sizes and enable them to enhance or upscale the resolution.
Provide the best features for conversion, compression, file merging, and other video editing tools.
How to make a lyric video with AnyRec Video Converter:
Step 1.Download AnyRec Video Converter from its official website. Install and launch it to start making a lyric video on your device. Click the Add button in the middle part of the interface to import the desired video file.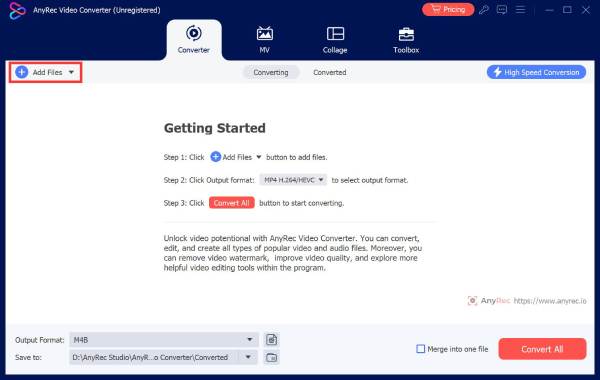 Step 2.Once successfully uploaded, click the Edit button with the Star Wand icon under your file; another window will appear on your screen. Click the Subtitle button at the top part. Click the Add Subtitle button for you to add the subtitle file.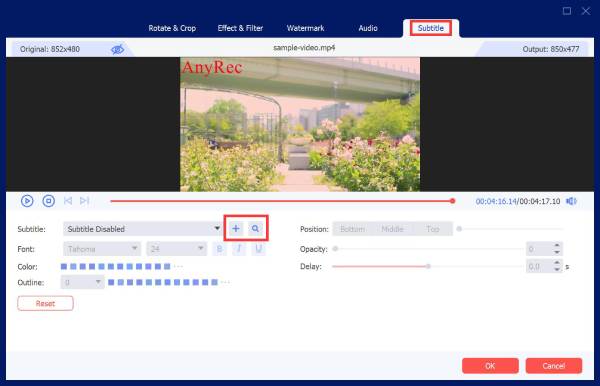 Step 3.Then, you can make adjustments with the word through the Opacity, Delay, and Position options. You can also change the text's font, size, color, and outline. If you want to add a watermark to your video, click the Watermark button at the top menu. You can try other features such as filters, effects, and basic video editing features.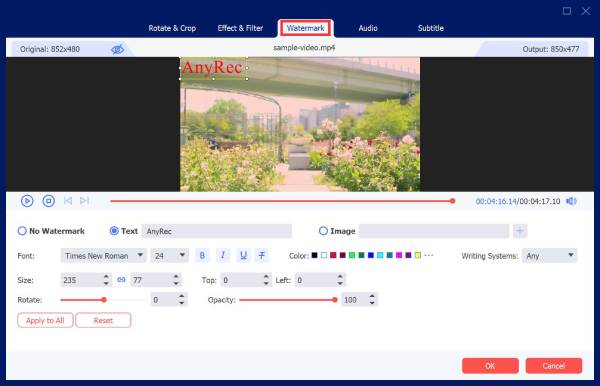 Step 4.Once you are finished with video editing, click the OK button. Click the drop-down menu from the Save To option at the bottom part to choose the designated folder path. At last, click the Convert All button to process the changes. It may take a few minutes to save the video to your device.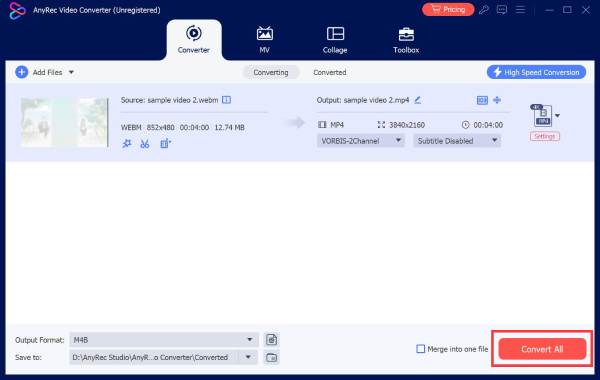 2: Make a Lyric Video in iMovie on Mac
iMovie is an excellent tool that is already pre-installed on any Apple device. It has an extensive set of video editing features, allowing you to make a lyric video from scratch. The best part of iMovie is saving unfinished projects, even if you accidentally close the platform. You can simply make a lyric video with iMovie as if you are a professional video editor. Unfortunately, the software is unavailable on Windows or Android OS, restricting other users from utilizing it. The output is also saved to Apple formats such as MOV or WMV format, limited to opening and playing the video to any portal device.
Features:
◆ Free and doesn't offer a pro version to unlock other features.
◆ Robust and advanced video editing platform.
◆ Save output files to the best video quality.
◆ Suitable for beginners and novice video editors.
How to make a lyric video with iMovie:
Step 1.Launch iMovie on your device. Click the New Project button and import the desired video from your library. Then, drag the video to iMovie's timeline. The next step will be applying the subtitle.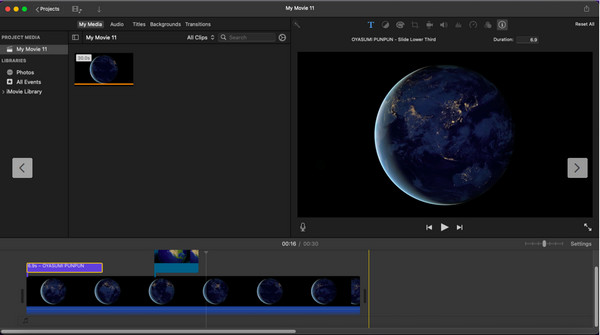 Step 2.Click the Titles button at the top part of the interface and choose the best style option for the subtitle. You can select multiple options and place them in different video parts. You can add a background, transitions, and other elements to your video.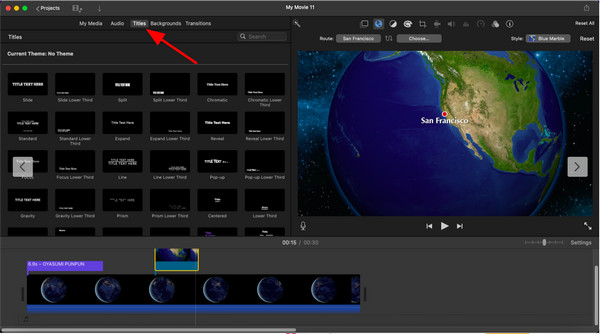 Step 3.Review the final output once you are done editing. Download the lyric video by clicking the Share button. You can directly share your video on YouTube, Facebook, or by Email. But if you wish to keep it on your device, click the Export File button.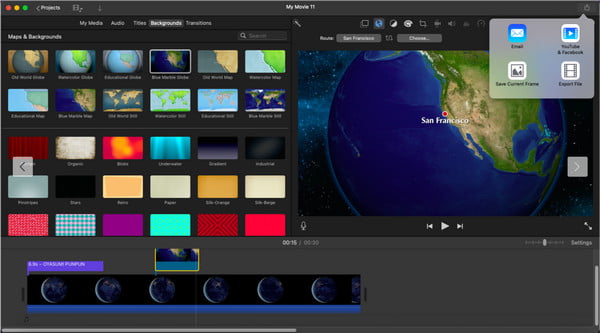 Part 2: Make a Lyric Video on iOS/Android
Do you want to know how to make a lyric video on a smartphone? Aside from iMovie's compatibility with iPhone, you can also make a lyric video on Android. The following app is recommended to help you create the best lyric video with simple instructions.
Video Lyrics
The app helps you to create videos with lyrics in the simplest way. It allows you to import videos or images and add the music lyric. It effortlessly aligns the text to the video and music transition without losing the quality of every file you upload.
How to make a lyric video with Video Lyrics:
Step 1.Download the app from the Play Store and launch it on your device to start making a lyric video. Tap Music at the right top part of your screen to add the song. After that, tap Photo to select the desired background of the video.
Step 2.Tap Lyric and manually add the text. You can also copy and paste words from the internet. Review the project you have created and make some adjustments if necessary.
Step 3.Once satisfied with the result, tap Menu and then tap Save. You can also export the lyric video and share it on your social media accounts.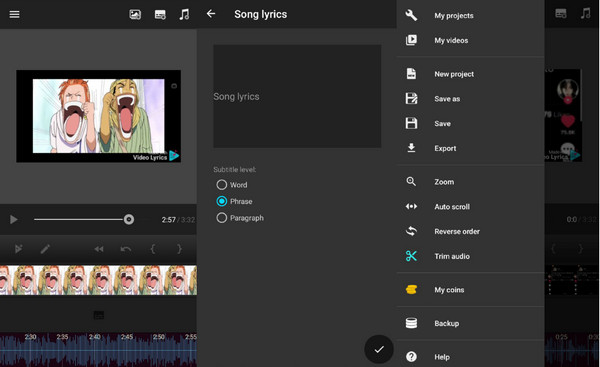 Part 3: FAQs about Making a Lyric Video
How to make a lyric video on TikTok?

The social platform offers various ways to make a lyric video. To add text through TikTok, tap the Add button from the app's main interface. Then, record a video or upload one from your gallery. Then, tap on Captions from the set of tools. It can automatically detect the word, but you can manually input it. Do some more editing, then post it to your account.

Can I remove the vocal from a song when making a lyric video?

If you want to create a karaoke-like video, the best thing to do is look for the song on video websites. There are edited songs that exclude the singing voice. You can also use a program to remove the voice, such as Audacity and Vocal Remover.

How to export lyric videos without losing the quality?

You can save the video in the highest resolution or a compatible format. AnyRec Video Converter is also an excellent option to not lose video quality while making a lyric video. You can also use this software to level up resolution if you don't satisfied with your lyric video.
Conclusion
After learning to make a lyric video using the most popular tools, you can create videos for newly released songs or create a music video out of compiled photos. If you don't want to worry about quality, AnyRec Video Converter is the best software to download on your device. Try it and explore its endless and powerful features.
Related Articles