Detailed Steps to Add iMovie Watermark on Mac/iPhone
When creating your own video, you must want to protect your intellectual property, and adding a watermark to it is a usual practice. For Apple users, you can all easily add watermarks with iMovie. Meanwhile, you also need to make sure that the watermark will not block the view or influence the visual experience of your audience. Therefore, you can read this article to see how to add a transparent logo in iMovie as your watermark protection. Whether you prefer MacBook or iPhone, here you can have all the steps.
Part 1: How to Add a Transparent Logo in iMovie [Mac & iPhone]
iMovie is a great pre-installed editing app on both Mac and iPhones. If you think from another perspective, then you will see that adding a transparent logo is the same thing as adding a watermark in iMovie. You just need to make sure the watermark is transparent and in PNG format. Now, launch your iMovie app and follow the steps below to see how to add a transparent logo in iMovie.
How to Add a Transparent Logo in Movie on MacBook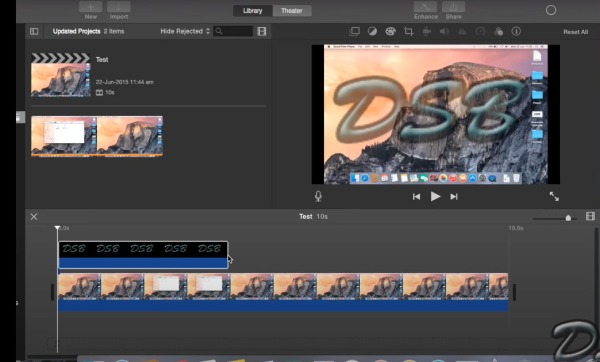 Step 1.Launch the iMovie app on your Mac and click the New button to create a new project for your video
Step 2.You can directly drag the video to the iMovie timeline to import. Now, you can adjust your video frame to let it fit the preview window or adjust other settings.
Step 3.Then, directly drag the PNG watermark/logo you prepared to the track above your video. Then you can extend the length of your watermark to increase its duration.
Step 4.Next, click the Share button and File button. Choose a folder to save your video with a transparent logo.
How to Add a Transparent Logo in iMovie on iPhone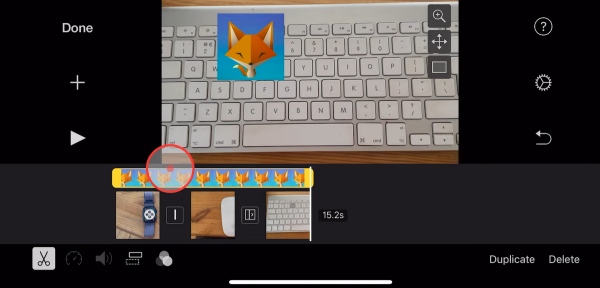 Step 1.Open the iMovie app on your iPhone, tap the Create New Project button, and choose Movie.
Step 2.Import the video from your Album and then tap the Plus icon to import your transparent watermark.
Step 3.Tap the Photos button to select the transparent logo you want to add. Then, tap the three-dot icon to activate a pop-up window. Choose the Picture in Picture mode.
Step 4.Drag the right white line on the watermark to adjust the duration. Tap the watermark on the timeline.
Step 5.On the preview window, tap the Move button to find the right position for your watermark or change its size. Now tap the Done button and the Share button to save.
Bonus Tip: How to Remove Watermark in iMovie
There are different solutions to remove the watermark in iMovie, depending on the position of a watermark. You can crop a video or zoom in to remove the watermark from the video. Or you can add your own watermark to cover the original one with iMovie.
Part 2: How to Add Watermark in iMovie Alternative
Since iMovie only supports a limited range of file formats, you also need an iMovie alternative that accepts more video formats. AnyRec Video Converter is exactly what you need, and you can add a watermark in the iMovie alternative freely for all kinds of videos. Meanwhile, after adding a transparent watermark to videos in this editing software, you can also decide the output format for your final video, which is convenient for you to upload the video to other platforms. You can learn the steps below on how to add watermark in the iMovie alternative.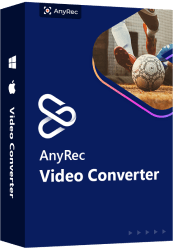 AnyRec Video Converter
Support a wide range of video formats adding watermark.
Add both text watermarks and images as watermarks.
Change watermark opacity for coherence in the video.
Apply as many watermarks as you want in one video
Step 1.Free download and install this iMovie alternative on your desktop. Next, launch it and click the Toolbox button on the main interface to search for more tools. Locate the Video Watermark tool and click on it.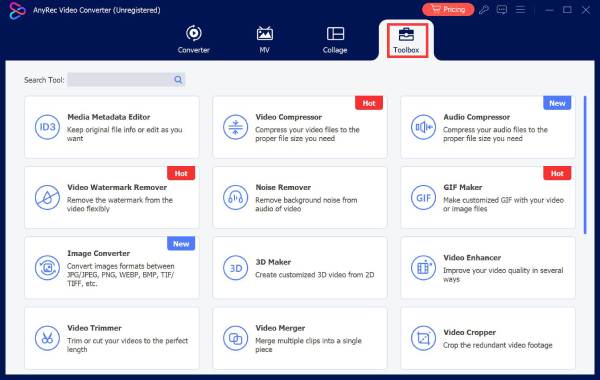 Step 2.Import your video by clicking the Plus icon on the popup. Then you will be in the editing window. Click the Image Watermark button to choose and add your transparent logo to the video.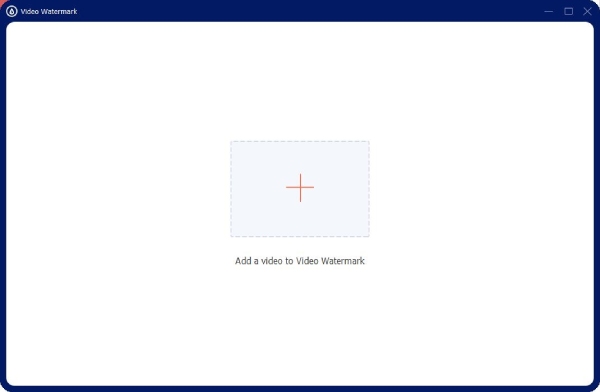 Step 3.You can then adjust the position of your watermark, its size, and its duration. After that, click the Save To button to choose a destination folder, and click the Export button to finish this.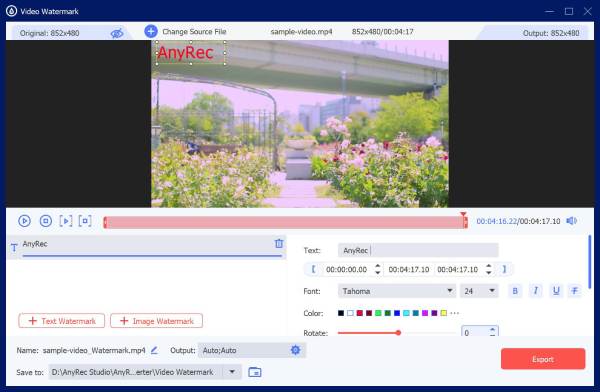 Part 3: FAQs about Add Watermark from iMovie
Is it possible to create a transparent logo in iMovie?

No, it is not. The iMovie app does not have photo-editing features. If your logos are not transparent and have a colorful background, there are lots of online background removers that can solve your issue, and then you can add the watermark in iMovie.

Where to find the transparent logo for iMovie?

Before adding a transparent logo in iMovie, you can collect some free sources from online websites. For example, Freepik is a free resource for transparent images, you can download favorable pictures there and add them as your watermark to the video in iMovie.

Which are the supported video formats for iMovie?

The iMovie supports only a small range of video formats, and you may need to learn more about this before adding the watermark in iMovie. Simply speaking, iMovie supports MP4, MOV, H.264, MV4, and so on. But not all MP4 files are supported since it is only a container, and you need to make sure the video files are coded by Apple Animation Codec.
Conclusion
From now on, you will no longer be bothered by the question of how to add a transparent logo in iMovie. As long as you launch this app on your device and follow the steps above, you can easily add a watermark to your video to prevent it from second editing.
Related Articles