6 Ways to Convert WebP to GIF on Windows and Mac for Free
WebP is an image format that allows you to open photos online with Microsoft Edge, Photoshop, and more. But there are also many people who want to convert WebP to GIF because their operating system, app, or web browser is still unsupported or cannot recognize the file format. Although this format will not store a high-quality file that consumes too much space, if you want to open WebP without app boundaries you should convert WebP to GIF. This guide will give you detailed information and steps for the recommended tools you can use.
Part 1: 3 Ways to Convert WebP to GIF Online (Small Image Size)
The fastest way to convert WebP to GIF is through an online converter. You can find the best ones in your browser, but you can try these three recommended tools for an effective conversion process.
You can start converting WebP to GIF with AnyRec Free Image Converter Online. The web-based converter provides an intuitive interface, providing the most straightforward features for conversion. Unlike other online image converters, this tool supports important formats, including WebP, TIF, BMP, GIF, and more. Moreover, no watermark is applied to your files once you convert them. Try AnyRec Free Image Converter Online on any browser!
Features:
◆ Convert WebP to GIF, JPG, and PNG without losing the image quality.
◆ Support multiple uploads for batch conversion for up to 40 image files.
◆ Fast conversion speed with a one-click download process for the outputs.
◆ Users can use the online converter without registering or creating an account.
Step 1.Go to https://www.anyrec.io/free-online-image-converter/ to visit the official website of the online converter. Select the GIF format from the menu. Click the Add Images button to browse your folder and upload the desired file to convert. Ensure that the file is within the supported file size. Click the Upload Photo button to import another image file from your computer.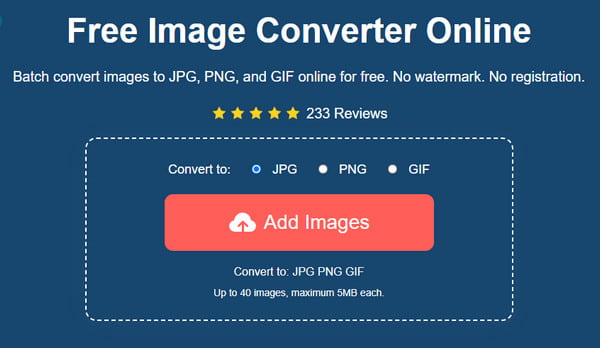 Step 2.The online converter will automatically convert the files after successfully uploading them. You will see the progress from the timeline. It will take a few seconds for the WebP to GIF conversion to finish.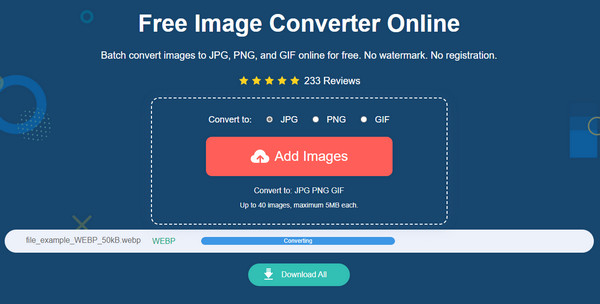 Step 3.Once you see the word Finished on the timeline, click the Download button to save the output GIF files to your device. You can also click the Delete button to remove the uploaded WebP files.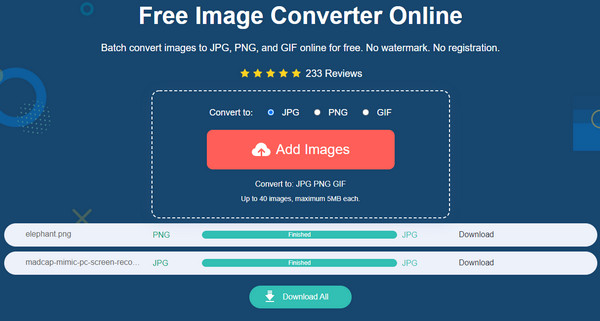 Note
The uploaded and converted files are deleted from the website after a couple of hours to protect the user's privacy.
2. Ezgif - Convert WebP Lower Than 5MB
Ezgif is a well-known editor for images and videos. It offers many features, including converting WebP to GIF. It also allows you to edit your picture using its editing options like crop, rotate, and various filters. Moreover, you can unlimitedly use the online program to create GIFs, videos, and other content. However, you can only upload files of 5MB because Ezgif will not accept bigger file sizes.
Features:
◆ Support multiple conversions such as WebP to GIF, PNG to GIF, etc.
◆ Enable users to create content from scratch.
◆ Excellent file resizing algorithm.
◆ Built-in elements like text, effects, and filters.
Step 1.Go to Ezgif's official webpage. Select the WebP option from the top menu. Then, go to WebP to GIF option. Click the Choose Files button and upload the image from your computer. You can also paste the link on the URL box as an alternative way to upload the file. Click the Upload button to proceed.
Step 2.There are tools prepared for you to edit the photo. You can crop, resize, rotate, optimize, or add effects.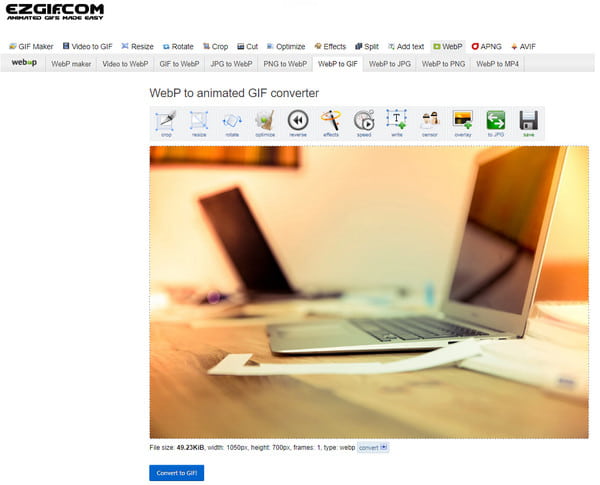 Step 3.Once done editing, click the Convert to GIF button. A preview of the output file will show below the interface. Click the Save button to download the converted file.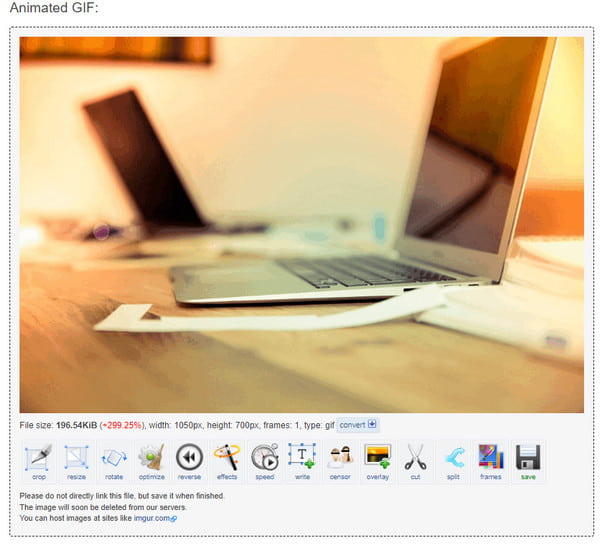 3. Online Convert - Convert a WebP to GIF for Free Per Time
Another tool you can use to convert WebP to GIF is Online Convert. A popular web-based program that supports more than 50 formats to convert. It has professional photo editing features which you can use to crop pixels, enhance, and sharpen the details. Unfortunately, there is no preview for your edits, giving you a subtle idea of the output. Also, you need to upgrade to the Premium version to get WebP to GIF batch conversion support.
Features:
◆ Support compressing the file before converting.
◆ Provide filters like Grayscale, Negate Colors, etc.
◆ Support sources to upload, including Google Drive and Dropbox.
◆ No watermark is applied to the converted file.
Step 1.Search for the online converter and choose which source you want to get the image file. Or click the Choose File button to open your folder.
Step 2.Once the photo is uploaded to the website, go to the Optional Settings and edit the file. You can start with image compression, change the size, or apply a filter. After editing, click the Start button to convert.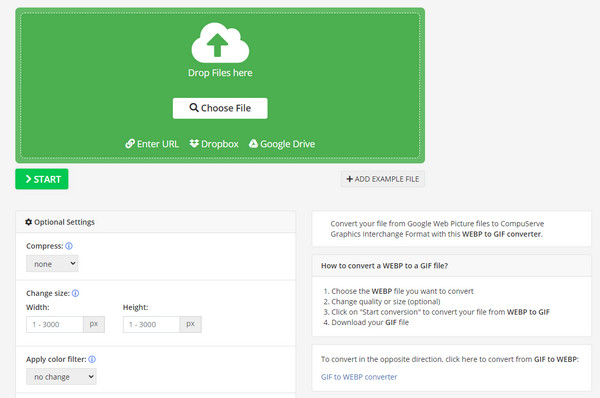 Step 3.Afterward, the output will be automatically saved to your computer, but you can still keep it on the cloud or as a zipped file.

Part 2: 3 Ways to Change WebP to GIF on Windows/Mac (Large Image Size)
While you can convert WebP to GIF online, investing in a desktop tool is also suggested. And thankfully, some popular applications are bound to help you with conversion. Read more to learn the best tools to convert WebP to GIF.
1. GIMP - Free and Open-Source WebP Converter for Windows/Mac/Linux
This image editor is a famous application for photo editing. Of course, the best part is that you can effortlessly convert WebP to GIF. The desktop tool supports opening image formats like JPG, PNG, GIF, and more. With its editing features, GIMP allows users to get the best result for their converted files in high quality. You can download GIMP on any trusted webpage and store.
Features:
◆ Convert files without distorting the image quality.
◆ Change the picture's colors, icon sizes, etc.
◆ Allow users to customize the tools.
◆ Free to install in any operating system.
Step 1.Once you have installed the desktop software on your device, launch GIMP to start converting files. Open an image file, go to the menubar and select the File menu. Click the Export button or press Ctrl + Shift + E simultaneously to open the export dialog window.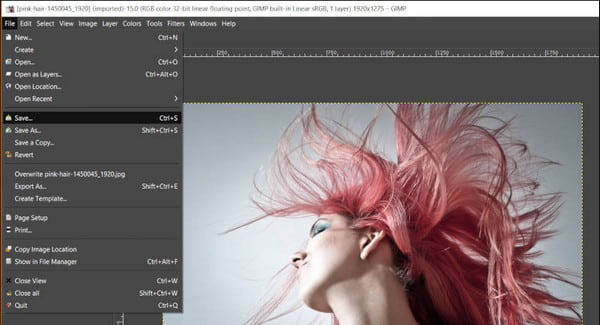 Step 2.Browse for a destination folder to save the output. Proceed to type the GIF extension or click the Select File Type option to pull down a list. Click the Export button to process.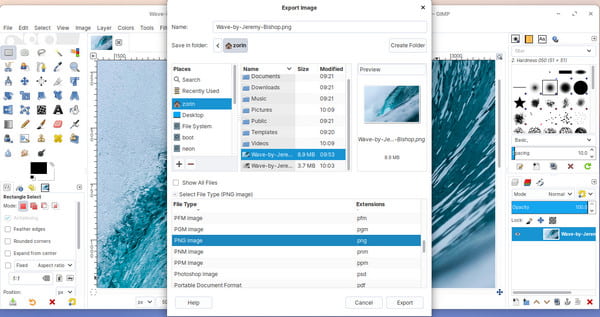 Step 3.An additional dialog will appear to give you settings for compression or changing the image quality. After that, the output will be saved to the chosen folder.
2. Picosmos - WebP to GIF Batch Converter
This desktop tool is a free image processor for Windows OS. It has a flexible way to convert WebP to GIF with multiple files. With the combination of other functions, you can create an animated GIF file while using WebP photos, or you can modify pictures first like cropping GIF, increasing JPG resolution, and so on before converting them to another format.
Features:
◆ Support image formats like WMF, RAW, ICO, JPEG, etc.
◆ Customize each frame size, duration, and alignment.
◆ Provide a side-by-side preview of the edited output.
◆ Create a photo collage with the use of the Combine Tool.
Step 1.Download and install Picosmos on your device through a trusted source. After that, open the application and head to the Animation module. The built-in file explorer will help you find and export the desired file you want to open.
Step 2.From the right part of the interface, there are features to edit, adjust, or enhance the image file. You may manually choose the best adjustments which correspond from the preview section.
Step 3.Save the output by using the Save As option. After that, you can share the GIF file or create another with Picosmos.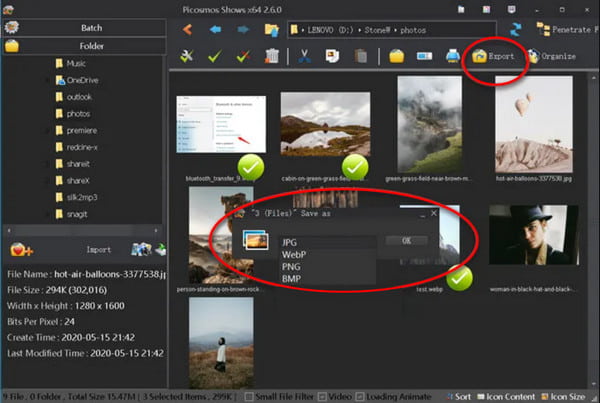 3. Realworld Paint - Free WebM Converter and Editor
Realworld Paint is a portable image editor that comes with professional functions. Although the desktop tool mainly consists of retouching and creating animated GIFs , you can still export WebP to GIF without a problem. It also uses layers and interfaces for a simplified user experience with complete control over photo editing.
Features:
◆ Many image extensions are available for conversion.
◆ Support import and export of Photoshop, Paint.net, and GIMP images.
◆ Drawing tools include clone, crop with perspective, and red eye remover.
◆ Make a selection of areas easy to blur, lighten, and remove.
Step 1.Install Realworld Paint on your device and launch it to start converting WebP to GIF. Go to the File menu from the main interface and select the Open option. The built-in file explorer will allow you to search for the WebP file from your folder or a sample from the internet. Click the Open button to confirm the selection.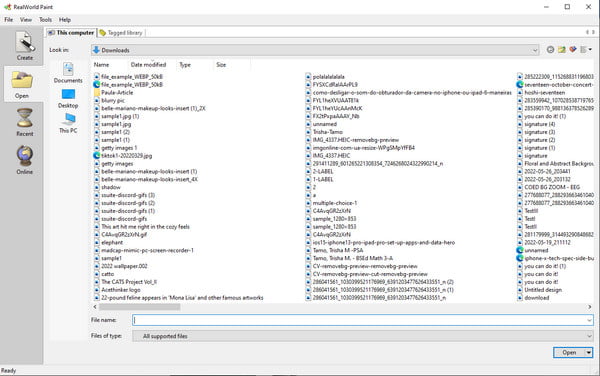 Step 2.You can edit the image file by using the brush, red eye, or applying a filter. You can easily crop, rotate, or mirror the picture if needed.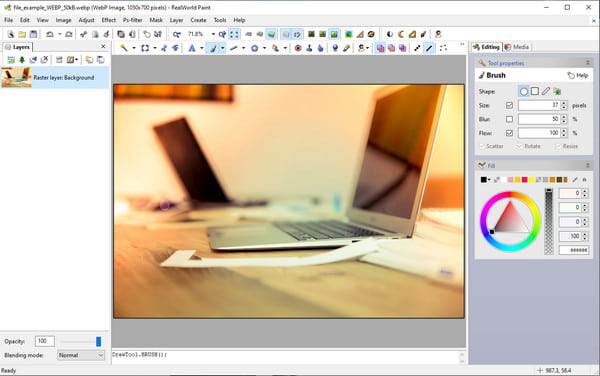 Step 3.Once you are done editing, go to the File menu again and select the Save As option. From the dialog window, pull down the list on the File of Type menu and choose the GIF file format. You can also rename the file if you wish. Click the OK button to save the output.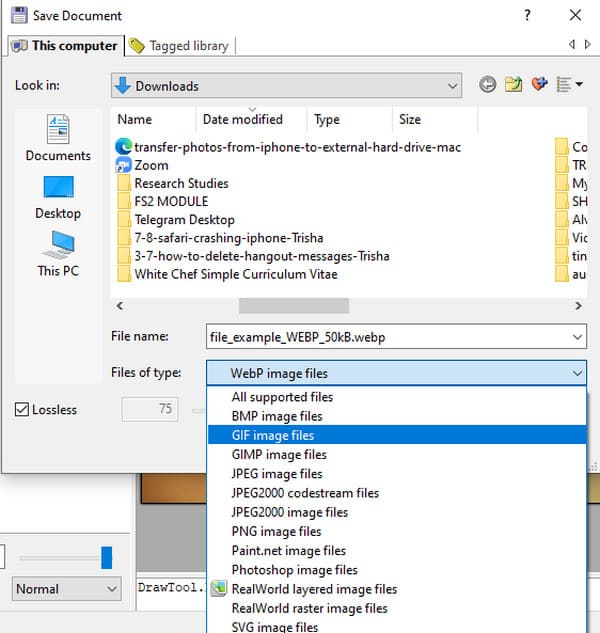 Part 3: FAQs about WebP to GIF
What is the difference between WebP and GIF?

Aside from the fact that WebP can be only opened online or with an extension, WebP and GIF have differences in storing information. GIF supports 8-bit color and 1-bit alpha, while WebP supports 24-bit RGB color and 8-bit alpha channel. GIF is also great for a short animation by compiling images in sequence.

Can I open a WebP file on the Paint app?

Yes. One of the few default applications on Windows you can use to open a WebP file is Paint. To open a file, head to the folder where the file is stored. Right-click your mouse and select the Open With option. Click the Paint button to open the program. You can also do the reverse way by opening the Paint app first and head to the File menu. Click the Open button and browse for the file you want to open. You can edit the image and convert it from WebP to GIF.

Which app supports WebP on my smartphone?

If you are using an Android or iOS, you can open WebP files using the default gallery app or Google Photos as an alternative. These apps will support files without opening a web browser on your mobile device.
Conclusion
WebP is an excellent file format for better image quality. Since you may need to open this file through a web browser, converting WebP to GIF is the best solution to open pictures on any application. You can try the recommended tools for conversion and editing. But if you mainly look for a fast conversion, AnyRec Free Image Converter Online is recommended by many users. Visit the webpage today!
More Related Articles: