New VanceAI Image Upscaler Review: Pros/Cons/Alternatives
Finding the best photo enhancer is always problematic since many online tools are almost identical. One of the best tools is VanceAI Image Upscaler, which provides the same functions for enlarging the photo size, which may affect the quality accidentally. VanceAI knows these features, offering a more complex algorithm to help various pictures get upscaled best. With that said, let's see the full details of VanceAI Image Upscaler.
Part 1: Review of VanceAI Image Upscaler
The online tool is well-known for its AI algorithm that helps manipulate the photo's quality when upscaling it. Its outstanding performance includes magnification options, advancing from 1x to 8x. On the other hand, the Image Upscaler provides a feature to increase image quality during enlargement to 1080p and 4K. With sharper, more precise, and more detailed pictures, VanceAI Image Upscaler is the right tool for easy photo enhancement.
Key Features:
Advanced AI upscaling tech with built-in edge cutter.
Provide AI models like Anime, Art & CG, and Text.
Process photos in a few several seconds to make them bigger.
Suitable for large prints, e-Commerce, and presentations.
Accessible to Windows, Chrome, Safari, Mac, and other platforms.
Pros

Enable to enlarge various image formats like JPG, PNG, etc.
User-friendly interface with an ultra-fast lifting process.
Guarantee no loss of the original photo quality.
Excellent batch process for multiple file uploads.
Cons

Too many restrictions in the free version, including other basic features.
Plodding progress in uploading photos with low quality.
Ask users to create an account to enable the download.
Unsolicited watermark on the enlarged images.
Given that VanceAI is not accessible, seeing a watermark on the result is still frustrating. Moreover, you will dislike the slow progress in just the uploading process. At this point, it is recommended to find another solution.
Part 2: Top 5 Alternatives of VanceAI Image Upscaler
While VanceAI is an excellent tool, some things could be improved when you use it. So, in this part, five solutions can be your alternative to enlarge photos online. Let's get started!
1. AnyRec AI Image Upscaler Online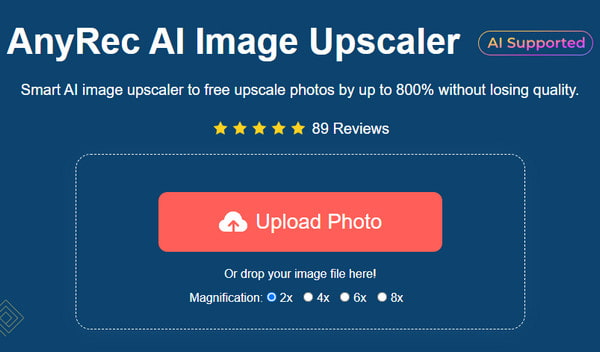 An intelligent tool such as AnyRec allows you to upscale photos in a few seconds. It is a simple but professional image upscaler with a magnification level of up to 800%. When using it, the tool auto-detects blurry parts and fixes them with new pixels. The latest AI technology automatically enhances the picture details in a few clicks to save you time. AnyRec AI Image Upscaler Online is a convenient alternative to VanceAI Image Upscaler.
Key Features:
100% free online tool without compromising the original image quality.
Support many image outputs without watermarks, like PNG, BMP, TIFF, etc.
Provide a real-time preview with a side-by-side comparison to see results.
Automatically reduce noise, enhance color/contrast, and upscale image resolution.
2. Waifu2x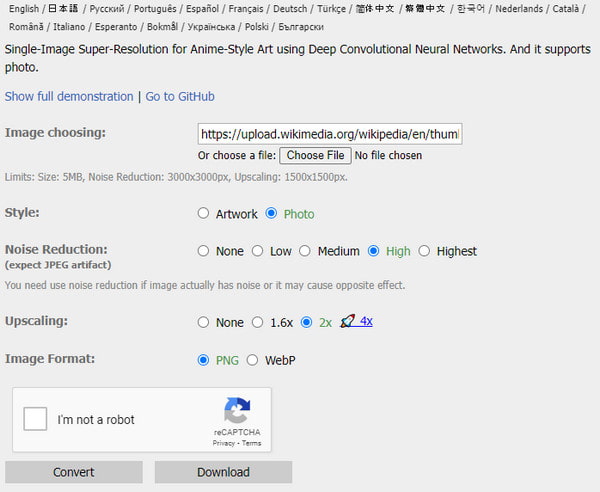 Waifu2x is another alternative that is worth trying. It mainly upscales anime photos that have low quality and enhances them with essential features on the website. The interface needs to be updated but is simple enough for different users. Moreover, you can upload a picture with just a URL. The only drawback of Waifu2x is that it can only save images to PNG and WebP, with no other options.
Key Features:
Clean UI with more settings for image upscaling.
No watermark is included, and no need to create an account.
Protect privacy with the reCAPTCHA function.
Support multiple languages like Italian, Spanish, and more.
3. Bigjpg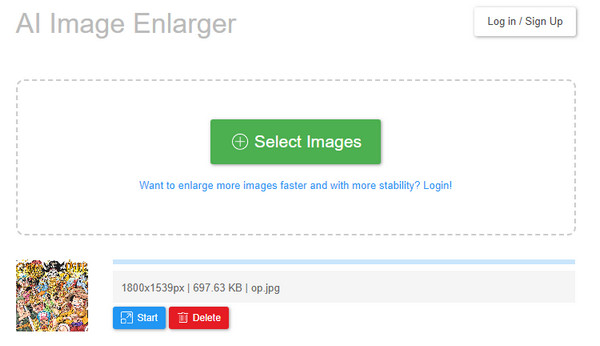 This VanceAI Image Upscaler alternative is the most straightforward tool you can find online. It uses the latest Deep Convolutional Neural Networks to fix image noises and serrations. Aside from stretching pictures without losing quality, Bigjpg also provides other options like supporting API, adjusting lines and colors, and maximum limits of 5MB per picture. Remember that this online tool depends on your network environment and may fail to enlarge photos if the connection is unstable.
Key Features:
Accessible to different platforms and devices.
Downloadable software for Windows, Android, and Mac.
Configurable settings for image type and noise reduction.
Unlock more features by logging into the website.
4. QualityScaler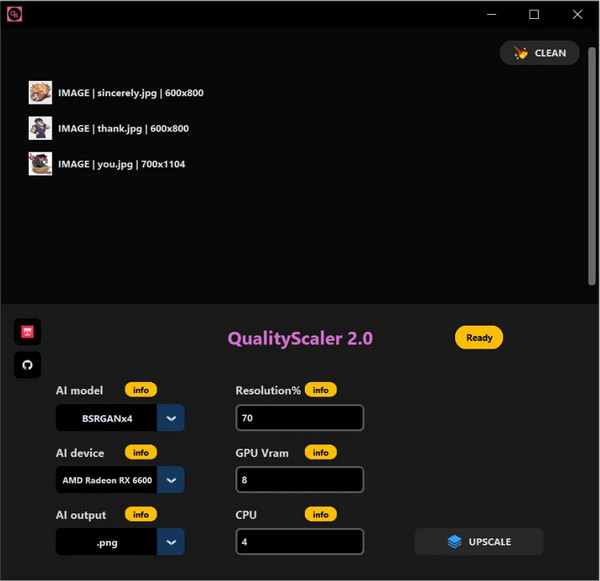 If you want desktop software to enlarge photos, then QualityScaler is just for you. It is a Windows app that uses BSRGAN Artificial Intelligence to enlarge videos and images. Although the app helps reduce image noise, some review state that there are a couple of errors when batch upscaling images to 4K, which can be confusing.
Key Features:
Advanced AI settings, like a model, backend, output extension, etc.
Easy-to-use user navigation and uploading process.
Image tiling and merging automatically.
Upscale images and videos in batches.
5. RealScaler
Another Windows app that uses Real-ESRGAN AI to enlarge photographs automatically. You can easily use its function to exclusive various videos and photos simultaneously. It also does image tiling and merging to prevent GPU VRAM limitation.
Key Features:
Resize videos and pictures before upscaling.
Support multiple GPUs.
Compatible with image types like PNG, JPEG, WebP, etc.
Support MP4, GIF, MKV, FLV, and so on.
Here is a simple chart to compare VanceAI Image Upscaler to the other alternatives.
| | | | |
| --- | --- | --- | --- |
| Tools | Platforms | Watermark (Free) | Price |
| VanceAI Image Upscaler | Windows/Chrome/Safari | Watermarked | Free/Paid |
| AnyRec AI Image Upscaler Online | Chrome/Edge/Safari/Firefox | No watermark | Free |
| Waifu2x | Chrome/Edge/Safari/Firefox | No watermark | Free |
| Bigjpg | Windows/Chrome/Edge/Safari/Firefox | No watermark | Free/Paid |
| QualityScaler | Windows 11/10 | No watermark | Free |
| RealScaler | Windows 11/10 | No watermark | Free |
Part 3: FAQs about VanceAI Image Upscaler
Does upscaling an image mean increasing the quality?

Yes. But it depends on the tool you use. This is the specialty of VaceAI Image Upscaler, as it uses AI tech to produce new pixels. It also helps to improve the visual quality of low-resolution photographs.

Can I download VanceAI Image Upscaler?

Yes. The image upscaler is available to download on Windows 11, 10, and late versions with a free version. However, you may need to pay a subscription to unlock the other functions, which are helpful for photo upscaling.

What are other VanceAI tools to help enhance images?

VanceAI offers other tools that are essential to improve image quality. Try the VanceAI Image Sharpener, Art Generator, BGremover, and Photo Colorizer.
Conclusion
Choosing VanceAI Image Upscaler has to be a helpful tool to upscale and improve image quality. But since the free trial applies a watermark on your photo, five alternatives were recommended in this post to upscale pictures without paying. Furthermore, the most effective tool is AnyRec AI Image Upscaler Online, which offers to upscale up to 800%! See its powerful features by visiting the website.
Related Articles