TikTok Screenshot Alert: How to Take Screenshots Anonymously
TikTok is one of the most famous video-sharing platforms today. And it builds a large community all around the world. Take screenshots of TikTok rather than share the whole video with your friend. But is there a time you asked yourself, Does TikTok notify screenshots? To answer that, read this post to see if TikTok notifies the creator if you capture their work and the best tool you can use to take TikTok screenshots.
Part 1: Will TikTok Notify You When You Screenshot
Does TikTok notify screenshots? Well, the answer is No. TikTok doesn't have any feature that enables users or creators to receive a notification sent by TikTok telling them that someone took a screenshot of their video. But even though this video-sharing platform doesn't have that feature, you are still not allowed to take screenshots of their videos. And share them on other platforms for self-interest and business related without letting them know about it or asking permission from them.
Part 2: How to Find If Others Screenshot Your TikTok
Can someone see if you screenshot their TikTok? The answer is No. TikTok doesn't have a built-in feature that notifies users about taking screenshots, and there's an official way you could identify if someone took a screenshot of it. But if you are concerned about your privacy, there's still a way for you to prevent the possible publication of your work without your permission. The first way you could do is add watermarks to your TikTok videos. This would still be a great way to protect your work from the unknown publication of it. You can also make your profile private to prevent possible screenshots of your video content.
Part 3: The Best Way to Screenshot TikTok Video [Android/iPhone]
If you want to take a TikTok screenshot to share on your social media chats or store them on your device, the AnyRec Screen Recorder tool is the best ally for you! This tool is equipped with a Phone Recorder feature that you can use to take screenshots of any on-screen videos on TikTok by casting your phone's screen to your computer. Additionally, it can take screenshots of TikTok with high-quality output. This tool's feature is well-composed for easy and quick screenshots!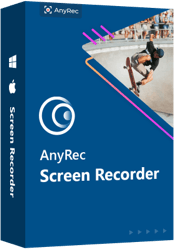 AnyRec Screen Recorder
Support Android and iPhone devices to record and screenshot TikTok.
Equipped with hotkeys to take a screenshot through critical combinations.
Infused with the ability to record phone screens up to 4K resolution.
Offer different image output formats to export your TikTok screenshots.
Step 1.Download and install the AnyRec Screen Recorder tool on your Windows or Mac computer. Then launch the tool and click the Phone option on its interface. After that, choose whether you wish to screenshot on Android or iPhone.
Step 2.Next, choose to connect Android and computer through Wi-Fi or USB Connection. If you pick Wi-Fi, you must download the FoneLab Mirror. You can also connect both of them through PIN Code or QR Code. For much more convenience, you can link both via USB Cable.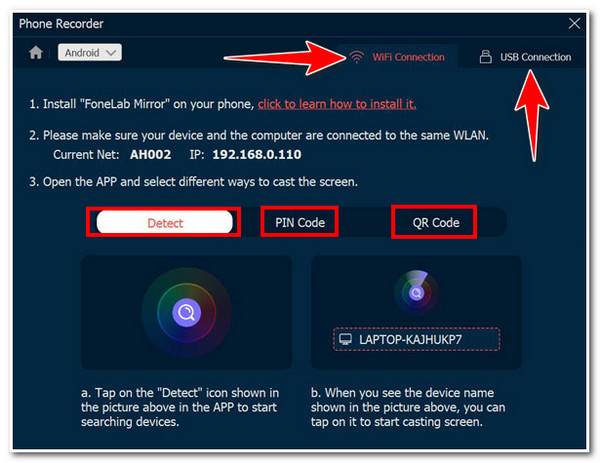 Step 3.Otherwise, if you pick iPhone, you only need to enable your Screen Mirroring feature on your phone. You can find this feature in your Control Center. Ensure your computer and phone are connected to the same Wi-Fi to connect them easily.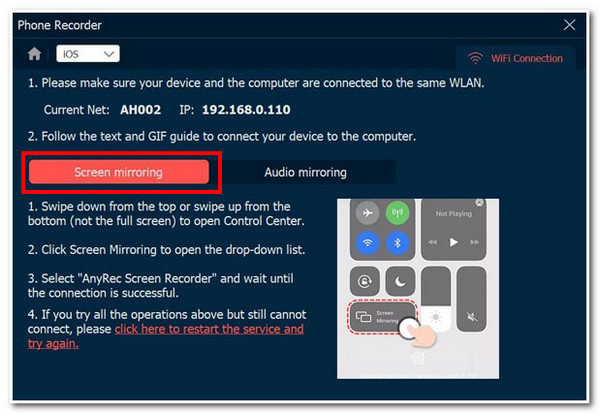 Step 4.Once you can connect both devices, you'll see a preview of your phone's screen on the tool's interface. Access the TikTok video you wish to take a screenshot on your phone and click the SnapShot button on the tool.
Part 4: How to Remove Watermark from TikTok Screenshots
Now that's how you screenshot TikTok videos using the best tool on the market. If you want to remove the watermark on a TikTok screenshot for cross-posting purposes, we recommend the AnyRec Watermark Remover Online tool! This AI-supported online watermark remover tool can remove the TikTok watermarks easily with high quality. It also supports various image formats to export your imported TikTok screenshot with a watermark. It can simultaneously remove several TikTok images with watermarks in just a few clicks!
Features of AnyRec Watermark Remover Online
Support different easy-to-use removal tools for eliminating watermarks.
Resize the TikTok screenshot after removing the watermark on it.
Change the brush size for different watermark sizes to remove it.
Offer you a real-time preview that enables you to monitor the changes.
Part 5: FAQs about TikTok Screenshots
Does TikTok notifies users if I screen-record their video content?

No. TikTok has no built-in feature that alerts creators if someone is recording their video content. However, as mentioned above, you need to ask for permission before you record it or at least acknowledge them, especially if you plan to publish it on other platforms.

Does TikTok notify the creator if I download their videos?

No, the same goes for taking screenshots and screen recording videos on TikTok; the platform can't notify them as well. The thing is that the downloaded TikTok video will then contain watermarks.

Does TikTok has a built-in screenshot feature?

No, it doesn't have a built-in screenshot feature. Instead, you can use your phone's built-in screenshot feature or this post's featured professional screen recorder tool, AnyRec Screen Recorder.
Conclusion
That's it! Those are the information you need to know about TikTok screenshots! Again, TikTok can't notify the owner of a video you wish to take a screenshot of. It also doesn't have that ability on its algorithm. However, you should remember that it is restricted to take high-resolution screenshots of others' work, especially if you will publicize it to other social media platforms for your self-interest or business-related purposes. If you keep it on your storage or share it with friends for reference, you can use the professional AnyRec Screen Recorder tool! And if you want to remove the TikTok watermark, you can also use AnyRec Watermark Remover Online to do it.
Related Articles