Landscape VS. Portrait: Everything You Need to Know About Them
People always want to record and keep memories of their significant events in life. It might be your graduation, birthday, proposal, or wedding day. And when it comes to photography, landscape vs. portrait is one of the hottest topics because some people are still confused with the two filming orientations.
Fortunately, in this post, you will be able to know the definition, differences, and usages of landscape and portrait. Furthermore, you will also learn the simple ways how to change landscape video to portrait and vice versa. Please keep on reading to learn more.
Part 1: Landscape VS. Portrait: Definition, Differences, and Usage
In photography, you must know what portrait and landscape video are to capture events or moments in a better way. Because no after how great the scenery or event is, if it is not captured in a perfect angle or orientation, you will not appreciate its beauty.
1. What is the definition of portrait and landscape?
The portrait video is captured vertically in a simple explanation, wherein the height is more prominent than the width. While the landscape video is captured horizontally and the width is greater than the height.
2. What are the differences between portrait and landscape orientation?
Their main difference is that portrait orientation focuses more on the subject than on the surroundings or background. In contrast, landscape orientation focuses more on surroundings than the subject or object.
3. Usages of portrait and landscape videos:
Both are used on different occasions and events. For example, recording in the landscape orientation when your subject is tall or high is not appropriate and pleasing to the eyes. Same as when you are to capture the whole area of a sea or mountain, it is inappropriate to record or capture in portrait orientation. So, portrait videos are typically used to record a particular object, such as people or animals. In comparison, landscape videos are used in capturing a wider space. Moreover, landscape and portrait videos are used for different social platforms.
4. Usages of portrait and landscape videos:
| | |
| --- | --- |
| Landscape Aspect Ratio | Portrait Aspect Ratio |
| ◆ 16:9 = 1920 × 1080 | ◆ 3:4 = 768 × 1024 |
| ◆ 21:9 = 2560 × 1080 | ◆ 9:16 = 1080 × 1920 |
| ◆ 4:3 = 1024 × 768 | ◆ 2:3 = 720 × 1080 |
| ◆ 3:2 = 1080 × 720 | |
Part 2: Ultimate Way to Change between Landscape and Portrait Videos
For instance, you captured your events in life in the wrong orientation; you can use AnyRec Video Converter to change between landscape and portrait. This tool allows you to change the aspect ratio without leaving black space. Moreover, you can add pre-made themes and effects to make your videos more attractive and personalized.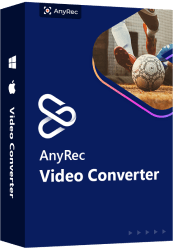 Distinctive Features of the Best Video Editor:
Support changing landscape or portrait videos to the desired orientation.
Provide all the commonly-used aspect ratios to crop videos easily.
Additional functions to reduce shaky video problems and video noise.
Pre-made themes, transitions, effects, and background music.
Steps to Follow:
Step 1.First, download and install the AnyRec Video Converter on your device. After that, please open it and click the Add Files or Plus (+) button to add files to the software. Moreover, you can drag and drop all your files together into the software.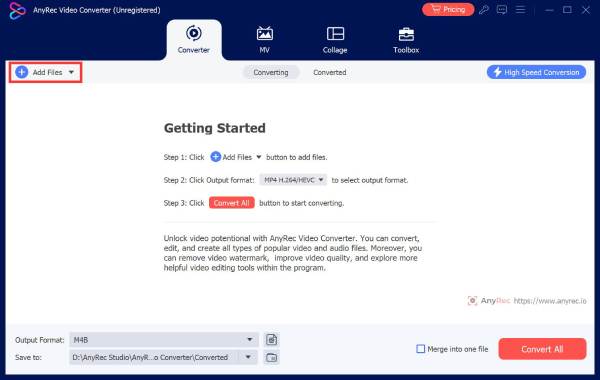 Step 2.Afterward, kindly click the Edit button with Magic Stick icon. Once you click it, a new window will pop up on your screen. From there, click on the Aspect Ratio drop-down button and choose the Landscape or Portrait size that you desire. When you are completely done, click the OK button below.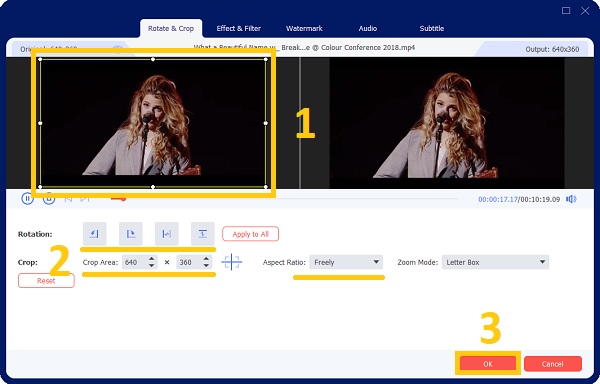 Step 3.Yay! You're almost done. Click on the Save To Dropdown list and choose a file location for you to access your edited videos quickly. Then, click the Convert All button to save landscape or portrait-oriented videos successfully.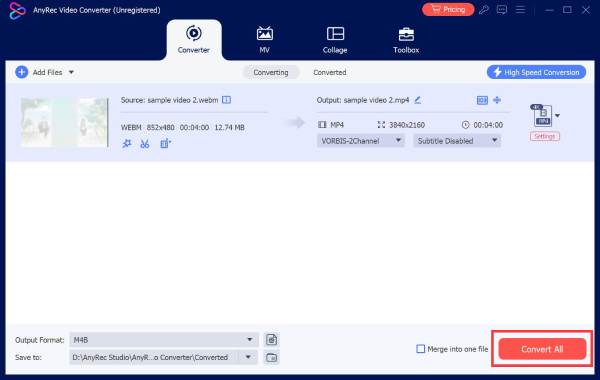 Part 3: 4 Easy Methods to Convert Landscape Videos to Portrait
In this section, you will discover more tools to convert between landscape and portrait videos. For you to save time and resources, the tools are thoroughly reviewed and tested. So, continue reading and see if one can meet your demands.
1. iMovie
iMovie is perfect for Mac users to crop videos. This app is pre-installed on Mac devices. You just have to use the Touch Bar, and you can now use the iMovie application. Moreover, it has various features that include turning your landscape videos into portrait and vice versa. It also provides many editing features that capture professional video editors.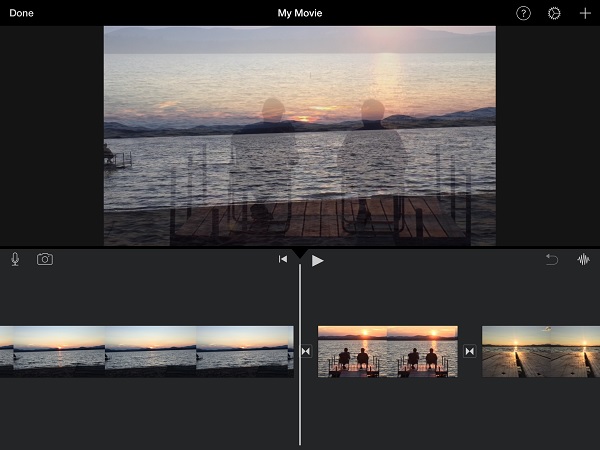 Pros

There are over 13 filters to choose from and apply to your videos.
Provide many advanced editing features to make videos more appealing.
Cons

It consumes most of the storage space.
2. Lightworks
Lightworks is a well-known video editor that has essential editing features. This app world smoothly on Mac, Windows, and Linux devices. Moreover, this tool makes it easy for users to edit their videos using the drag/drop method. You can easily turn your landscape videos to portrait and vice versa. However, utilizing it might be challenging for beginners.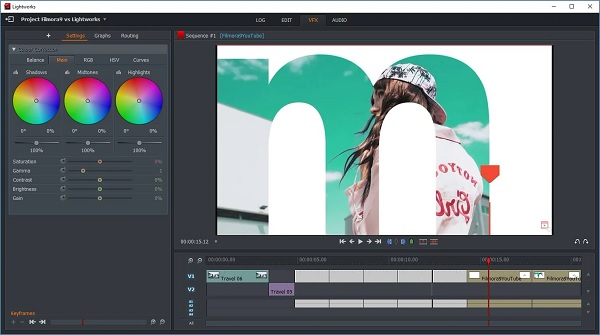 Pros

This app supports various formats.
It's not time-consuming, for it has a fast speed for exporting videos.
Cons

This app can be challenging for first-time users.
3. Hitfilm Express
Hitfilm Express is a budget-friendly application that crops videos to landscape or portrait on Windows and Mac devices. However, it needs a lot of time to master using it. But the good thing about it is it supports 3D effects that make the visual of your video more interesting. Moreover, it allows you to trim, cut, rotate, and resize your videos.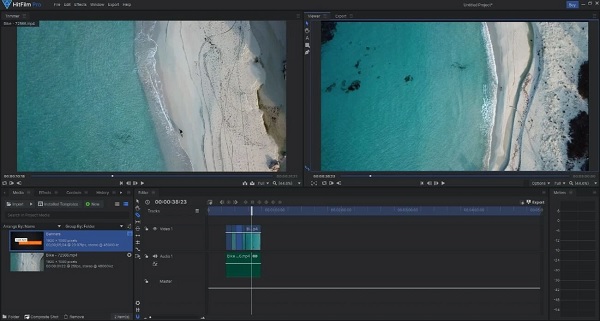 Pros

Most of its features are free, and its premium version is not expensive.
This app leaves no watermarks on your videos.
Cons

The app often crashes and lags.
Budget-friendly but not beginner-friendly.
4. OpenShot
Unlike the tool mentioned above, OpenShot is a beginner-friendly video editor that allows you to crop and trim portrait or landscape videos. Moreover, it has a drop/drag feature that makes it easy to use and edit. It does not leave a watermark, so you can enjoy watching your videos with high-quality definition.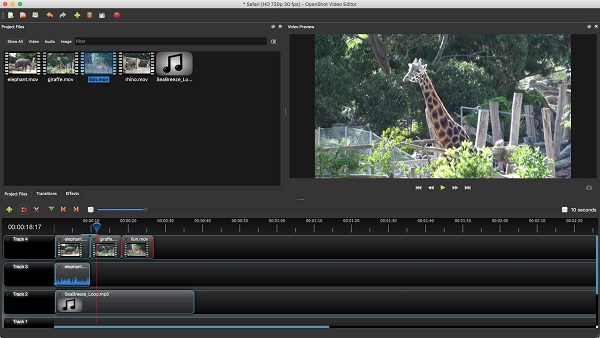 Pros

It has a simple user interface, and it is easy to use.
It offers plenty of filters and transition effects.
Cons

It has unstable performance that annoys its users.
Part 4: FAQs about Landscape and Portrait Videos
Which is better between portrait and landscape?

Both photography orientation has their strength, so it depends upon your purpose. If you are to capture a person, animal, or a particular object, you must capture it in portrait orientation. But if the focus of your video is more on the surroundings and the beauty of the scenery, it is recommended to capture it in landscape orientation.

How can I crop videos vertically?

You can utilize AnyRec Video Converter in cropping your videos vertically. Open the app, and click the Add Files button. After that, click on the Edit icon. From there, you can change the aspect ratio or crop the video manually. Once you're done, you can now save your videos on your device.

What is the best tool to crop videos to landscape or portrait online?

There are many free online tools in cropping landscape or portrait videos. But you can consider using Clideo Crop Video. This app has a simple interface that first-tie users can enjoy. You just need to upload the video that you want to crop and choose the cropping area. After that, you can now save and watch your videos in your folder.
Conclusion
All in all, you have learned that portrait videos are captured vertically while landscape videos are taken horizontally. Moreover, you have also discovered that the best way to change landscape and portrait is to have AnyRec Video Converter on your device. If you still have questions and clarifications, we encourage you to send us your message. We promise to respond as soon as possible.
Related Articles