What is the 4:3 Aspect Ratio and How to Use it? [Complete Explanation]
When you shoot a video, you need to consider: it should be horizontal or vertical? Mostly, you can see horizontal shots on social media, and the case is how creators choose their aspect ratio, 4:3 or 16:9? Selecting an aspect ratio depends on what you want to make because, aesthetically speaking, the 4:3 aspect ratio is the best choice. It may sound outdated, but if you're going to make a music video from the 90s, the 4:3 aspect ratio will bring the vibes you want. In this article, you will find out when the 4:3 aspect ratio is most popular and how it's still used today.
Part 1: What is the 4:3 Aspect Ratio? Is It Used for Videos Today?
1. Introductions to 4:3 Aspect Ratio
When television and computer monitors were first created, they all had the same aspect ratio of 4:3, also known as 1.33:1. It was the standard aspect ratio for cinema and television, making spectacular movies that left people in awe. 4:3 traditional aspect ratio refers to the width and height of images, four units wide by three units tall. As this aspect ratio was the only thing offered by technology, 4:3 was popular in the movie from the early 1890s throughout the 1920s.
2. Usage of 4:3 Aspect Ratio
Since technology is advancing, the late 4:3 aspect ratio is replaced by 16:9, the new standard aspect ratio in the 21st century. Fortunately, the 4:3 aspect ratio has arisen in contemporary film and is still available as an option for taking photos and videos. So to say, you can still use it in any kind of filmmaking, especially if you want your characters close to the audience. Even when you are unfamiliar with different film formats and aspect ratios, there is still a difference when using something out of the norm. For example, 4:3 aspect ratio can only refer as to show a close look with the characters of the movie while with 16:9 aspect ratio, it emphasize the place where the plot is taking place. Read further for more difference between 16:9 and 4:3 aspect ratio.
Part 2: What's the Difference between 16:9 and 4:3 Aspect Ratio
You can tell the difference between the 16:9 and 4:3 aspect ratios even with just one glance. For one, the 4:3 aspect ratio has a frame 33% wider than its high, while the 16:9 aspect ratio is 78% wider than it is high. To make it more simple, the 4:3 aspect ratio has a box-like frame, so if you have a wide TV screen and watch old movies with a 4:3 aspect ratio, you could see a lot of black spaces around it. Since it is a traditional aspect ratio, the 4:3 aspect ratio cannot fit the entire screen and mostly look small to watch.
However, the current aspect ratio, the 16:9, has more information to show than the 4:3 aspect ratio. It has 16 units wide by nine units long, creating a rectangular widescreen display. This new standard aspect ratio is made for high-definition videos like most videos you can see on YouTube. And yet, creating a 4:3 video is not off-limit because it can be in a high resolution like 2048×1536. Still, many filmmakers use the traditional aspect ratio to make 90s style videos.
Part 3: How to Create Videos in 4:3 Aspect Ratio on Windows/Mac
If you are looking for information on creating videos in 4:3, this article has it! You can also correct a video file with a 4:3 aspect ratio by cropping it with AnyRec Video Converter. As the software is an all-in-one tool, you can edit the output of the video and choose the desired resolution for a 4:3 video. Moreover, you can edit or change the video encoder, format, quality, and frame rate up to 60fps!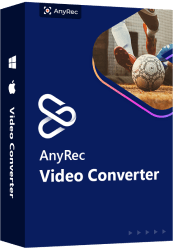 Other powerful features AnyRec Video Converter offer:
Create videos in 4:3 aspect ratio with resolution up to 1080p.
Offer essential tools such as trimmer, merger, rotator, and more.
Improve video in the 4:3 aspect ratio with the help of AI technology.
Support hundreds of output video formats such as MP4, MKV, MOV, etc.
Step 1.Download the software on its official website and launch it on your device. Click the Toolbox option on the top menu of the pane. Choose the Video Cropper option to start making a video in the 4:3 aspect ratio.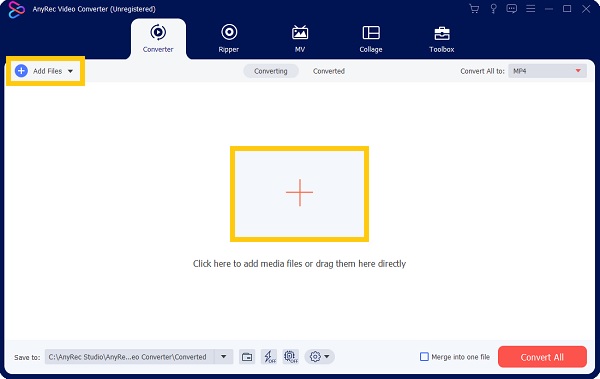 Step 2.Click the Plus button to select the desired video to crop. After the video is uploaded, click the drop-down menu of Aspect Ratio and select 4:3. Click the Cross icon to center the cropper perfectly. Once done, click the Output menu to open other video settings. Here, you can edit the settings from format, resolution, frame rate, encoder, and more. Click the OK button to go back to the main menu. .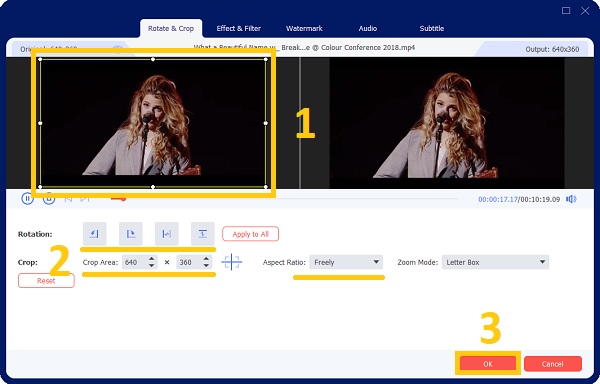 Step 3.Choose the folder to save the cropped video by selecting the Save To option. After that, you are ready to click the Export button to apply all the changes. The chosen folder will appear once the saving process finishes.
Part 4: 2 Easy Ways to Make Videos in 4:3 Aspect Ratio on Android/iPhone
Even on your mobile phone, you can use the 4:3 aspect ratio on filmmaking. Some mobile units offer built-in aspect ratios for camera but this is not the case for all mobile devices. Still, you can download free apps to crop and shoot in 4:3 aspect ratio.
1. Crop, Cut, & Trim Video Editor
You can find this on Google Play Store and download it for free. It offers the right tools needed for video making. You can use crop video to make 4:3 aspect ratio, blur some part of the clip, enhance video color, and directly share to your social network accounts.
Pros

No watermark applied for every downloaded video.
Free to use and easy to navigate.
Cons

Automatically turn off when the app is not used.
Too many paid promotion.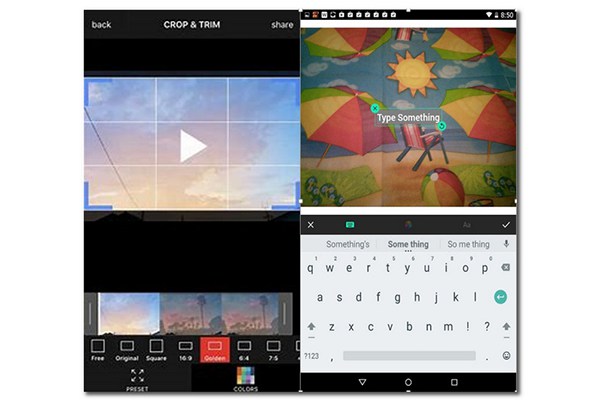 2. iMovie
You can also use the default app - iMovie to crop videos on iPhone. The app is a well-known to professionally edit your video file in a few clicks. It also enables you to easily crop and edit video file to 4:3 aspect ratio. Moreover, it helps you upload your video file with high quality possible.
Pros

Professional editing tools for video clips.
Enable preview for every edit.
Cons

Not too user-friendly.
Only support a couple of file formats.
Part 4: FAQs about 4:3 Aspect Ratio
1. What would happen if I chose the wrong aspect ratio?

If you have chosen the wrong aspect ratio and it does't match the screen display, your video can get distorted. Like an old documentary being displayed to widescreen, it can get black borders on each side, or to make it worse; the 4:3 video will stretch to fit the entire 16:9 screen.

2. Can I play a 4:3 movie in a 16:9 widescreen?

Yes. Although the 4:3 aspect ratio is an old standard for filmmaking, it still not forgotten up until now. You can play a 4:3 movie in TV with 16:9 aspect ratio. However, you need to tweak and adjust some settings to perfectly display the 4:3 movie.

3. What are the resolutions for the 4:3 aspect ratio?

4. There are a lot of resolutions you can use for the aspect ratio of 4:3. The most common resolutions are 640 × 480, 800 × 600, 960 × 720, 1024 × 768, 1280 × 960, 1400 × 1050, 1400 × 1080, 1600 × 1200, 1856 × 1392, 1920 × 1440, and 2048 × 1539.
Conclusion
You can say that the aspect ratio of 4:3 is already outdated; however, with the uprising popularity of vintage filmmaking, many creators use 4:3 to define contemporary or portray the characters to the audience closely. The aspect ratio also brings the option to get your audience to another cinematic world. If you have trouble identifying the proper aspect ratios for your videos, use AnyRec Video Converter for a more accessible aspect ratio selection. Try it on your device now, and bring out your creativity with filmmaking!
More Related Articles